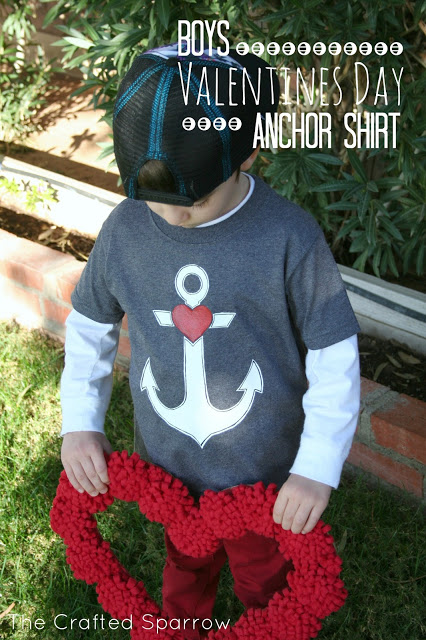 If you've followed my blog for a while you know I love to make t-shirts for my guys. This year I decided they needed a new shirt for Valentine's Day, so I made these Valentine's Day Anchor Shirts for them.
Supplies:
– DecoArt SoSoft Fabric Paint
– Small Dobber Paint Brushes, or Regular Paint Brushes
I searched online for an anchor clipart image that I liked and a heart shape, combined the two in photoshop and just printed the image on my printer in black and white on an 8.5 x 11″ piece of paper.
Tape your image on a flat firm surface like the counter top and lay a piece of freezer paper over your design and trace the areas that need to be cut. Cut it out with your xacto knife.
You can see more detail on how to use freezer paper stencils HERE, and HERE. Once my stencil was cut and I ironed it on my shirts firmly I began to paint it.
I used a small round sponge dobber to apply my paint. Let the paint dry at least 30 minutes between coats, apply as many layers of fabric paint as you want to achieve the desired look.

Let the paint dry completely for 2 hours after final coat, once dry to touch you can peel off your freezer paper stencil carefully.