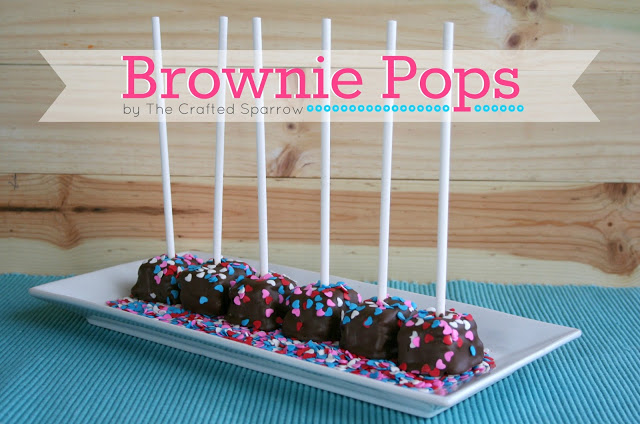 Today I thought I would share a quick and easy treat –
Brownie Pops
. These Brownie Pops make the perfect treat for Valentine's Day, parties, or just a special treat for a friend.
Ingredients:
–
2 boxes Betty Crocker Ultimate Fudge Brownie Mix and all ingredients listed on box to make recipe
– sprinkles
– large cookie / cake pop sticks
– bakers chocolate bark coating
– wax paper
– plastic disposable knife to cut brownies with, it's magic trust meBegin by combining your two boxes of brownie mix and all ingredients that it calls for in to a large mixing bowl and mix well.
Pour brownie mix in to a greased 9 x 13″ baking dish. Bake at 350 degrees for 45 minutes. Test with a toothpick, your toothpick should come out almost clean.
Remove from oven and let brownies cool for an hour at least. Sometimes I place mine in the fridge to cool quicker. Once cool cut your brownies using your plastic knife in to 1 to 1 1/2″ square pieces.
Following the directions on the bakers chocolate bark coating package heat up your chocolate. Once melted and smooth place a large cookie / cake pop stick in the center of your brownie square and dip in chocolate. You can also use a spoon to pour the chocolate coating over each brownie square.
When you've covered the brownie in chocolate set each square on to your wax paper and add sprinkles before it hardens. Let them sit for at least 1 hour to harden.
Store in an airtight container until you need them.
Super easy right?! These brownies are amazing on their own too, super fudgy. Who wouldn't love these Brownie Pops!