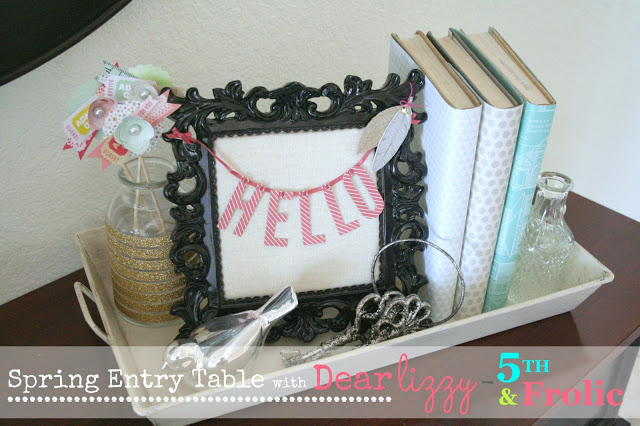 Today I'm showing you how I freshened up my entry way for spring using the Dear Lizzy – 5th & Frolic line that is available at Joanns stores. I'm in the process of gathering and collecting new items for my entry way wall and will be hopefully getting it all put together after the SNAP! conference, but for now using these fresh and fun products was a great way for me to spruce things up a bit.
Take a peak at all the amazing goodness that is available!!! I may have actually squealed a bit when I saw all the fun stuff.
Since I knew I wanted my entry to have a fresh look for spring & the upcoming summer months when I saw these colors I was in love. The first thing that caught my eye was this "hello" mini banner. I also knew that the paper flowers would be perfect in a small glass vase I had just thrifted. By the way did you know that there is Glitter Tape, well there is and it's beyond fabulous!
I decided that the Glitter Tape was perfect for the vase I thrifted. I had actually been thinking of buying some double sided tape and glittering the vase already, but this was even better…and super easy to use. I just created stripes on my small vase with the tape and viola, it went from plain & simple to fantastic in 2 minutes. I then added the paper flowers to some bamboo skewers that I had in my kitchen. The paper flowers have adhesive backs which made it perfect to add the skewer to the back of each flower. I then just added the flowers to my vase.
I always have books somewhere on my entry table so I used a few of the coordinating card stocks to cover my books. Don't you just love these colors!
I added the "hello" mini banner to my small pin cushion frame, it's the perfect greeting to my guests as they enter the house. It already has adhesive on the ribbon to all I had to do was stick it to my frame. I then added a small paper and fabric feather to the corner.
I gave my metal iron wall hanging a little coat of a bright fun paint to match, this is one of the things staying on this wall in the new upcoming changes.
I hope you will go and find these products in your local Joanns stores, you will fall in love with them. It makes me happy to walk past this little tray everyday.