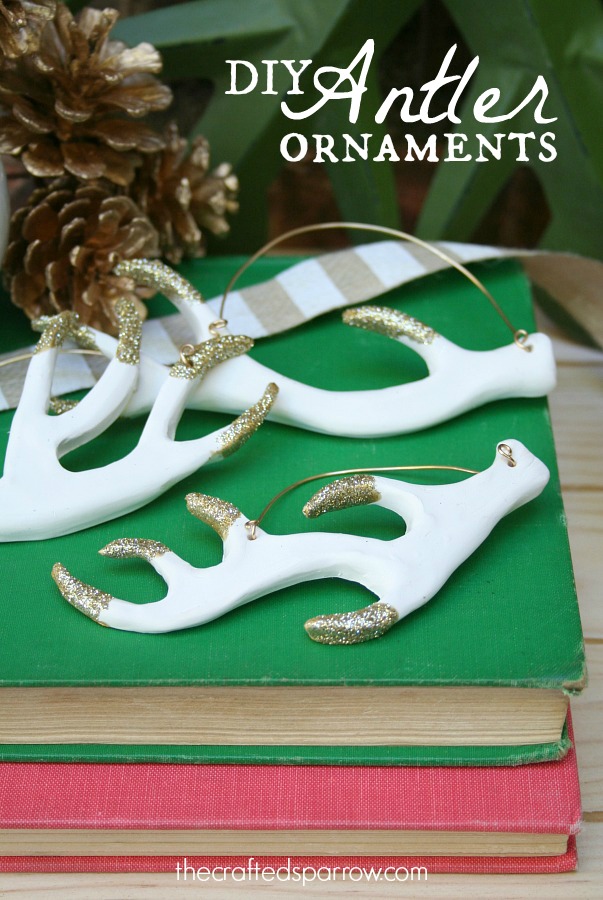 Every year for Christmas I pick a new theme to my tree, I keep basic ornaments from year to year that will work with most themes and build my tree with lots of other fun ornaments and things. I love to include a few handmade ornaments each year that I create to match the theme. Since antlers are so popular this year I thought it would be fun to incorporate them in to my tree, so today I'm sharing these super fun
DIY Antler Ornaments.
Supplies:
– White Polymer Clay
– Cutting Mat
– Xacto Knife
– Gold 22 Gauge Wire
– Gold Glitter
– Glue
– Paperclip
– Needle Nosed Pliers
1. Roll a handful of clay in to a ball about 2.5″ in diameter and place on your cutting mat or surface.
2. Roll out your clay using a rolling pin or smooth acrylic rolling pin made for clay, you can also use a full soda can if you don't have a very smooth rolling pin.
3. Using your Xacto knife cut out an antler shape, you can print a template from online if you need to. Most antlers face upwards so remember that when creating yours. No two sets of antlers are ever the same, so it's fun to create them all different.
4. Once your shape is cut out you will need to smooth all the edges with your fingers. Once your happy with the way it looks use a small toothpick or paperclip to create your holes for the wire.
5. Using a metal spatula place your antlers on to a piece of parchment paper, you can adjust any mistakes if something gets flawed when you move it. Bake in an oven according to your clay package instructions, I typically bake it at 250* for about 10-15 minutes watching it closely so it doesn't burn and turn brown.
6. Once cooled from the oven, use your gold glitter to glitter the tips of the antlers.
7. Use your gold wire and some small needle nosed pliers to create the hangers for your ornaments, simply just coil your ends to stay put.
I seriously love how these turned out and I think I will definitely be making more to add to my tree this week. These would be a great gift for someone who is loving the antler trend right now too.
I don't have my full tree up quite yet, but I thought I'd give you an idea of what they will look like on your tree. Mixed with beautiful rustic elements like pine cones and burlap these ornaments will be a beautiful addition to your tree.