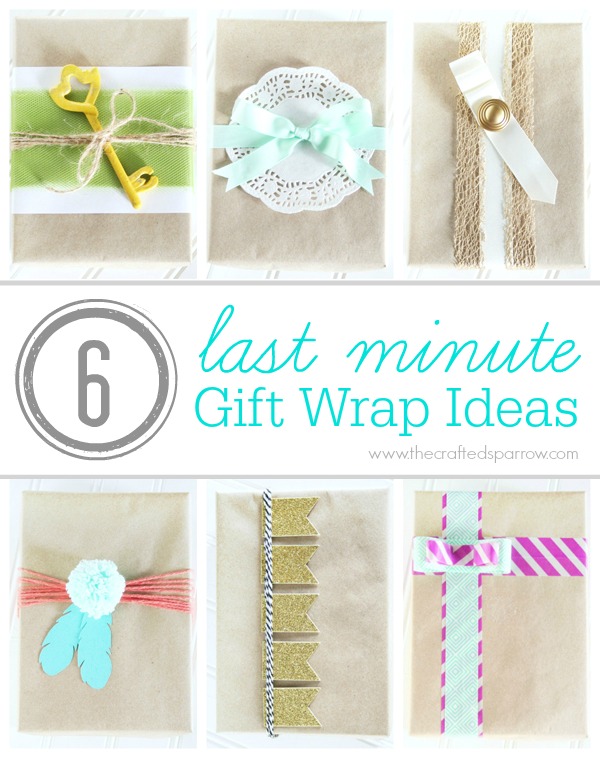 Have you ever needed to wrap a last-minute gift and just resorted to using a gift bag because you didn't have anything else on hand?  Today I'm sharing some of my favorite Last Minute Gift Wrapping Ideas using things you probably already have on hand in your craft stash!  It also happens to be our monthly hop, this months theme is parties so be sure to check out all the other fantastic party ideas below.
Are you a gift bag user or a wrapping paper & ribbon kind of gift wrapper?  Now I'm not saying there is anything wrong with putting that special gift in a gift bag, I have been known on occasion to use a gift bag or two.  Granted it isn't my favorite way to give a wrapped gift, but sometimes you need a gift bag.  For all the other times that you can wrap a gift you totally should.  Think of how awesome it feels to get a gift that someone has lovingly wrapped and presented to you.  I know that it makes me feel just as good to hear someone say they love the way I wrapped their gift as their reaction to the actual gift inside.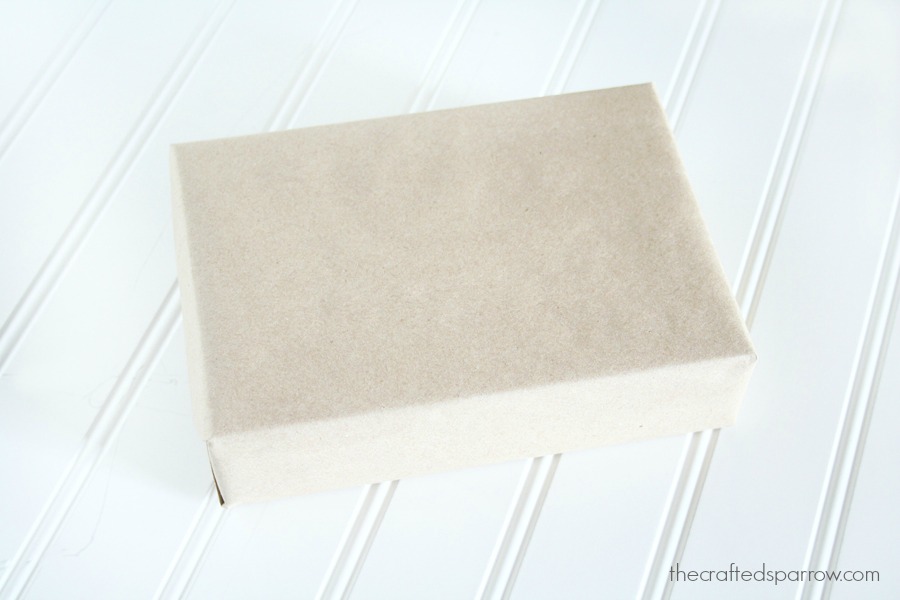 Here are some of the items I typically always have on hand in my craft stash that would make any gift fabulous.
–  brown kraft paper from the dollar store
–  scrapbook paper
–  yarn
–  bakers twine
–  jute twine
–  buttons
–  ribbon or tulle
–  doilies
–  washi tape
–  small decor items
Brown kraft paper is such an inexpensive and neutral wrap to always have on hand.  I can usually find it at Dollar Tree or 99 cent only stores.  This simple wrap can be dressed so many ways and it always looks adorable.
For this gift all I added was some white paper, green tulle, and jute twine.  I added a super cute key that I picked up from the dollar section at Michaels, dollar sections are a great place to look for small decor items to keep in your craft stash for gifts.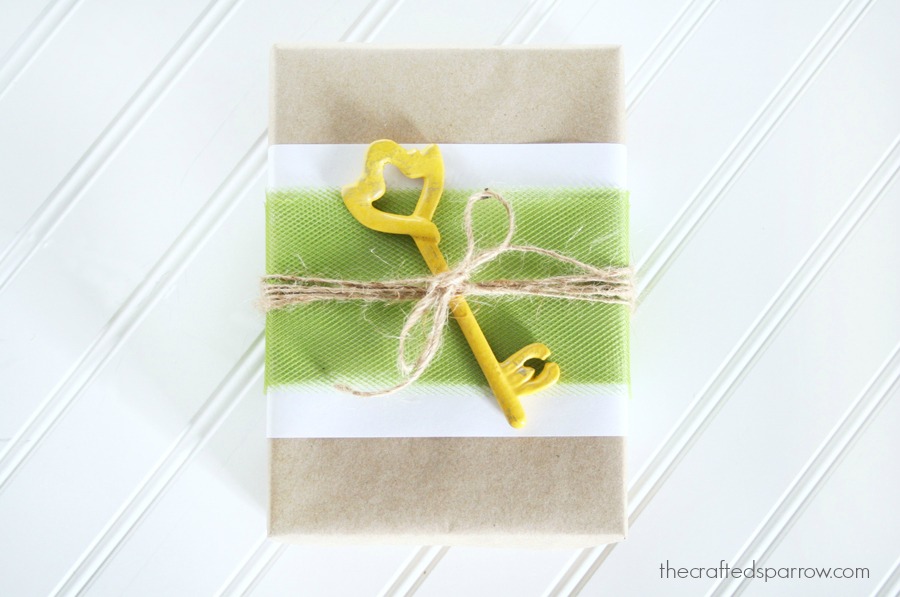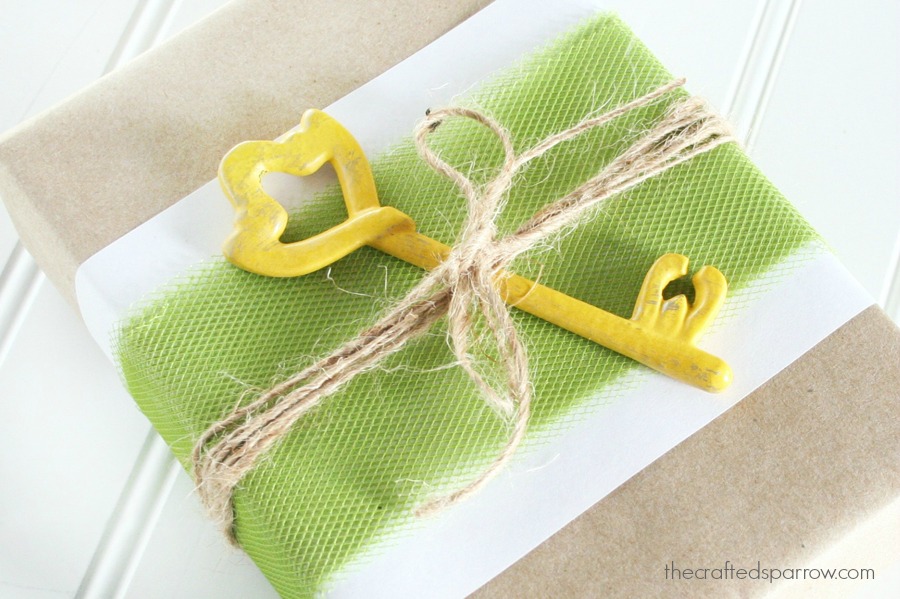 This gift couldn't be any easier.  I just added a simple white doily and a sweet mint ribbon bow.  So cute and simple, don't you think?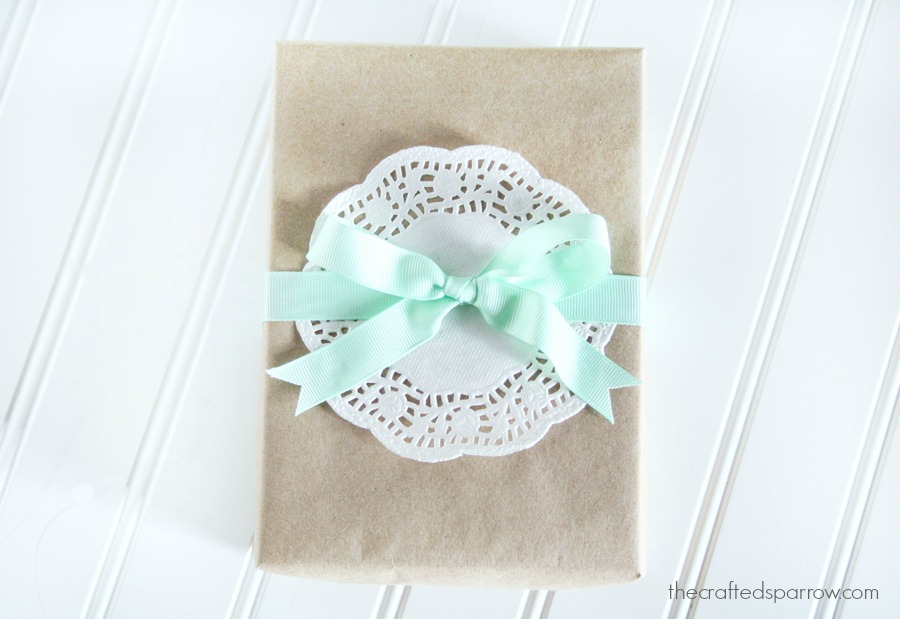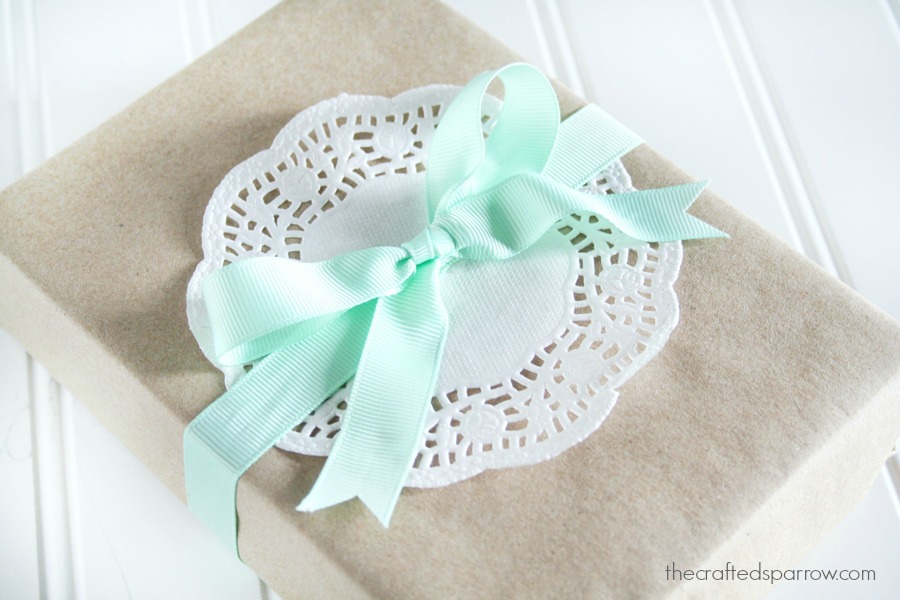 You can totally dress up that brown kraft paper with some metallics.  I usually grab a couple metallic ribbons after Christmas while they are on sale to keep on hand for special occasions. Pair it with a classic white or cream ribbon, and add a big gold button and you have a bit of elegance.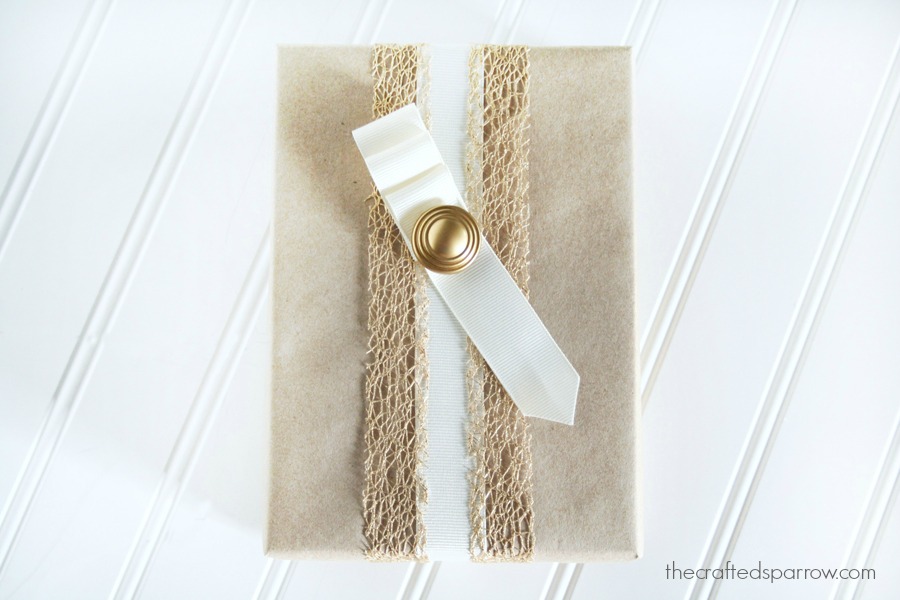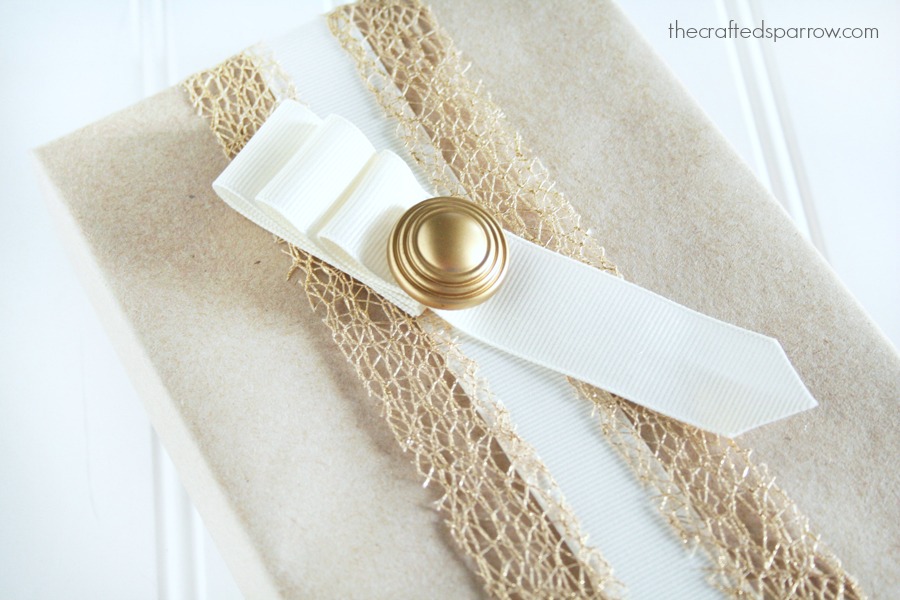 I'm on a bit of a pom pom kick lately, you can see how to make them if you check out my Pom Pom Spring Wreath tutorial.  They are a fun alternative to a bow.  Wrap some fun yarn around your package and add your pom pom, I also added a couple of feathers I cut out with my Cricut Explore.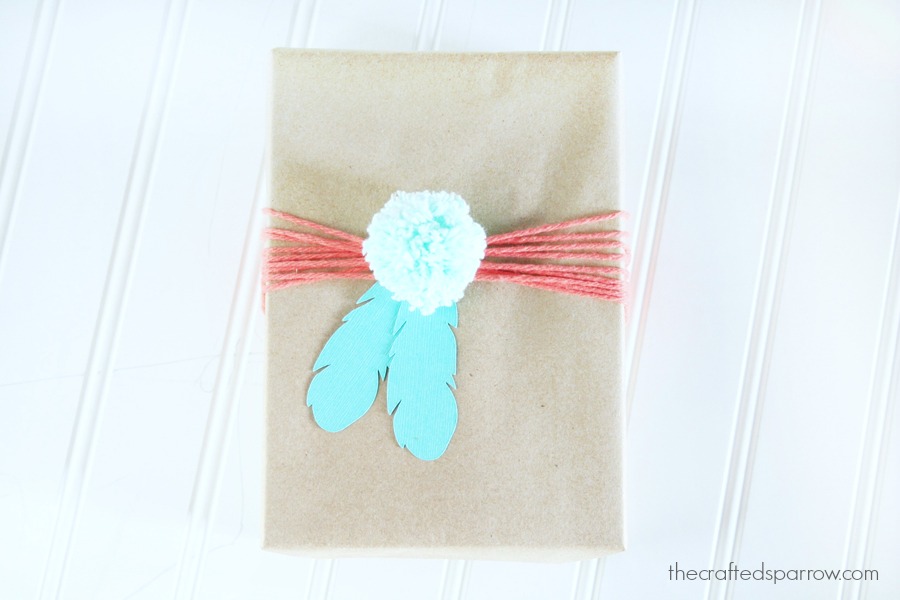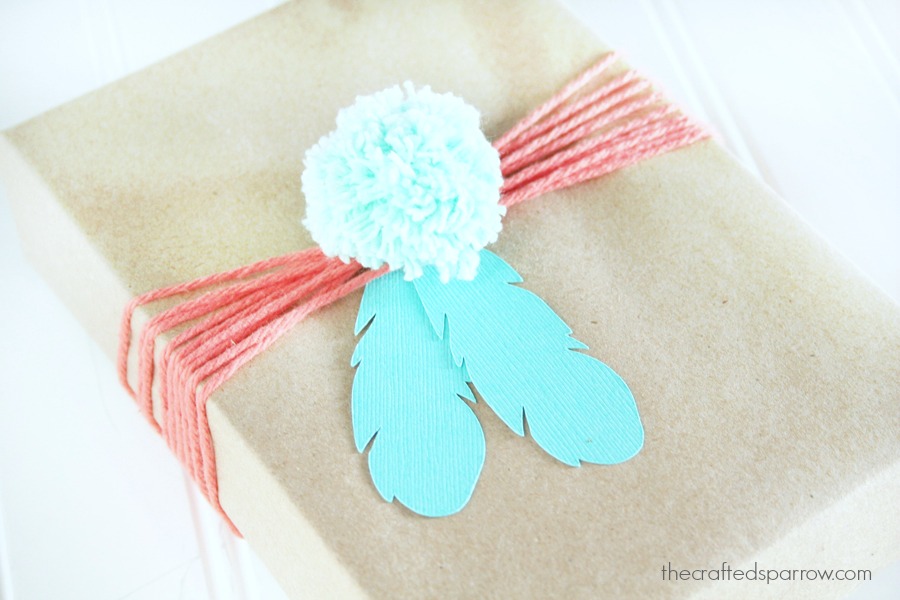 Who doesn't love a bit of sparkle?  Using glitter cardstock to create a cute mini banner makes this simple package really pop.  Use your favorite bakers twine to string your mini banner.  You can use any paper, cardstock, or even washi tape for this.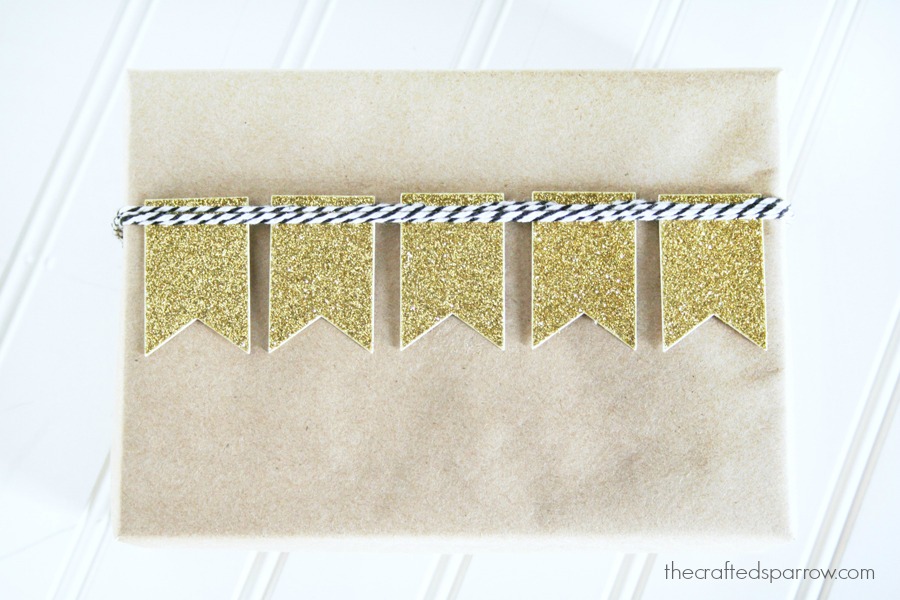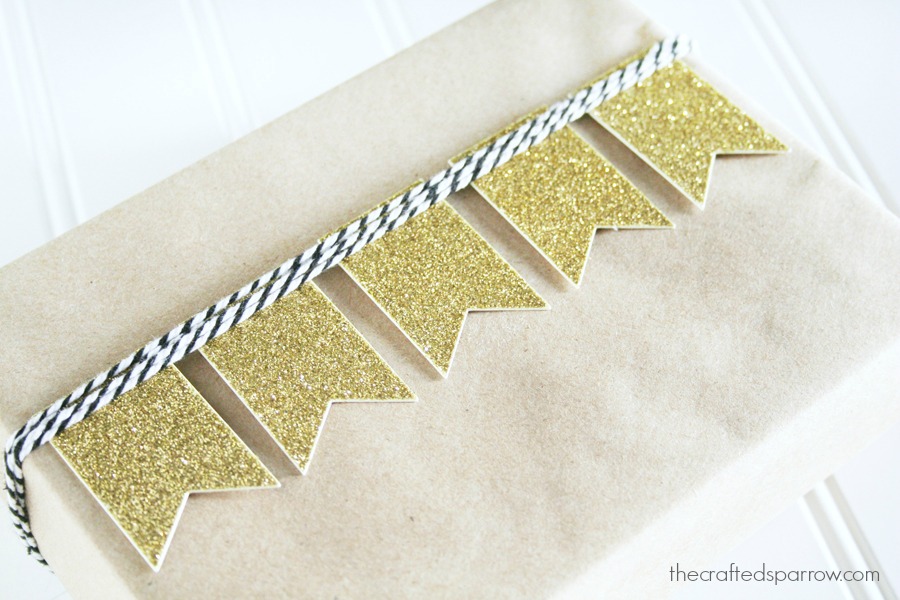 If your like me you have acquired quite the collection of washi tape, which means you have to start using it and stop hoarding it because it's so pretty.  Use it in place of ribbon and create a fun bow on your gift.  You can do this by putting the washi tape sticky sides together then creating bows and taping them in place.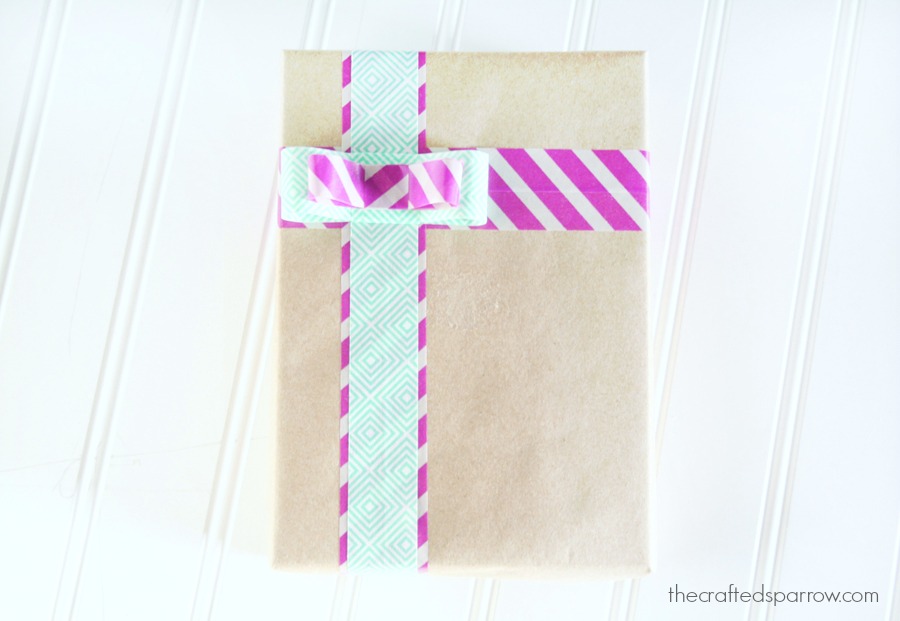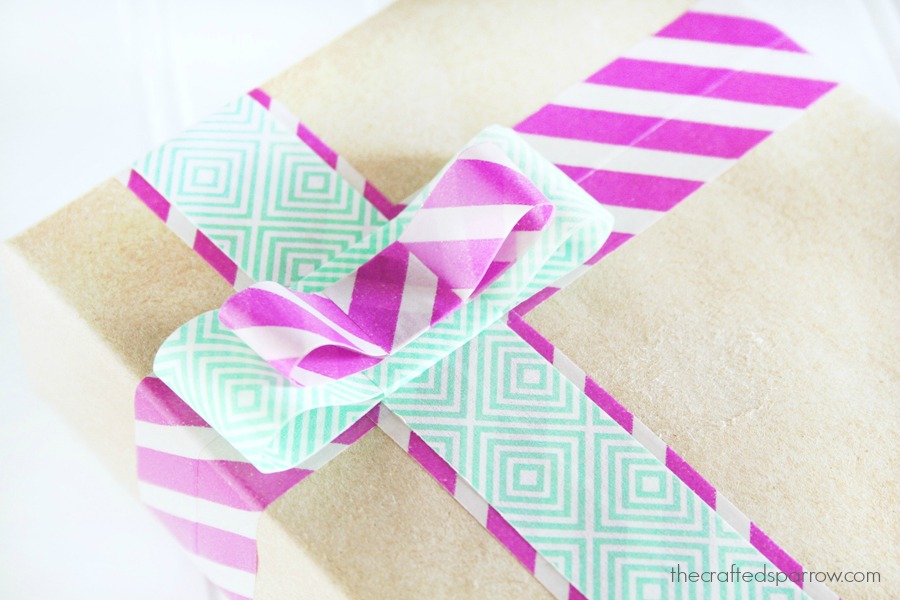 The possibilities really are endless, just look around your craft stash.  You probably have more items than you realize to help you make that gift fabulous.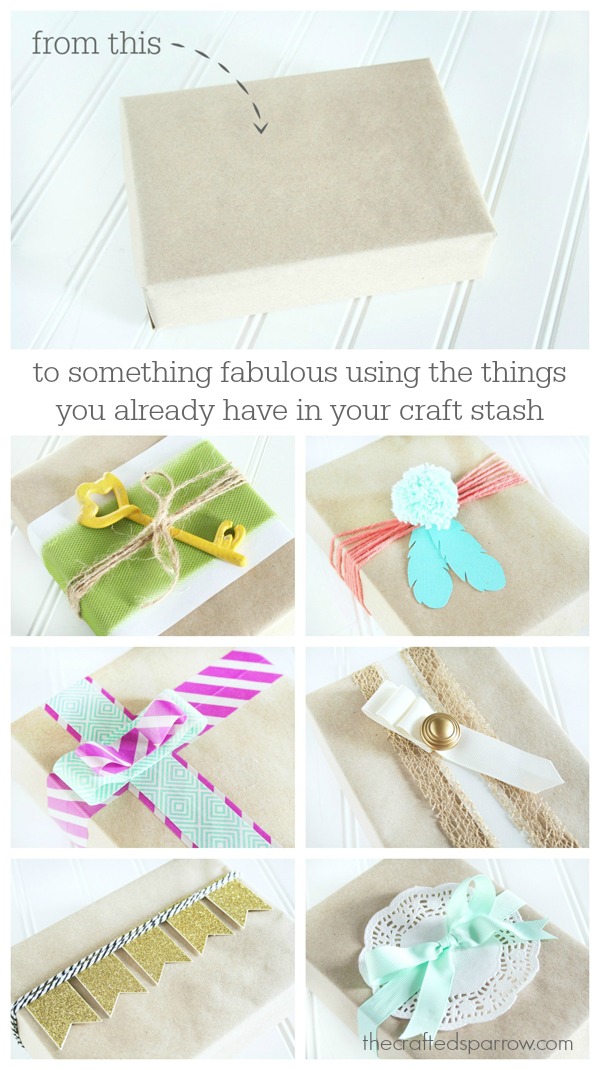 Don't forget to check out all the other great party ideas from my sweet blogging buddies.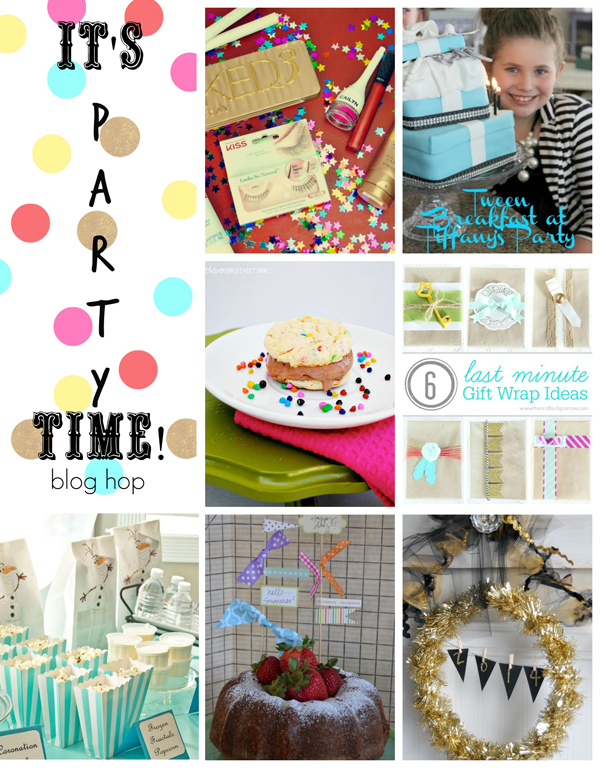 5 Beauty Products to Get You Party Ready || Flats to Flip Flops
Breakfast at Tiffany's Party || Maybe I Will
Yummy Party Treat || The Benson Street
Last Minute Gift Wrapping Ideas || The Crafted Sparrow
Frozen Birthday Party​ || Free Time Frolics
Cake Toppers || Hollyhocks and Honeybees
Graduation Wreath & Garland || She's Crafty