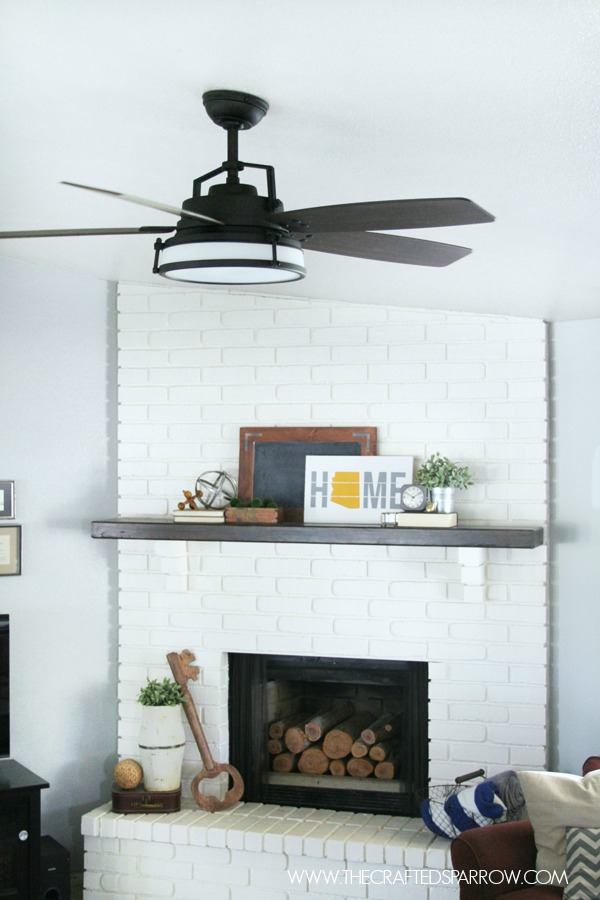 One of the requirements for living in Arizona is having ceiling fans in your home.  While they may not always be a decorators first choice in a lighting option, they are practical and can really help to reduce electric bills in those horribly hot summer months.  Today I'm showing you How to Update & Install a Ceiling Fan with the help of Casablanca Fan Company.
I honestly can't remember ever living in a home where we haven't had ceiling fans installed. Ceiling fan designs have come a long way, no more boring…plain fans.  I love that there are so many models and designs to choose from, something to fit every design style.
A few years back we upgraded our fans, but we were on a strict budget and thought we wouldn't be in our home much longer so we didn't want to invest a ton of money.  We ended up purchasing these fans from a home improvement store.  While there is nothing wrong with them, they just weren't our style.
We have realized that we will be living in our home for a while longer and there are no plans to move any time soon.  So when I came across THIS fan from Casablanca Fan Company it was LOVE.  I am slowly transitioning the design style of our home to a more neutral color palette.  I am drawn modern industrial farmhouse decor and I felt like this fan would lend to that design perfectly.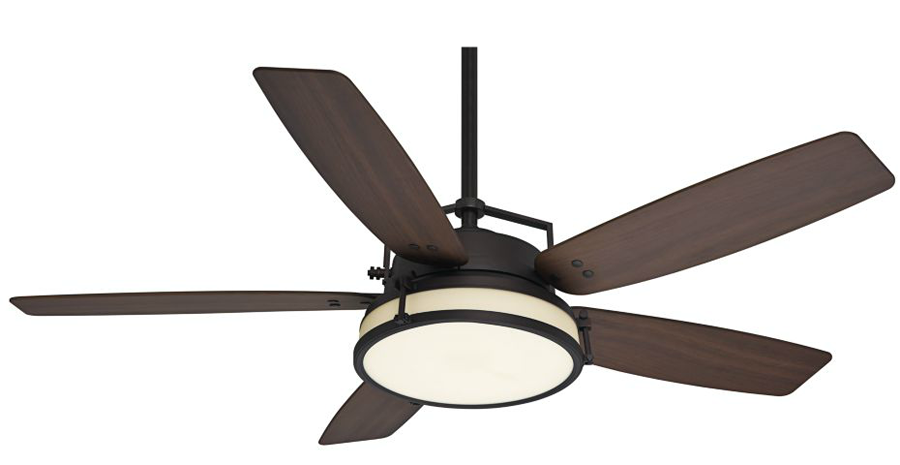 First step you need to do TURN THE POWER OFF, then remove the old fans.  Make sure you keep all the old fans small pieces together in a small bag or box so that if you donate it they will have everything they need.
Tools Needed:
– Ladder
– Pliers
– Wire strippers
– Flat head & Phillips head screwdrivers
If you have had ceiling fans previously installed you should already have a ceiling outlet box fastened securely to a support structure in the ceiling.  If for some reason this is the first time installing a fan, consult your installation guide/instruction book on how to install one.
Once the old fan is removed, including the old ceiling bracket you will need to install the new ceiling bracket for the new fan using the included screws.  Being sure that the wiring comes through the center.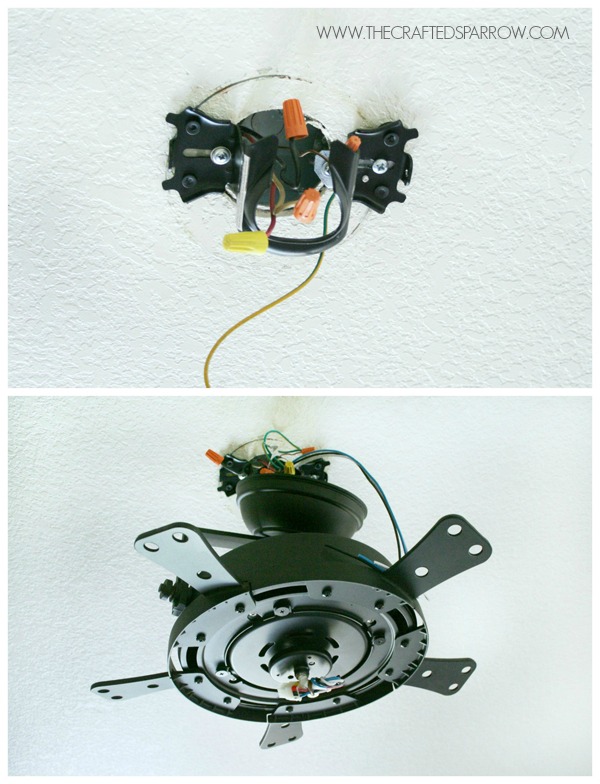 Since I have vaulted ceiling I needed to install a downrod, feeding the wires from the fan up through the downrod.  Let the canopy (small dome that covers the wires) rest on the fan. Place your downrod ball in to the slot on the ceiling bracket.  It should rest in it perfectly.
Following the instruction book to see how to attach the appropriate wires using wire connectors to the wires in the ceiling outlet box.  You may need to trim the wires from the fan before connecting, they usually come way longer than you need.  Use your wire strippers for this.
If you have a model similar to this fan this next step would be to install the wall control.  I'm not showing you this step since we needed an electrician to modify our existing electrical.
Position the canopy where it needs to be, flush against the ceiling and tighten with canopy screws.
Now install each fan blade using the enclosed screws or blade nuts according to the instructions.
At this point you will install the lighting fixture according to instructions.
Turn the power back ON, and test your fan using the wall remote or wall control.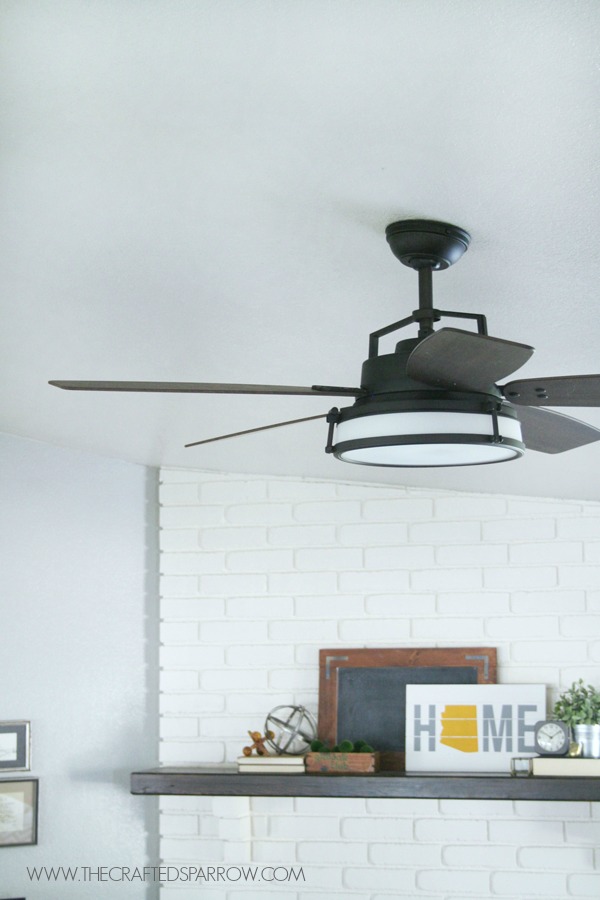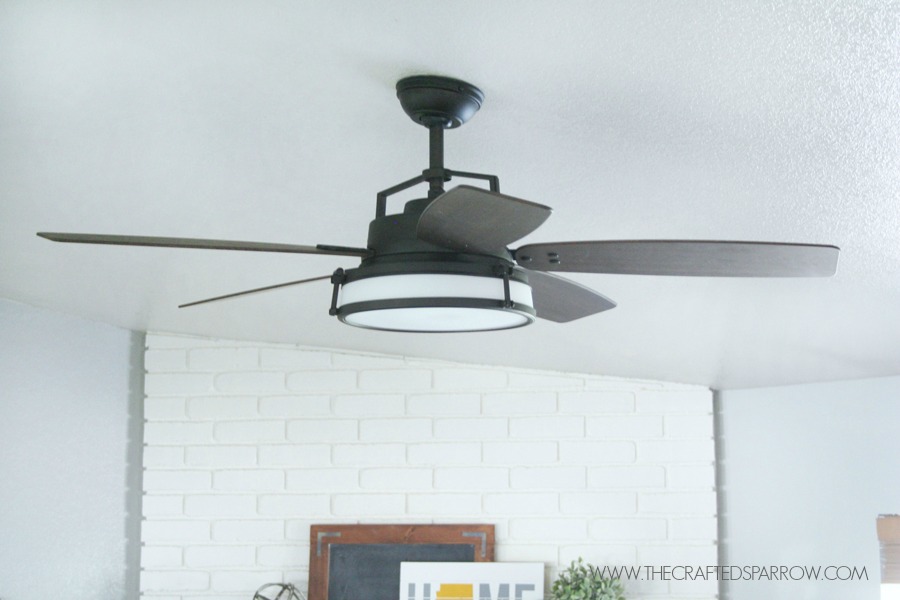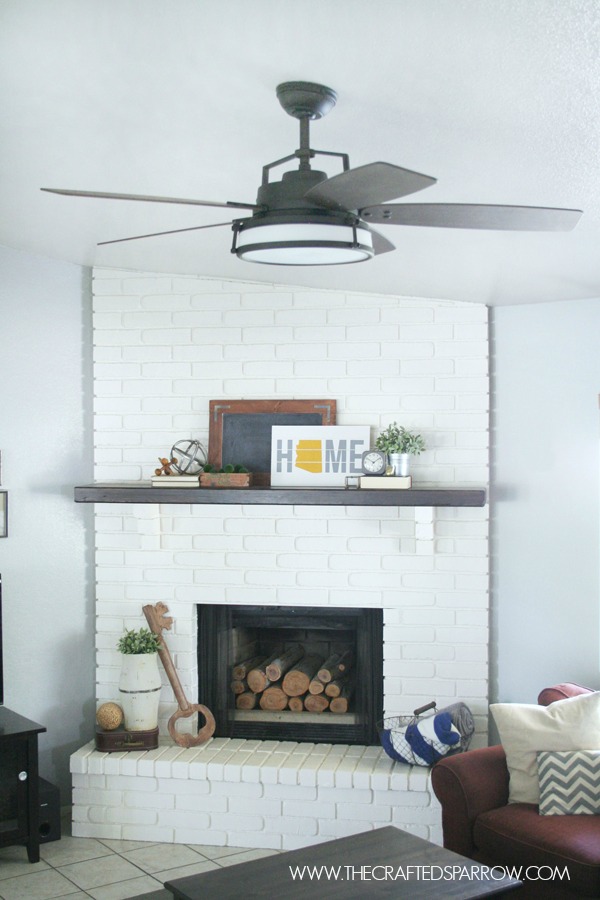 I love how this fan looks, and oh my gosh it's so much better than our last fan.  The amount of air it's pushing around the room now is amazing.  I know this fan is going to really help to keep us cool this summer.  The only thing I would wish were different is the amount of light the lighting fixture on the fan puts out.  For my personal liking it's a little to dim, I've always primarily used our ceiling fan light fixture as the main lighting source at night for these rooms.  It's no deal breaker though, I will just need to watch some Target clearance sales for cute lamps to add additional lighting.
Since we have two rooms that are connected by a large pass through cut out in the wall (my office/craft room & our family room) we installed two of these fans to keep things consistent through our main living areas.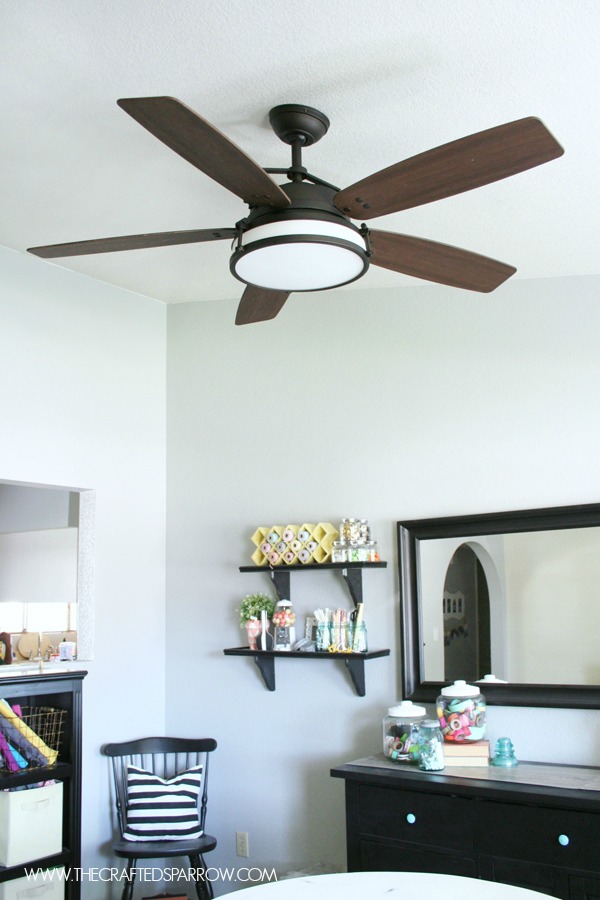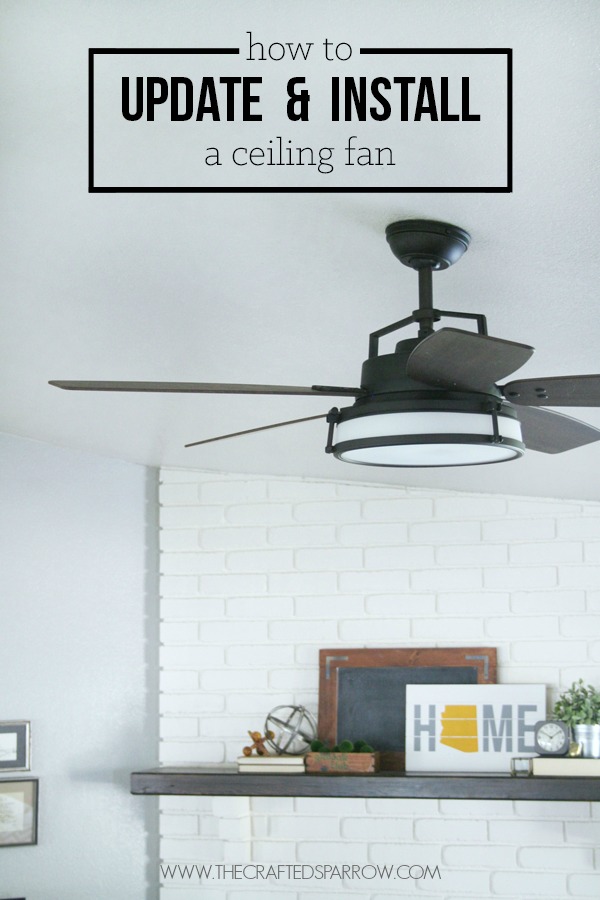 Casablanca Fan Company is turning 40 this month, and they are celebrating by declaring July #CasablancaMonth!  All through July, Casablanca will be sharing interesting tid-bits and best of all they are giving away a new ceiling fan each week through the month.  There is still time to enter and win.  To do this simply go to their Facebook page HERE, and "Like" their page.  Then "Like" the Casablanca fan image the company posts each week.  That's it! Throughout the rest of the month Casablanca will select one lucky winner each week.  This week they are giving away a "Riello" fan, head over now for your chance to win!
Disclosure  ||  This post was written in collaboration with Casablanca Fan Company.  I received the product in return for review.  All opinions are 100% my own.