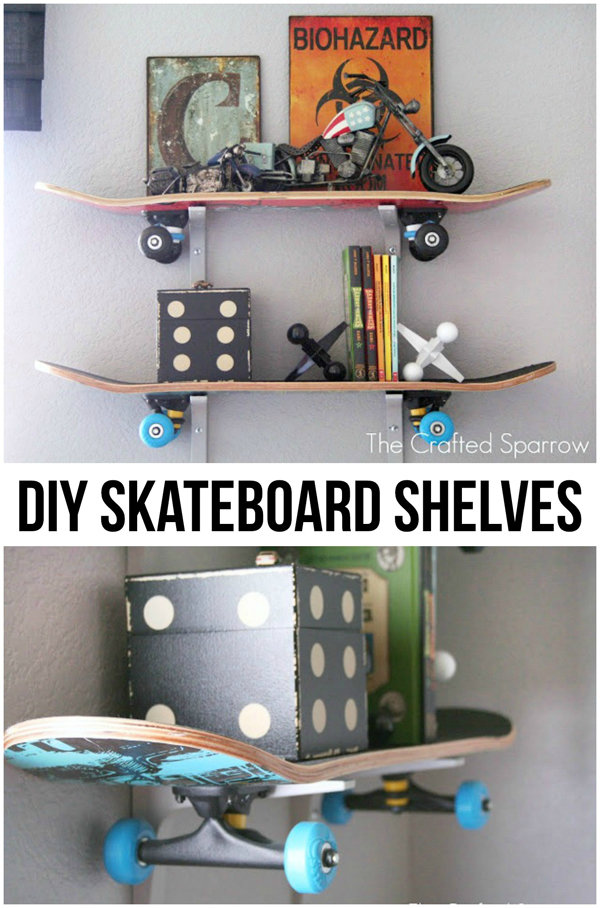 My son decided about 6 months ago he wanted a new room, he's had a beach theme since birth.  I quickly agreed.  I wanted to show you one of our first projects for his room, these awesome new 
DIY Skateboard Shelves
.  I've had this idea for years and wanted to do it, and I'm so glad I finally am able to use it in his room.
His room will have an eclectic look, a little of this and a little of that.  The full room reveal will be coming soon.  That is if I can get the final touches done!  I'm still searching for fun accessories to add to the room.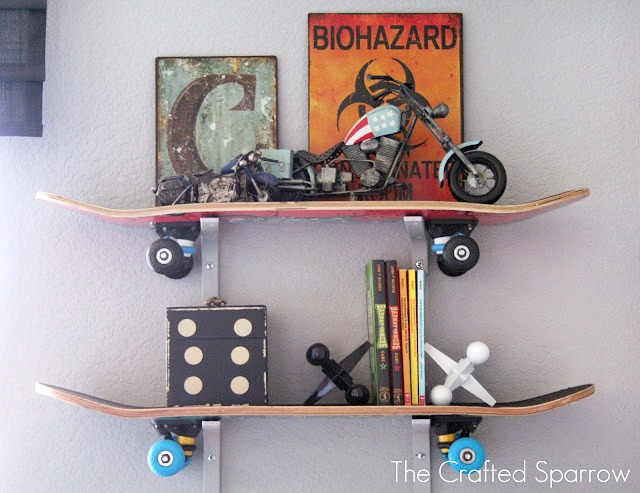 I looked everywhere for inexpensive, and by inexpensive I really mean CHEAP skateboards.  I didn't want to spend a ton of money on his room change so as always I hunted for a bargain.  I originally found $9 skateboards at Target, but they only came in lime green & orange with a maple wood colored board.  Which was fine, but the green wasn't going to be used in his room and I wanted the two shelves to be different colors.  I finally searched Walmart.com and found OP brand skateboards for $10 each in great colors.
His new room is mostly gray & black, with colored accents.  So I lucked out and found a blue skateboard, and a red'ish one (it's really almost bordering pink, but it still looks good).  The furniture in his room is maple colored so the boards echo that.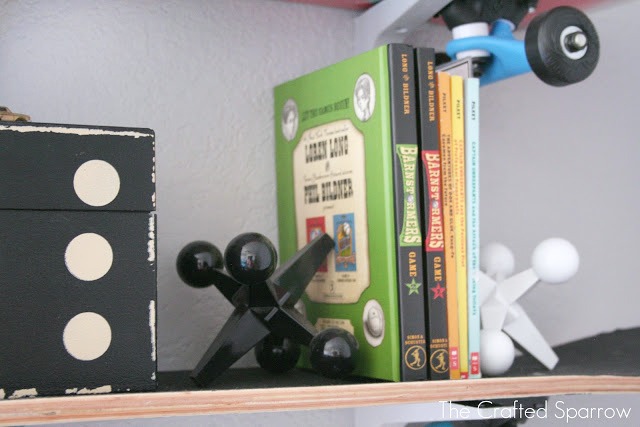 I had purchased some plastic black L-Brackets fromIkea several months ago with this project in mind.  I decided to paint them the same color as the wall so they blended in better and didn't stand out too much.  They were only $0.50 each atIkea.
Supplies:
– Skateboards
– L Brackets
– Screws
– Anchors
– Level
– Drill
– Pencil
Start by measuring how far apart your L-Brackets need to be when hung.  I measured inside each one of the skateboard trucks with the wheels.
Be sure to use good anchors and place the anchors where you will need to screw the L-Bracket to the wall.  Use your level to make sure they are even.When you have your L-Brackets attached you can just set your skateboard on top.  My brackets are actually a snug fit and won't move unless someone takes the skateboards off.
You can choose to screw your L-Brackets directly in to the bottoms of each skateboard, I chose not to do that just incase we ever wanted to actually use the skateboards for skateboarding.  You will need shorter screws to attach the board to the L-Bracket so you don't go through the top of the board.