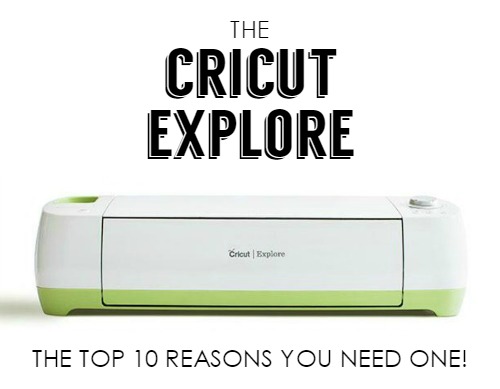 For the past year you have seen me fall head over heels in love with my Cricut Explore! I really do love this machine, it's been such a great crafting tool…one of my all time favorite crafting tools! Over the last couple of years I've used a Silhouette cutting machine and then had the opportunity to try a Cricut cutting machine, today I'm sharing the Top 10 Reasons You Need to Own The Cricut Explore. It's my honest opinion and I wanted to break it down for those of you who are on the fence about which machine to buy. There might be a pretty sweet Black Friday deal at the end of this post, so be sure to read through all the way to the bottom.
Like I mentioned I've used both brands. When I was using a Silhouette cutting machine I loved it! That was because I hadn't used another brand of machine before. It did the job, but it would constantly skip cuts and it was getting pretty frustrating. When I was given the chance to work with Cricut, the first machine I got was a Cricut Expressions 2. Can I just be honest? That machine only got turned on once! It was just too much work to use and I hated that you needed a cartridge, I couldn't upload my own images, etc… I just thought it was a waste and felt bad that I wasn't using it.
THEN the Cricut Explore made its glorious debut to the market! Hallelujah! The promises it made were so exciting and made me literally giddy, so let me tell you why you need to own one today.
1. THE CRICUT EXPLORE WILL BE YOUR GO-TO CRAFTING TOOL!
You are not limited with what you can make with this tool. Think outside the box, there are so many possibilities of what can be created. Whether you're creating simple paper projects, handmade gifts, or one of a kind home decor items this machine will do it all with the ability to cut, score, and draw.
2. IT CUTS MORE MATERIALS THAN SILHOUETTE!
Fabric, Paper, Leather, Wood, and about 50 other materials can be cut with the Cricut Explore. Yep I said Leather! This DIY Geek Chic Leather Tablet Sleeve was a breeze to make with my Explore. It cut with a regular blade, which by the way is a German carbide blade that really lasts! I've cut fabric, lot's of paper – glittered cardstock – canvas – and much more and each time it's wonderful.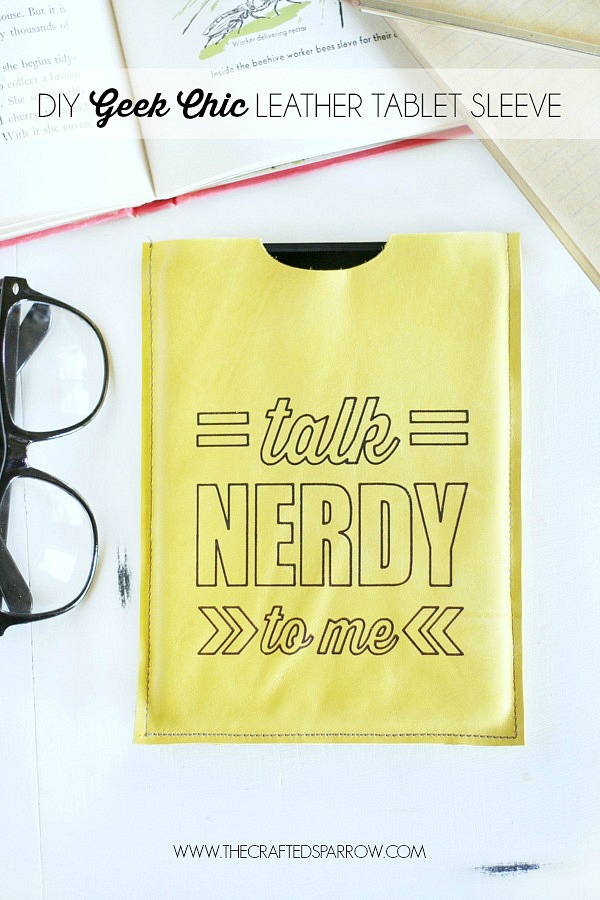 3. THE CUTS ARE PRECISE!
It cuts tiny little cuts and it does it perfectly! I've cut some really detailed things with small precise cuts and not once have I had an issue with it skipping or ripping. Like this Snowflake Wall Hanging, all those tiny pieces in the snowflakes details were perfect.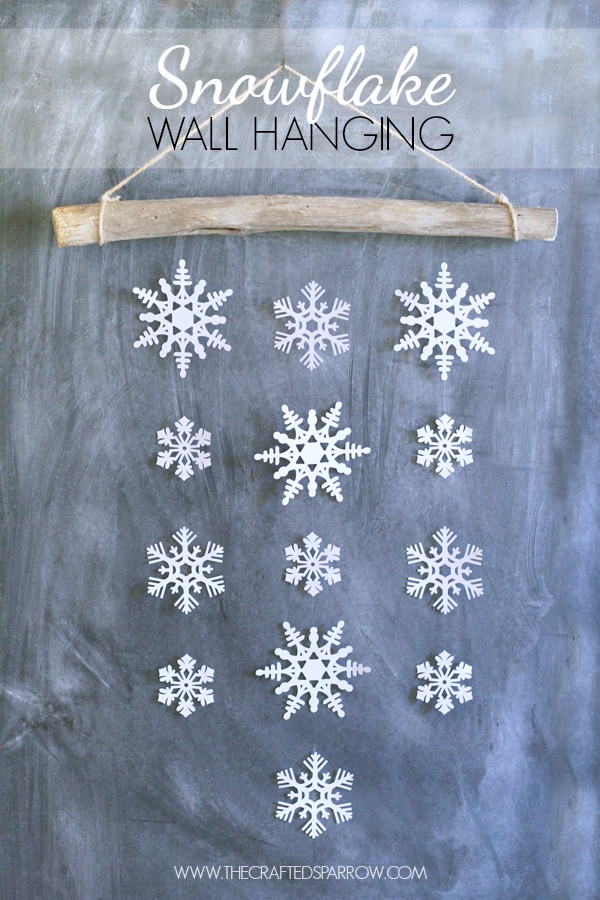 4. I CAN UPLOAD MY OWN IMAGES!
This by far might be one of my favorite features, for most of my projects I've uploaded my own images. SVG, PNG, JPG files can be uploaded easily and transformed into a cuttable image for FREE. You are not just limited to your own images, Cricut Design Space offers more than 25,000 images for $9.99 per month.
5. NO MORE CARTRIDGES!
That's right you heard me! No more cartridges! Don't worry if you already own a bazillion cartridges you can easily download them in to your Cricut Explore one time, they will be saved in your Design Space account forever! They will be there to use when you want them. So much easier, right?
6. THIS MACHINE IS SMART!
No more adjusting the blade or pressure. The Cricut Explore has a Cut Smart system that senses the pressure the particular material you are using needs. With just a turn of the dial it's all preset and ready for you to use. There is also a Custom Cut option, with a ton of custom materials to choose from you won't be left guessing when it comes to cutting something. You can also create your own by setting pressure and how many times you want it to re-cut.
7. NO SOFTWARE NEEDED!
There are definitely some features I miss with the Silhouette software that I know Cricut will have someday very soon, the one thing I DO NOT miss is needing the software to cut and create. With Design Space I can use any computer, or iPad anywhere! Design Space is online and with the ease of even going wireless with the bluetooth adapter on the Explore I can take it with me and cut. Design Space holds all my custom images as well as any purchased images I have. It's all it one great spot.
8. FONTS GALORE!
I love fonts, and the fact that I can use my own fonts or the Cricut fonts makes it even better. For example these DIY Christmas Tea Towels not only let me combine custom images, but I was able to use some of my favorite fonts so easily in Design Space.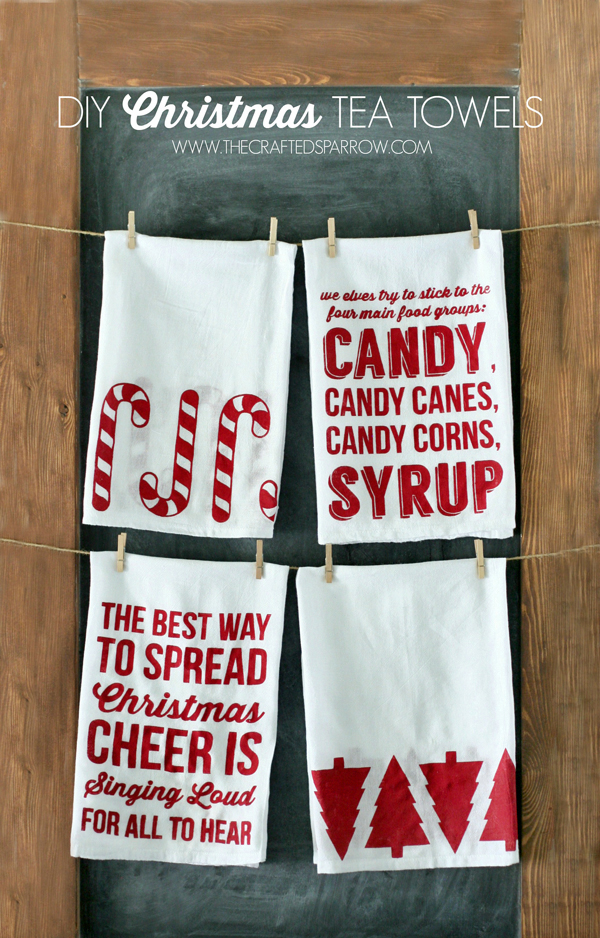 9. MAKE IT NOW PROJECTS!
With so many great Make It Now projects creating a project couldn't be more simple. The Make It Now feature gives you step by step details on how to not just assemble the project, it tells you what you need – and it's already designed and completely ready to go. All you need to do is gather the supplies and hit GO.
10. THERE IS AN NEW APP!
Wait! What? Yep, you heard right…an APP! Come January Cricut is launching the all new FREE app. You will be able to use your iPad from any location using the new app, the freedom of this feature will be amazing! Want more details on the app, go HERE!
Need even more convincing to buy a Cricut Explore? Need to hear it from someone else? Experts at a third-party independent lab ran the Cricut and the Silhouette through some pretty grueling tests and came up with serious results. Remember when I said how many materials the Cricut Explore cuts and how consistent it was, they are confirming that!
There it is folks! My 100% honest opinion, and why I'm a die-hard Cricut Explore fan.
Now that you want to buy your very own Explore I have some pretty awesome news for you! Cricut has some AMAZING Black Friday deals for you! Beginning at 12am EST on Friday, November 28th the Cricut Explore will be on sale for $229. To sweeten the deal, you can get an additional $10 off with the code EXPLOREFBLOG, $5 off a purchase of $50 or more with the code CRICUTBF5, and free shipping until the end of November with the code FREESHIPNOV. That would make this awesome Deluxe Starter Set pictured below $214.99 with free shipping! The other bundle deals will all be $30 off. Prices are good until Monday.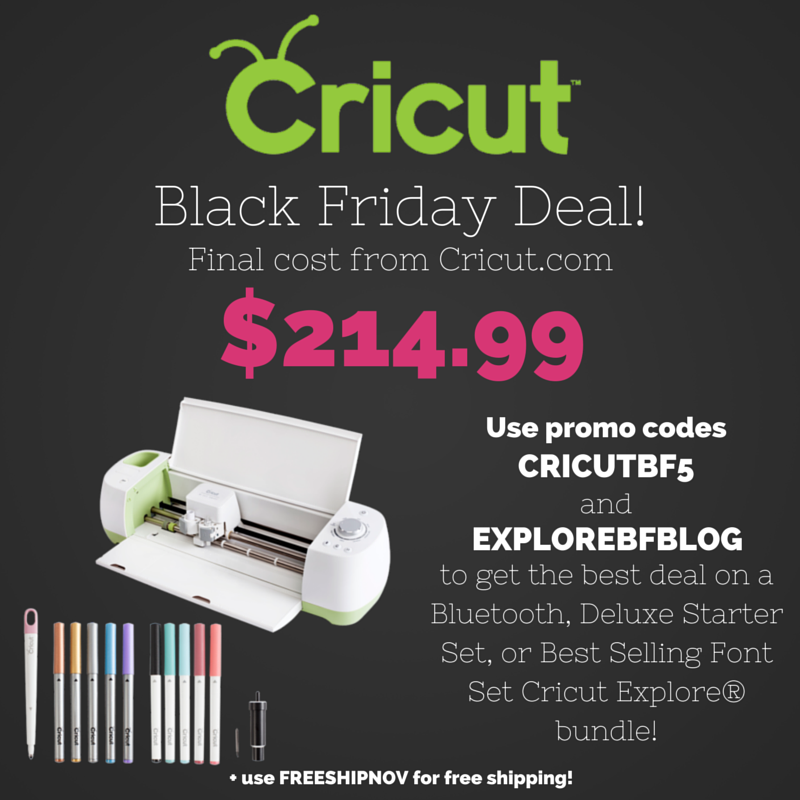 Here is a quick re-cap of the deals!
Cricut Explore cutting machines: $229 + $30 off bundles
$10 off with code EXPLOREBFBLOG
$5 off a purchase of $50 or more with code CRICUTBF5
Free shipping until the end of November with code FREESHIPNOV
I can't wait to hear from you if you buy a machine! You will LOVE it, I'm sure of that. Happy shopping.
Disclosure | This post contains affiliate links. All opinions are 100% my own.