DISCLOSURE | This post is sponsored by Target. All opinions and ideas are 100% my own. Find your style @targetstyle.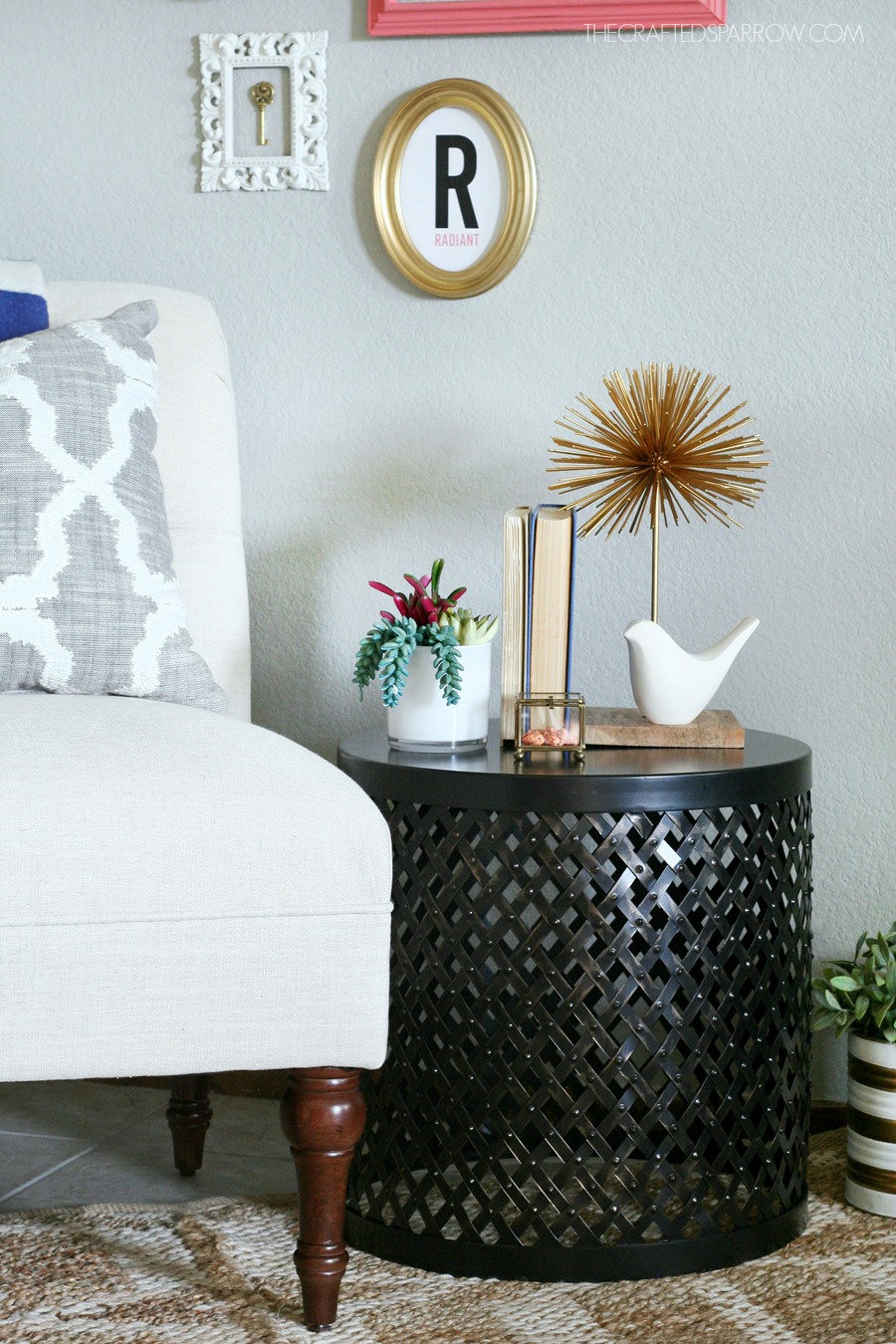 For the past several months I've been wanting to create a space that I can read a book, think about future projects, or watch tv in. Over the next few months, I hope to give my office a fresh new look, something brighter and just some overall updating. This little cozy spot I created is the first little bit, and today I'm showing you
How To Pick & Decorate The Right End Table
for your space.
When considering End Tables or Accent Tables for your space you need to know a few things before you start.
What is your decor style?
Is your furniture big & bulky or streamlined & compact?
How tall is the furniture piece you will be pairing your accent table with?
Do you have a budget?
As I was shopping for my space I knew that I not only needed the accent table, I also needed a great chair to go with it. So I started with the chair first. I found this Threshold™ Upholstered Tufted Chair in Target stores. It was perfect. A little feminine with the tufting and spindled legs, and armless so it fits in my small space.
Next I needed an accent table. While in the store I was able to try out several styles of tables alongside the chair. The table should be in proportion with your furniture, this is why you need to measure the height of your existing pieces and consider the overall style of your decor. In my case, I needed a table that was close to the same height as the seat of my chair since it was armless. The taller the arm on your furniture the taller the table you can have.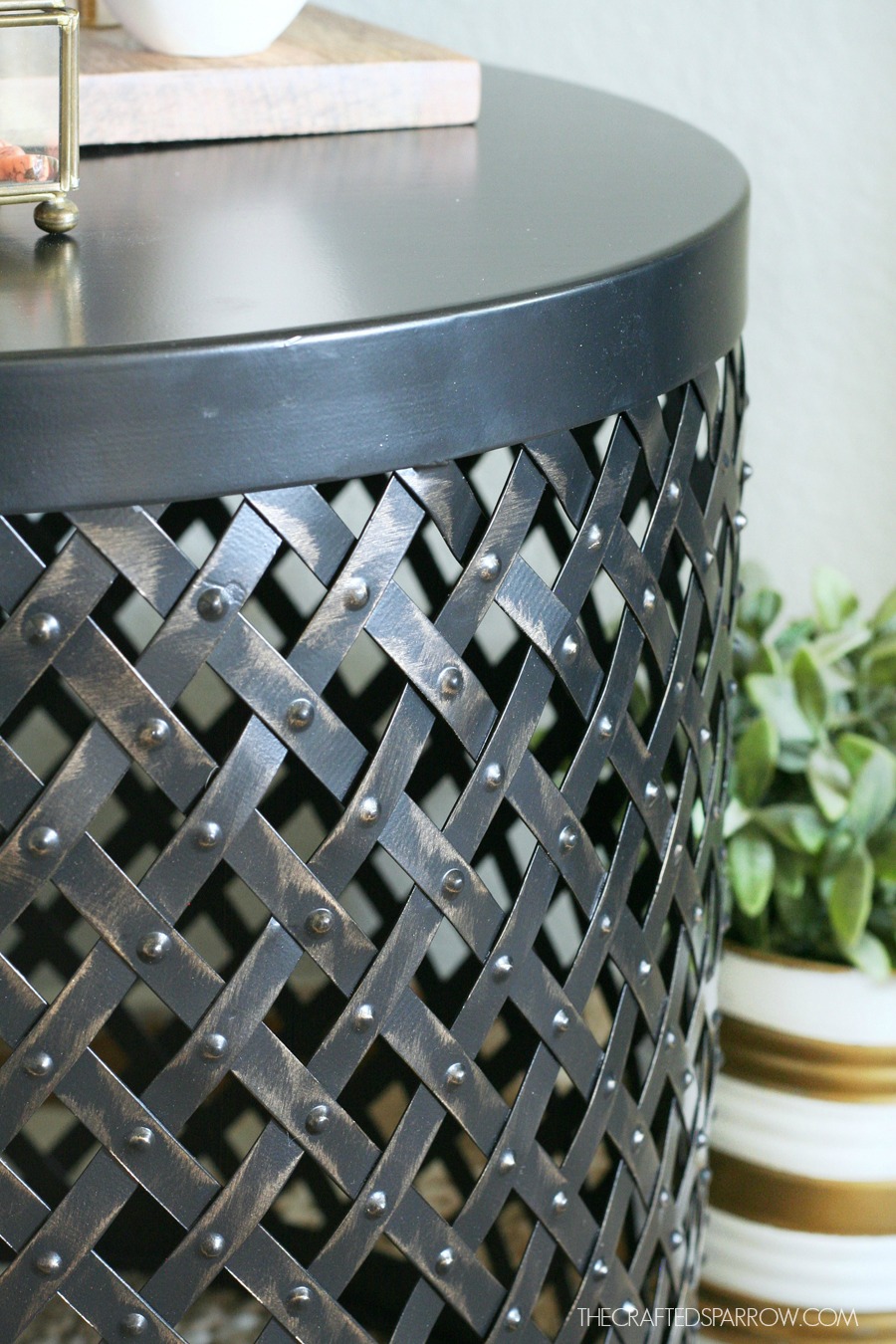 I also needed to consider the style. I wanted something round since I knew the space would be close to the corner of my office. Visually the soft lines of a round table will help to not make the space feel cramped in a corner.
I loved the idea of a metal table since I have boys who can be harsh on things. My guys are pretty respectful of our home, but every once in a while someone likes to drag something heavy across tables. The table I chose was perfect, it's heavy and very durable.
The features and design of the table are what sold me. A little touch of industrial metals mixed with the small touches of brushed gold detail. It wasn't too feminine, the perfect fit with the tufted chair. A little bit of both feminine and masculine combined.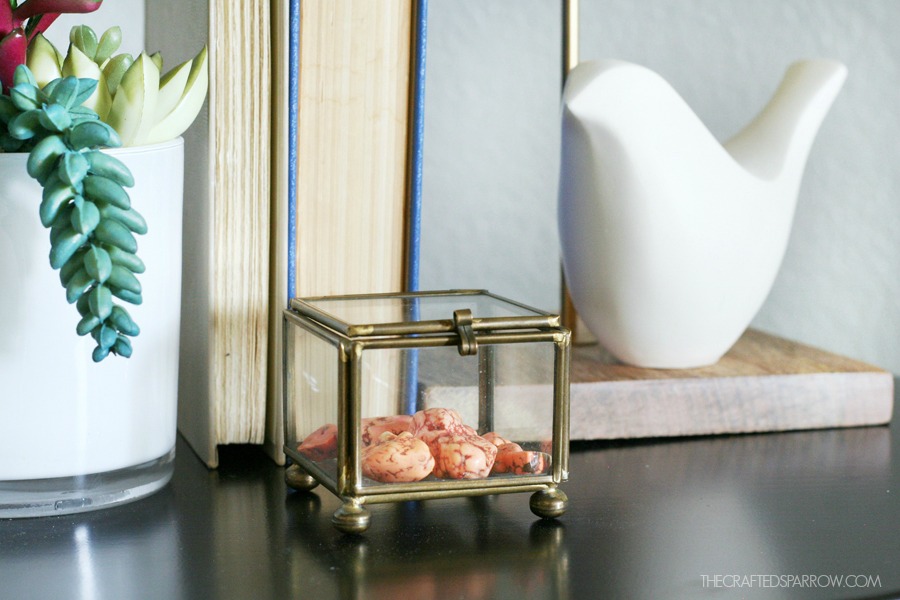 When decorating a round table it can be tricky. Honestly, a round table is in my opinion the hardest thing to decorate.
The decor should help the eye to continue to move around your space, not just stop at the table. I chose to not put a lamp on my table since I have a huge overhead ceiling fan that provides enough light. I kept my design focused on simple accessories that reflected who I am. A little modern mixed with a little vintage.
Do you see how I created a "stairway" with my decor? I kept my tallest item, which is this amazing Threshold™ Gold Sea Urchin Figurine to the side where my gallery art stopped. It helped to fill in a blank space. I used some vintage books, a small vintage brass and glass box filled with coral colored stones to pull in some of my accent colors. I then added a bit more color with this multi-color succulent arrangement. This decorative bird figurine just called my name.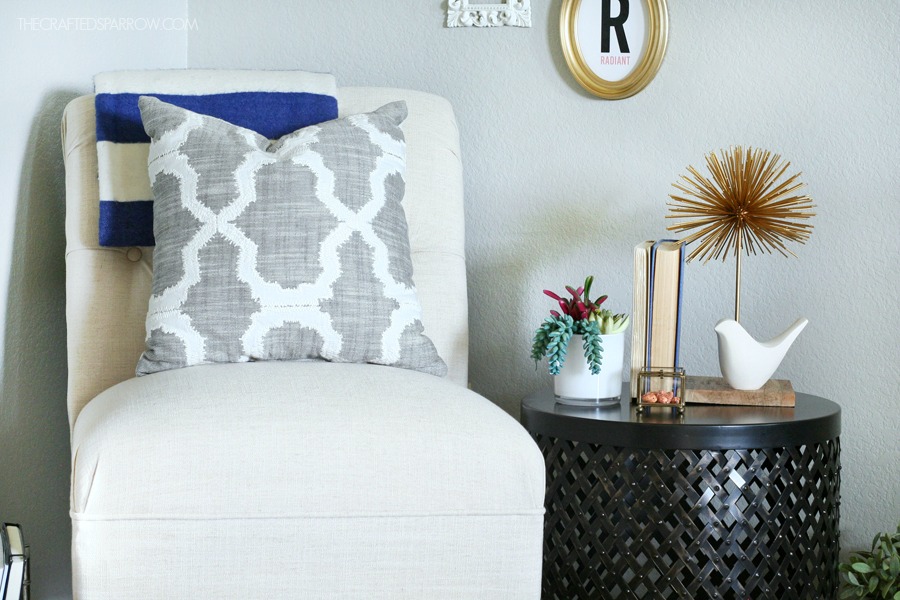 When placing decor on accent tables it will just depend on the style of the decor and what pieces you've chosen as to how to place them. Stacked books, small succulent arrangements, table lamps, decorative figurines, small decorative boxes, etc are all great options. Just remember to keep in balanced, don't overwhelm your table…you still need a spot to set down a drink or the book you're reading.
Choosing accent tables and decor doesn't need to be expensive either. When you've set your budget start looking around, one reason I love Target SO much is because of their amazing styles and prices. Check your home for decor to mix in with new pieces, you've probably got a ton of stuff that you could give new life to with paint.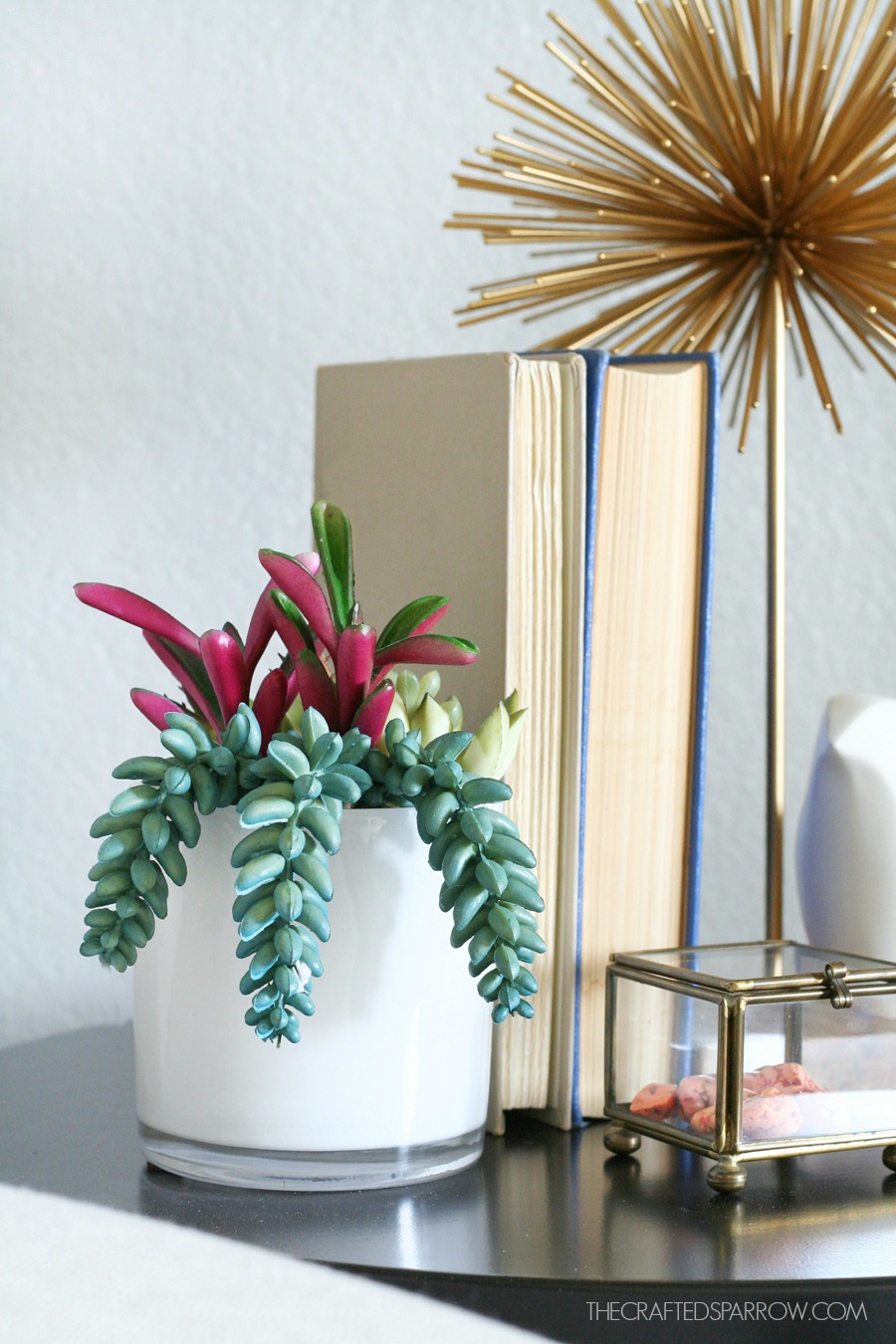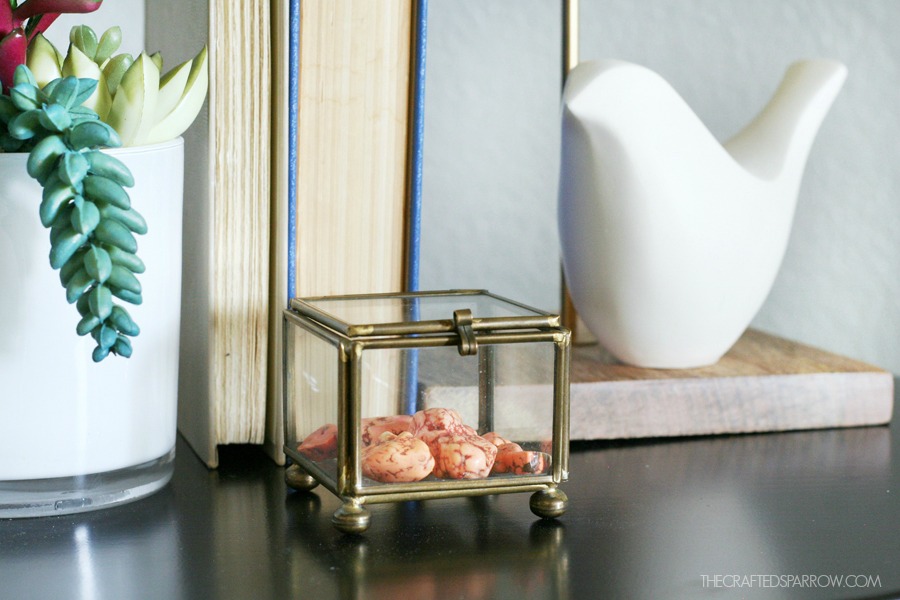 I really love how this little corner turned out and I've even left a spot open for a large floor lamp at some point, I am still looking for one I love.
I pulled in some pops of gold and color with a quick gallery wall using items I already had on hand. Paired everything with some woven rugs with a great pattern, added a throw with a nice pop of blue for spring, and added a vintage metal magazine rack that I've had for years.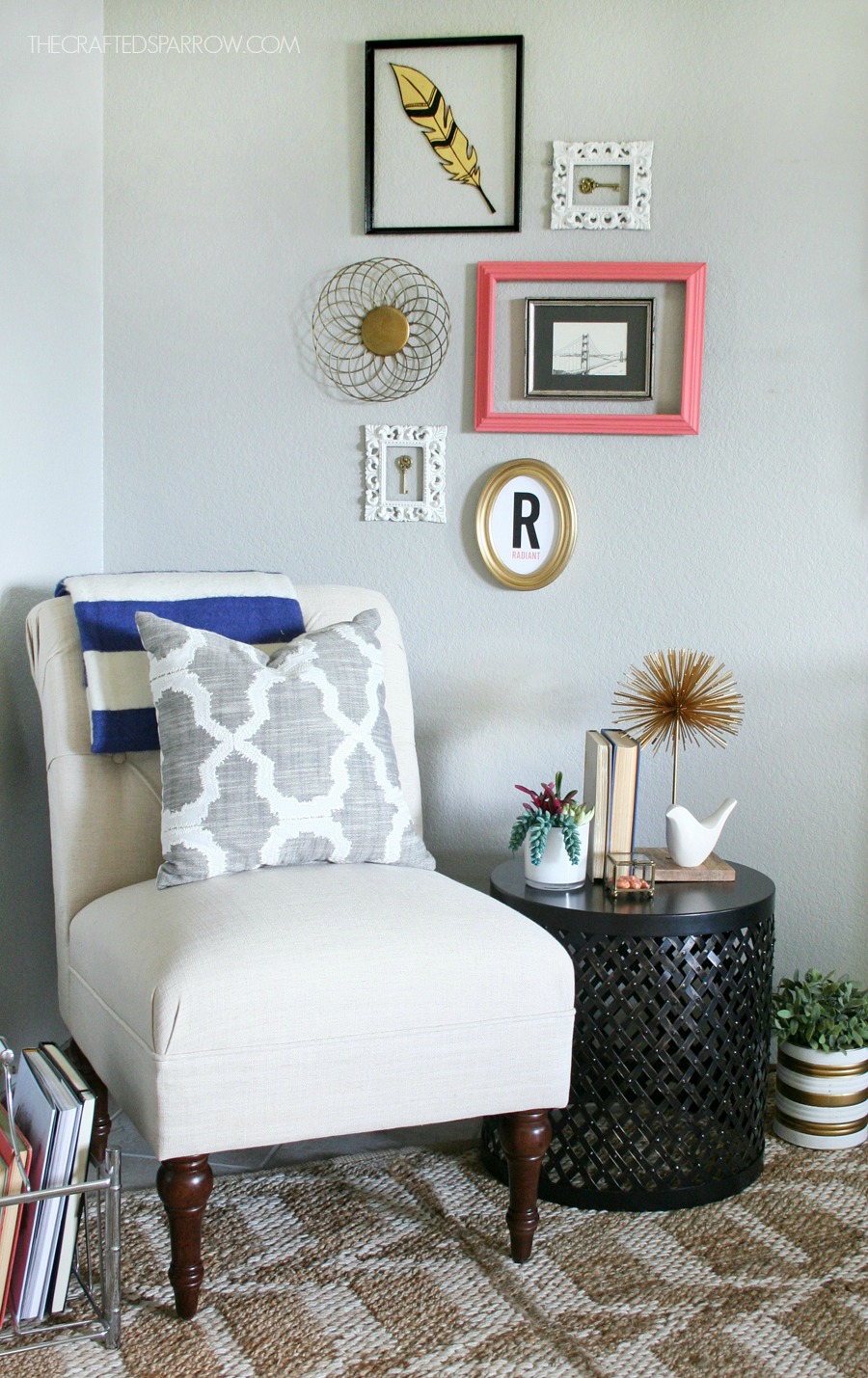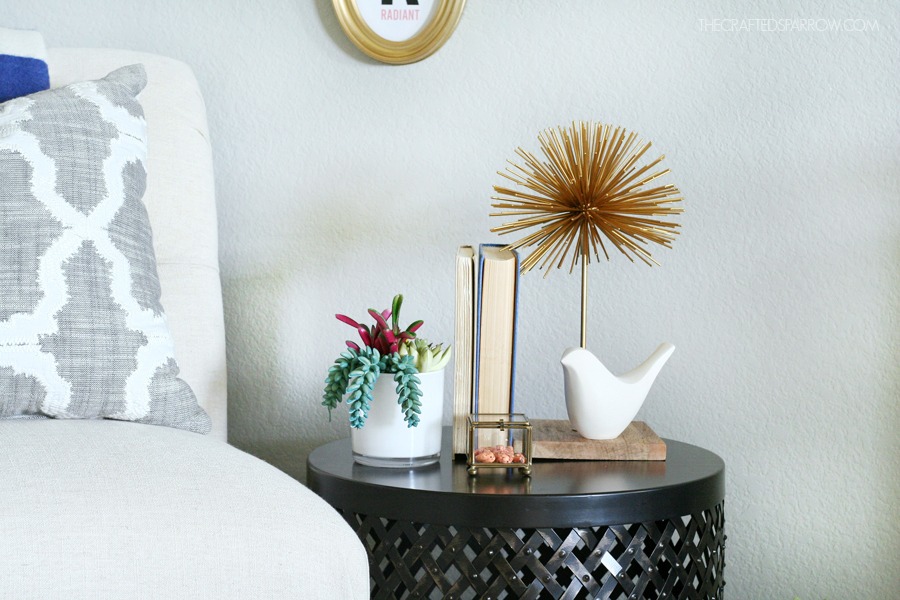 I love this Threshold™ Geometric Applique Throw Pillow I added to the chair. It pulls the grays and blacks together, and the pattern mixed perfectly with the whole look.
I hope you love this space as much as I do. You'll want to head in to Target stores now; the new spring lines are hitting shelves and it's all so fresh and fun.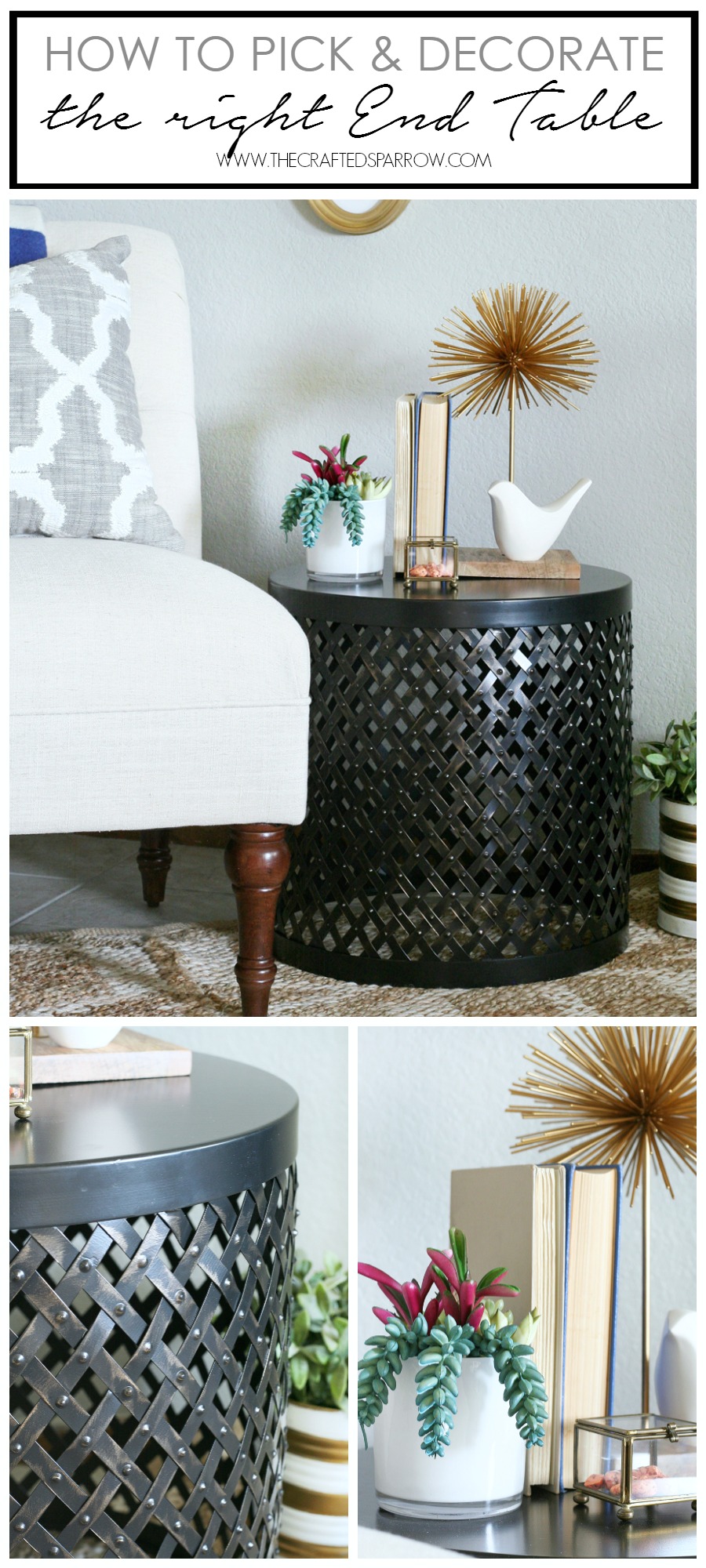 Need some extra inspiration? I've gathered 15 Gorgeous End Tables all Under $100 at Target right now. All of these Accent tables are amazing! Finding something full of style and character doesn't need to break the bank. All of these tables are functional, beautiful, and there is something for every decor style at Target right now. If you can't find something in the store, be sure to check online. Be sure to scroll down to see the full source list with links.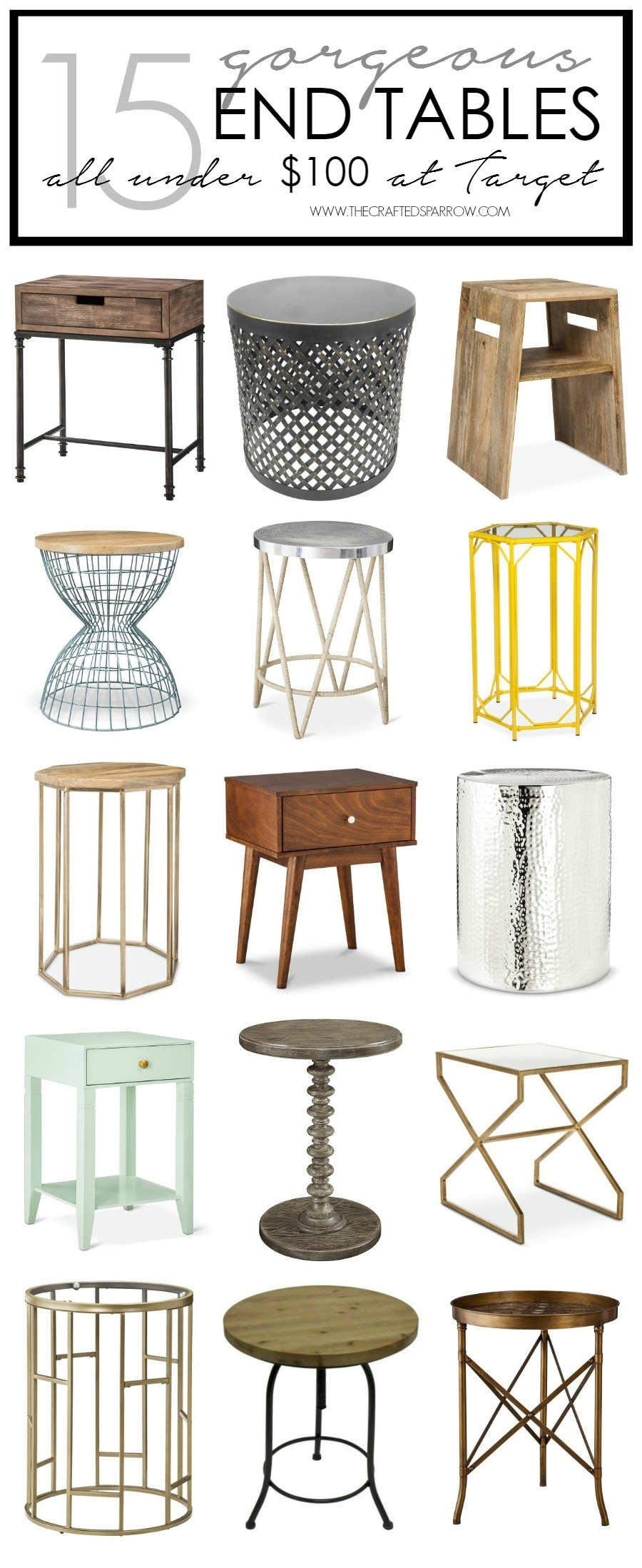 Source list for these Accent Tables is in order from left to right, top to bottom.
Threshold™ Mixed Material Side Table
Threshold™ Round Metal Cutout Table
Threshold™ Wooden Two Shelf Accent Table
Threshold™ Aqua Accent Table
Threshold™ Rope Wrapped Accent Table with Hammered Metal Top
Threshold™ Yellow Bamboo Motif Accent Table
Threshold™ Caged Accent Table
Mid-Century Modern Side Table
Threshold™ Silver Drum Accent Table
Threshold™ Mint Accent Table with Drawer
Driftwood Round Spindle Table
Nate Berkus™ Brass Metal Accent Table
Threshold™ Gold Round Accent Table
Adjustable Metal and Wood Table
Threshold™ Gold Stamped Metal Accent Table
Be sure to Find Your Style @targetstyle. #TargetStyle