DISCLOSURE | This post was sponsored by Shutterfly through their partnership with POPSUGAR. While I was compensated by POPSUGAR to write a post about Shutterfly, all opinions are 100% my own.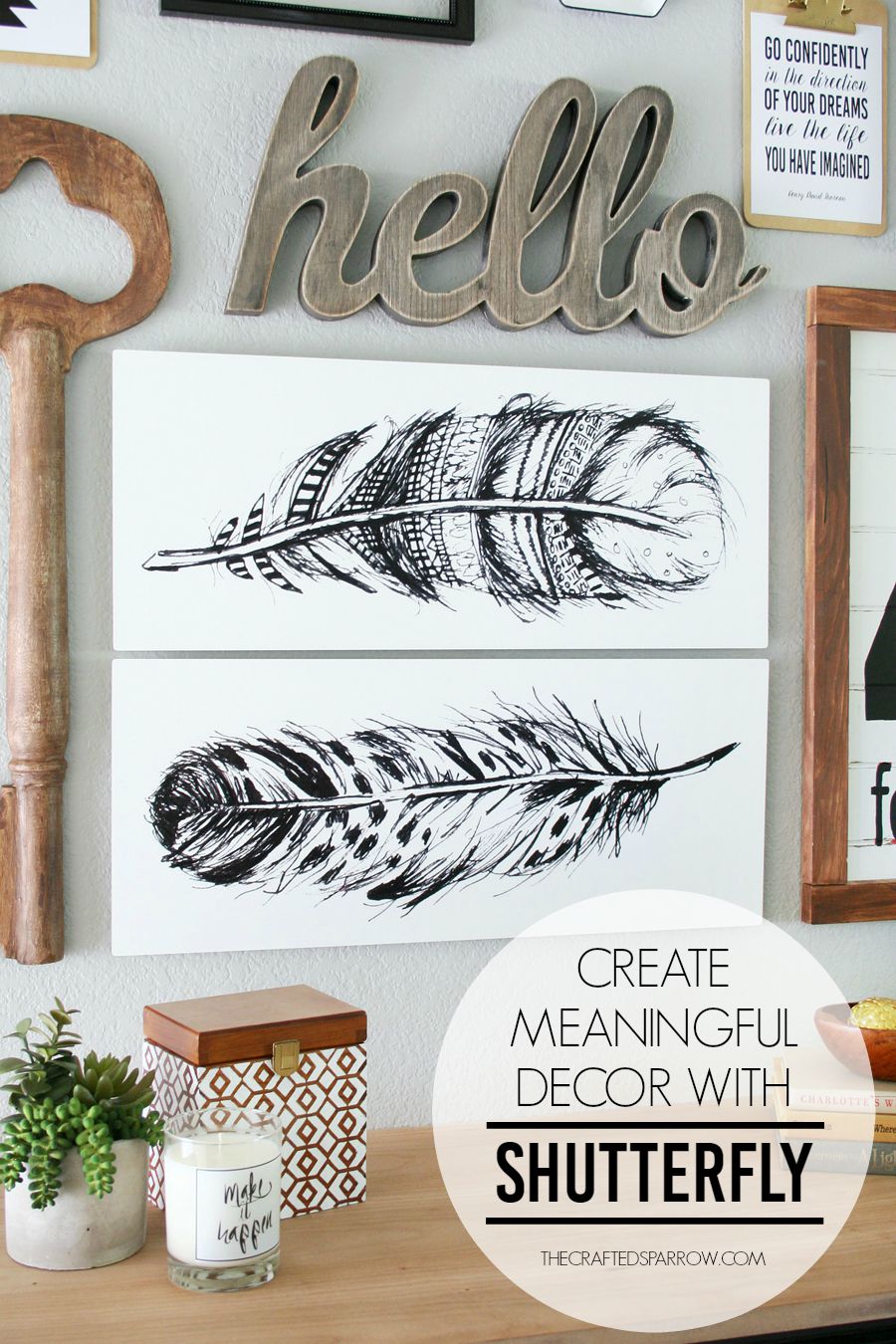 For the past year, I've had a special stash of items I've collected just waiting for me to create a gallery wall. Unfortunately, I just couldn't find enough items that really felt special enough to be a part of the wall. I wanted everything I placed to have meaning, since the gallery wall would be front and center in our entryway and is a main wall in my office / craft room. I'm so excited to show you how easy it was to Create Meaningful Decor with Shutterfly that fit perfectly into my space and was exactly what I was looking for.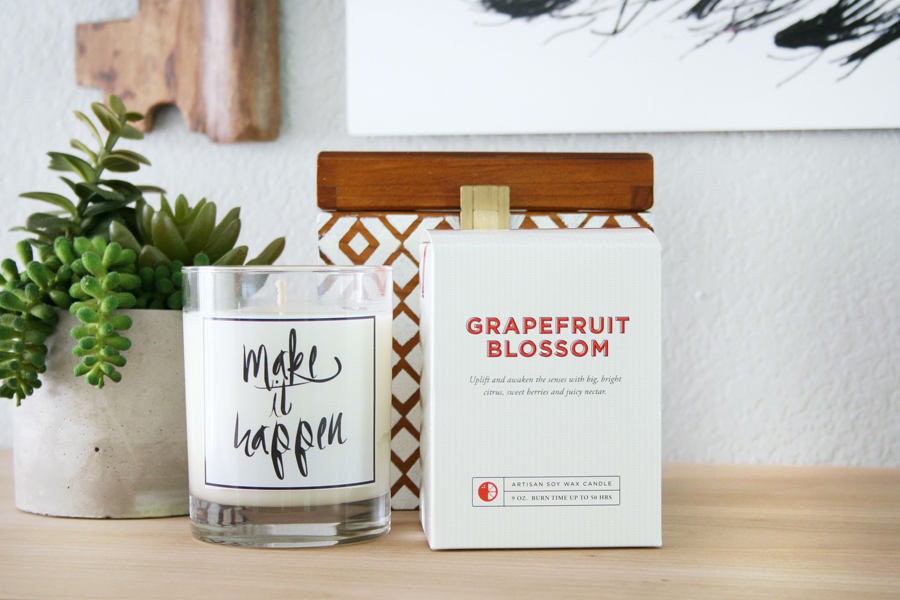 Part of my gallery wall includes our entry table, and whether I'm home alone or have friends and family over, one thing I always have is a candle burning on it. Having soft, sweet scents in the air makes me feel more energetic, and it makes everything feel more inviting. I'm a huge citrus fan, so when it comes to scents, I always stick to grapefruits and other sweet citrus scents when choosing a candle.
I was so excited to see this Grapefruit Blossom candle from Shutterfly. Not only is it a soy wax candle with a super long burn time, it's the perfect light scent I wanted. It smells so dreamy.
I also loved that I could create a custom design for my candle using the Upload Your Own Image option. I wanted to create something personal that as I walk past it daily, it would encourage me to get the things on my to-do list done since I'm a huge procrastinator. I picked a fun graphic I have had saved for a while and just uploaded the image to Shutterfly. It was super easy to do; I'm kind of obsessed and want to make candles for all my friends as gifts now!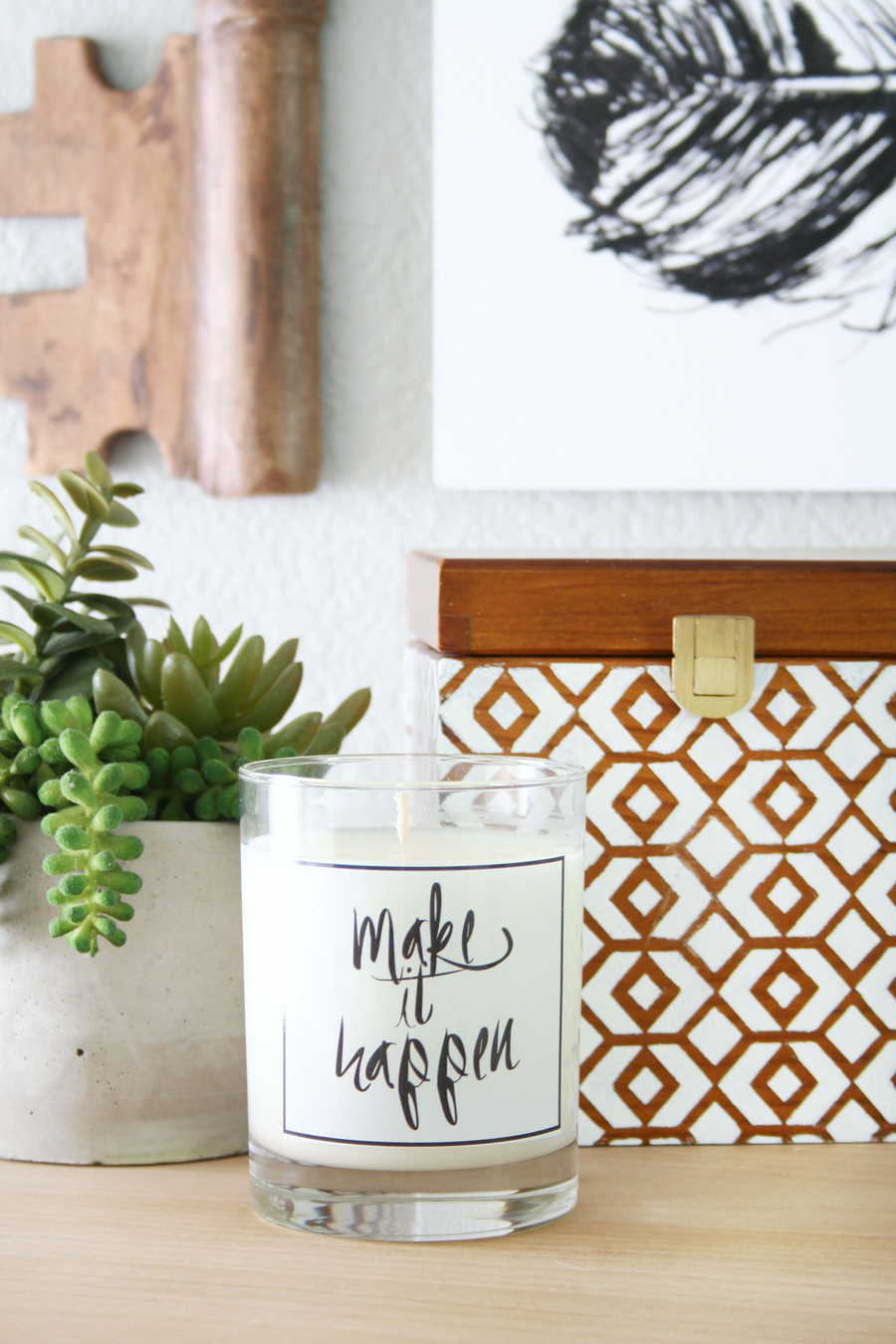 Now for the gallery wall, I wanted to create some artwork that would be close to my heart. So naturally I wanted feathers to be a huge focal point. Not only do the feathers represent this blog, but they are a sweet reminder of each of my boys. I created one piece of art for each boy, each design different since each child has a different personality.
I went back and forth with creating on canvas or metal, and these 10 x 24″ Gallery Panoramic Metal Wall Art were the top pick. I loved the modern touch they bring to the space with the clean, sleek lines and metal. Creating them was so easy to do.
Again, I uploaded my own images to Shutterfly. After making some slight adjustments to make sure the artwork was centered and the right scale, I added them to my cart. When they arrived, I couldn't have been more excited. The artwork printed perfectly. Shutterfly really does make it easy to create custom decor and art, whether you're using family photos to create gifts or uploading your own custom art images.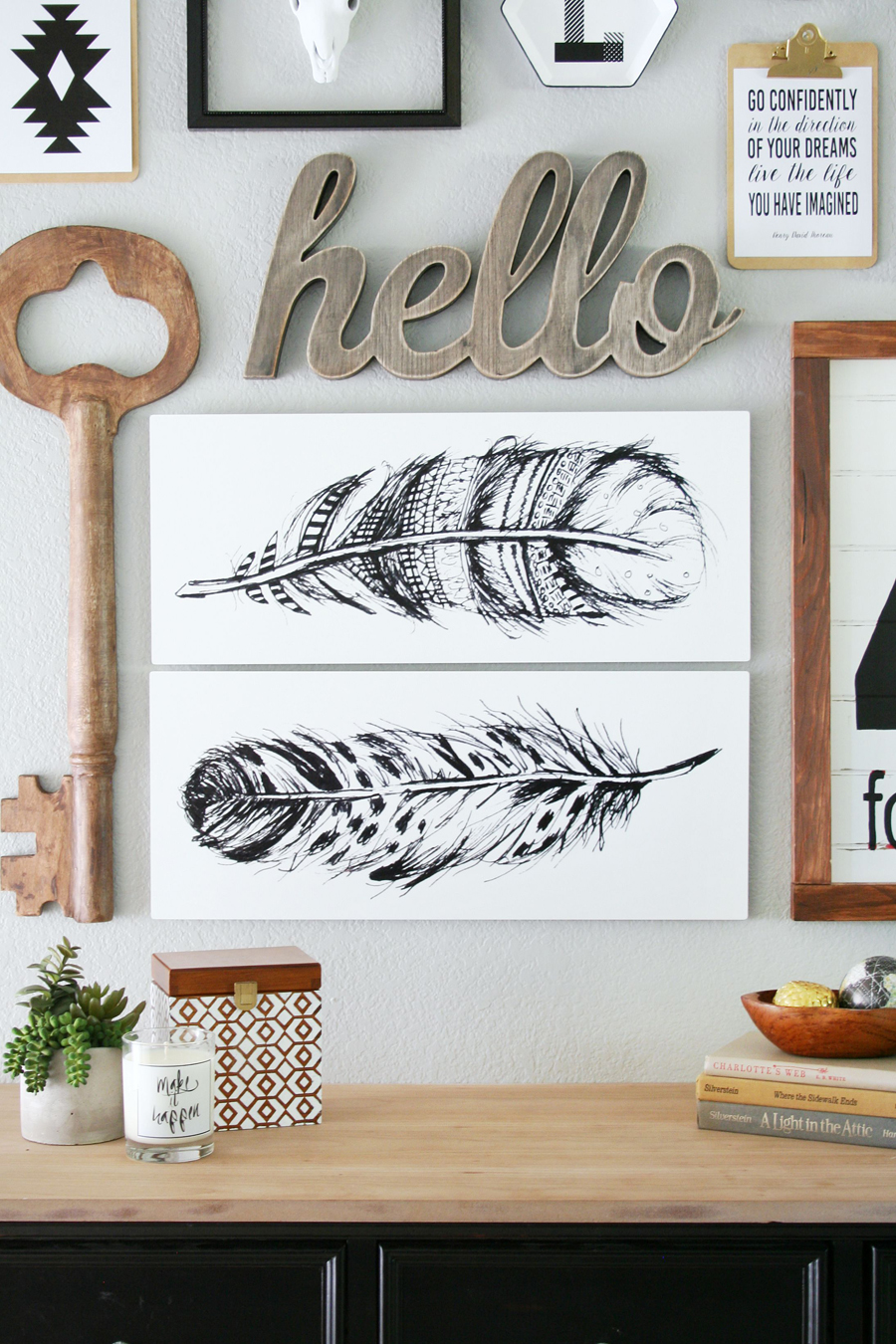 The best part about these Metal Prints is that they come with their own hanging system on the back. Each piece comes with a handy template to use for hanging to be sure they are even, which makes them super easy to install.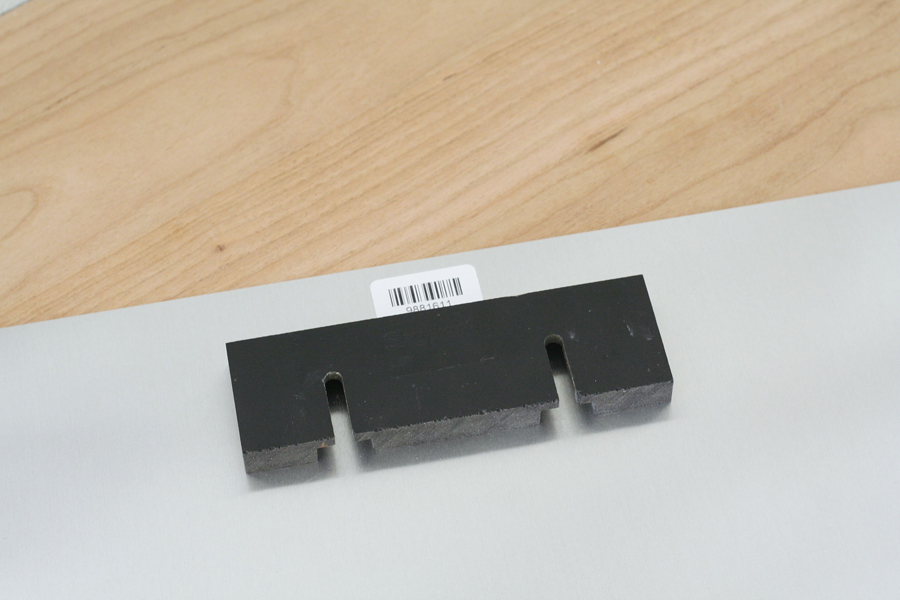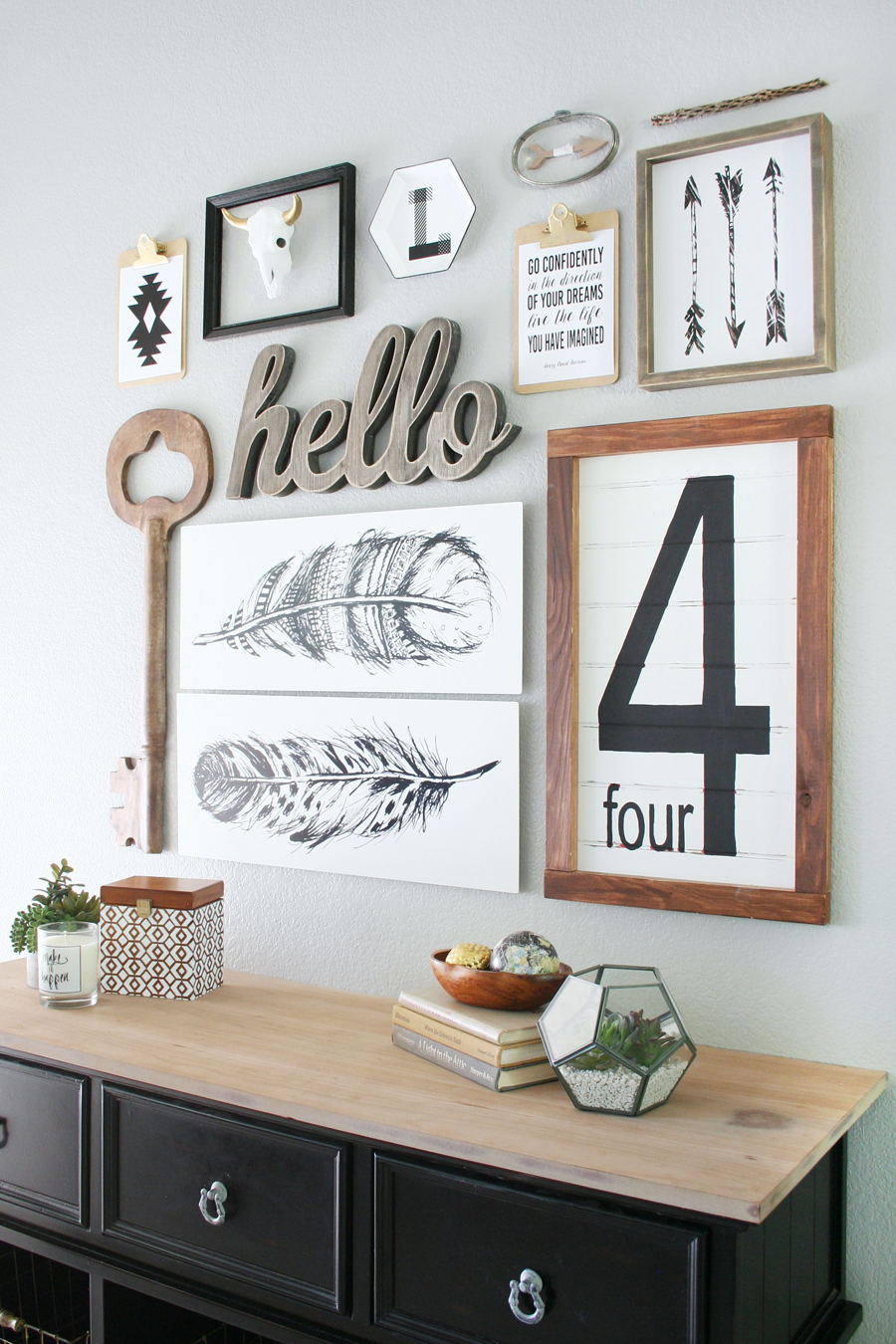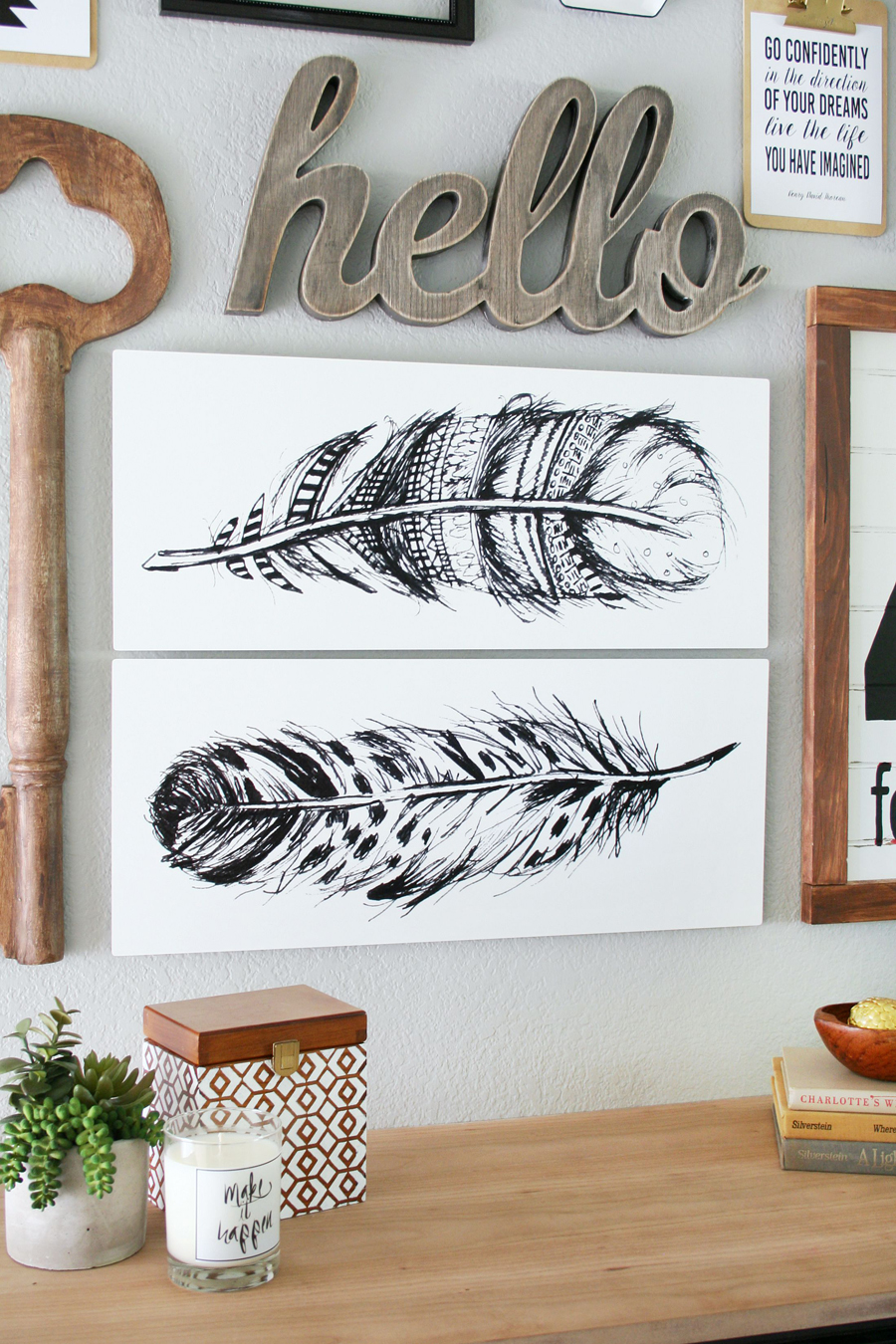 I also printed some simple 5 x 7″ prints with Shutterfly. I chose to print an inspirational quote that I designed, it's another reminder for me as I walk past this gorgeous wall every day to follow my dreams and to be fearless doing it. The second print I had printed is the fun Aztec design on the gallery wall. Printing quick art like this helped to complete this space and gave it the personal touches I was looking for.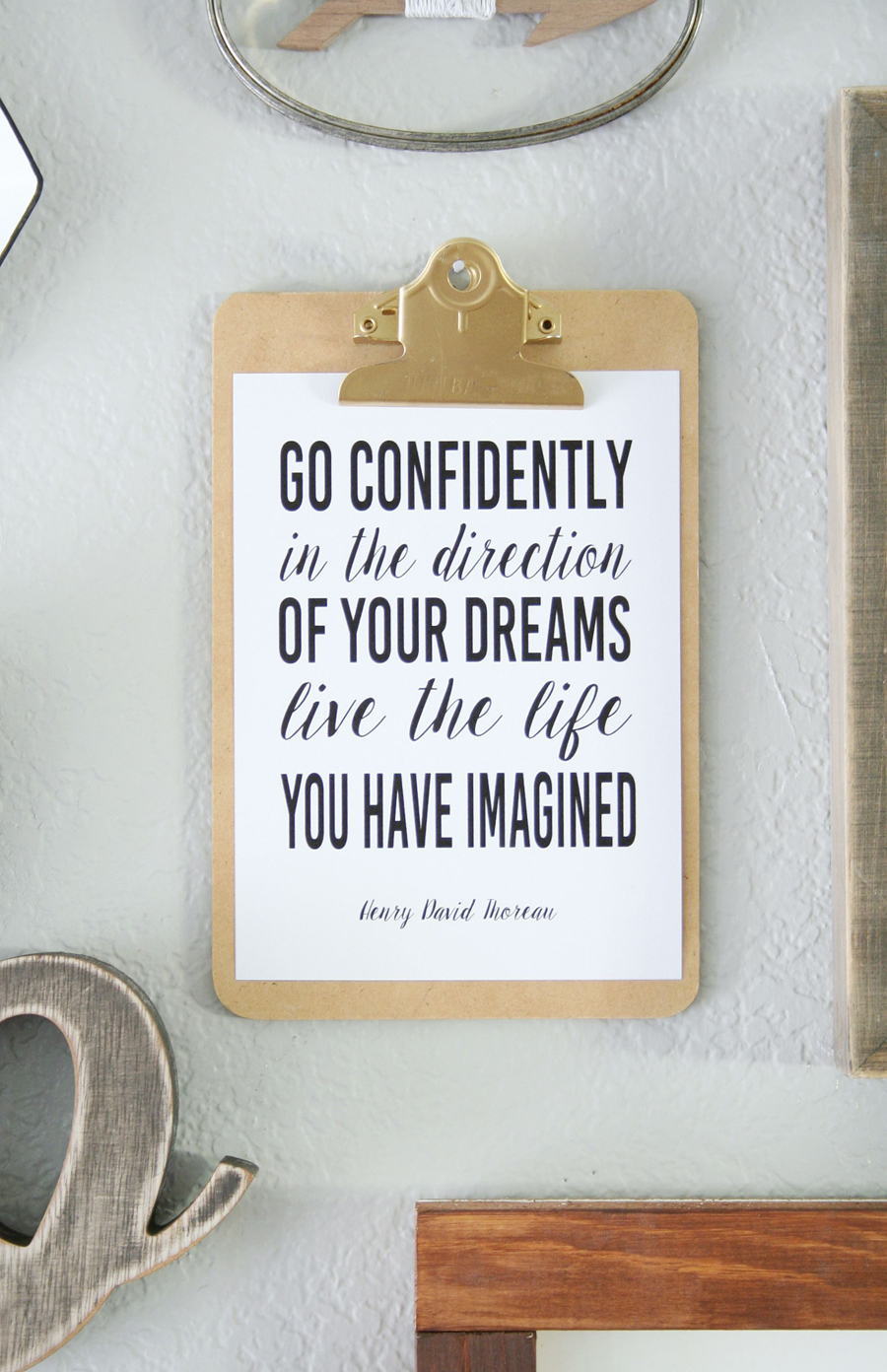 I love how easy it was to Create Meaningful Decor with Shutterfly, and I absolutely adore how this entryway turned out. It makes me so happy when I walk past it and see everything put together.