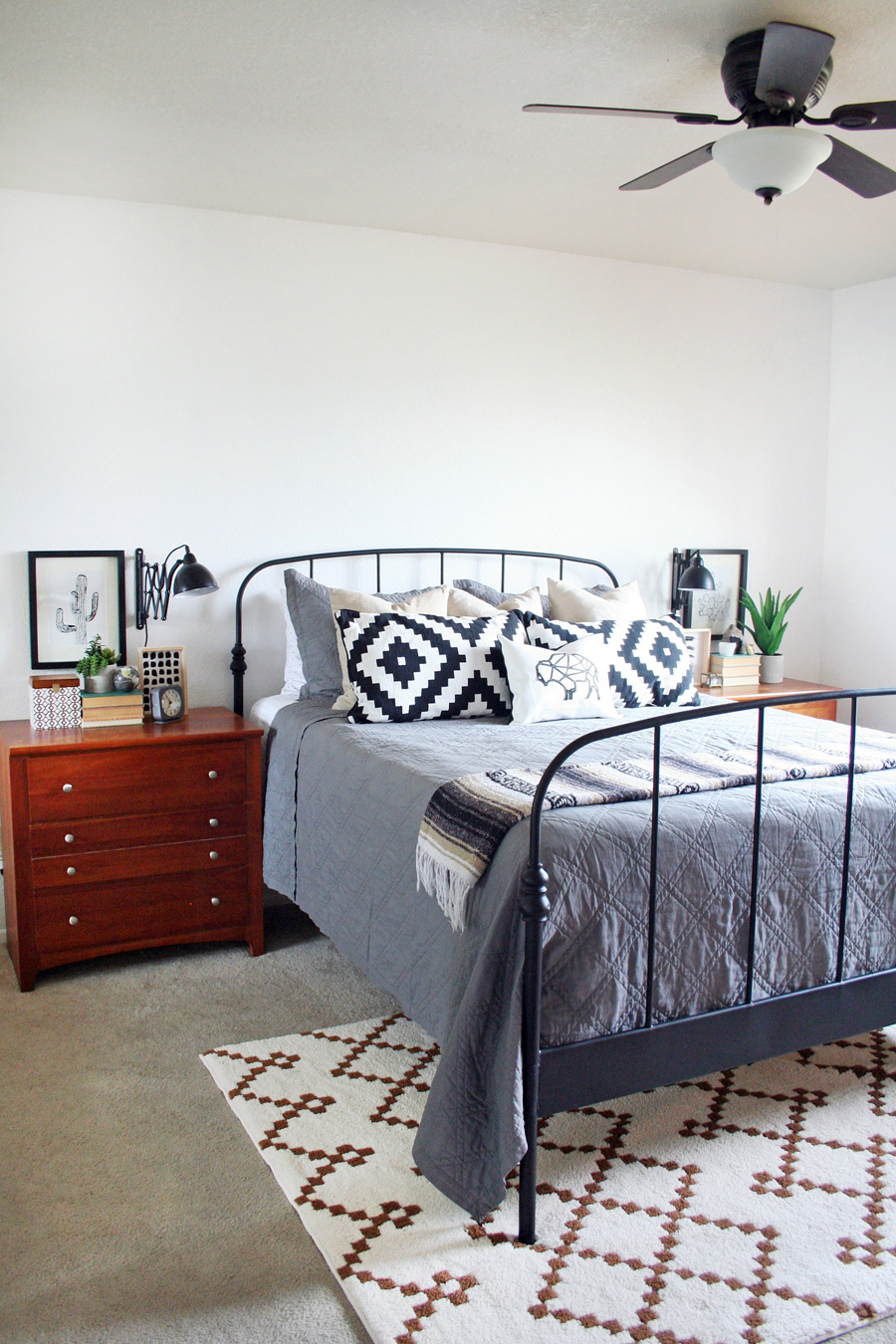 Today I have something that is long overdue, like twelve years overdue guys! For twelve years we've owned our little house, it was supposed to be a cute little starter house and it's ended up serving us much longer than the five years we intended. One thing that has always gone unfinished has been our master bedroom, I'm not sure why…it just has. The kids rooms always came first, or the larger living spaces. Well I'm so excited to share some of the progress of my Master Bedroom Makeover, it's still very much a work in progress but I wanted you to see where I'm heading with my design.
I've had this mood board designed for months, almost a year really. I have had the vision of a huge white brick wall as the backdrop behind our bed, I love our brick fireplace so much and I wanted to bring that texture and visual interest somewhere else in our house. Mid-century modern wood tones, a nuetral color palette, bold southwest inspired prints, and fun accessories were all part of my design.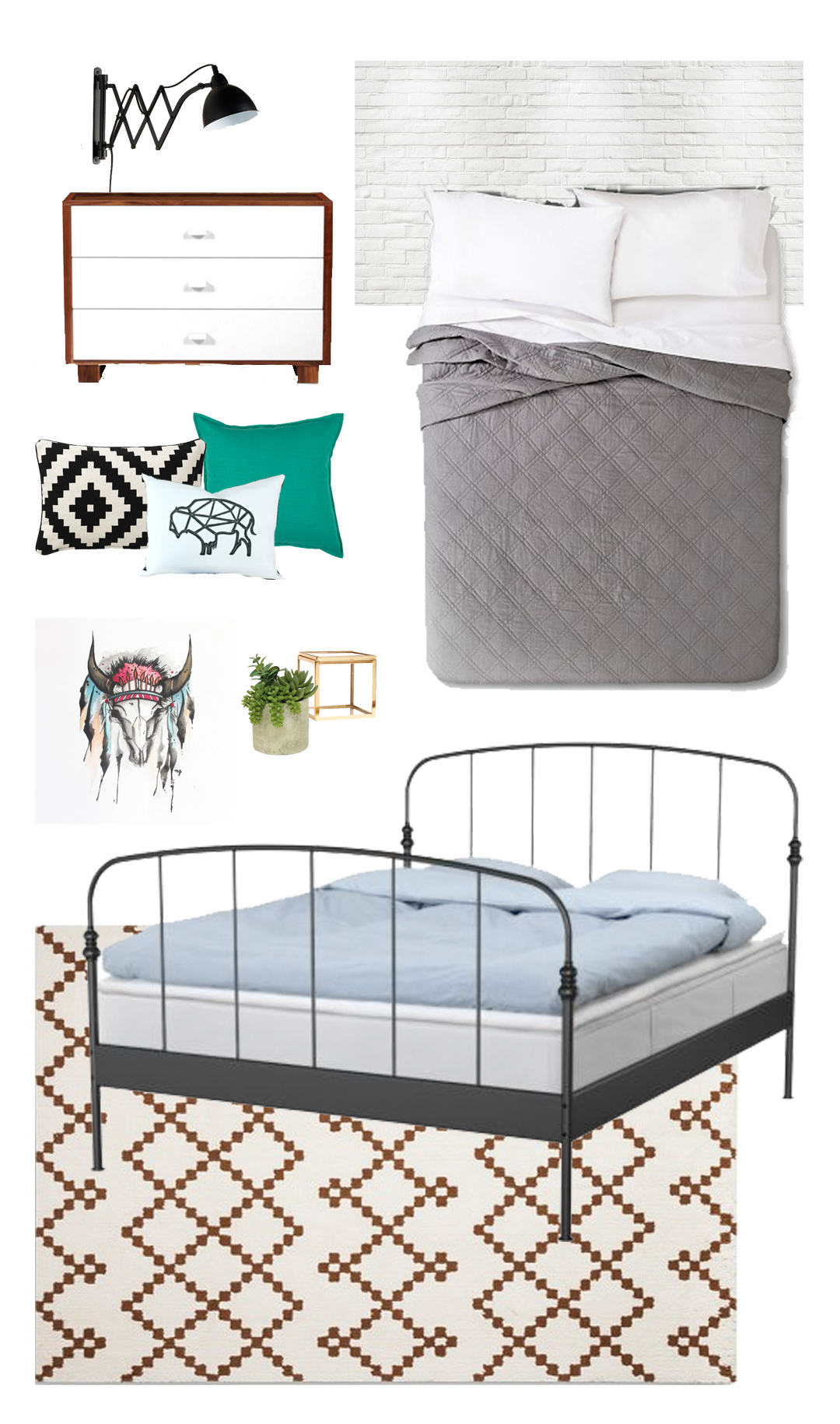 Guys I'm so embarrased! This bedroom was awful, just awful! The fleshy tan colored walls, the bed, all of it was bad. Not to mention that our mattress was about 10 years old and you could totally feel the springs when you layed down on it. It all had to go! The gray quilt and our dressers were the only thing I loved.
We rarely have company over to stay with us, there are a few reasons for this…the ugly state of this room was one of them, the terrible condition of our mattress and the fact that if you slept on it you'd wake up hunched over was the other.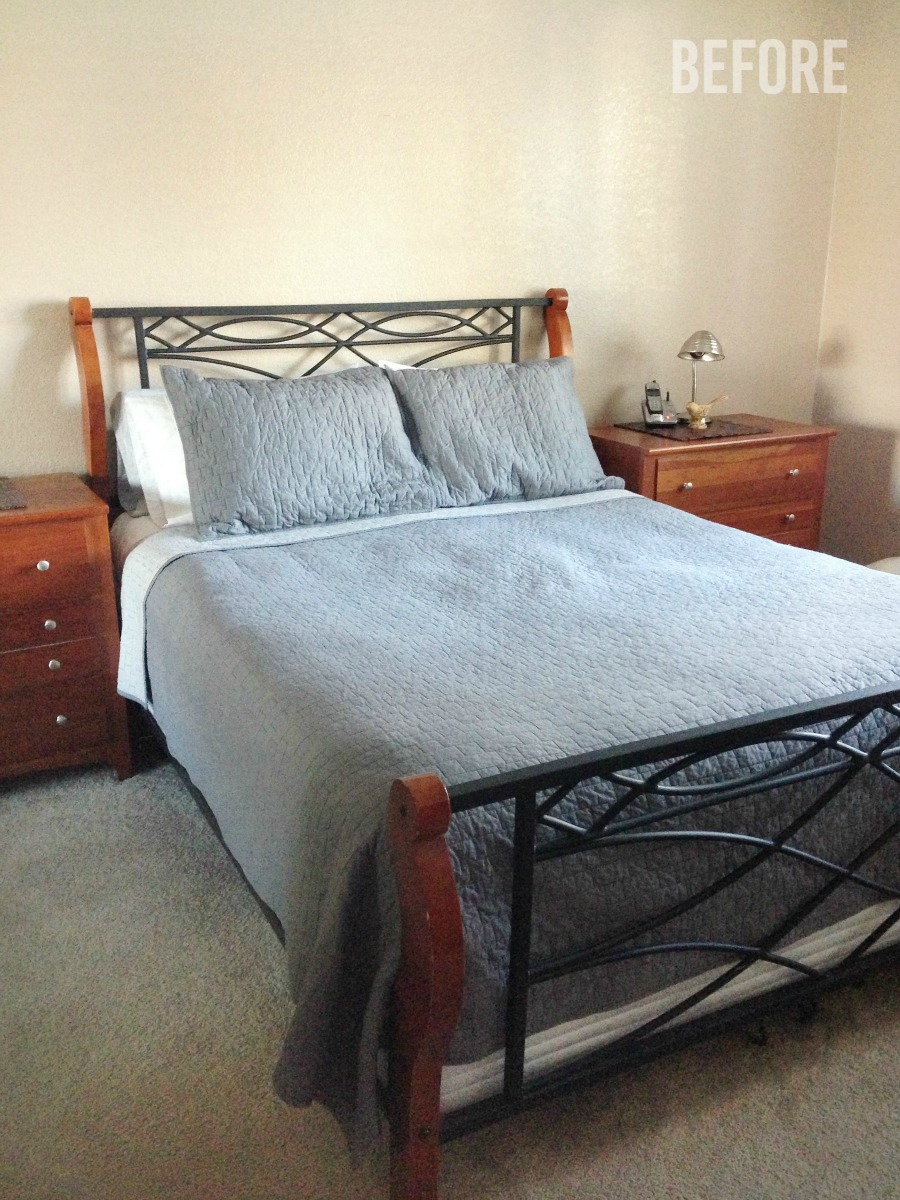 Before anything could be done those fleshy colored tan walls had to get painted. A fresh coat of white paint did the trick. I haven't had white paint in years on my walls and it's like a breath of fresh air, so clean.
The first thing on our list was the bed! We knew we needed a mattress that would be inviting and comfortable for us, especially with the back pain I suffer from from time to time. We had looked previously but had never actually bought a new mattress before, we'd always inherited something so we weren't sure what we needed or what we'd like. We knew we needed something that would be comfortable for visiting guests as well.
After reading pages and pages of incredibly positive reviews we decided to try a Sleep Innovations mattress. We ordered The Alden 14″ Memory Foam Mattress, the features seemed like the best fit for our bodies and sleep positions. I was a little hesitant since I hadn't heard great things about some other memory foam mattresses, and I thought it would be to soft of a bed to support our backs. Not to mention the fact that the mattress comes in a box. Although, I figured anything had to be better than the springs that were currently poking me in the ribs when I slept. So I anxiously waited for it to come. I was truly giddy when it arrived, so excited for the possibility of a full nights sleep. When it got delivered it took me and the delivery guy to get the box in the house. Once me and the hubby took the mattress out of the box and opened the packaging carefully it started to expand super quick. It was almost fully expanded within five minutes, but can take up to 72 hours to fully expand per the instruction manual. It's so crazy how they get that all inside the box!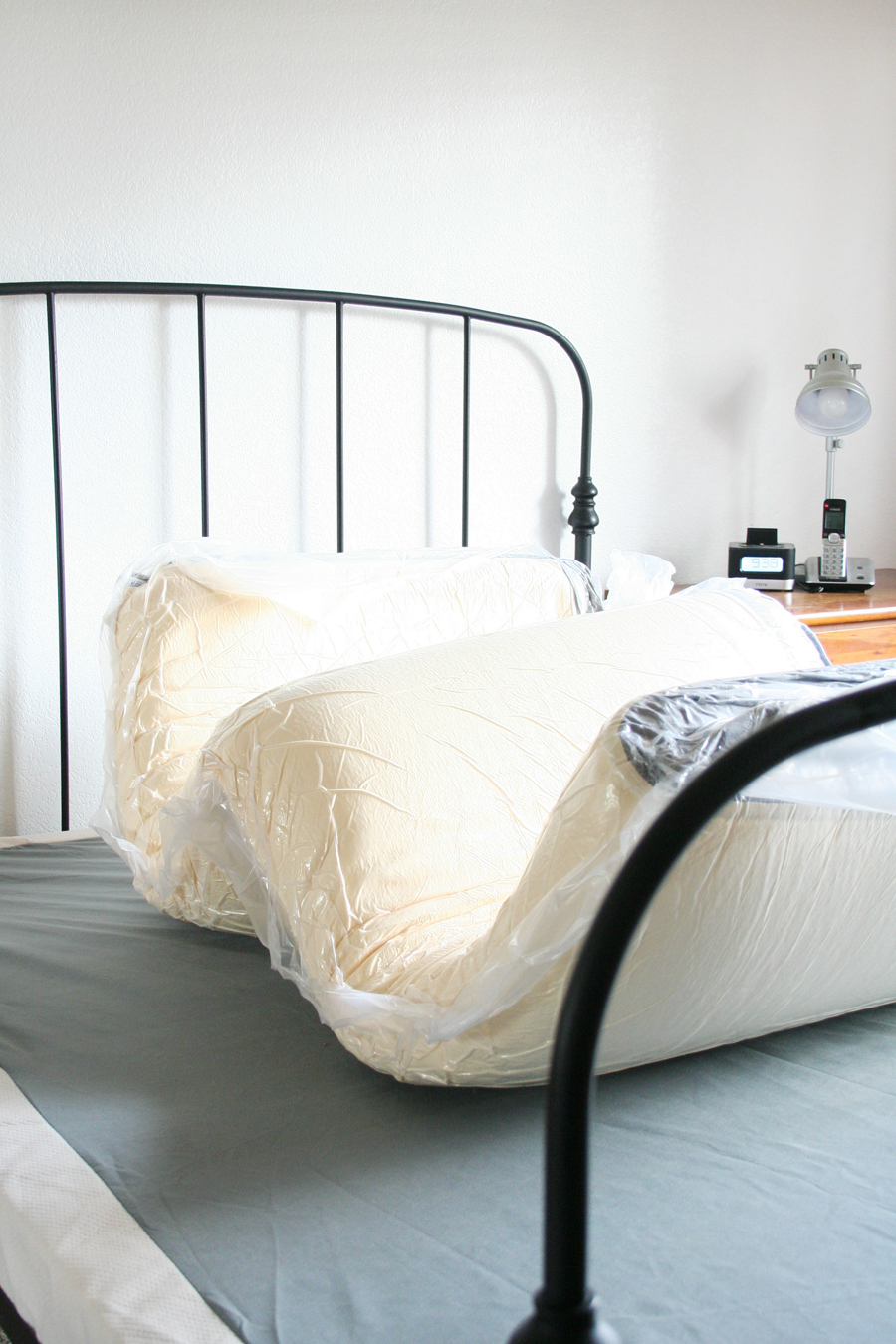 The Sleep Innovations mattresses even come with the protective cover on them, so as soon as you open that package and they start expanding you don't have to wrestle a cover on. We placed our mattress on a 5″ low profile boxspring we ordered from Amazon.
We've been sleeping on this mattress for about 3 weeks now and I'm not going to lie, the first couple of days made me unsure of this bed. Not in a bad way, but it almost felt too firm for a memory foam mattress. It's harder to turn over in a memory foam bed since the bed doesn't bounce like a traditional mattress, and it does retain heat from your body.
After the first week I noticed that my body was responding so much better to sleep. I've gotten up way less during the night, and actually almost slept through the night for the first time in years. We've noticed less back pain for sure, and it's really so comfortable to lay in. Every night we sleep in it gets better and better, I've heard that it can take up to two weeks for your body to adjust to a new mattress. I definitely think that's true. We are so happy with this bed, when we go to replace our boys beds we are actually going to purchase these beds for them as well. I love that they have mattresses to fit everyones needs.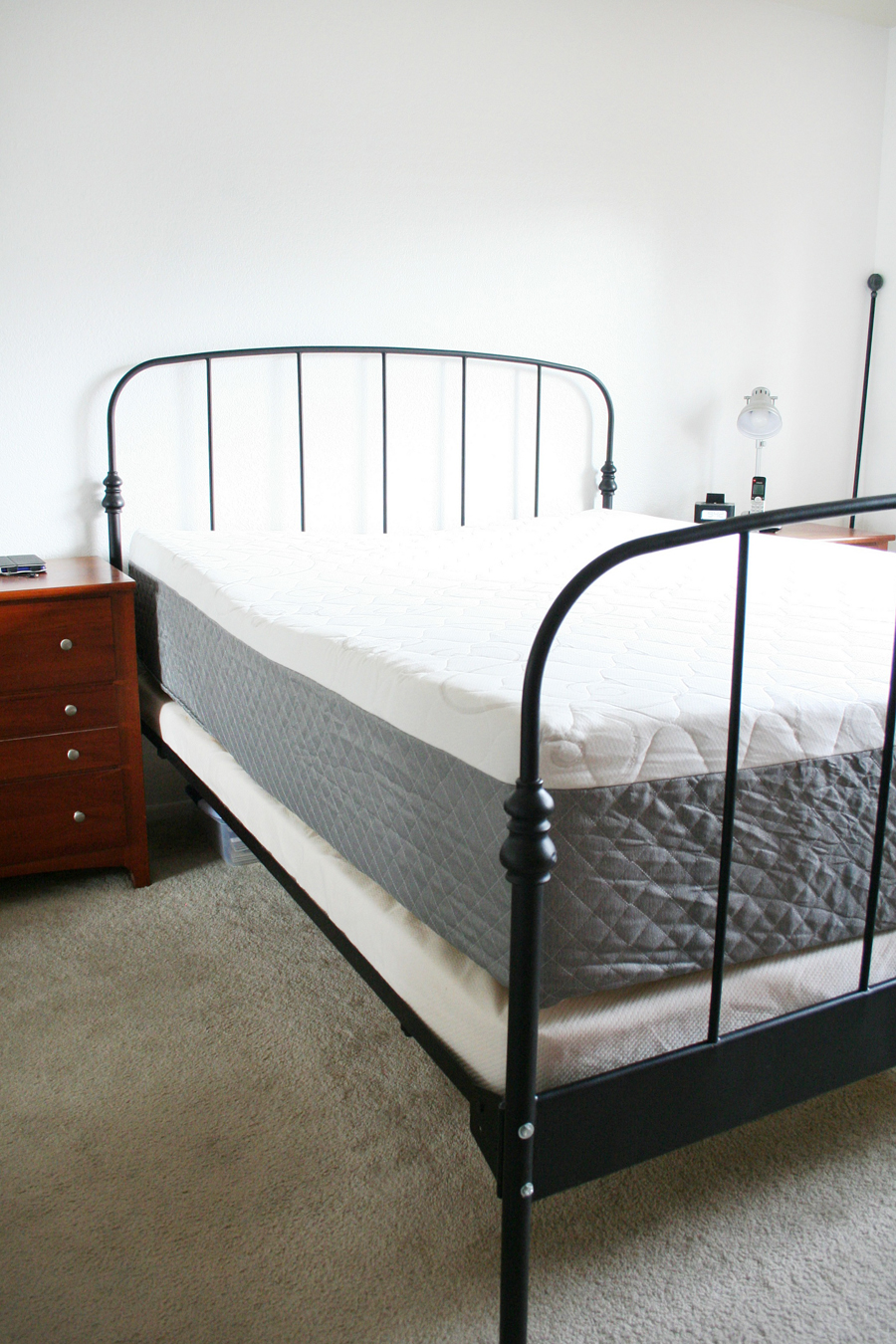 Do you see that amazing vintage inspired metal bed from my mood board?! I was on the hunt for months for a farmhouse style bed, the only problem was the style of most farmhouse beds are more shabby chic than the eclectic look I wanted. So when I found the bed below on craigslist for $75 I jumped on it. It was perfect.
Now it was time to get to work on decor.
Even though I loved our previous gray quilt, it was too short for the bed and I don't love bed skirts so I had to find a new one. I found a great linen blend quilt at Target and bought a king size to fit our queen bed. Since our bed is so high it fit great.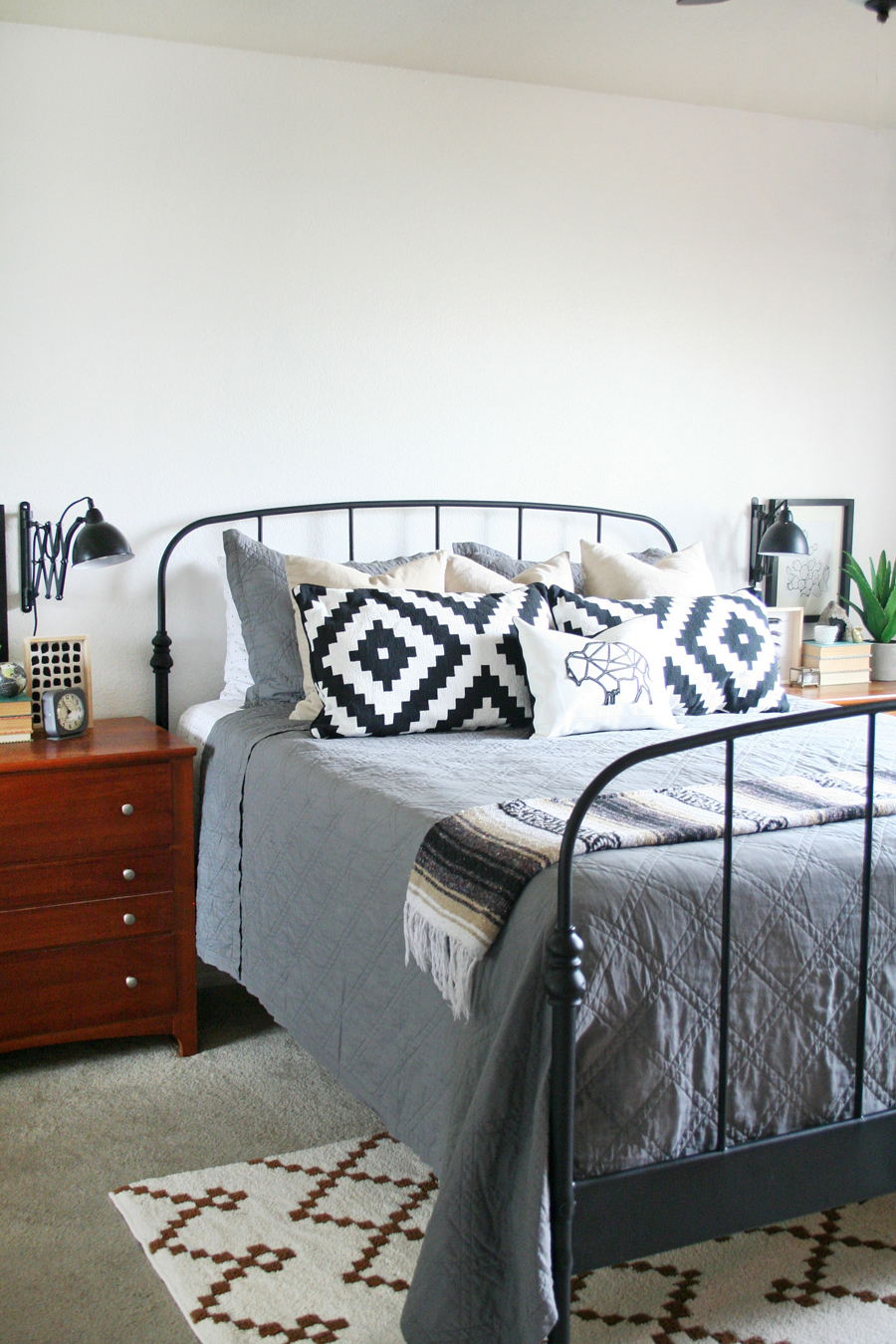 For months I've had the swiss cross bed sheets from Target, and Aztec print pillow from Ikea. The pillows were the inspiration for this room. They go perfectly with my DIY Geometric Buffalo Pillow.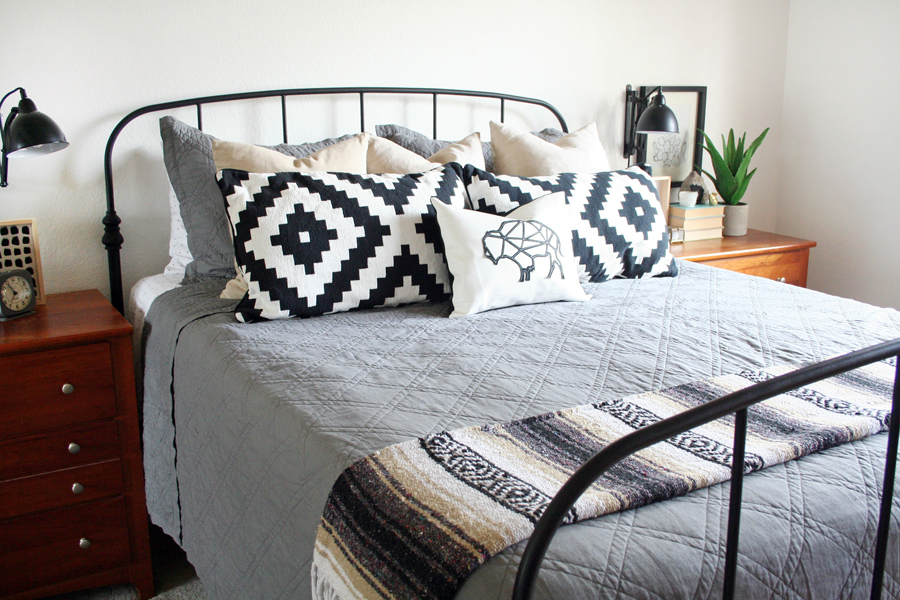 One of the other things I knew I wanted in the room was accordian style bedside lamps. They had to be black and vintage looking. I found these ones at World Market, they were exactly what I wanted and look perfect.
Our bedroom furniture is a little larger in scale, instead of nightstands we have bachelor chests which are like small dressers. Since they are so large they can be harder to style. I knew I wouldn't be hanging any art above the bed at any point, the white brick wall that will come at a later date will be the focal point. I did know that I needed something to help bring the smaller accordian lamps into scale with the bachelor chests though. Hanging artwork next to them helped.
At some point the bachelor chests will get a makeover, they are super beat up on top. I'm thinking white and leaving the awesome wood drawers because I love the color so much. They will get some pretty hardware too.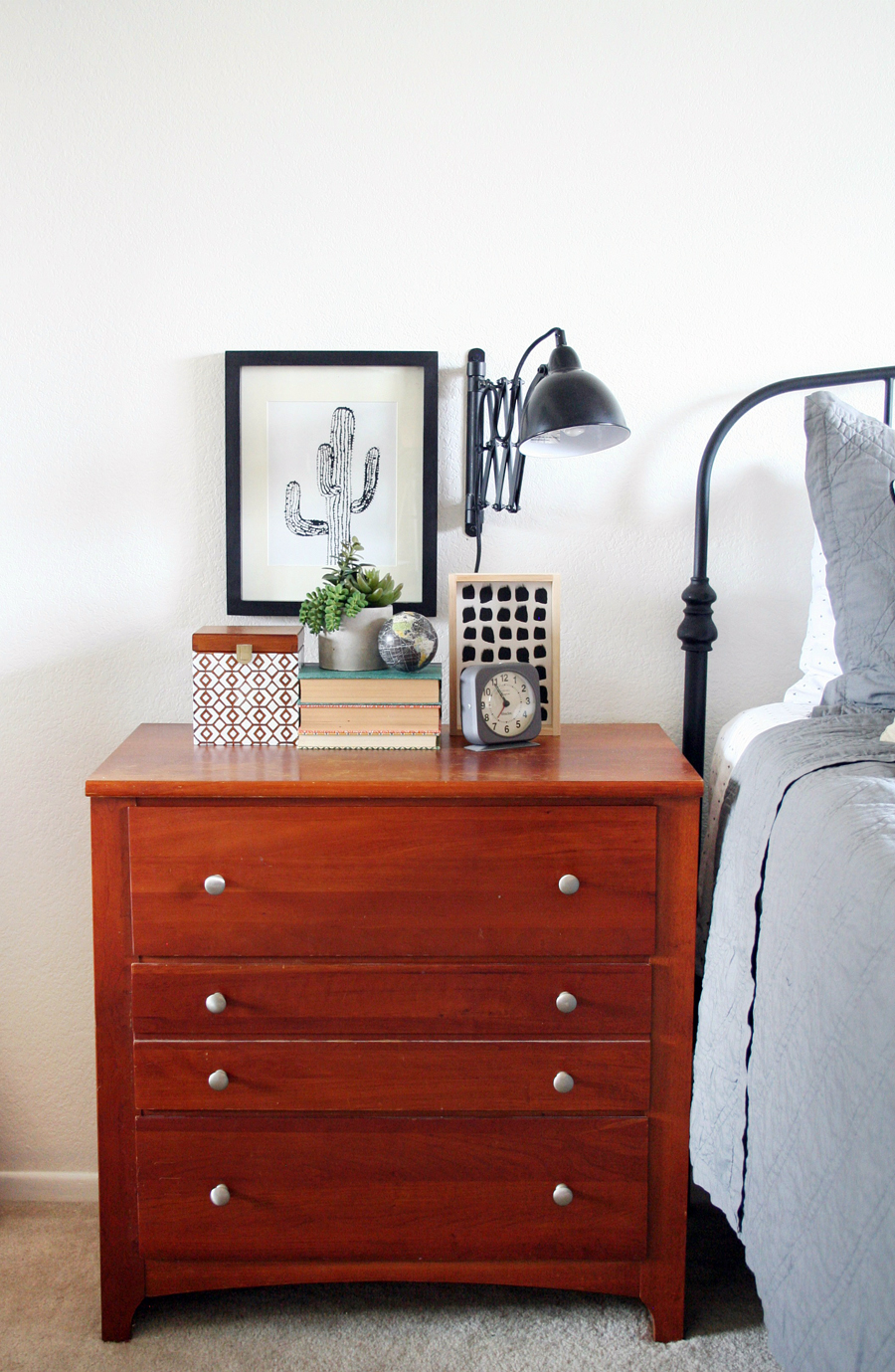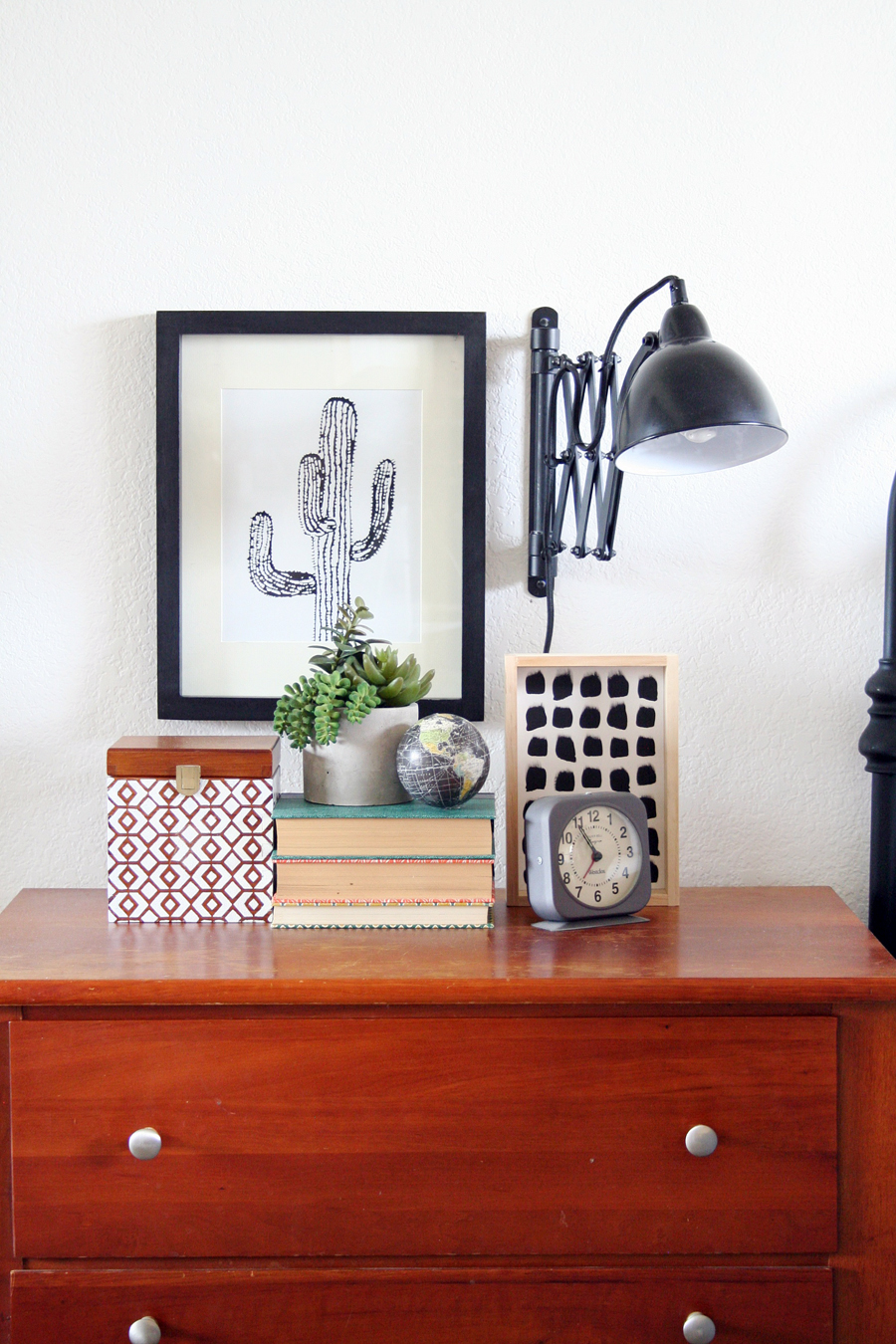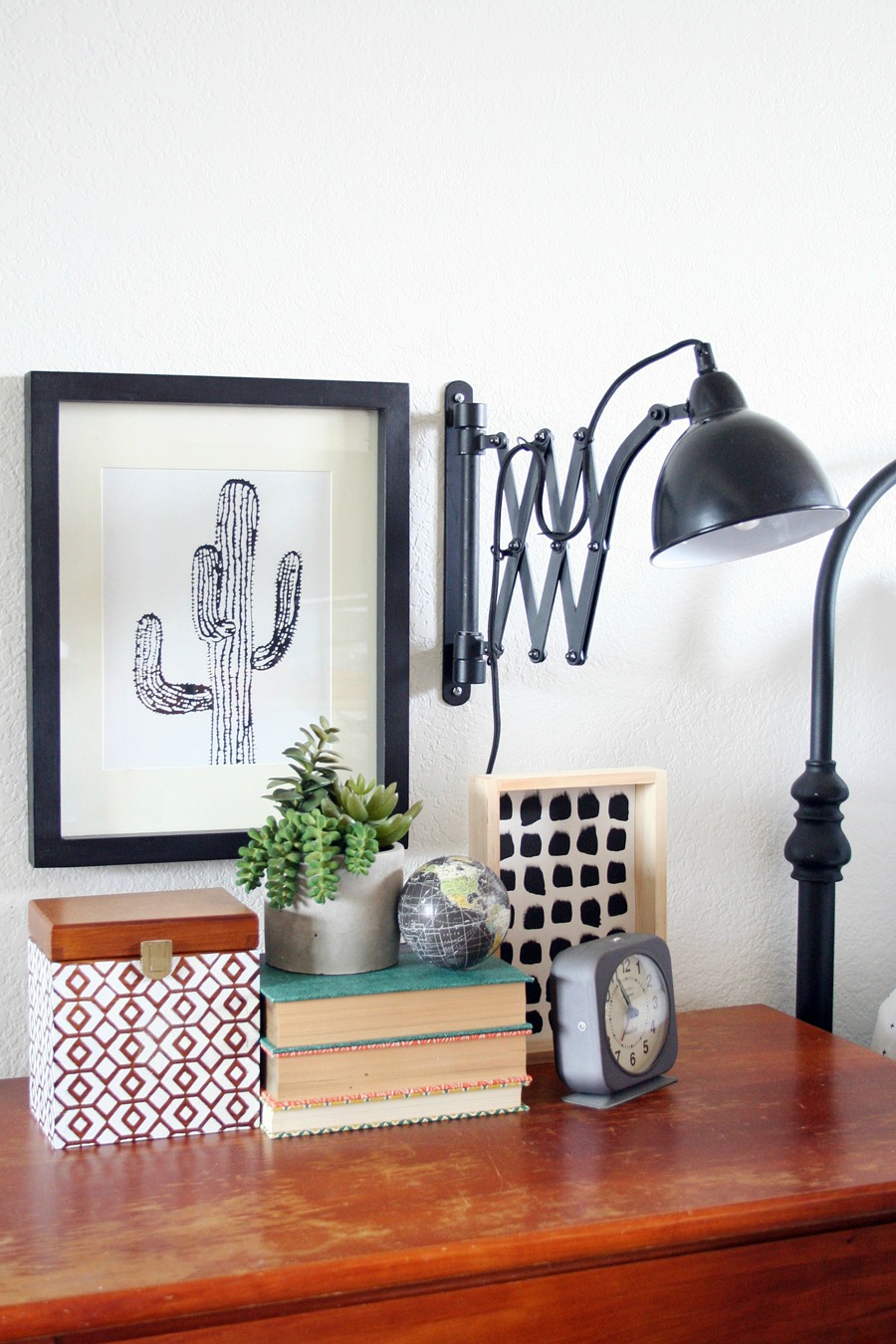 I love the succulents with concrete planters on the nightstands mixed with the black and white framed prints. Eventually I want to have watercolor paintings hung here.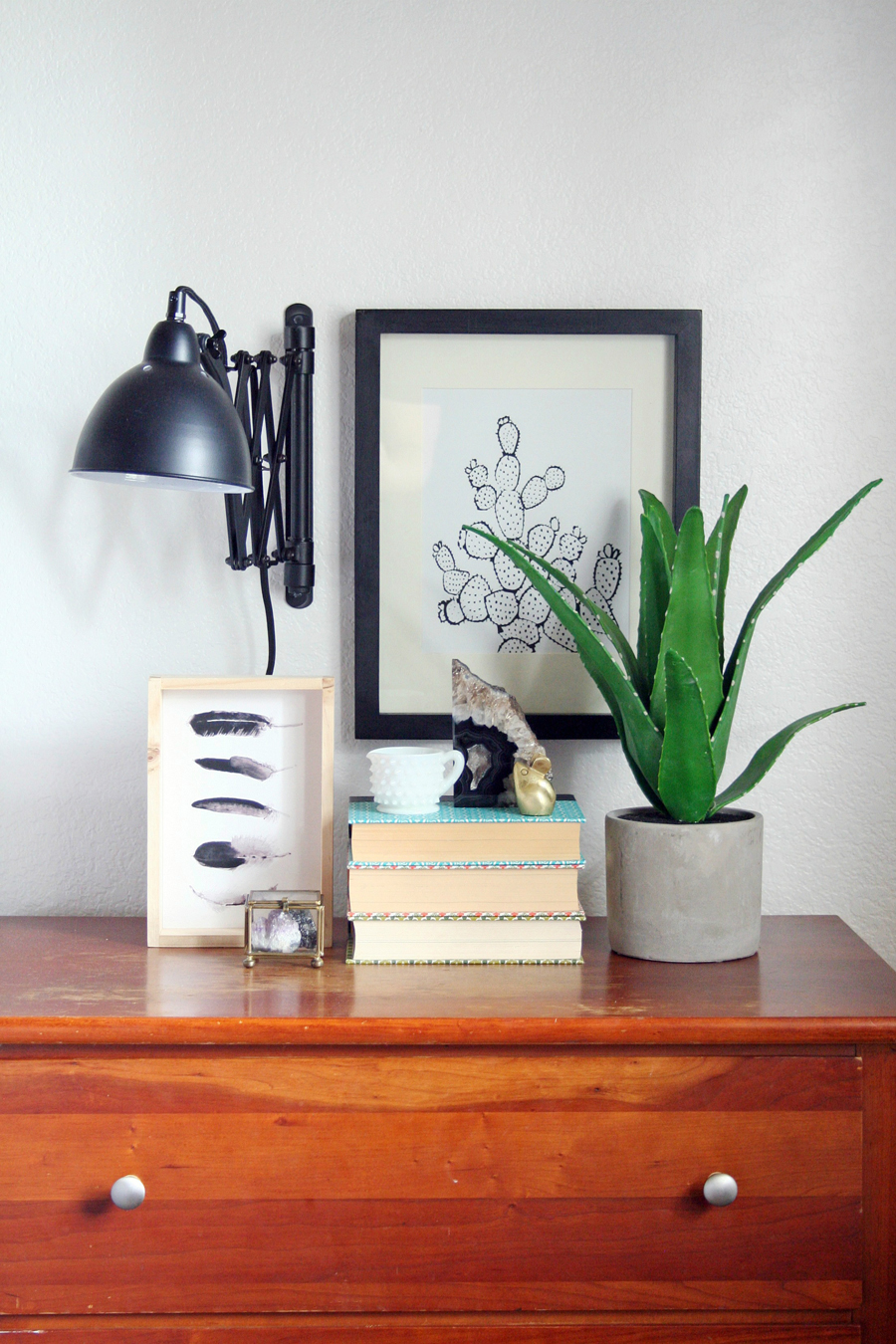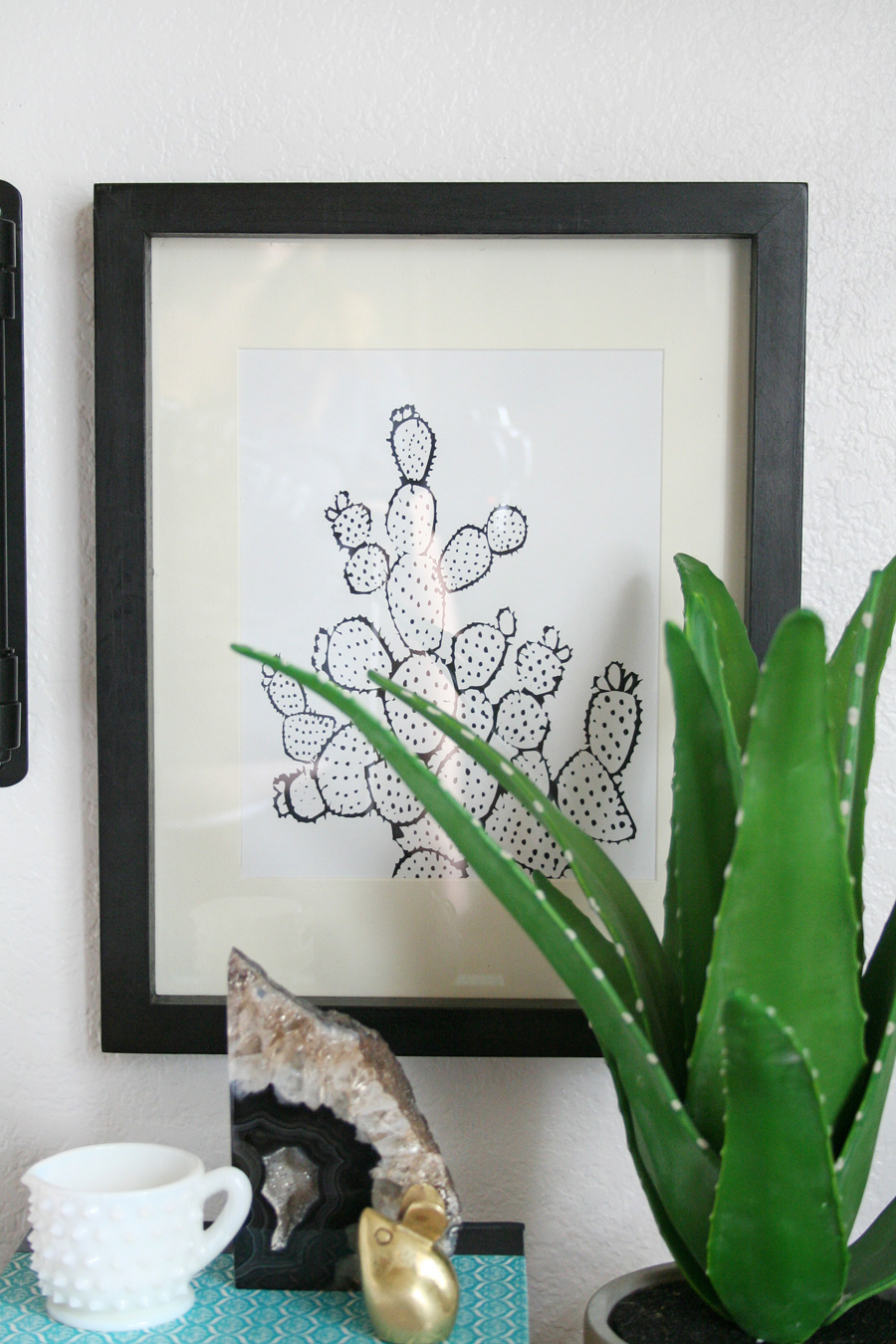 This rug is so soft, I love it so much. I found it at Target, I think I might actually grab a larger size so it covers more of our terrible flooring.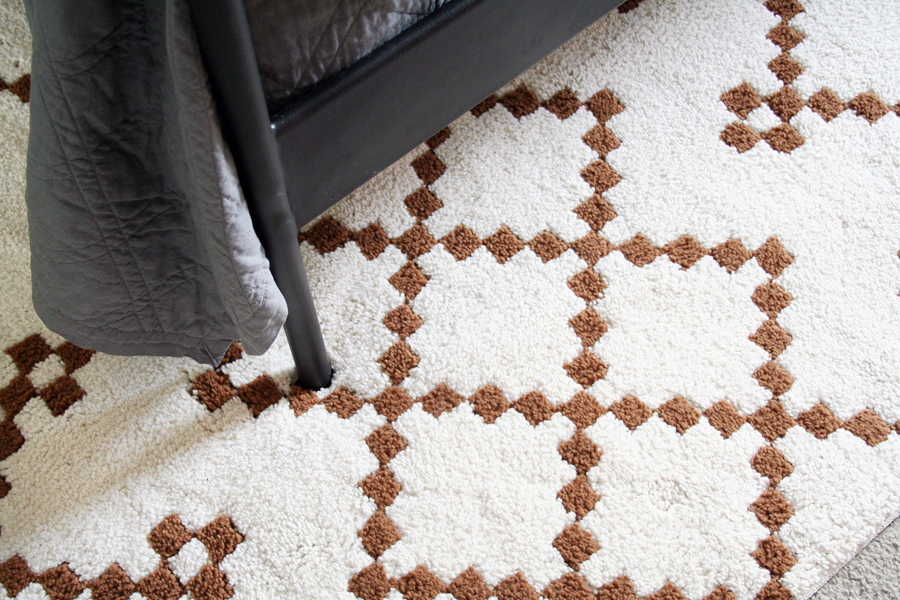 I'm so happy we finally have a place that is comfortable to us, and will be comfortable to guests that stay with us from time to time.
There is still so much more to do in the room, so stay tuned.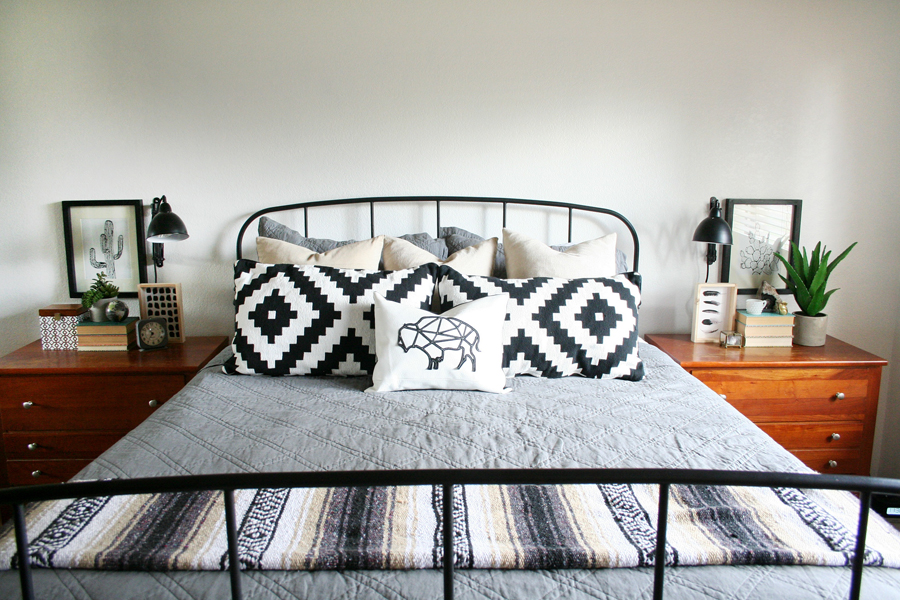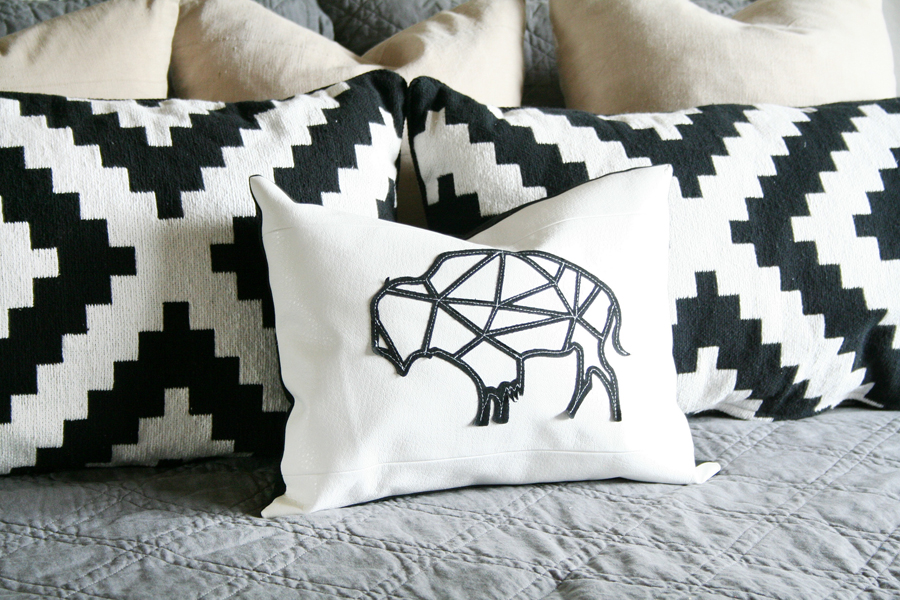 Sleep Innovations is launching No Place Like Home to help give comfort with a cause. 81% of Americans ages 18-33 are visiting family for the holidays. Unfortunately, coming "home" can often mean sleeping in uncomfortable places: a childhood bedroom, the basement or even the couch.
You can find the best fit for you with
Sleep Innovations'
new Find your Fit website feature, because they don't believe in "one size fits all". Even better, their memory foam mattresses are available to ship directly via Amazon, so it's crazy easy to give your temporary sleeping spot or childhood bedroom an affordable makeover. For every use of the #SINoPlaceLikeHome hashtag on Facebook, Twitter and Instagram between 11/15/15 and 12/31/15, Sleep Innovations will donate $1 to Stand Up for Kids' health and wellness program, which provides medical and well-being services to homeless youth across the country, up to $5,000.
Want to win an easy-to-ship Memory Foam Mattress in a box to help makeover your sleep situation with a customized fit?!
Here's how to ENTER!
Post a picture of your sleeping situation over the holidays and use the hashtag #SINoPlaceLikeHome on Facebook, Twitter or Instagram. You never know, Sleep Innovations just might surprise you with something else! For every hashtag #SINoPlaceLikeHome used, Sleep Innovations will donate $1 to a designated homeless youth charity. Contest runs from 11/15/15 – 12/31/15. Winners must follow Sleep Innovations social media accounts they posted the photo to. Winners will be messaged directly by Sleep Innovations team on the corresponding social media platform. Winners must respond with shipping address to Sleep Innovations team within 24 hours to qualify.
Follow Sleep Innovations
DISCLOSURE | This post has been sponsored on behalf of Sleep Innovations. I received compensation and product in exchange for this post. All opinions and ideas are my own.