Disclosure | This post is sponsored on behalf of Better Homes and Gardens and Walmart. I'm a member of the BHG Live Better Blogger Network. All opinions and ideas are my own. This post may contain affiliate links.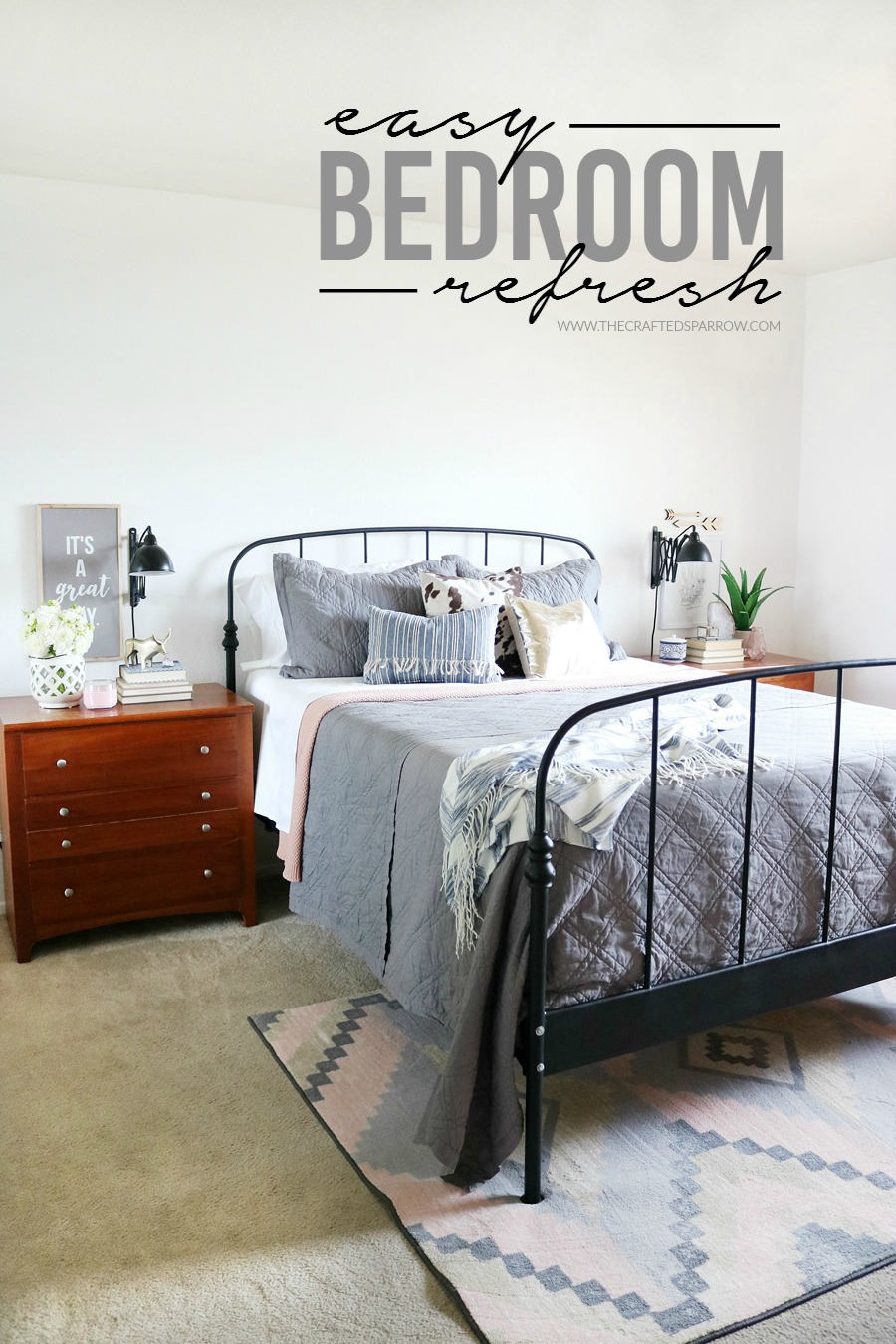 With the change of seasons I felt like it was time for a change in my decor, especially when it comes to our master bedroom. This room has never been fully finished and still has a lot of work that needs to be done, but I knew I wanted something new and needed to brighten up the decor a little bit. This Easy Bedroom Refresh only took about an hour to put together and makes it feel like a brand new bedroom.
Since the room already had some basic staple pieces like neutral bedding, and simple decor it was easy to use some of my existing things and then just mix in some new fresh pieces to really pull it all together. The gray quilt I've had since last year and I love it so I knew I wanted to work it into the refresh by just adding little pops of subtle color to brighten it up and make it look new again. Sometimes I think I want to be the girl with big fluffy bedding but in reality, I'm just not at this point in my life so simple quilts are where it's at for me.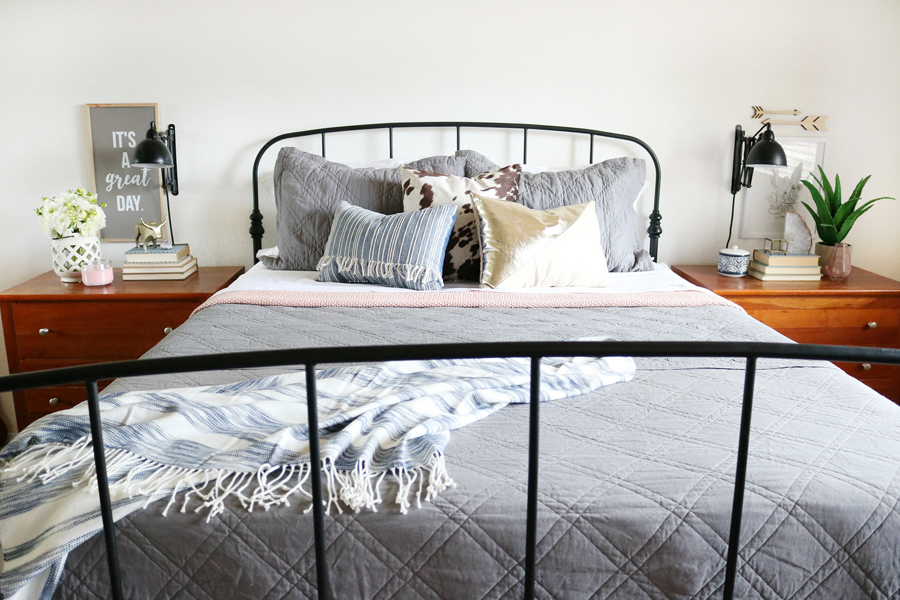 Here's what the before looked like. Last year I gave it a quick makeover using items from around our house, while I loved it at the time and it was way better than the neglected space it was previously it just wasn't cheerful and it didn't feel right.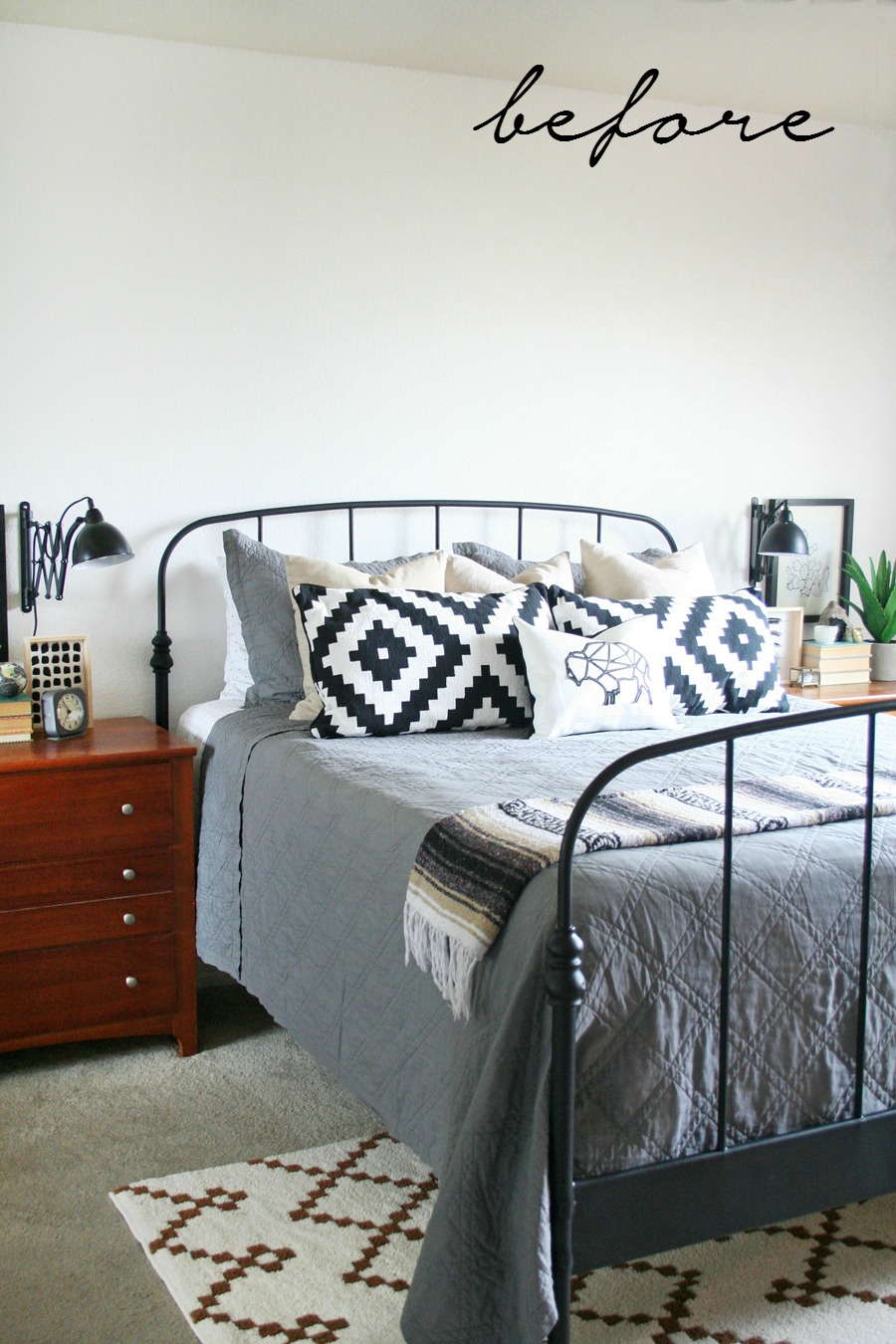 First thing I did to refresh this space was to grab some new bed sheets, new sheets make everything better wouldn't you agree?! I grabbed a set of plain white Better Homes and Gardens 300 Thread Count Wrinkle Free Sheets from Walmart. I typically always stick to white sheets, it makes me feel like I'm staying in a hotel. These sheets are so soft and I love that they are wrinkle free, that's a huge bonus since I tend to forget them in the dryer until the last minute.
With new sheets, that meant I needed fresh new throw pillows. When I saw this Better Homes and Gardens Fringed Blue Denim Pillow it became the inspiration for my color palette for this refresh. I knew mixed with subtle blush pinks it would be perfect. I also snagged these Better Homes and Gardens Faux Hide Pillow and Faux Suede and Faux Leather Pillows. The gold, fringe, and animal print added different textures to the bed which is much needed when using a quilt. Mixed with the blush pink knitted blanket I already had it was the perfect combo.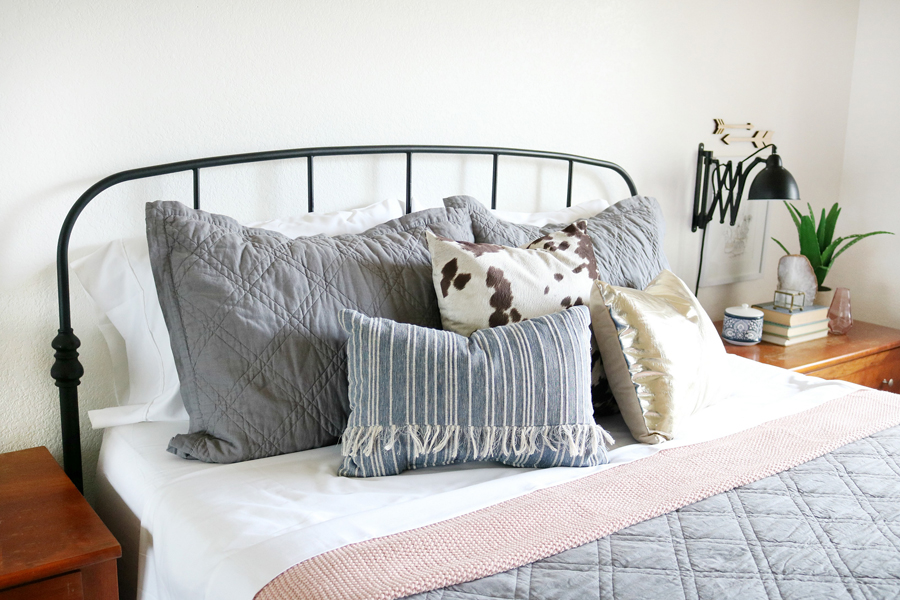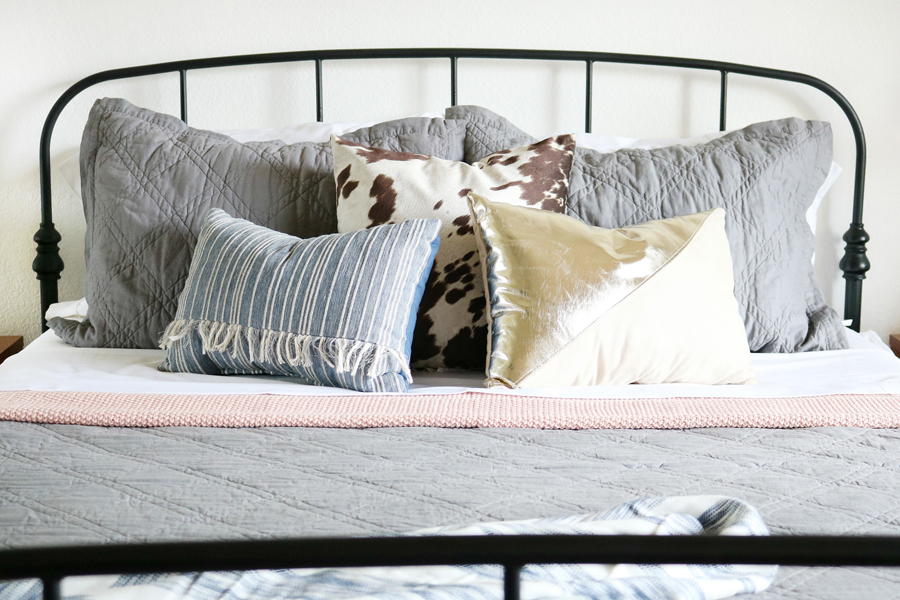 Switching out accessories on the nightstands is an easy way to give the space a new look. I utilized the existing accordion wall lamps but needed new artwork and tabletop decor. By adding varying heights to my decor with books I created visual interest. I used the Better Homes and Gardens Small Cream Lantern as a bedside vase for fresh flowers, I added a simple plain canning jar to the center filled with water and added my fresh stems. I normally can't keep fresh flowers in our house anymore since our kitten will devour them but for this bedroom refresh, I made an exception. I will probably fill this lantern with a faux plant or succulents after the flowers have gone.
As soon as the weather here finally cools down enough these nightstands will finally get a much-needed makeover. They are amazing and built well but they need a new life, I can't wait to finish them and show you.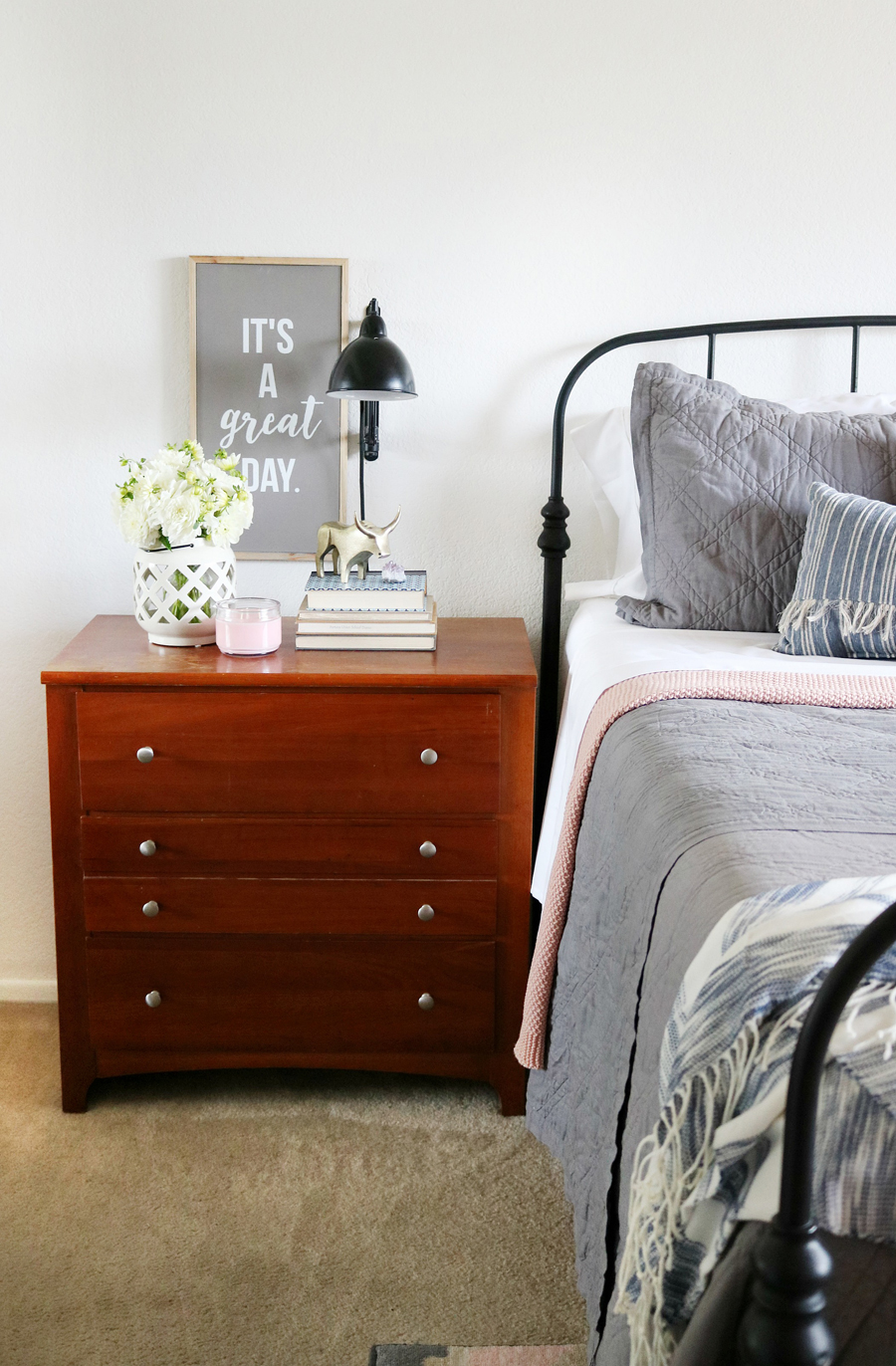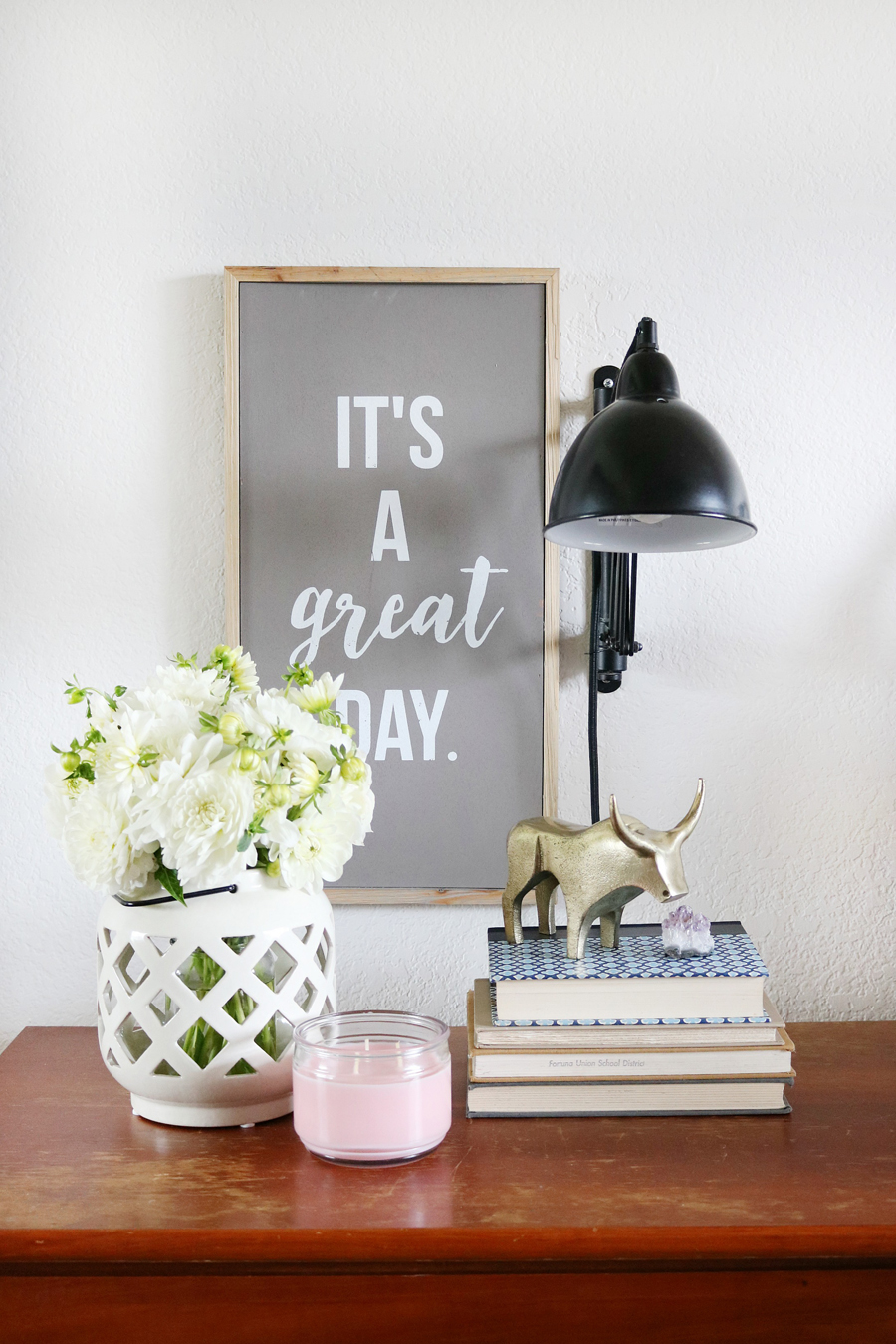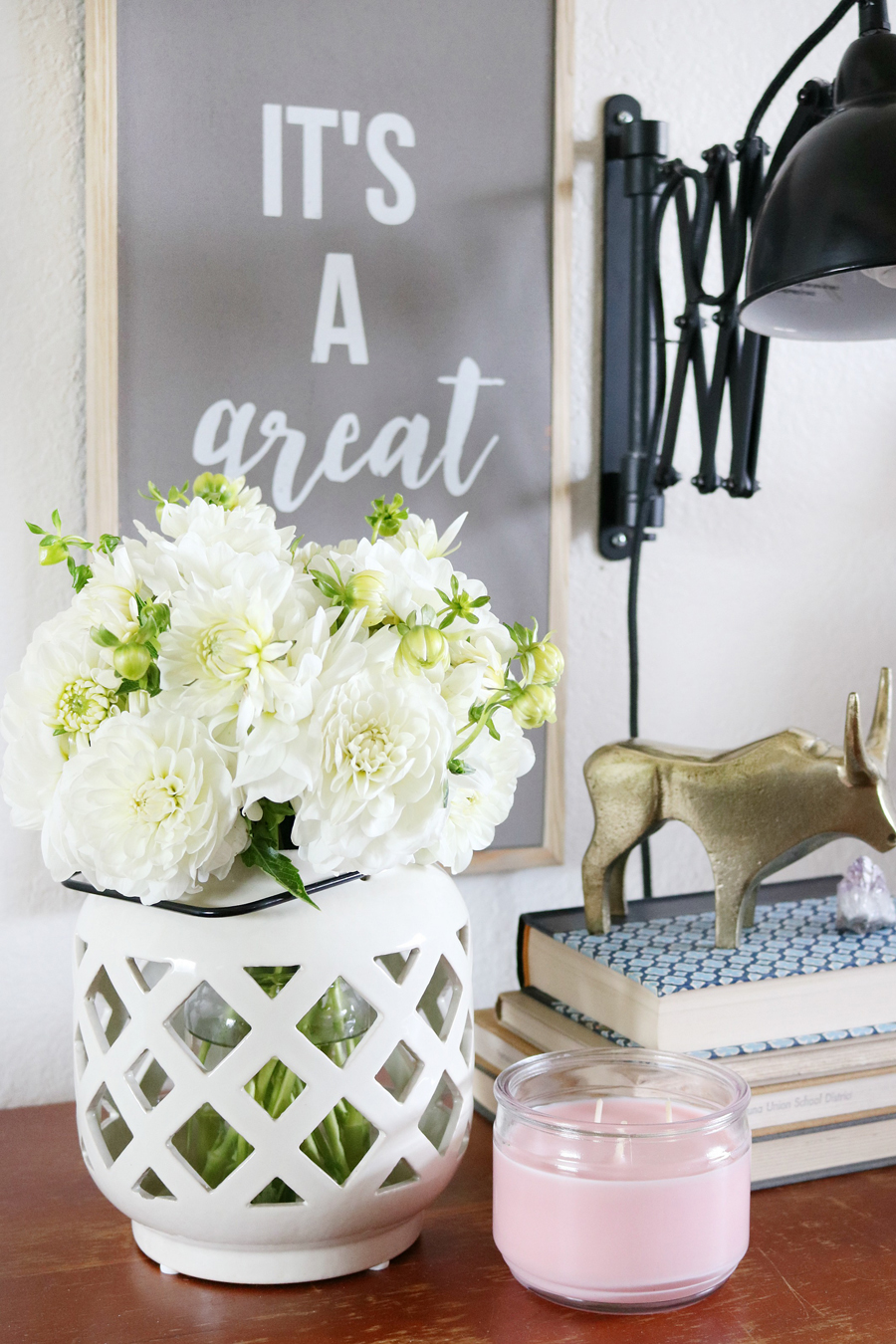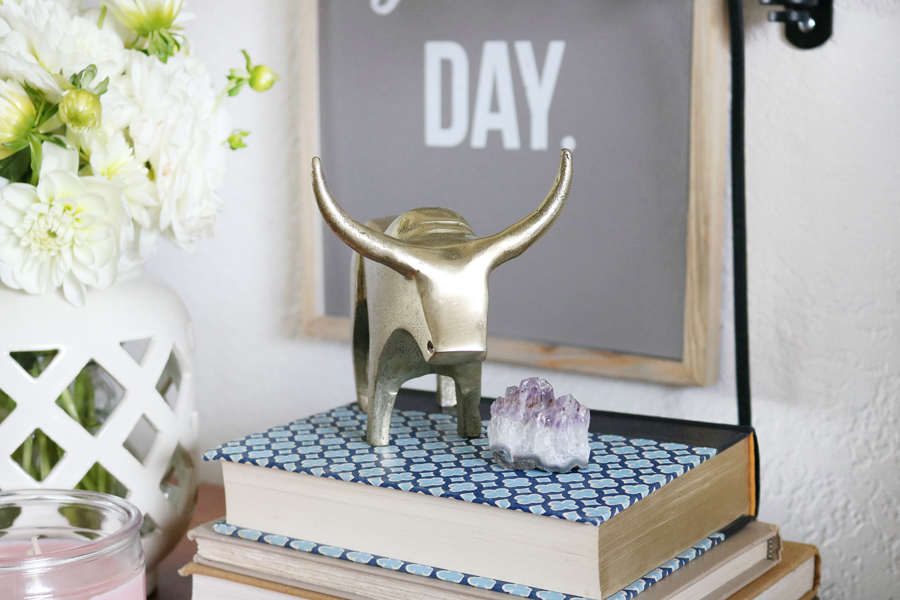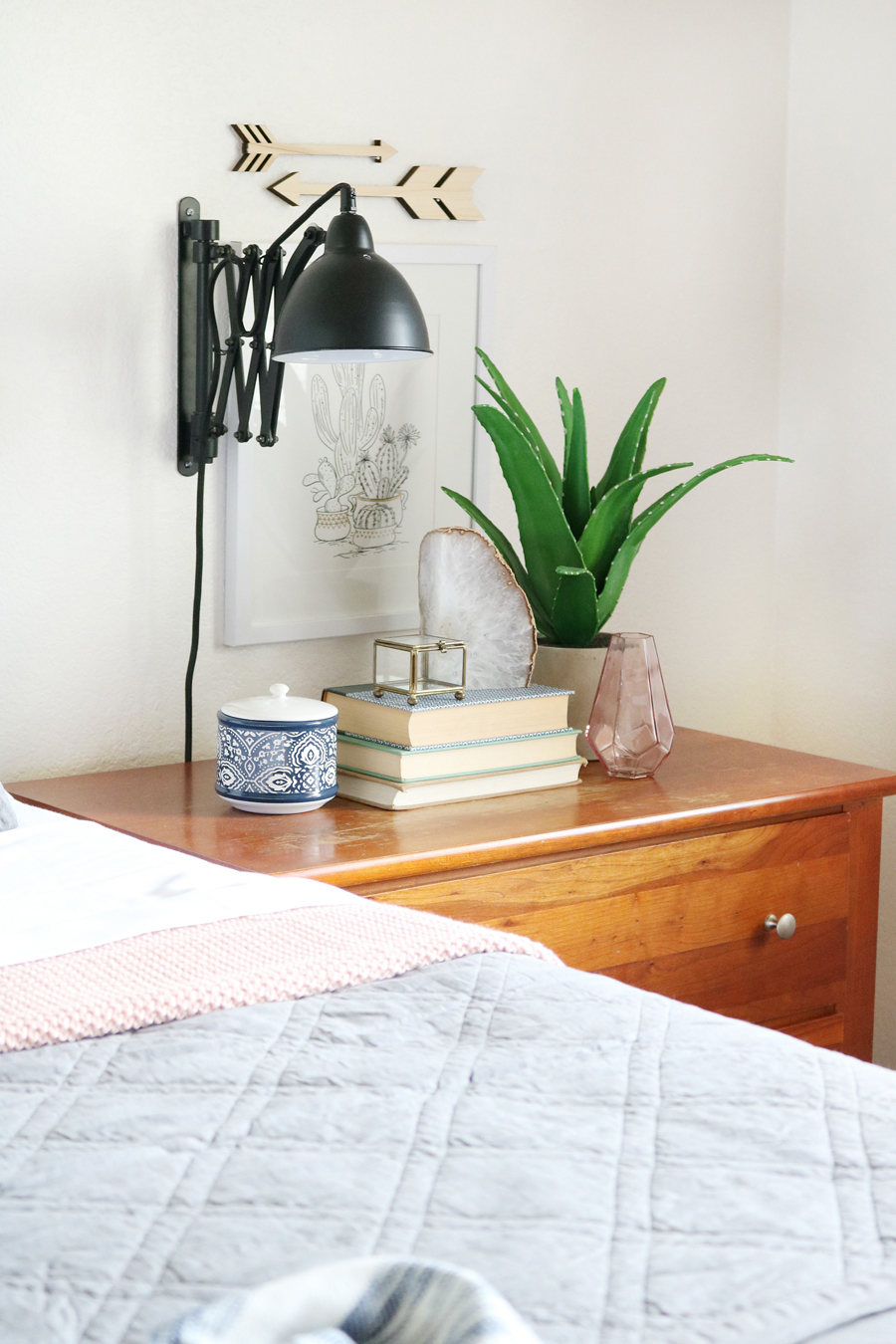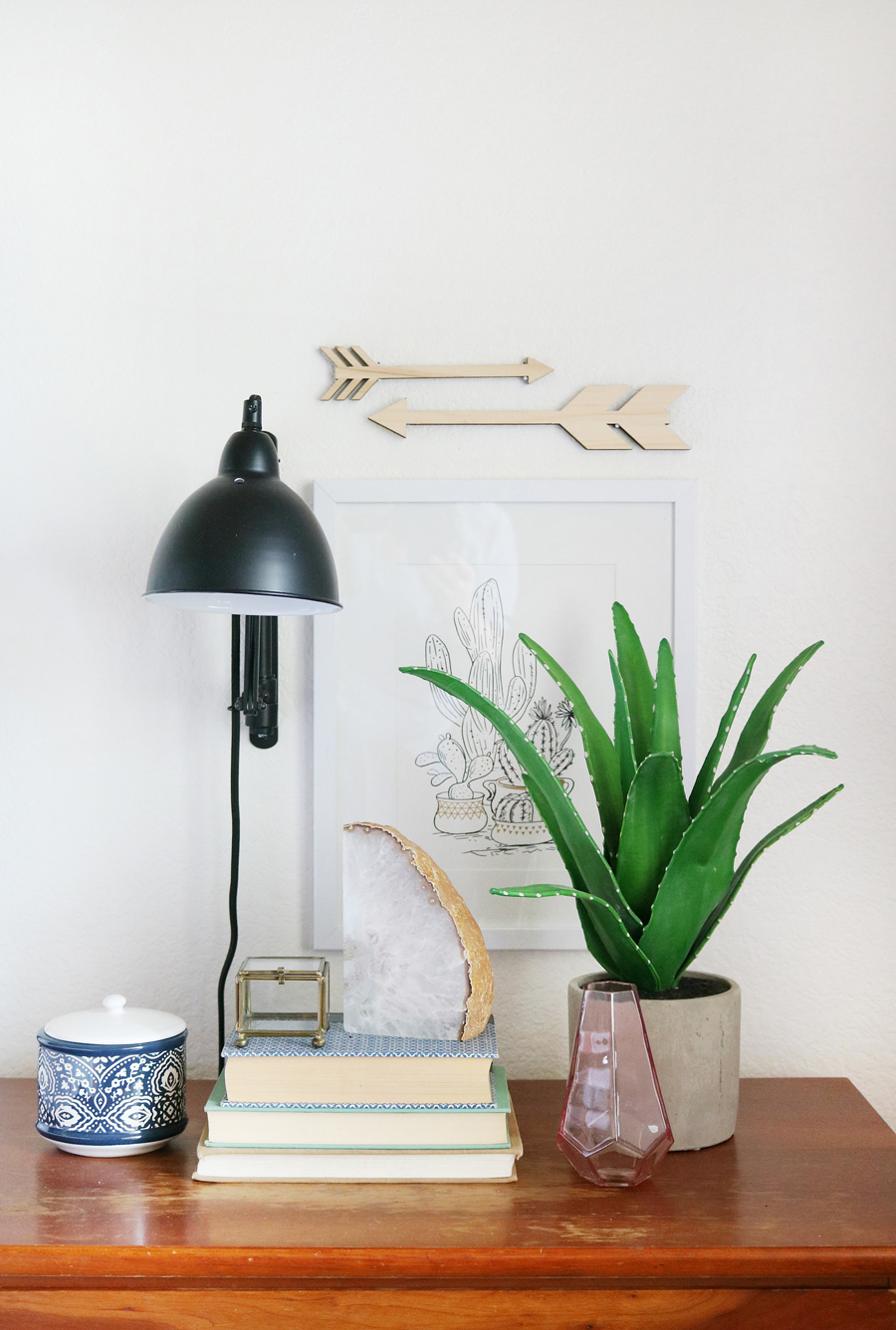 I found this perfect little-covered Better Homes and Gardens Indigo Arabesque Jar, it's actually a bathroom accessory…don't be afraid to grab items for your space that aren't expected. If they fit your color palette and design I say go for it. This jar is perfect for storing my favorite hand lotion and lip balms that I apply before bed.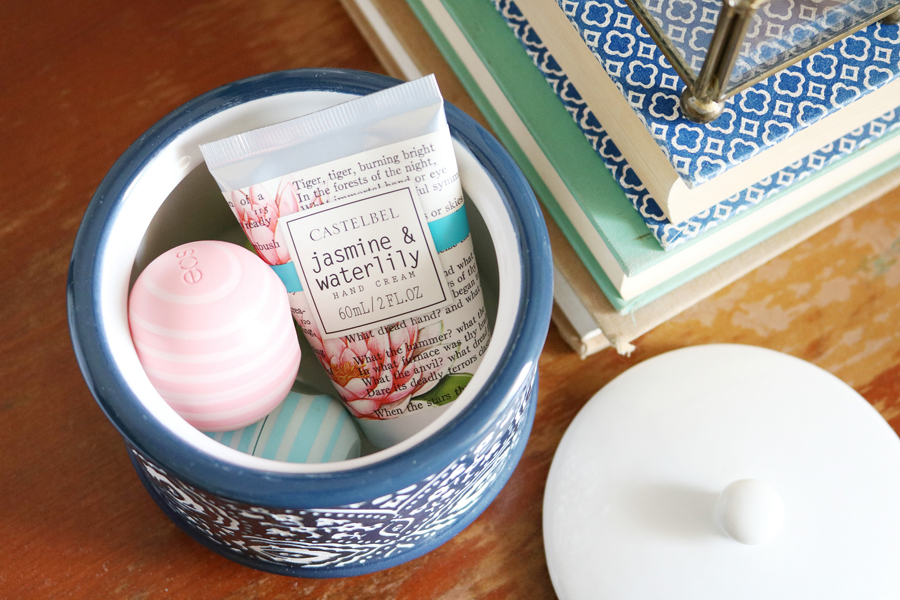 You can always find a throw on our bed, in fact, we have them throughout the whole house…you can never have enough throws! I love this Better Homes and Gardens Woven Fringe Throw I found online, it's not too thick and just the right weight for our Arizona weather. Since it won't cool down for another couple of months to wear sweaters this will be perfect for naps and movie watching in bed.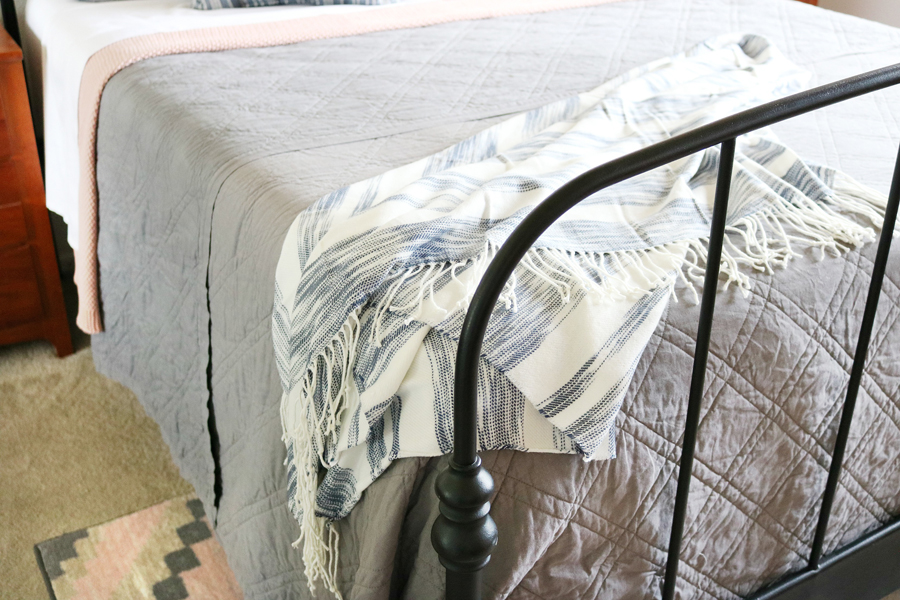 I love how fresh the room feels, the colors are something I normally don't lean towards but I'm so glad I chose them. It's still neutral enough for me, and the subtle pops of pink give it a little bit of a girly touch. Once I get the furniture refinished I think this space will feel even fresher and more inviting.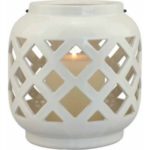 If you liked this you might love my Black & White Entryway Refresh I did as well.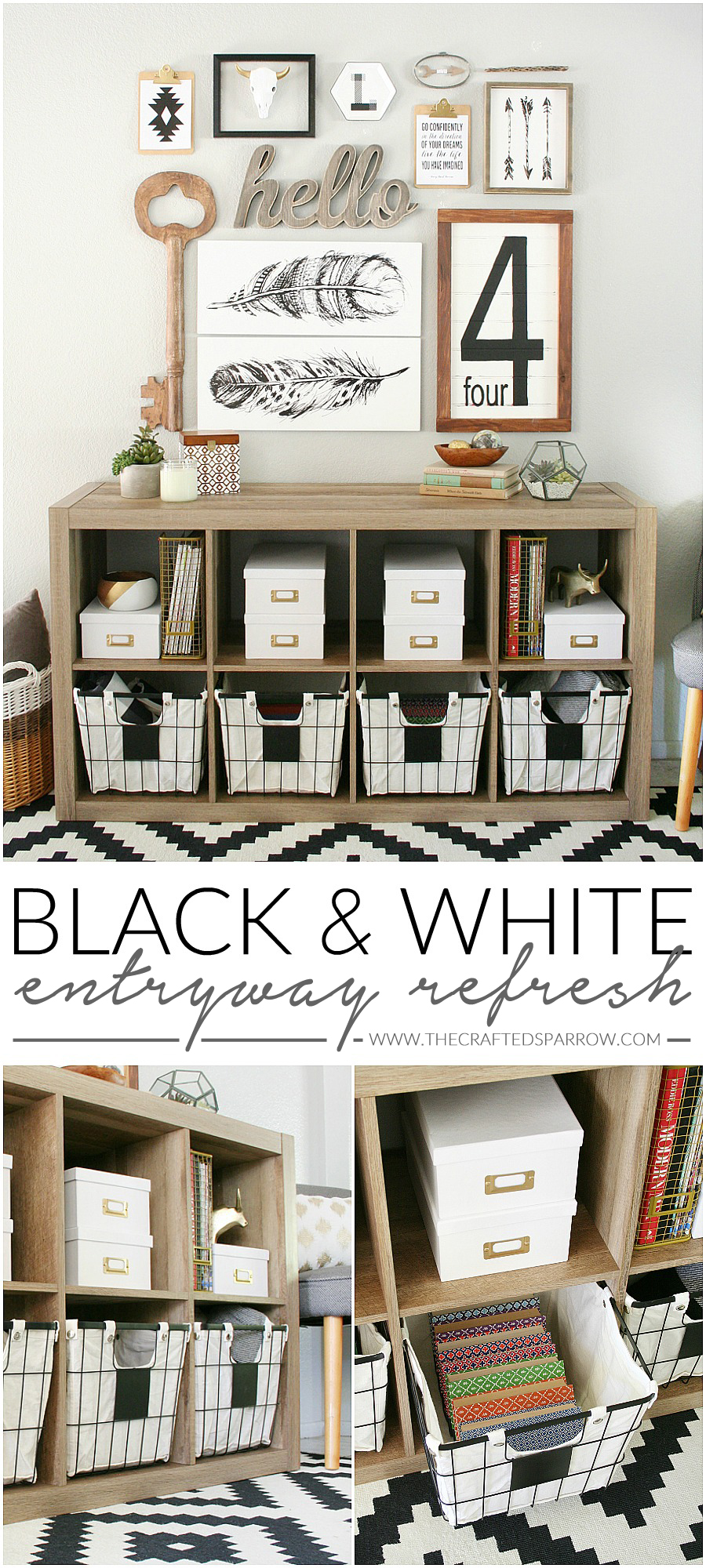 Black & White Entryway Refresh
You can find even more ideas from these amazing ladies…
Industrial Bedroom Makeover | Simply Designing
Elements of A Great Entryway | Home Made by Carmona
Easy Farmhouse Shelf Decor | Hoosier Homemade
Be sure you follow Better Homes and Gardens for Walmart:
Facebook | Twitter | Pinterest | Instagram