With spring in full bloom and summer just around the corner outdoor entertaining is definitely on the agenda. Simple and easy is the way to go in my books, if that's you too then you're going to love these entertaining tips.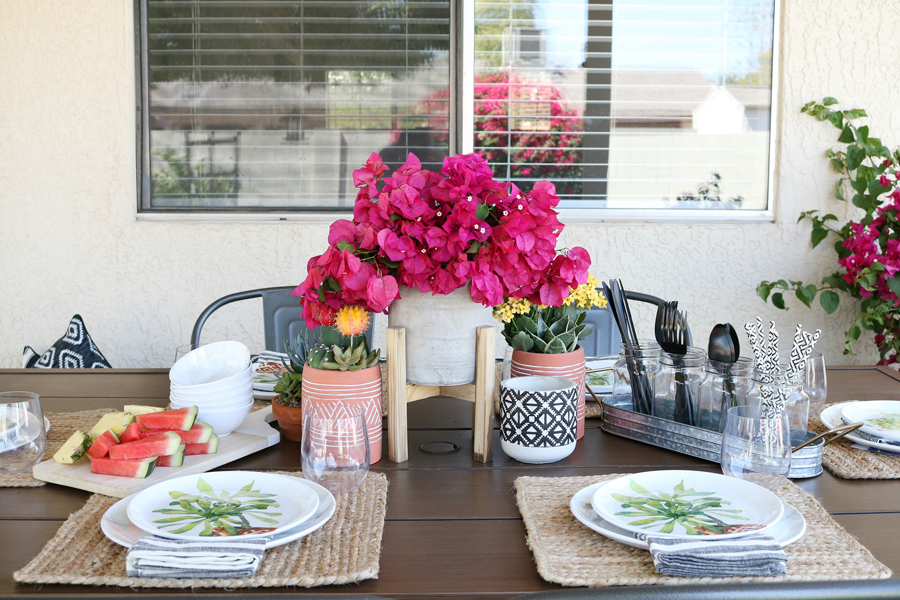 You guys! The temperatures here in Arizona are already over 95° and it's just ridiculous. That won't stop us from enjoying our outdoor spaces though. Last month I gave our back patio a little refresh, you can see that HERE. We have been eating so many meals out here and we have already entertained with family. When it comes to entertaining I'm a simple girl, but I love my guest to be comfortable. I'm sharing 5 Tips for Outdoor Entertaining that are sure to help make your space spring and summer ready.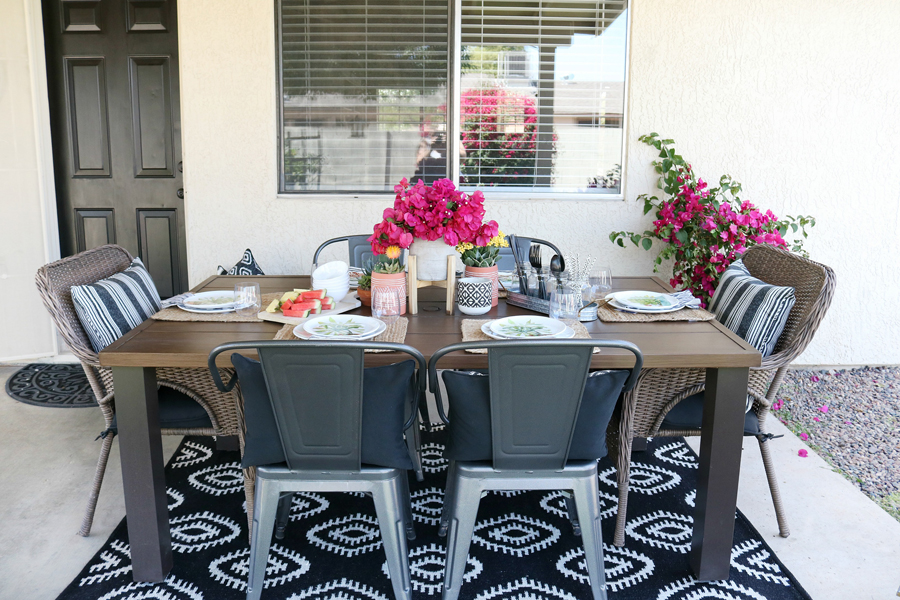 Outdoor Entertaining Tip #1 – Create A Drink Station
I love to have a place where guests can go to grab a drink quickly. I tend to always be thirsty myself so I love when it's easy to grab something and keep refilling my drink without being in the way of other guests.
Using large drink dispensers like this Better Homes & Gardens 2 Gallon Dispenser with Handle are perfect for drink stations, they allow you to offer all different kinds of drinks to your guests. Since citrus is so big here in Arizona and all the trees are in bloom (the best smell ever is a blossoming orange tree) I filled my dispenser with water and sliced up about 3 or 4 navel oranges to toss in the water. The flavor is so refreshing and light, perfect for hot days. I love that I can use the dispensers by themselves but I also love the Better Homes & Gardens Galvanized Square Beverage Stand that goes perfectly with the dispenser. It helps to elevate the dispenser for easy use.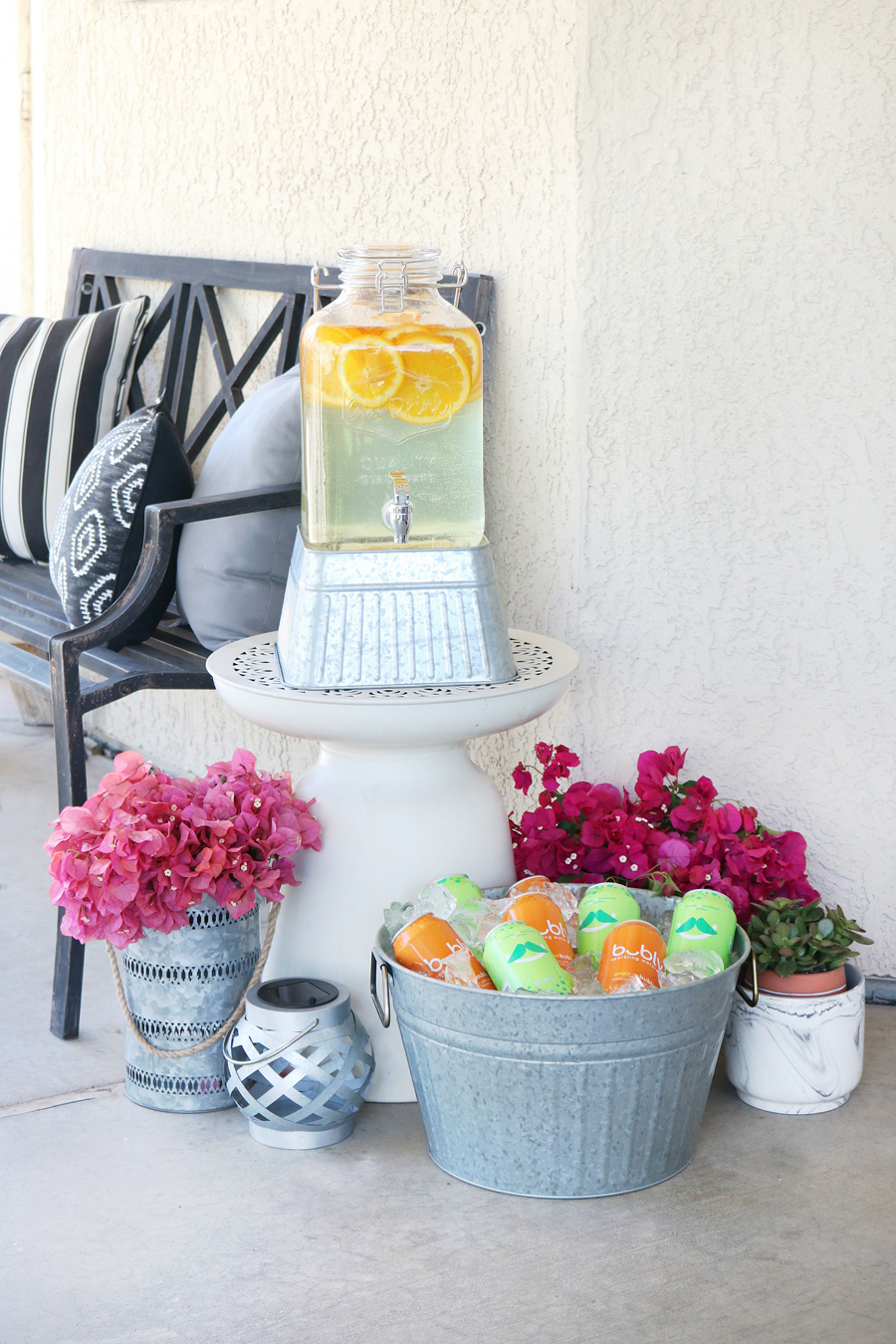 Another great thing to use at your drink station is beverage tubs. They can be used for so many things, but they are perfect for entertaining. Simply fill the tub with your favorite drinks and a bunch of ice. Guests can grab a drink that's ice cold whenever they want.
These Better Homes & Gardens Galvanized Tubs are under $8 and come in a few different shapes, round – square – oblong. I love that they have brass handles, I will take gold accents on things anytime I can get it. In case you were wondering, those drinks in the tub are sparkling waters and they are so good.
It's up to you whether or not your beverage station is stocked with cups and other beverage necessities like straws and garnishes. Since my space wasn't big enough for all that I just added some planters with florals from our yard and lanterns to finish off this little space. You can find the Better Homes & Gardens Marbled Planters HERE & HERE, and the Better Homes & Gardens Galvanized Solar Lantern HERE.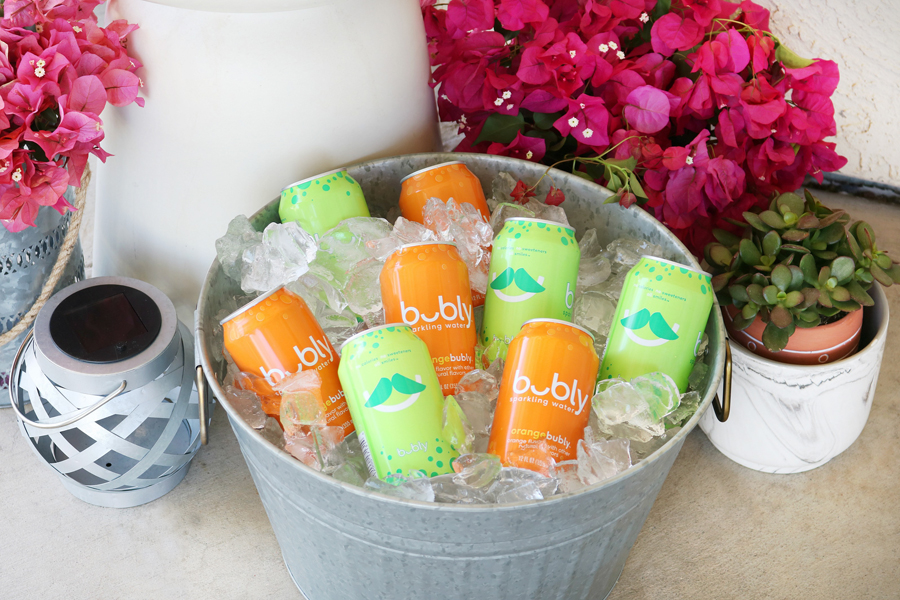 Outdoor Entertaining Tip #2 – Setting the Table
When it comes to table decor you can definitely do an over the top table setting, but like I said…I'm a simple girl who loves a casual space. So when I set the table I love for it to reflect that, I also love having room for my guests to talk to each other easily and there definitely needs to be enough room on the table for the food!
I keep my centerpieces easy. Lanterns, candles, and planters filled with florals and succulents are always a fave of mine. Remember to not go too tall with your centerpiece, your guests want to still be able to talk to each other across the table.
Use what you have! Everything from my centerpiece was from around our home this time, even the bougainvillea in the center.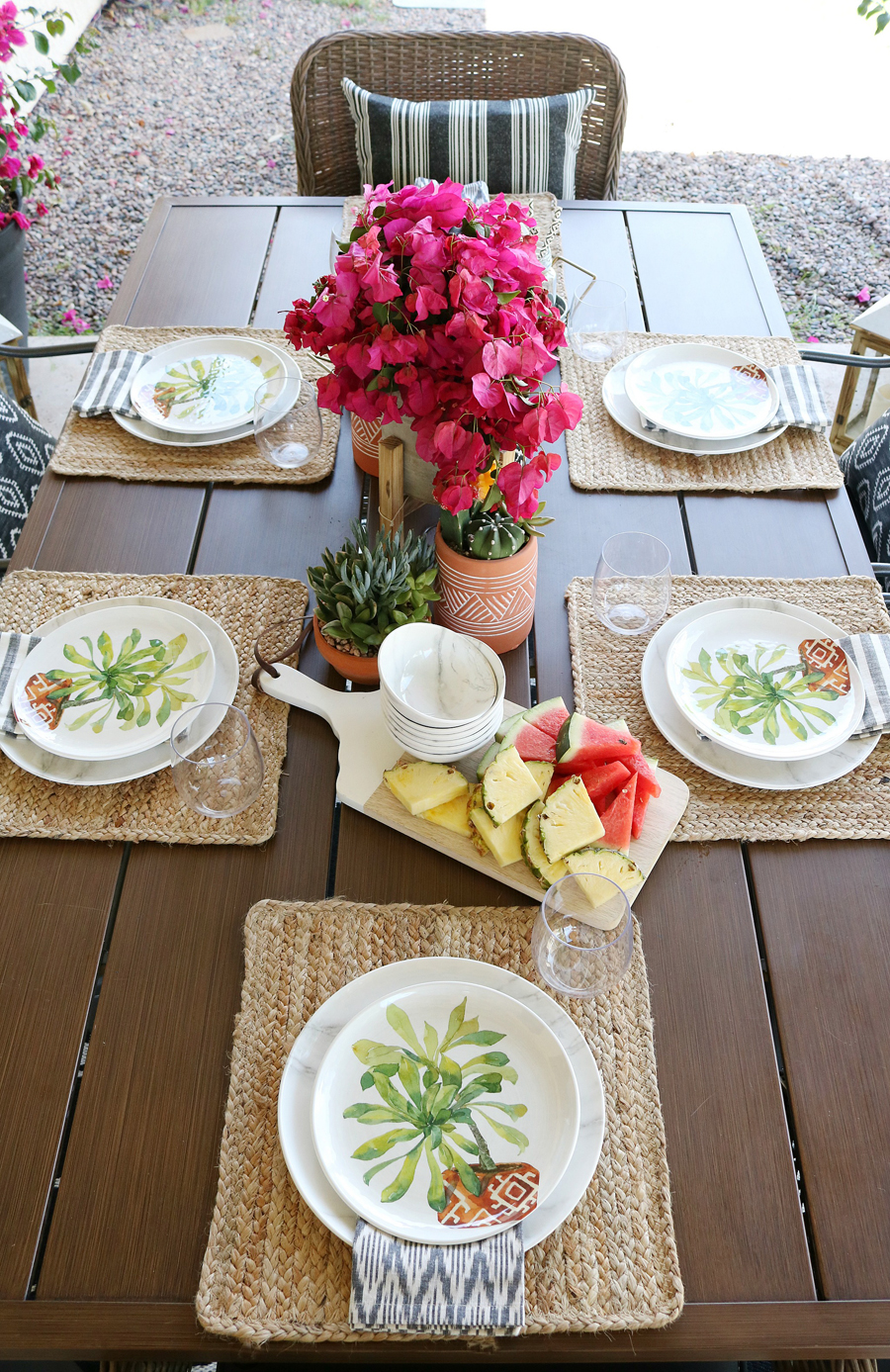 When it comes to the dinnerware and outdoor entertaining I'm a huge fan of melamine. It sturdy, lightweight, and usually comes in some great patterns to help add interest to your tabletop.
Outdoor Entertaining Tip #3 – Mix & Match Patterns and Textures
Once you've decided on your centerpiece it's time to add the rest. Adding texture to the table is important, it adds visual interest and it helps to pull everything together. Consider whether or not you want to use a runner down the center of the table under your centerpiece or placemats to define each place setting. I typically don't use both together, I find that it gets too busy.
You can add texture with linens, different kinds of serving ware, and plants – florals.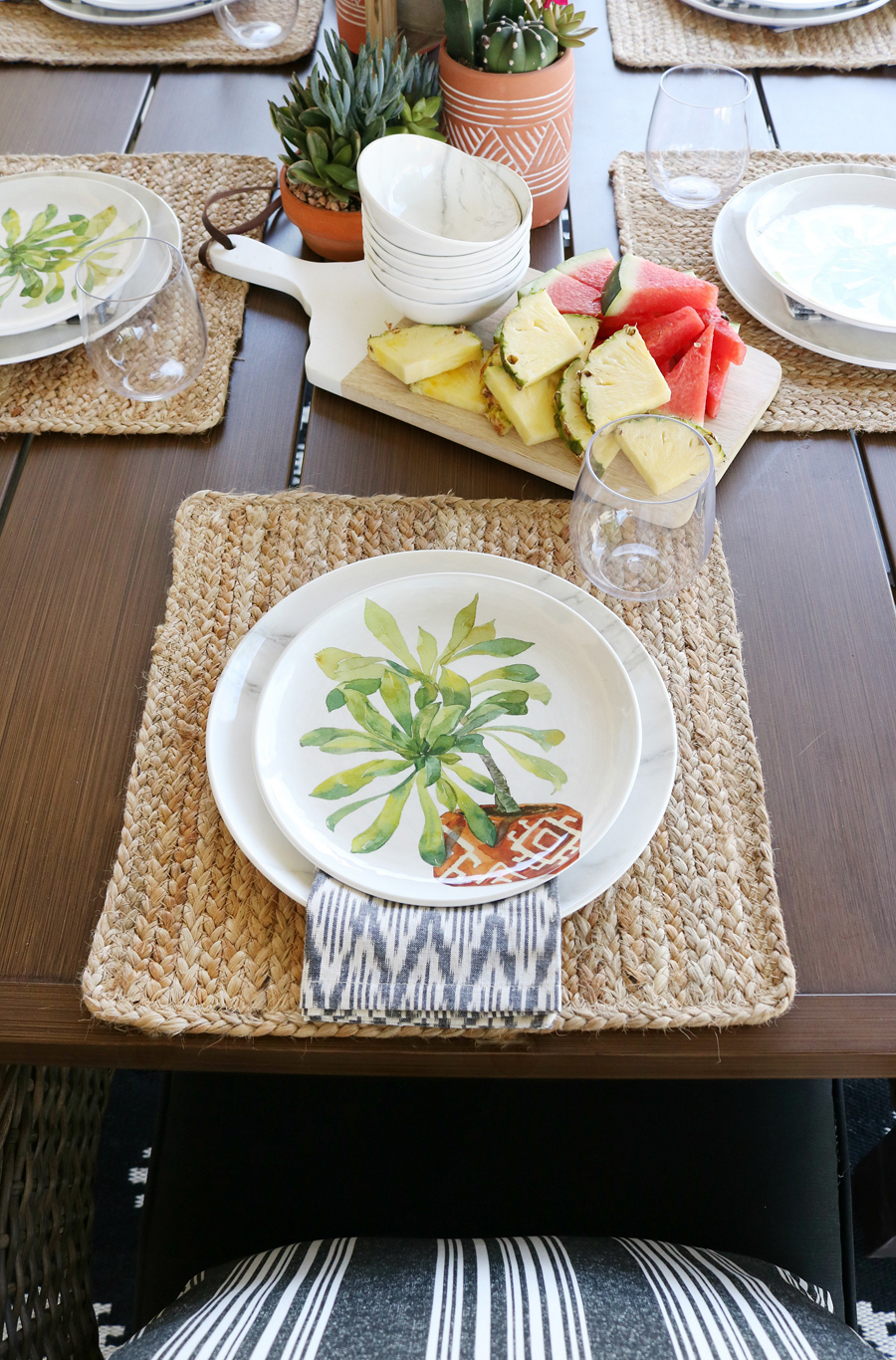 I started with these square Better Homes & Gardens Natural Jute Placemats. The size was perfect for my table, they left plenty of room for each guest.
Next was the melamine dinnerware. I found these pretty Better Homes & Gardens Marble Dinner Plates in store and fell in love! They were simple enough that I could mix a patterned plate on top, these Better Homes & Gardens Melamine Succulent Salad Plates are great. They add a small pop of color, bringing in the terracotta from my centerpiece and I love succulents so it was perfect. These salad plates come in 4 prints and are only sold in stores.
I added some cloth napkins I already had on hand to pull in some more of the black and white from my outdoor decor. I just placed them under the salad plate for a clean look.
Add your drinkware and you're done.
Outdoor Entertaining Tip #4 – Use Double Duty Decor
What is double duty decor? It's decor that can be used for multiple purposes. This Better Homes & Gardens Galvanized Glass Serving Caddy with mason jars is perfect for outdoor entertaining. I took the lids off and used it to hold all the utensils and straws for guests. You could even use it at the beverage station to hold garnishes, or even as your centerpiece to hold flowers. When you're done using it outdoors it can most definitely come inside and be used for cute organizational storage, as a centerpiece on your dining room table with flowers, there are so many ways to use it.
In fact, quite a few of the pieces from my beverage station can serve as double duty decor. The galvanized beverage stand can be flipped over and serve as a cute farmhouse style fruit bowl on the kitchen counter, and the large beverage tub can be used to hold blankets or throw pillows. Even the glass drink dispenser can be used in open shelving in the kitchen if you have farmhouse inspired decor, it would be super cute filled with lambs ear stems.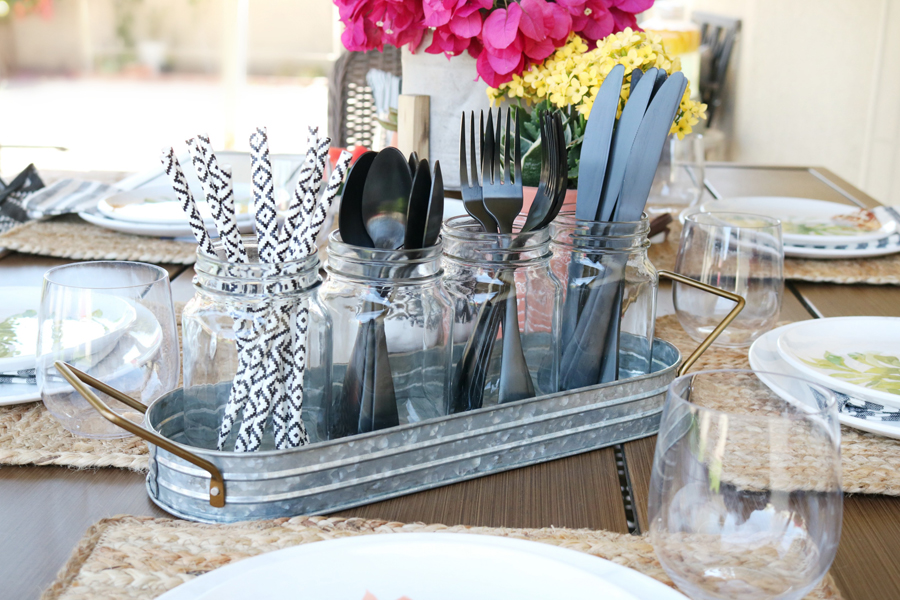 The silverware I used was our everyday Better Homes & Gardens Corin Black Flatware Set. This set is no longer available, but I have seen they have an updated version in stores. It's not as matte black, it's a little shinier.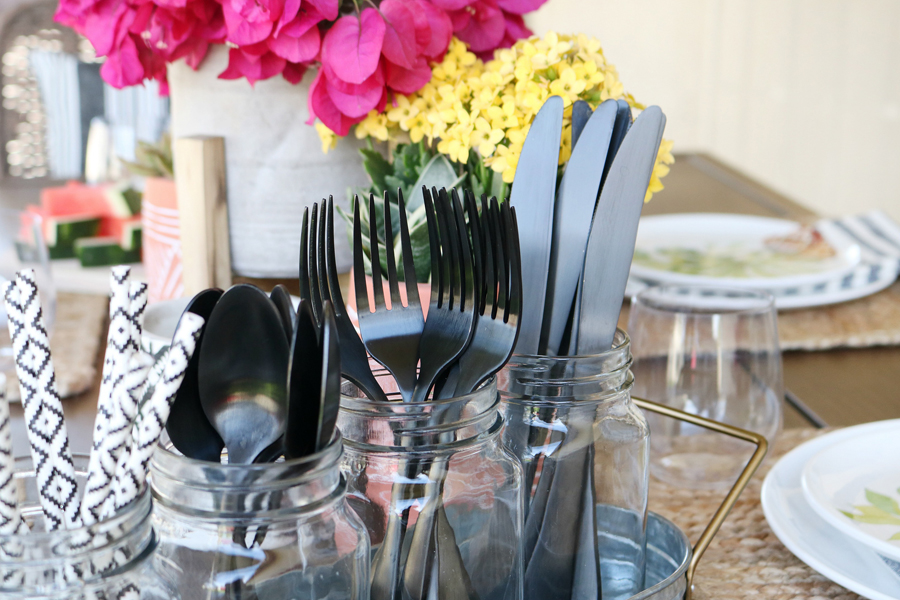 Also, how cute are these Better Homes & Gardens Marble Melamine Berry Bowls?! They are perfect to set out on the table for small appetizers like fruit and dips. These bowls are also perfect snack bowls for kids when not being used for your outdoor entertaining.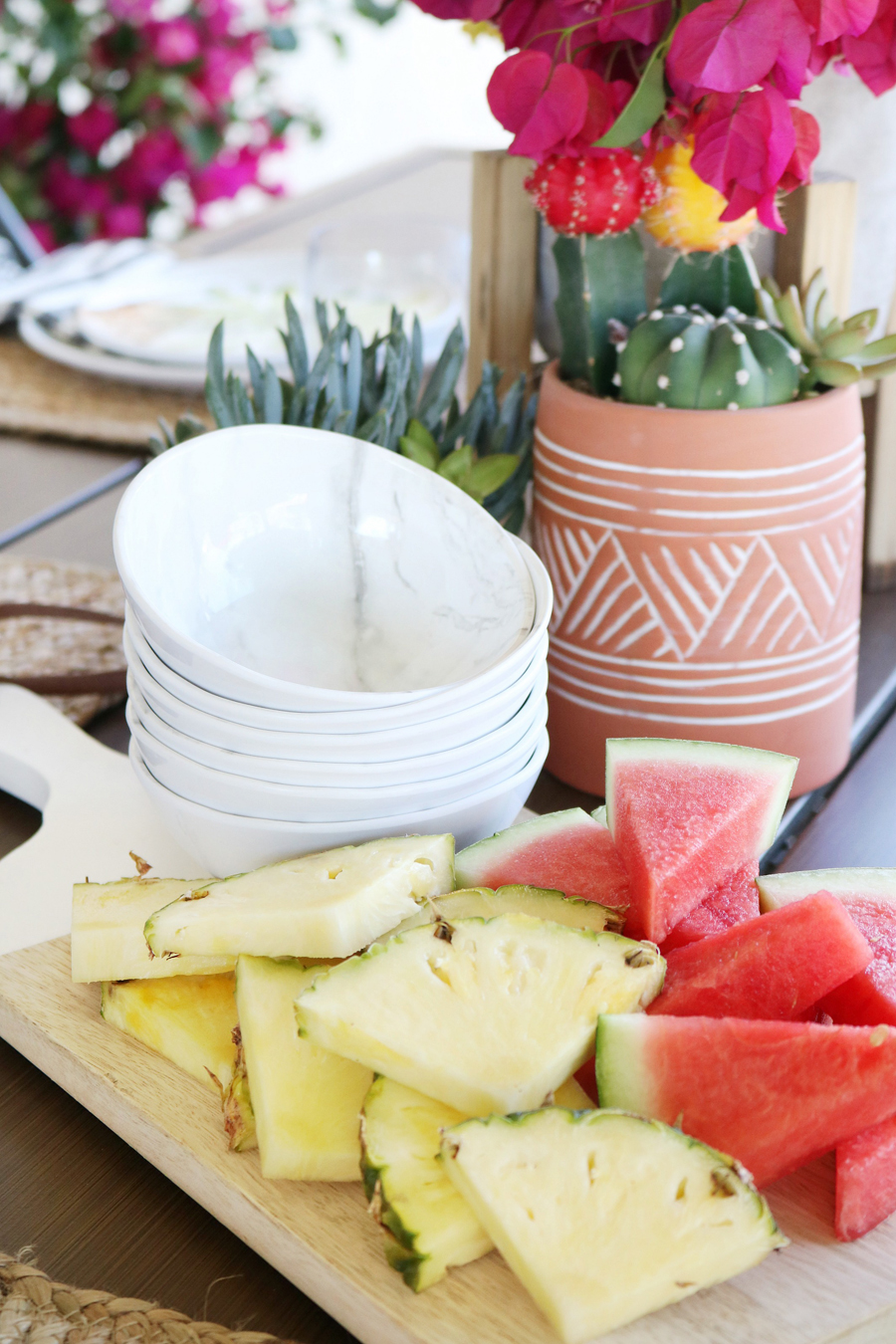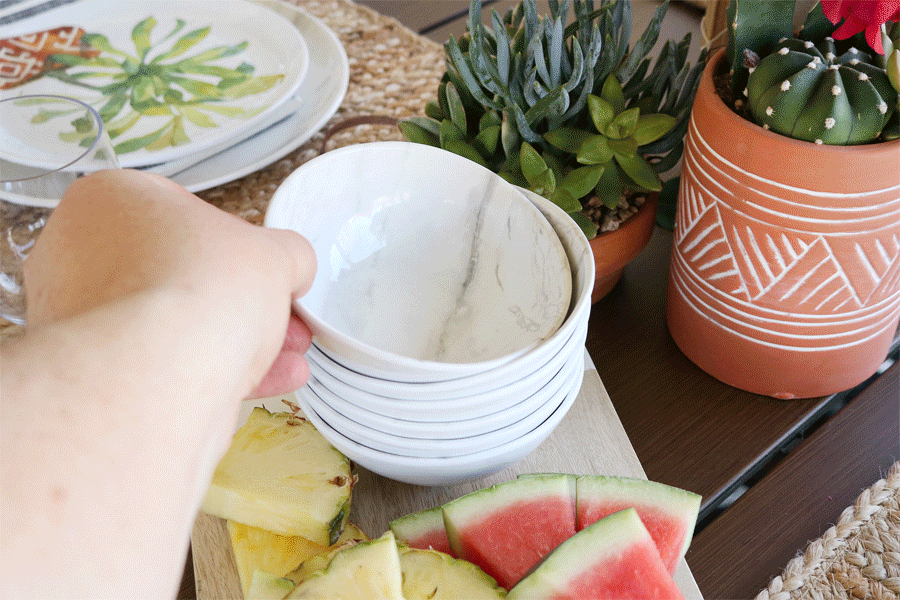 Outdoor Entertaining Tip #5 – Comfortable Seating
Making sure to have a spot for guests to sit that is comfortable is super important. Since we have mix and match patio decor we have several different seating options, you can see the farmhouse chairs and wicker chairs we have HERE.
For extra comfort, I always make sure to have extra outdoor pillows that guests can use in their chairs if they want them. These Better Homes & Gardens Diamond Wandering Ikat Lumbar Pillows are the perfect size for our Better Homes & Gardens Camrose Farmhouse Industrial Café Chairs.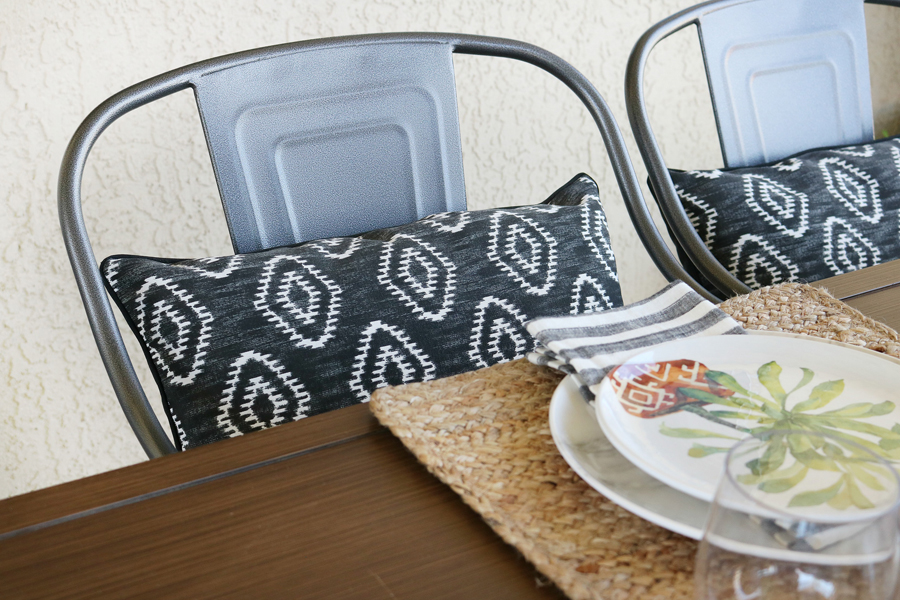 Use a large basket like this Better Homes & Gardens Large Seagrass Basket to store extra pillows or even outdoor throw blankets if the nights get chilly where you live.
If your outdoor space is big enough to create several seating areas consider doing that so that people can move around. A great way to create an extra seating space is with a firepit, everyone loves sitting around a firepit and chatting.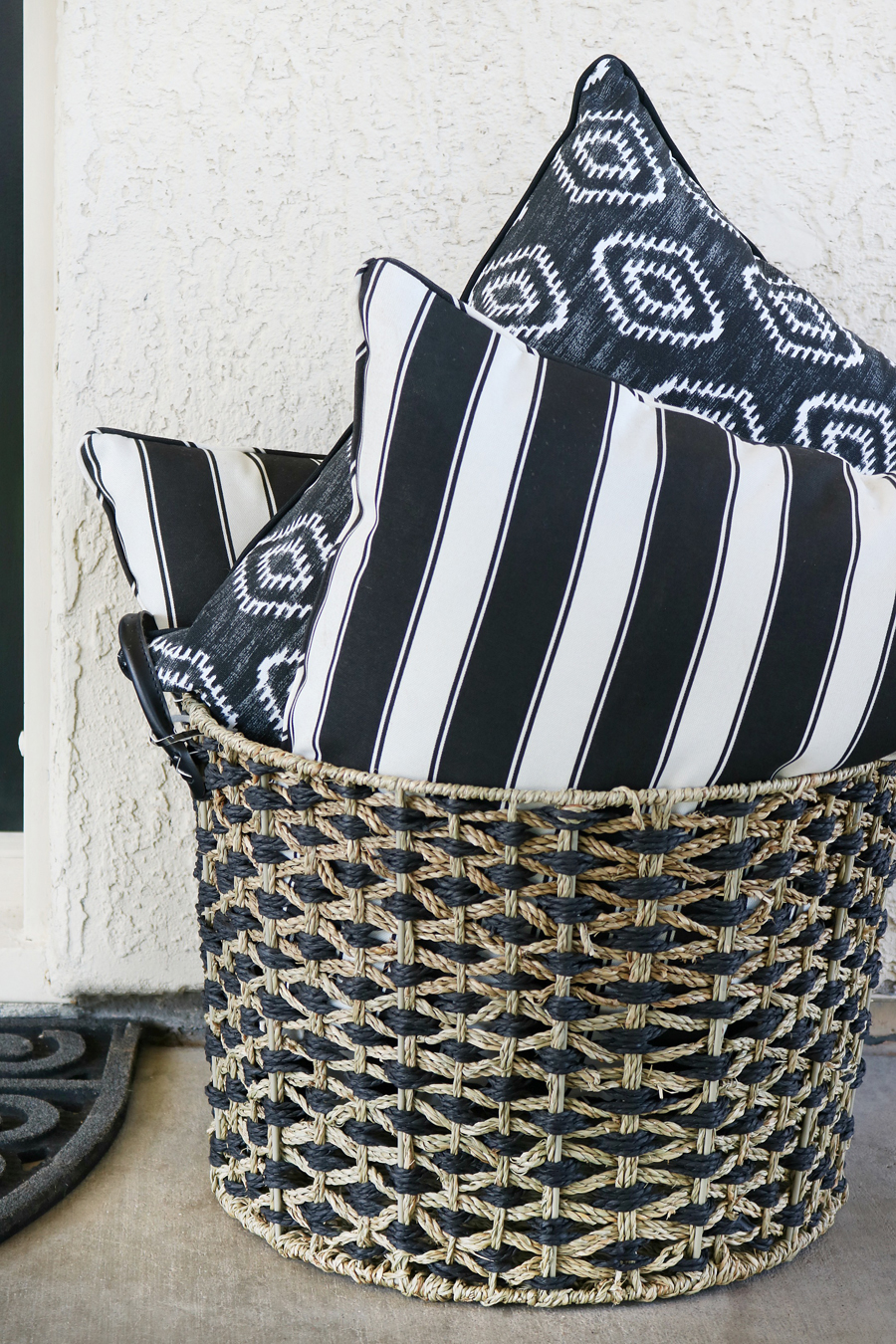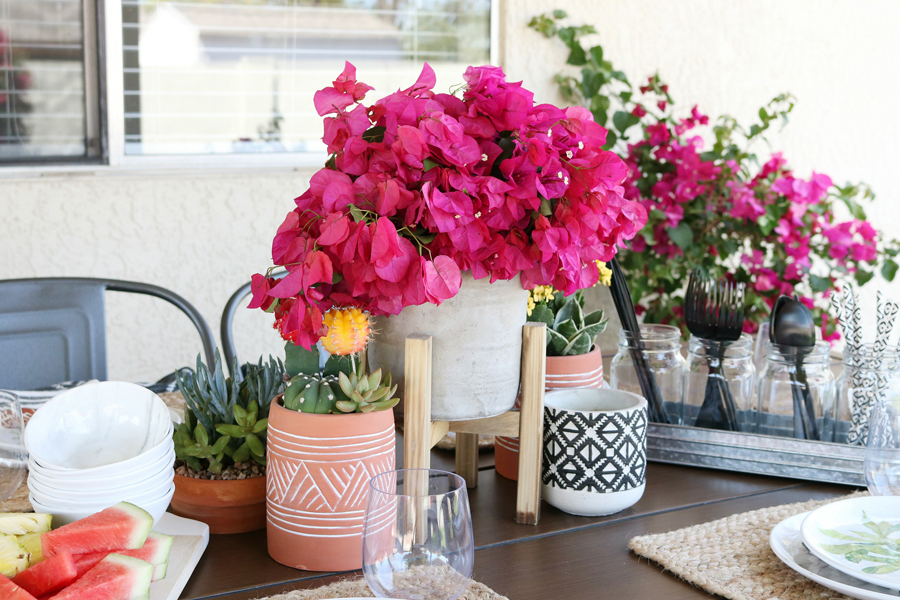 Here are even more outdoor decor and farmhouse decor ideas: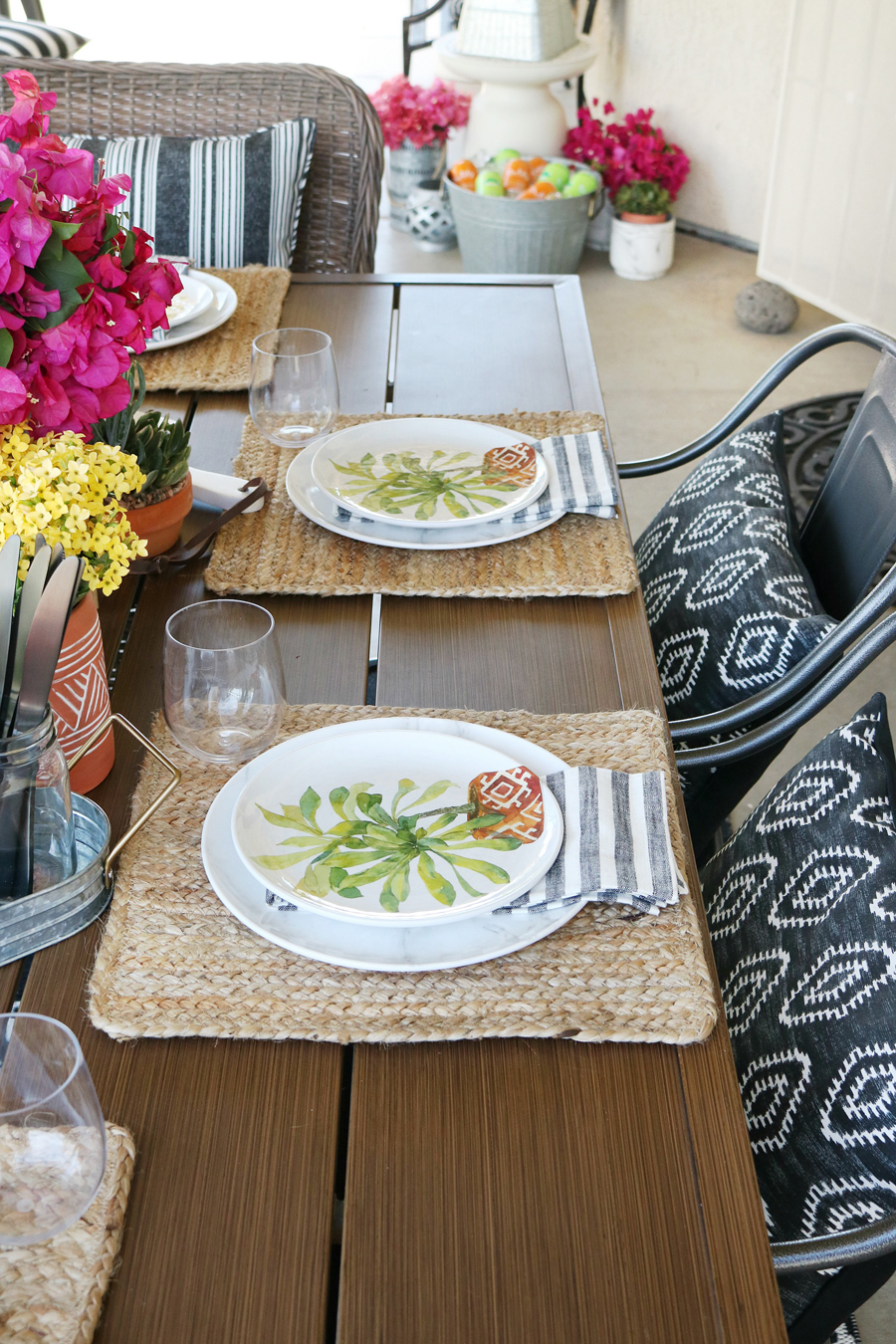 Be sure you follow Better Homes & Gardens for Walmart:
Facebook | Twitter | Pinterest | Instagram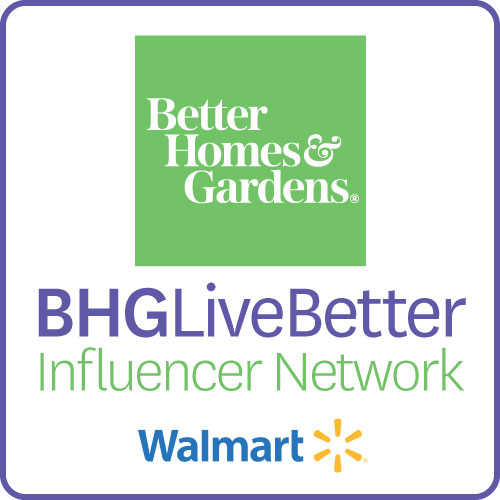 DISCLOSURE | This post is sponsored on behalf of Better Homes & Gardens. As always, all opinions and ideas are 100% my own. This post may also contain affiliate links.