There's always one spot in our homes that seems unfinished, you know the one that either we don't know what to do with or just don't give a second thought to. This wall was an unused space, I turned it into a farmhouse style coffee bar for a well deserving mom and now it's the center of her kitchen and dining room.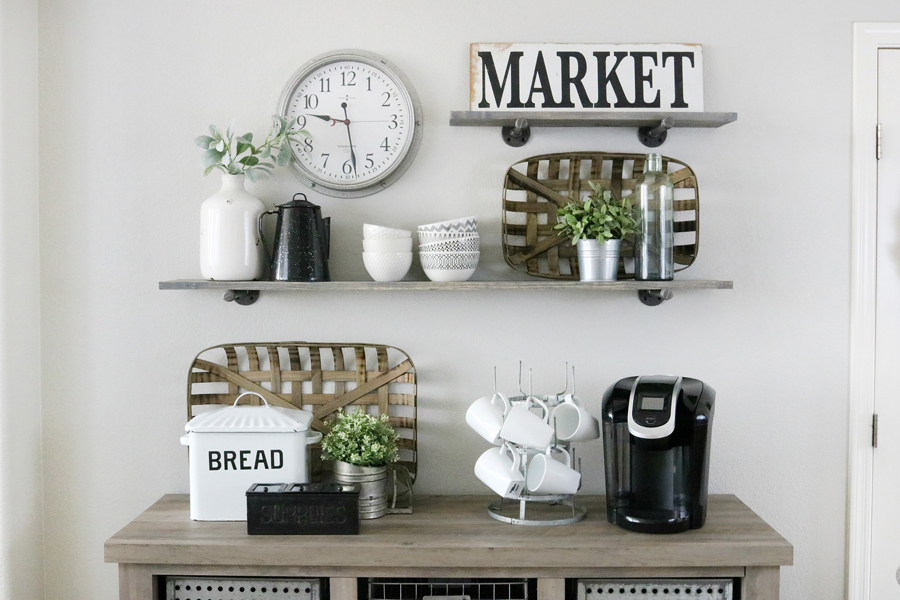 DISCLOSURE | This post is sponsored on behalf of Better Homes & Gardens at Walmart. As always, all opinions and ideas are 100% my own. This post may also contain affiliate links.
Each month I have the pleasure of working with Better Homes & Gardens and their exclusive line available online and in stores at Walmart. We are given a challenge or task to complete and this month we were asked to help someone who was deserving in our community. I knew right away that my lifelong friend Kimberly would be the perfect person for this challenge. She had an unused and completely blank space in her kitchen and dining room, it was serving no function and she had been wanting a space that could make it feel finished but also serve a purpose for her family. So this Modern Farmhouse Inspired Coffee Bar Station is what we came up with.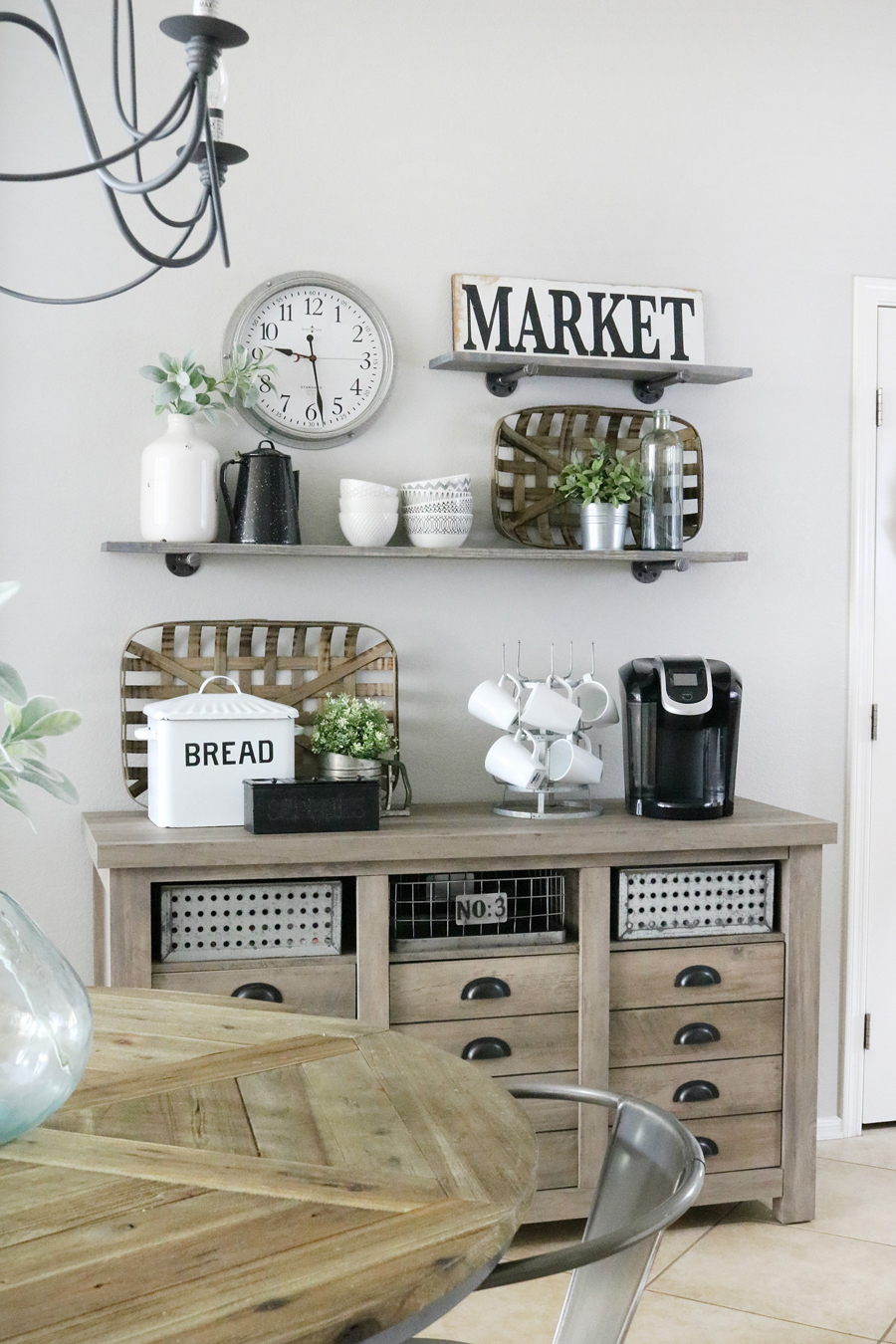 If you follow me on Instagram you may know that I have been friends with Kimberly from A Night Owl Blog since we were in Junior High. What you may not know is that Kimberly is a Special Needs Mama. She doesn't share it a lot on social media but she has one son with Autism, one with ADHD and her youngest has Hyperlexia. So with working full time, blogging and taking care of her boys, she is one busy gal! Mornings (especially her morning coffee) is so important to her so I knew setting up a coffee bar would help her morning routine go so much smoother and put a smile on her face.

I started with one of my favorite Better Homes & Gardens pieces, the Better Homes & Gardens Granary Modern Farmhouse Printers TV Cabinet. It was the perfect focal piece for this coffee bar. While it may be listed as a tv console it actually works really great in many areas of the home for different purposes. This piece stands a little taller than a typical tv cabinet which made it perfect for creating a coffee bar. What's great about this console is the faux printer drawer front cabinet doors, they open to reveal an adjustable shelf. So you get the look of a printer cabinet with the function and storage space of cabinets.
Here's a quick "before" shot of the space. I had already had her put together the cabinet and started having her gather a few pieces she already had on hand.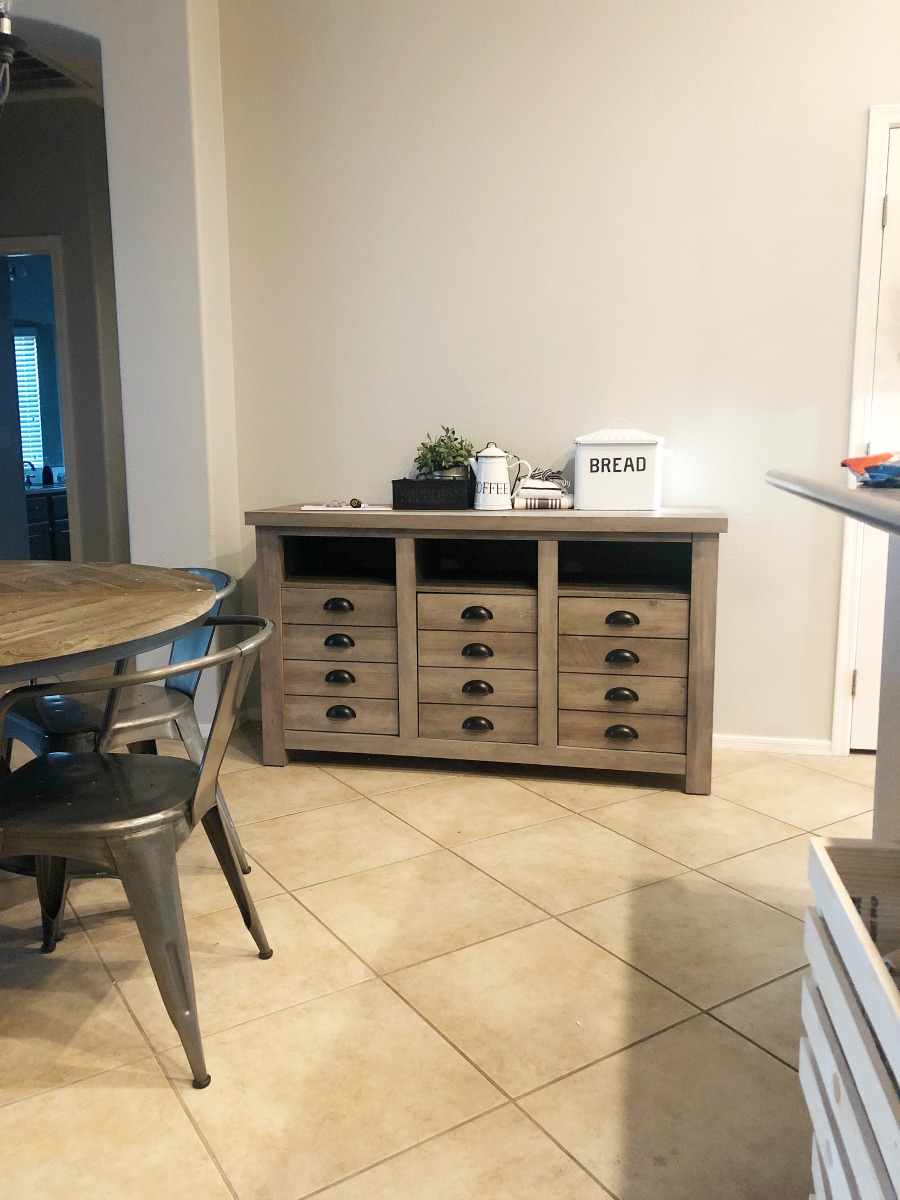 Here's what I did to create this Farmhouse Inspired Coffee Bar:
With my focal piece in place, I needed to find storage for the open spots in the tv stand console. I wanted something that would help to contain things like snacks for her kiddos to grab easily and a quick place for her to grab her coffee pods. We shopped her house and quickly found some cute galvanized bins that fit the openings perfectly.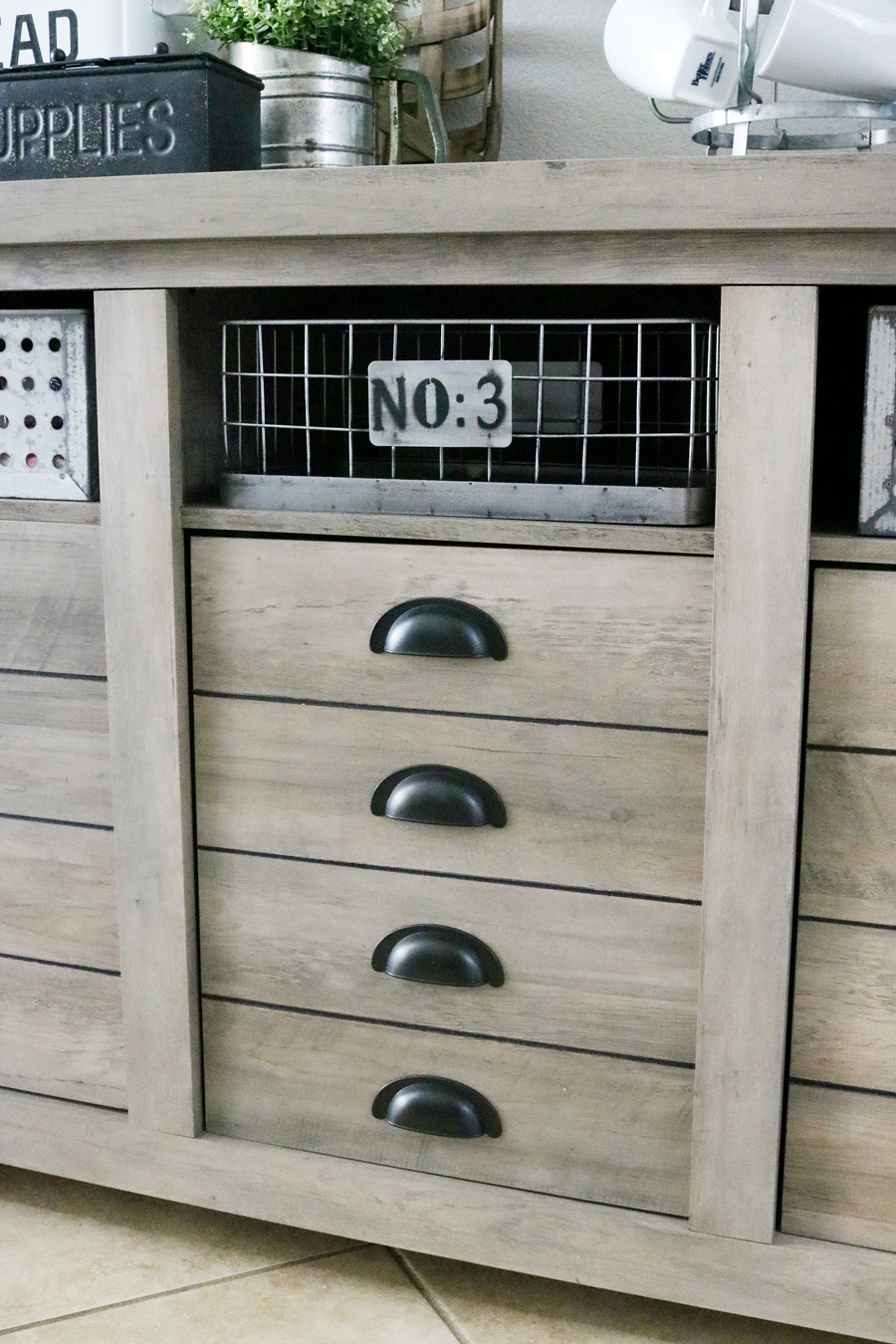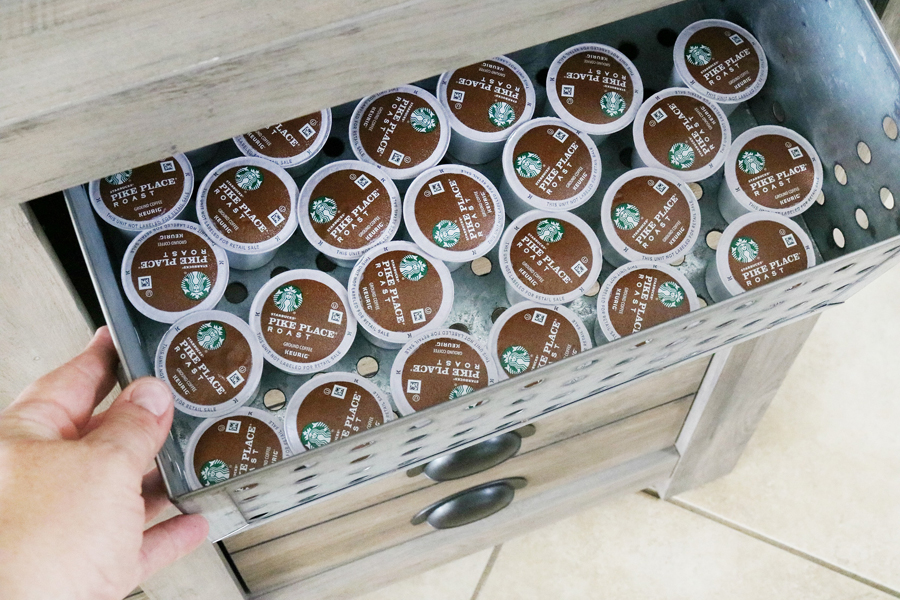 I added these Better Homes & Gardens Galvanized Bins with Gold Trim inside each cabinet. I love the pop of gold on the bin, they are perfect for storing extra things in the kitchen and dining room like dish towels, table linens, tableware, even things like snacks and treats that little hands can grab easily. I filled hers with some new dish towels, it's always nice to just toss out all the old ones and have new ones, these Better Homes & Gardens Gray Check 2-pack of towels and the Better Homes & Gardens 4-pack gray and white towels were super cute and fit in perfectly with her decor.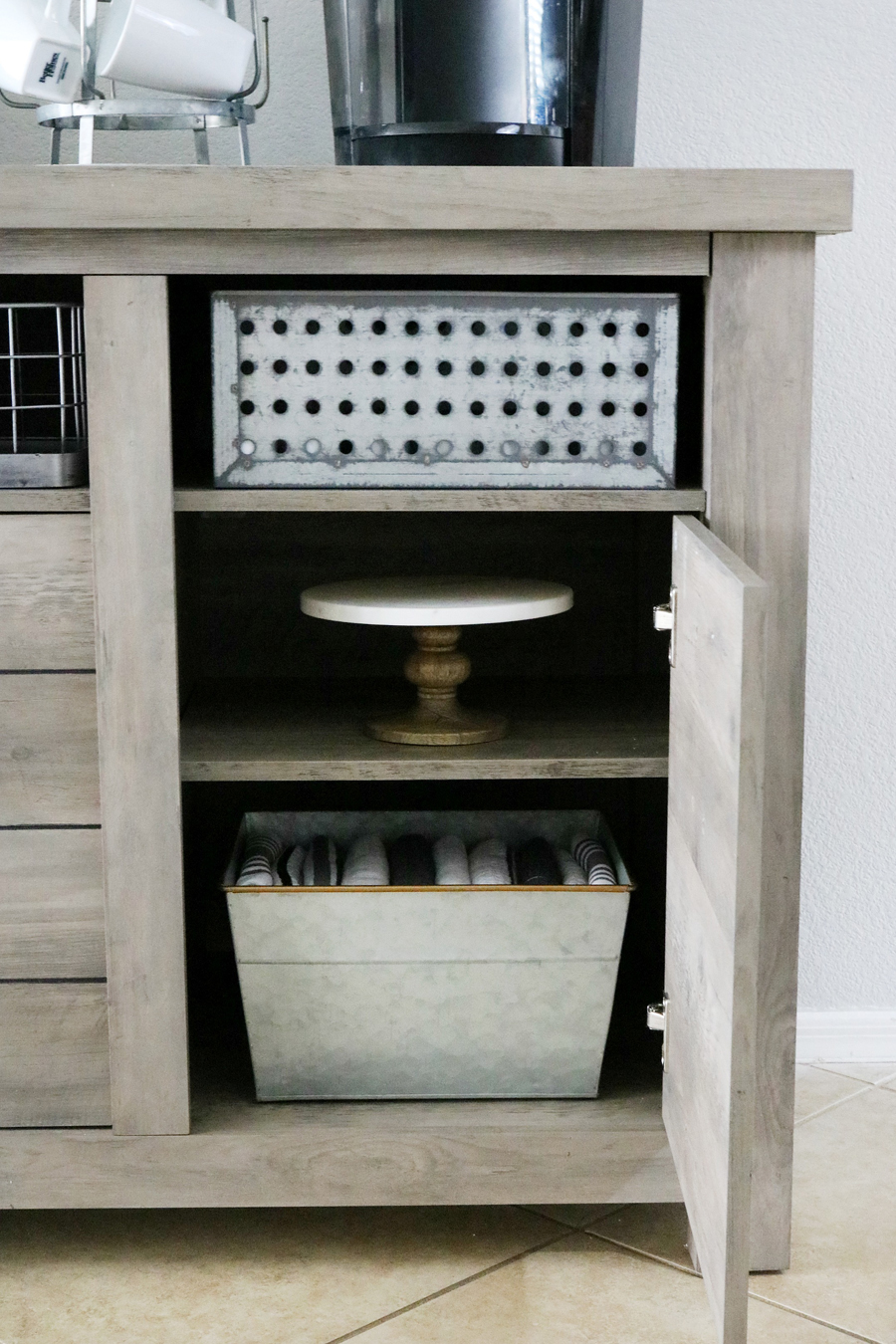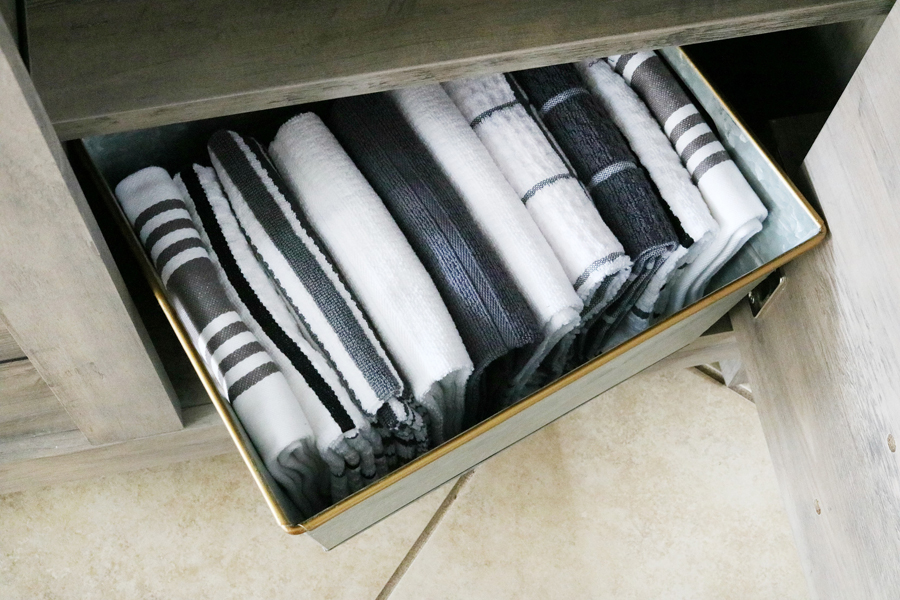 With a coffee bar, you need easy to access mugs for your morning coffee. I placed this cute Better Homes & Gardens Galvanized Mug Rack right next to her coffee maker. It can store up to 15 mugs and makes it so much easier to make that cup of joe in the morning when you're still not quite awake. We added plain white coffee mugs that she already had on hand.
Even more farmhouse decor goodness.
We added some simple farmhouse inspired decor on top of the other end, a cute bread box added even more hidden storage. While everything except the flour sifter was new it fits perfectly with the rustic look we wanted. The tobacco baskets bring even more of the wood tones to the wall and create a lot of visual interest.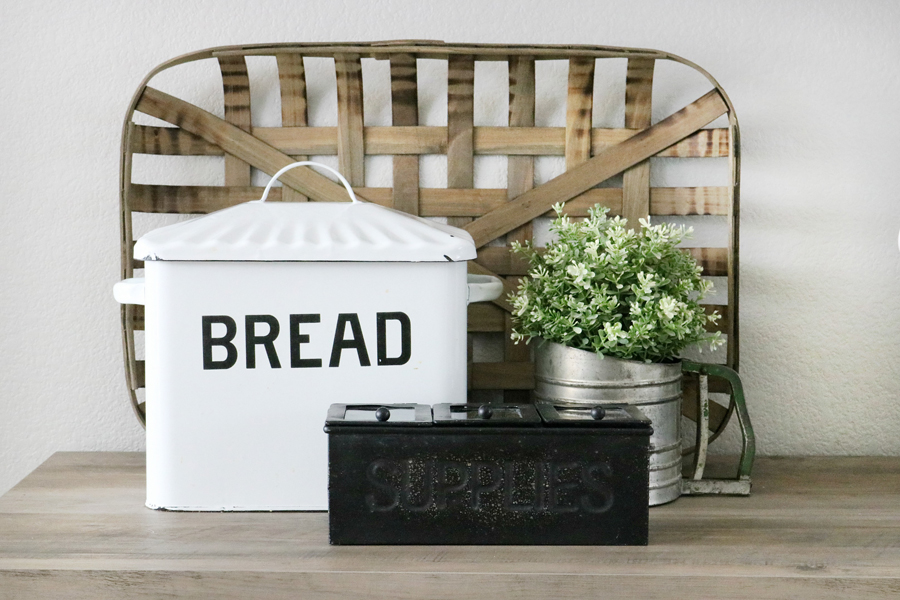 Kimberly made the DIY pipe shelving and had it all ready for me to add some cute decor finds. Most of the pieces are new or items we found around her home.
To brighten up the shelves I added this Better Homes & Gardens Galvanized Wall Clock to the open wall space. The pops of galvanized metal from the bins on the shelves and small touches on the wall decor flow really well and pull the eye through the whole design. This clock is a perfect size, large enough to make a statement on the wall but not too big to distract from other decor.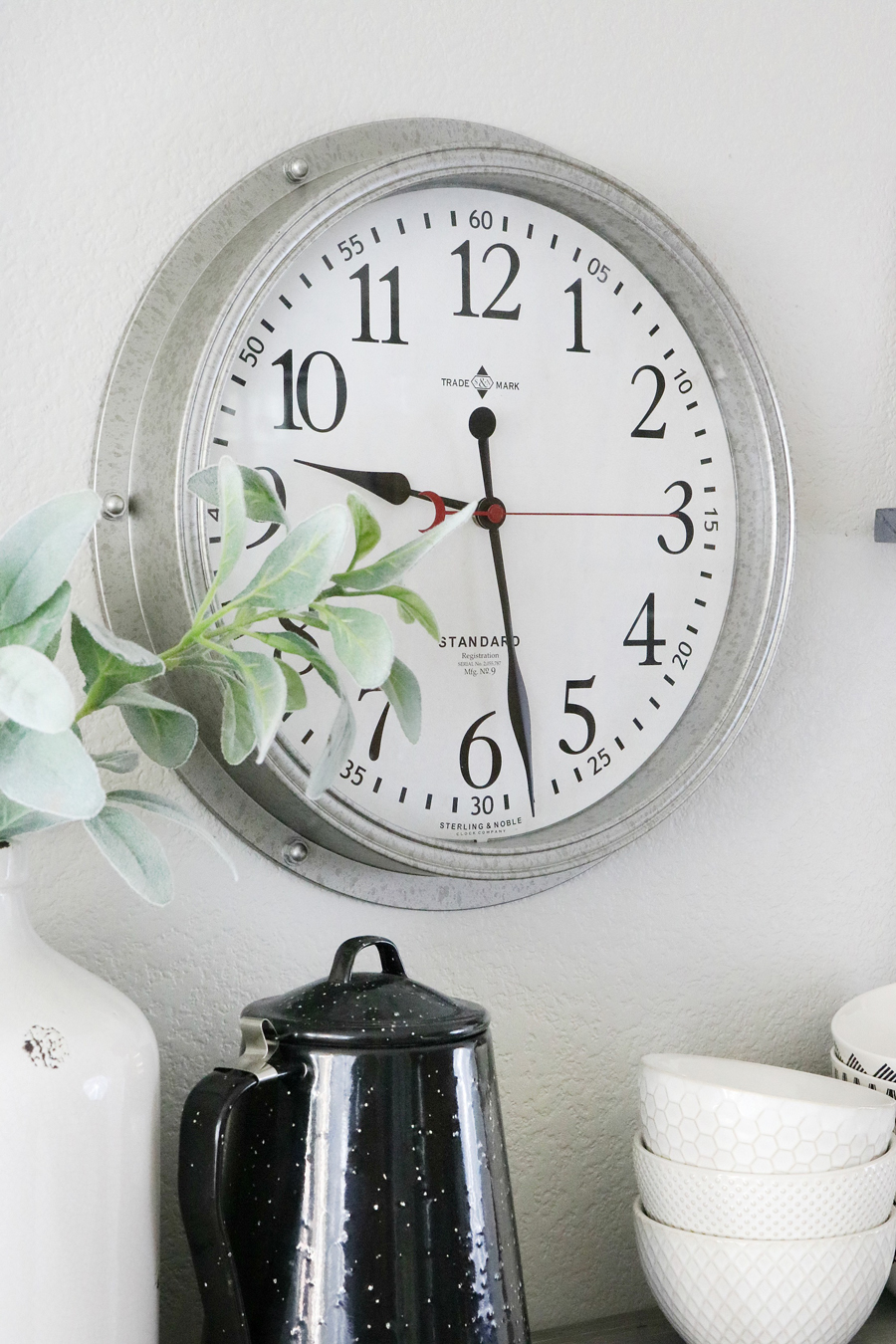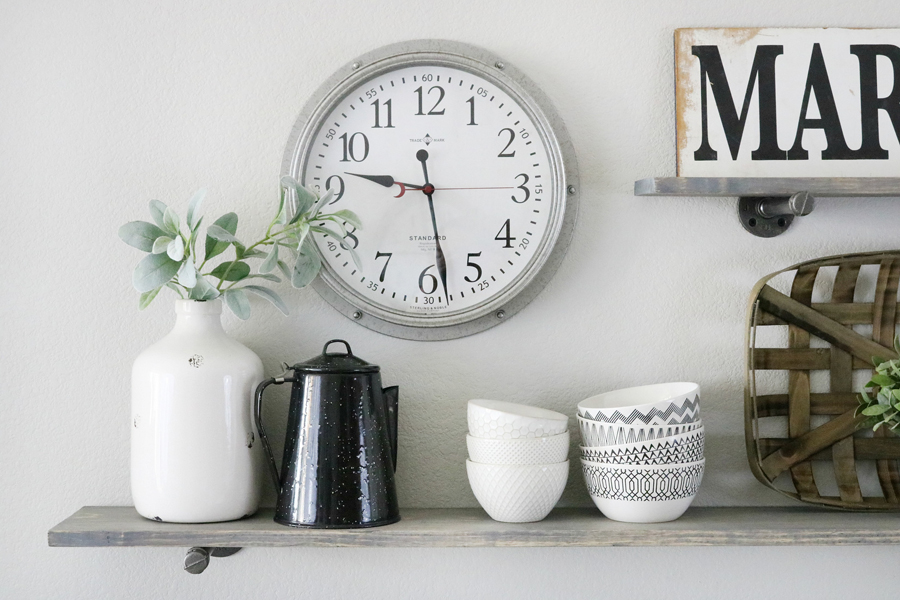 I added these Better Homes & Gardens Parkmor 4 Pack of Stoneware Bowls I found online, and they are so good! I might have ordered a set for myself after seeing them in person. I placed the bowls on the open shelving next to her favorite cereal bowls, perfect for grabbing quickly for breakfast or a snack. The mix of patterns and textures finished off the look.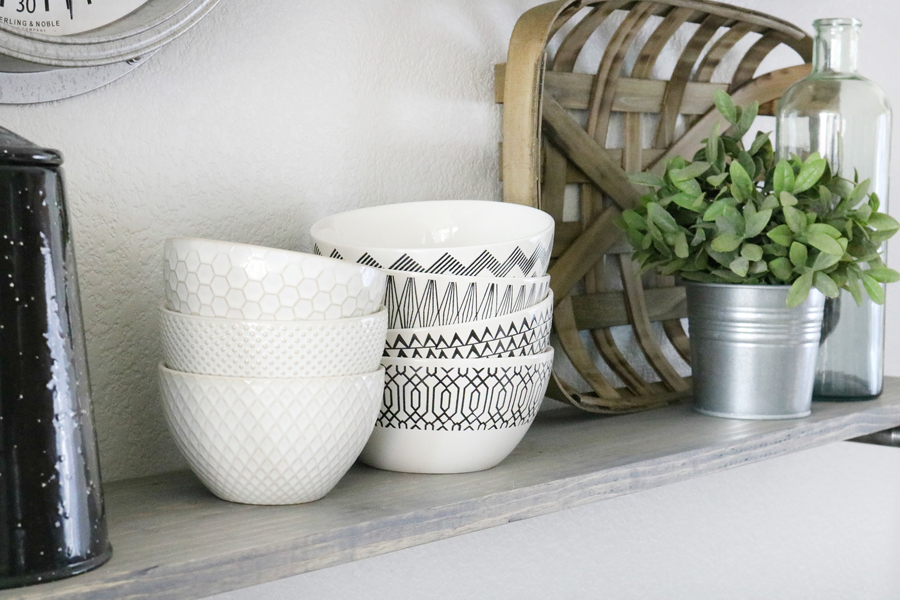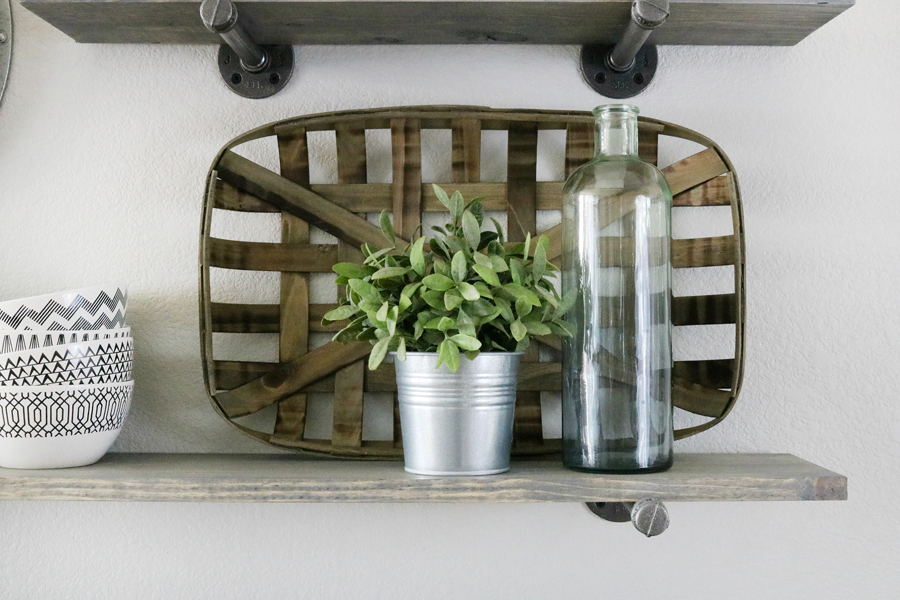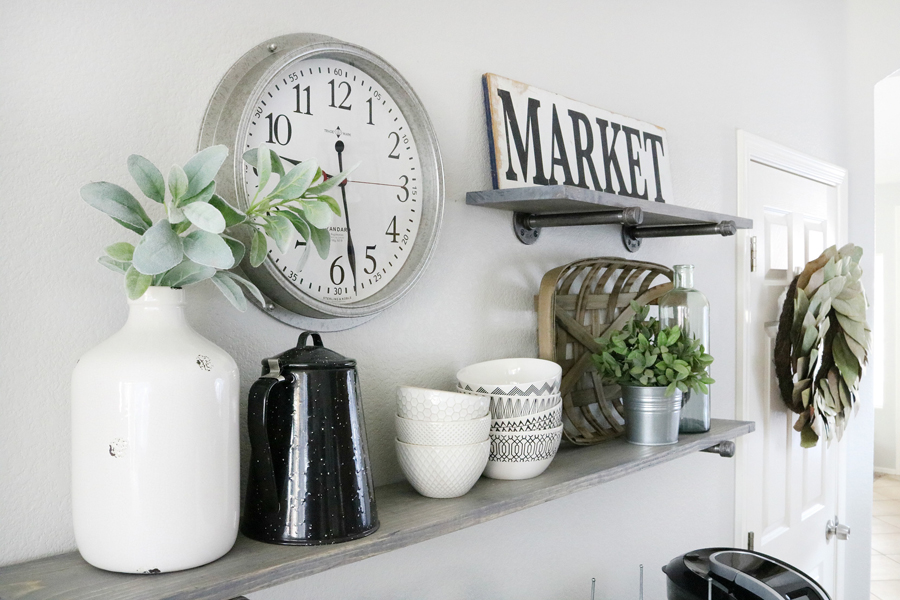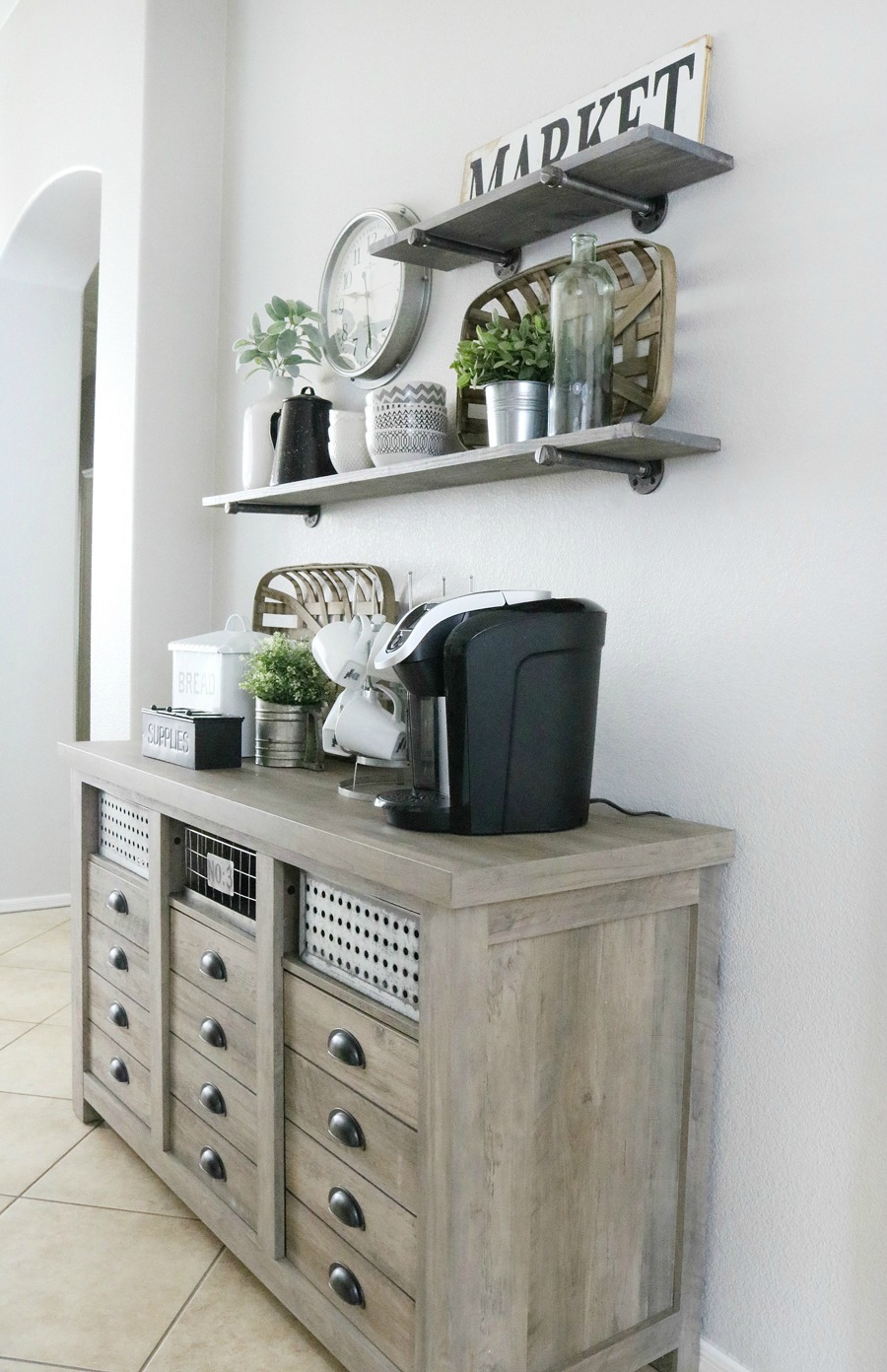 If you love Farmhouse Inspired Decor and Room Refreshes be sure to check out these other great posts: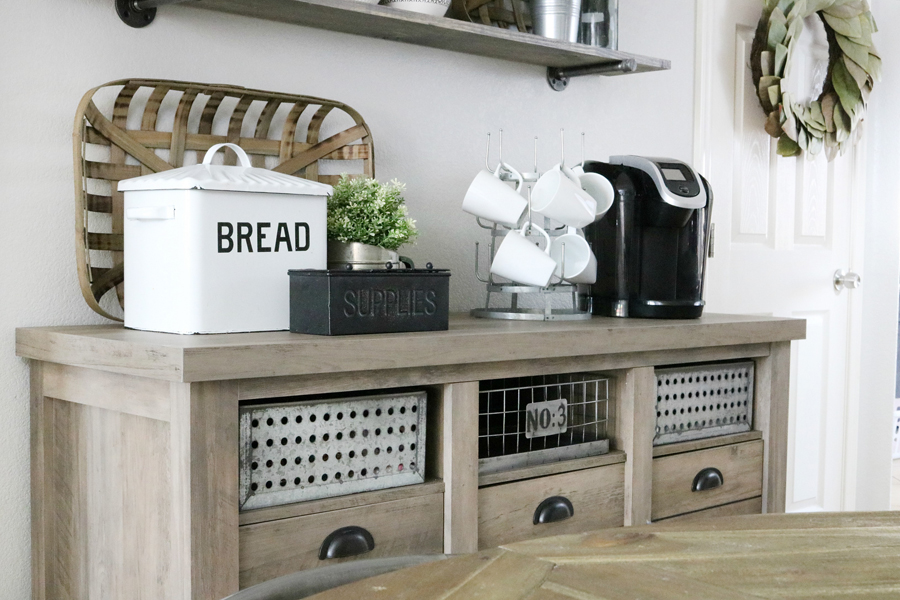 This space turned out so good, Kimberly absolutely loved it. She deserves it and I love that I was able to do something to brighten her families day and make her mornings a bit brighter.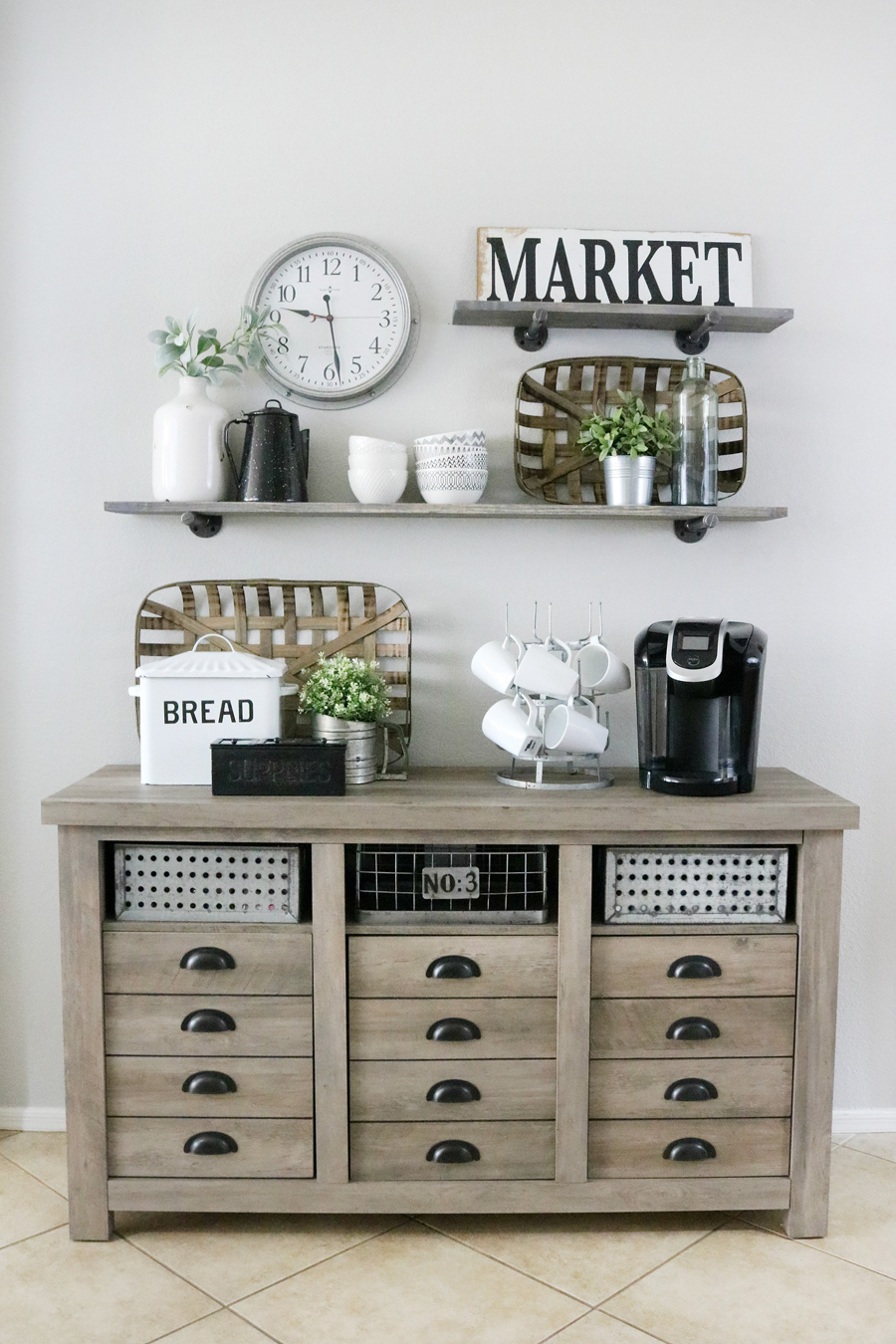 Be sure you follow Better Homes & Gardens at Walmart:
Facebook | Twitter | Pinterest | Instagram