In years past I thought I needed to have a specific "theme" when it came to my holiday decor, switching it every single year. As I've gotten older my style has evolved which means my holiday decor has too. this Modern and Cozy Christmas Mantel Decor might be my favorite holiday mantel to date.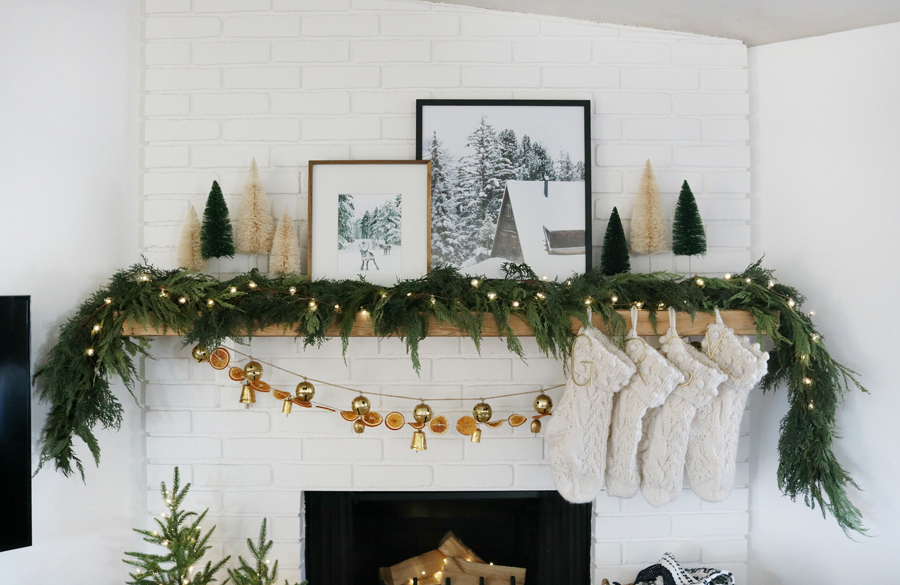 My large brick fireplace is honestly one of my most favorite features in our home. It creates such a large canvas for decor, with its updated and freshly painted white brick and raw wood mantel it's even better than it ever has been. The white brick makes the perfect backdrop for almost any color palette, but if you know me at all you know how much I love neutrals and pops of green. This is exactly why this year's Modern and Cozy Christmas Decor makes me so happy.

Today I've teamed up with some amazing and talented ladies to share a glimpse of our Holiday Home Decor. A huge thank you to Stacy from Not Just A Housewife for putting this all together. When you're done checking out all the details of my holiday mantel be sure to head over to the other ladies sites and check out their Holiday Home Tours…
How To Decorate A Modern and Cozy Christmas Mantel
First things first, last year I started using live garlands and I never knew what I was missing! This year it was a must and probably will be every single year from now on. I love that it helps to fill my giant mantel with warmth and texture. Pulling my favorite green tones to the decor.
Last year I picked up a faux cypress garland from the Harth & Hand with Magnolia line at Target, they don't carry that particular garland anymore but I love adding it to my live garland to help create depth in the green tones. I just intertwine them together to create one larger garland. Having one faux garland mixed with the live also helps to cut down on the cost of having to purchase two live garlands to fill my giant mantel. No one can tell the difference, and if for some reason in future years I can't get a live garland I'll have some faux ones that look pretty decent. You can find similar faux garlands HERE, HERE, and HERE.
Before you hang your garlands be sure to see how to keep your garland fresh longer over at Today's Creative Life, Kim has some great tips! Once you've followed those steps hang your garlands on your mantel anyway you like, there's no wrong way to hang it. I like mine draped over the top of my mantel with some falling off each side. It would also be great asymmetrically swept across the top and down one side of the fireplace.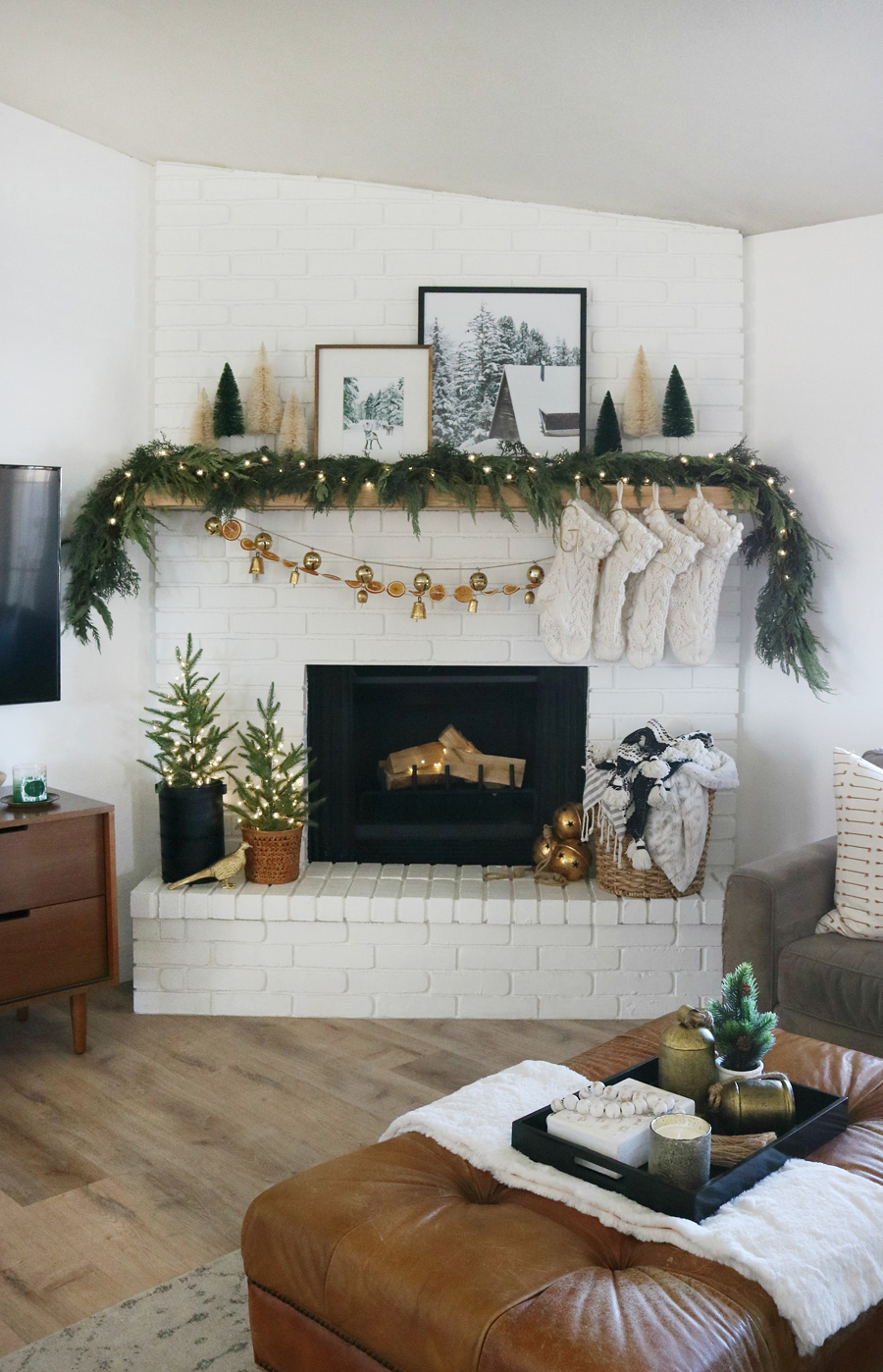 Once my garland is in place I gather the artwork. I usually have staggered framed art on my mantel for my everyday decor, then when holidays approach I just switch art prints out to give it a new look. The cute prints I used can be found on Etsy, you can find the Winter Cabin and Reindeer Prints HERE. I wanted artwork that was cozy, simple, and had soft colors. The sweet little reindeer in the snow makes me smile when I see it.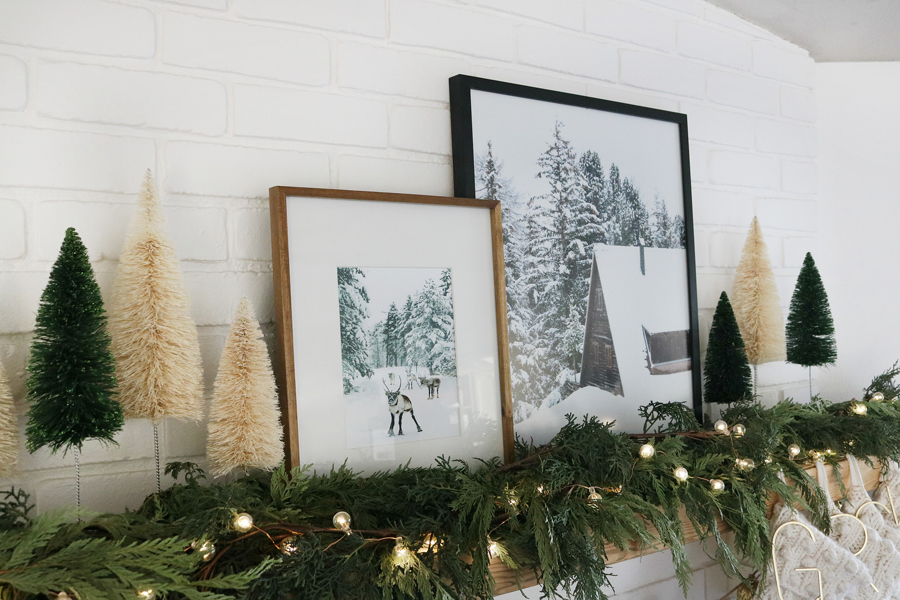 To create some added height on the mantel I added my favorite bottle brush trees from Hobby Lobby, I've collected quite a few of these taller trees in cream and green over the last couple of years. They are perfect for scattering all over the house and look so pretty against the white brick on the fireplace.
To finish the garland and top of the mantel add in some fairy lights, I used my favorite small glass bulb strand lights, they are an Anthro dupe I found at Ross – you can find similar ones HERE.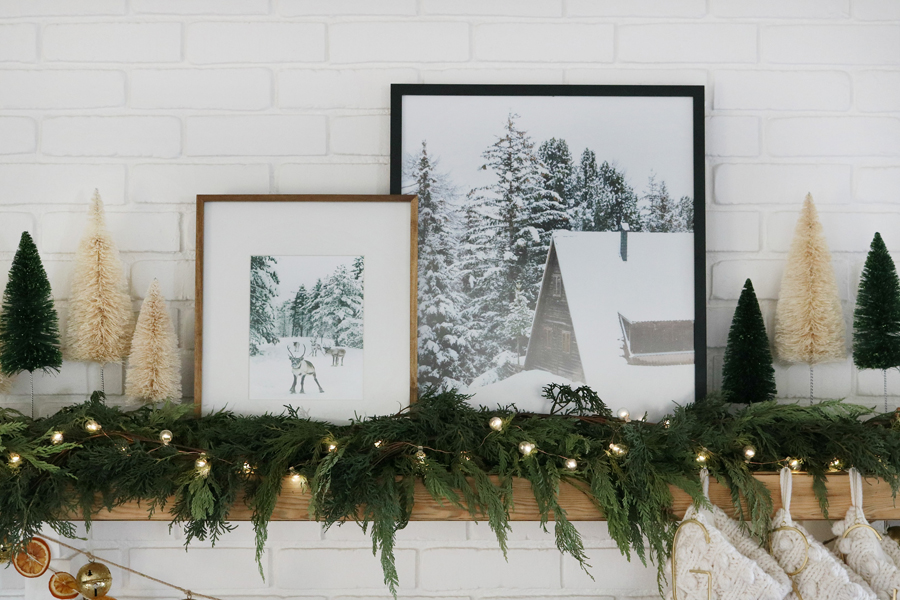 For years I never hung stockings hanging on our mantel, I'm not really sure why. They really add so much to this space during the holidays. I love my chunky and cozy knit stockings, these stockings were from Target but they no longer sell them. You can find similar knit stockings HERE and HERE.
Once I've hung the stocking using 3M command hooks that I hide under my garland I will usually add personalized letter ornaments or tassels to our stockings. You could add pom-poms, tassels, ornaments, or even bells to add a little something extra to your stockings.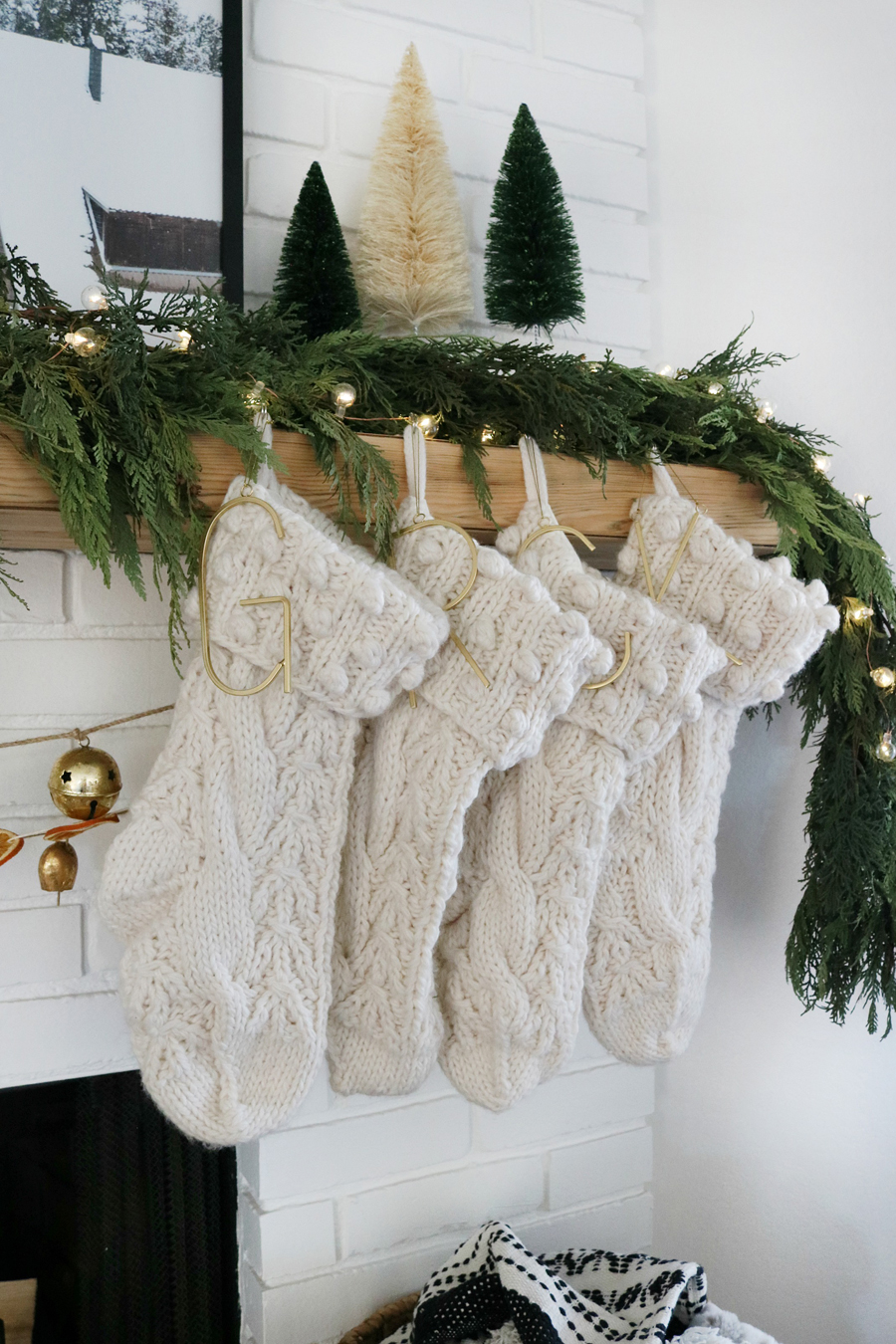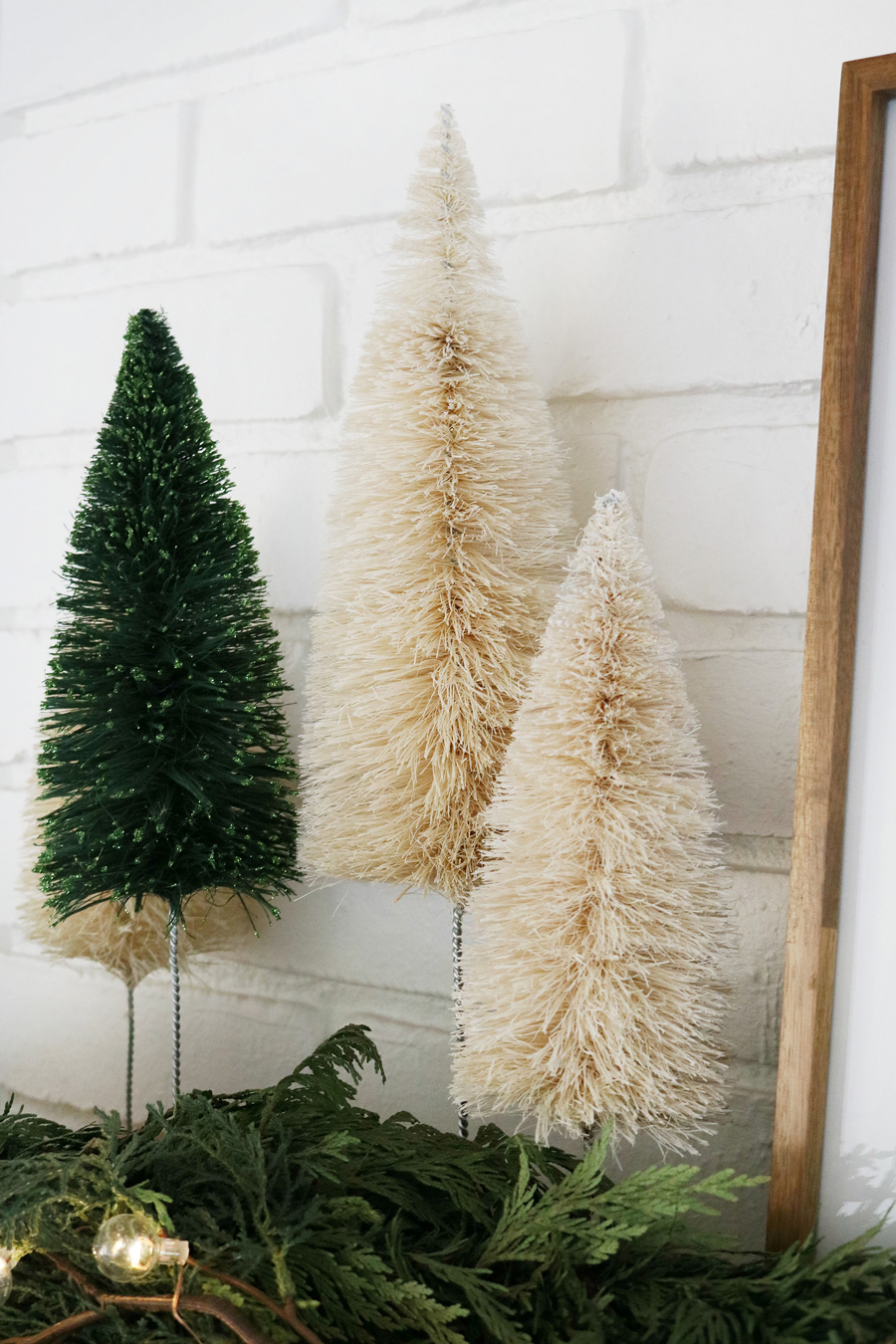 One thing that I was so excited to make and hang this year was my dried orange slice garland. I don't have an official post for making this but it's pretty easy. You can slice oranges and even grapefruit into 1/8 to 1/4″ thick slices using a sharp knife or mandolin. Pre-heat your over to 250 degrees and line your cookie sheets with parchment paper. Blot your fruit slices with paper towels to remove any excess liquids. Lay your fruit slices out on your cookie sheet and bake for about 2 and a half hours, I like to flip the fruit halfway through.
String your orange slices with bakers twine or string and hang. To store these you'll need an airtight container and store in a place that doesn't get too warm, they may turn black due to excess heat.
My orange slice garland looks so pretty strung alongside two strands of gold bell garlands. The metallics and pop of rusty oranges against the white just look so pretty.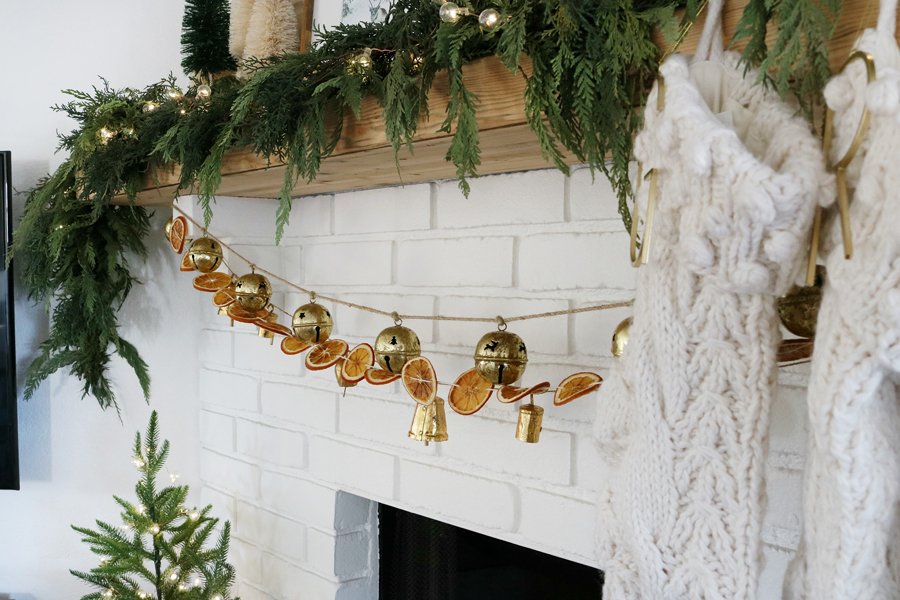 When it comes to my holiday decorating I don't own anything that costs over $20, and I often re-use or upcycle decor from previous years. I even find fun things at dollar stores from time to time, lot's of things can be transformed with a little paint.
I love using pieces that I can mix and use with different looks to freshen things up year to year. Classic gold touches like bells, green garlands, and even neutral-colored bottle brush trees will never go out of style and serve my decor well for years to come.
If you love this Modern and Cozy Christmas Mantel Decor be sure to check out these ideas: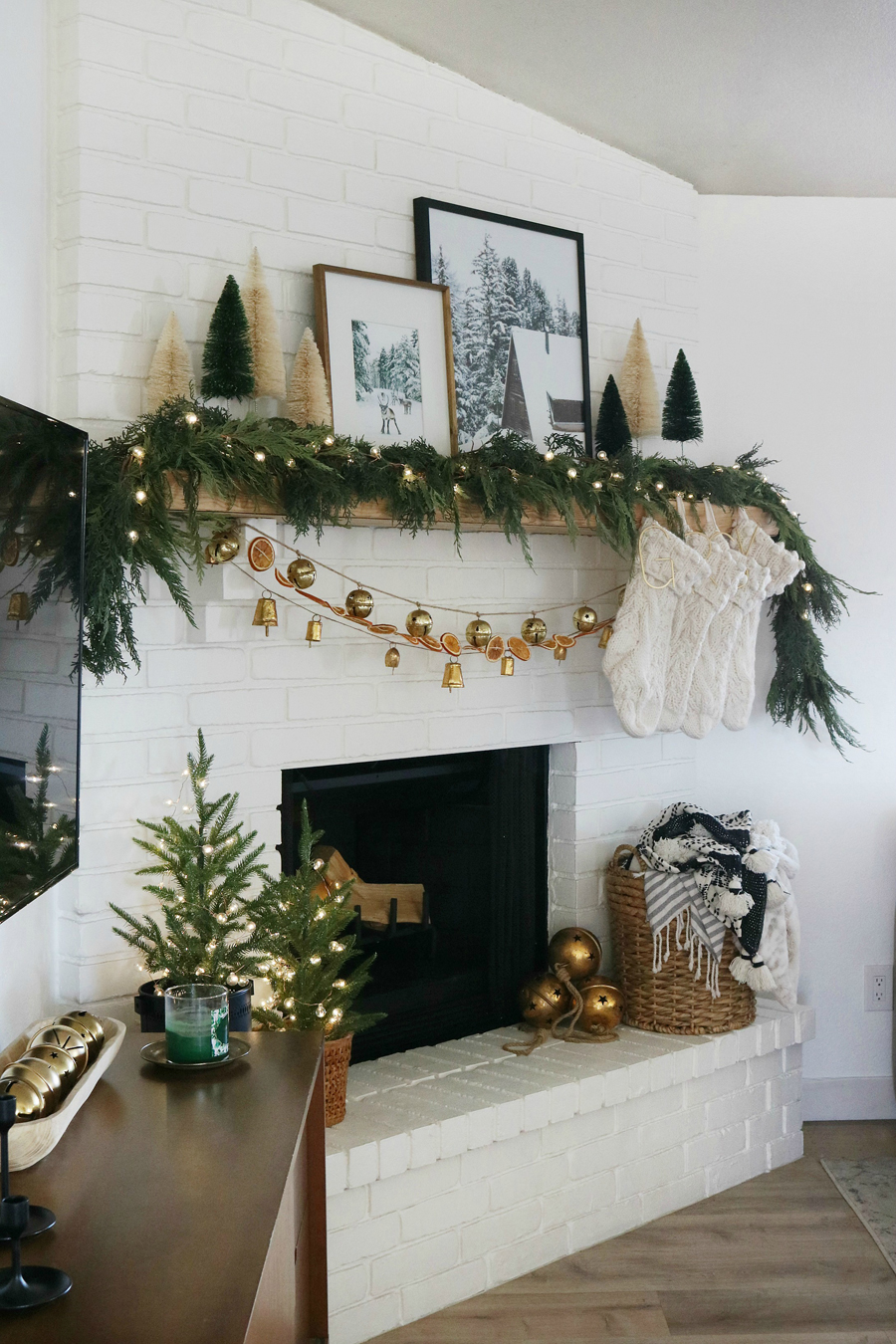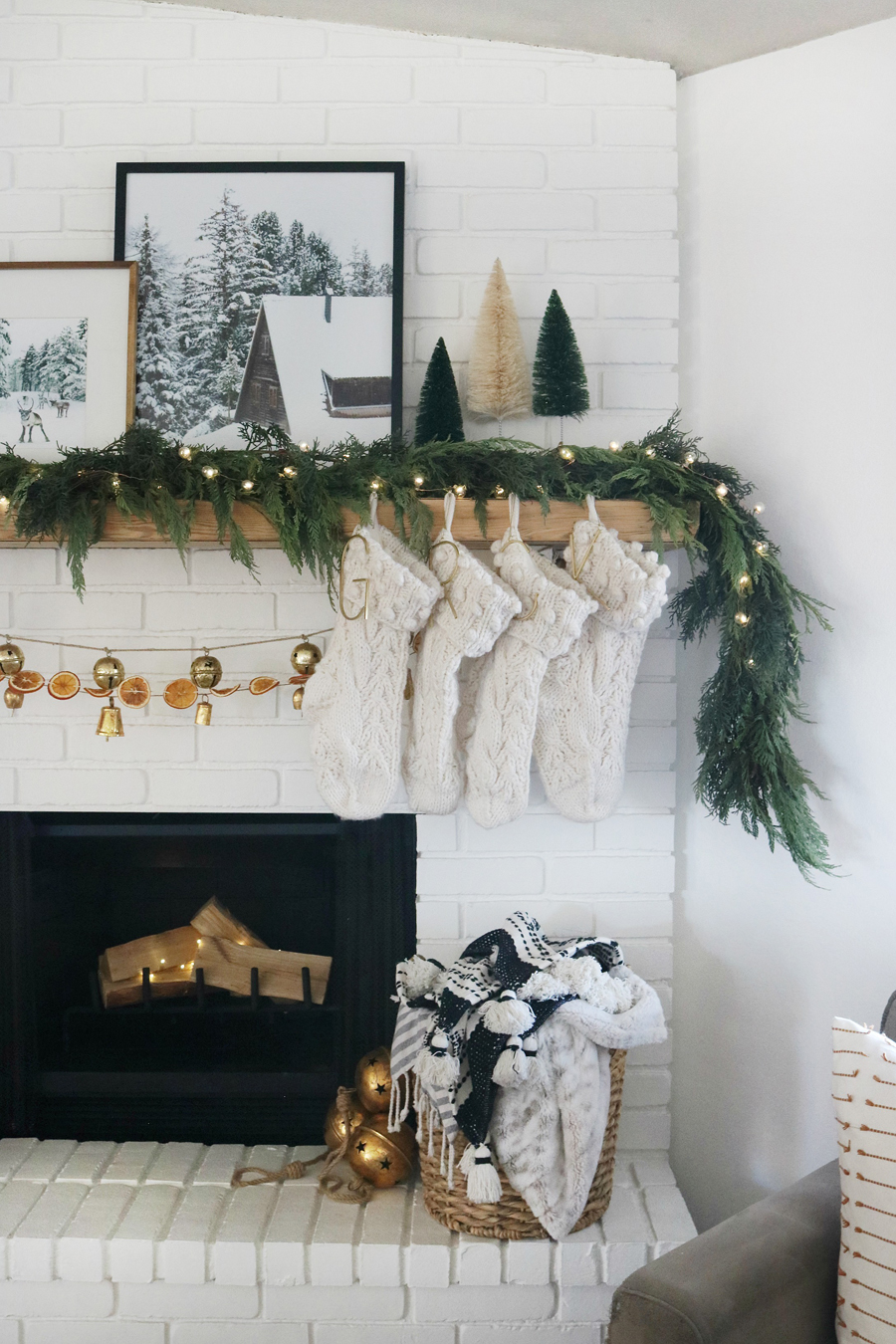 I know I've said this already, but this year's Modern and Cozy Christmas Mantel really is my favorite so far. It makes me so happy to walk in and see. This year has been nothing short of crazy, we are blessed beyond measure, to say the least…I'm so incredibly grateful I have this space to call my own and to make cozy during the holidays.