There's nothing better than fresh clean floors, am I right?! One of my favorite cleaning tools is the Swiffer WetJet Wood! It's my go-to for keeping our wood floors so fresh and so clean – clean! Let's chat about some easy wood floor cleaning tips.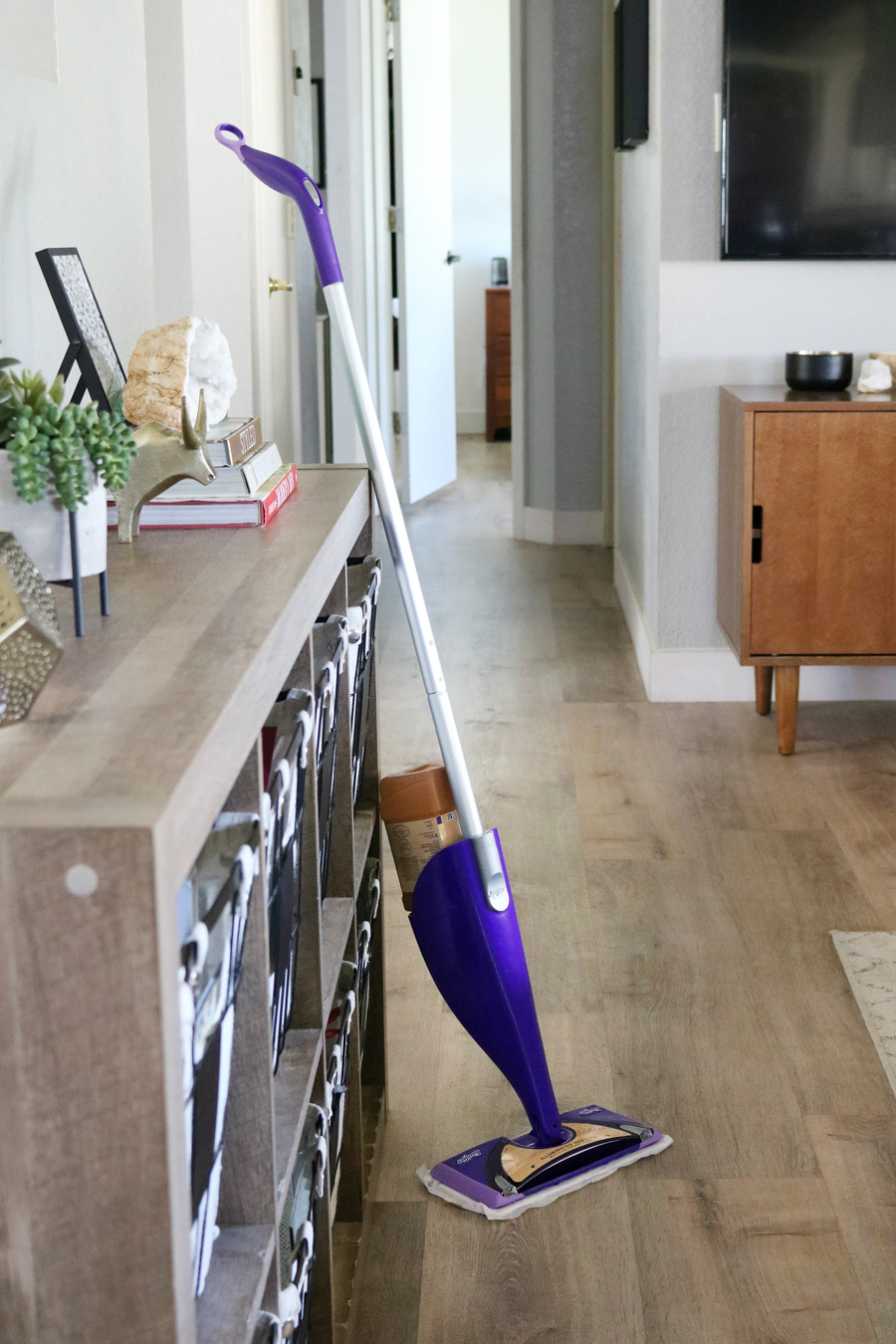 Living in a house full of boys can be super messy, then add in the three cats and it's inevitable that our floors are quick to get dirty. No matter how hard I try to enforce the "NO Shoes in The House" rule it seems that every time I turn around a teenage boy or the hubby is walking through every square inch of my house with their shoes on! Between the outside debris coming inside, pet hair, cat litter, and living in a super dusty house I'm always looking for Easy Floor Cleaning Tips and products.
Prep Your Wood Floors for Cleaning with A Quick Clean-Up
Grab a laundry basket and walk through your house picking up anything that doesn't belong on the floor or needs to be put away and toss it in. Put it all away now, or set it aside until the end to put items away. If you're like me, you tell your kiddos to do it since it's probably all their stuff anyway.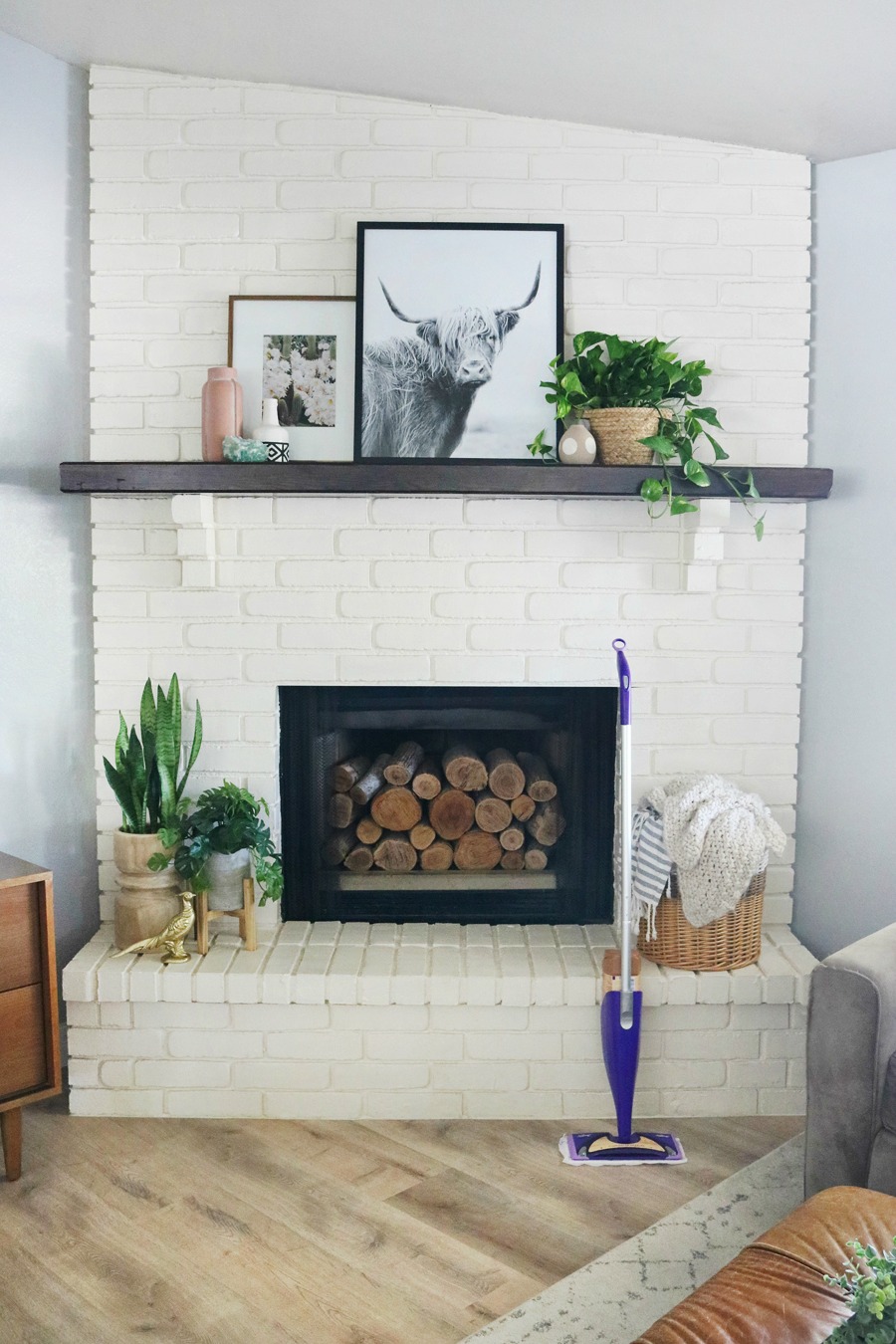 A little over two years ago we stripped this 1980's house of all the horrible cheap tile and dirty carpet, it was the best decision to rip everything out and start fresh with Luxury Vinyl Wood Flooring. We chose to do solid surface flooring through the whole house since our boys have bad asthma. Having these wood floors has been so amazing when it comes to cleaning, you can literally run a Swiffer Sweeper Dry Mop or vacuum all the floors so easily in just minutes before mopping.
Let's Clean those Floors with Swiffer WetJet Wood
I love that with my Swiffer WetJet Wood is so easy to grab when I have a quick mess to clean up or my floors need a deep clean. I just stick a super soft microfiber-like pad on the bottom and get to mopping. There's no fuss with mixing floor cleaners and ringing out mop heads. It allows a fine mist that dries in half the time so that all that dirt and grime is getting absorbed and locked away. There's no streaks or cloudy haze like with some products when you're done cleaning. You're left with sparkling fresh clean floors that you know are being cared for.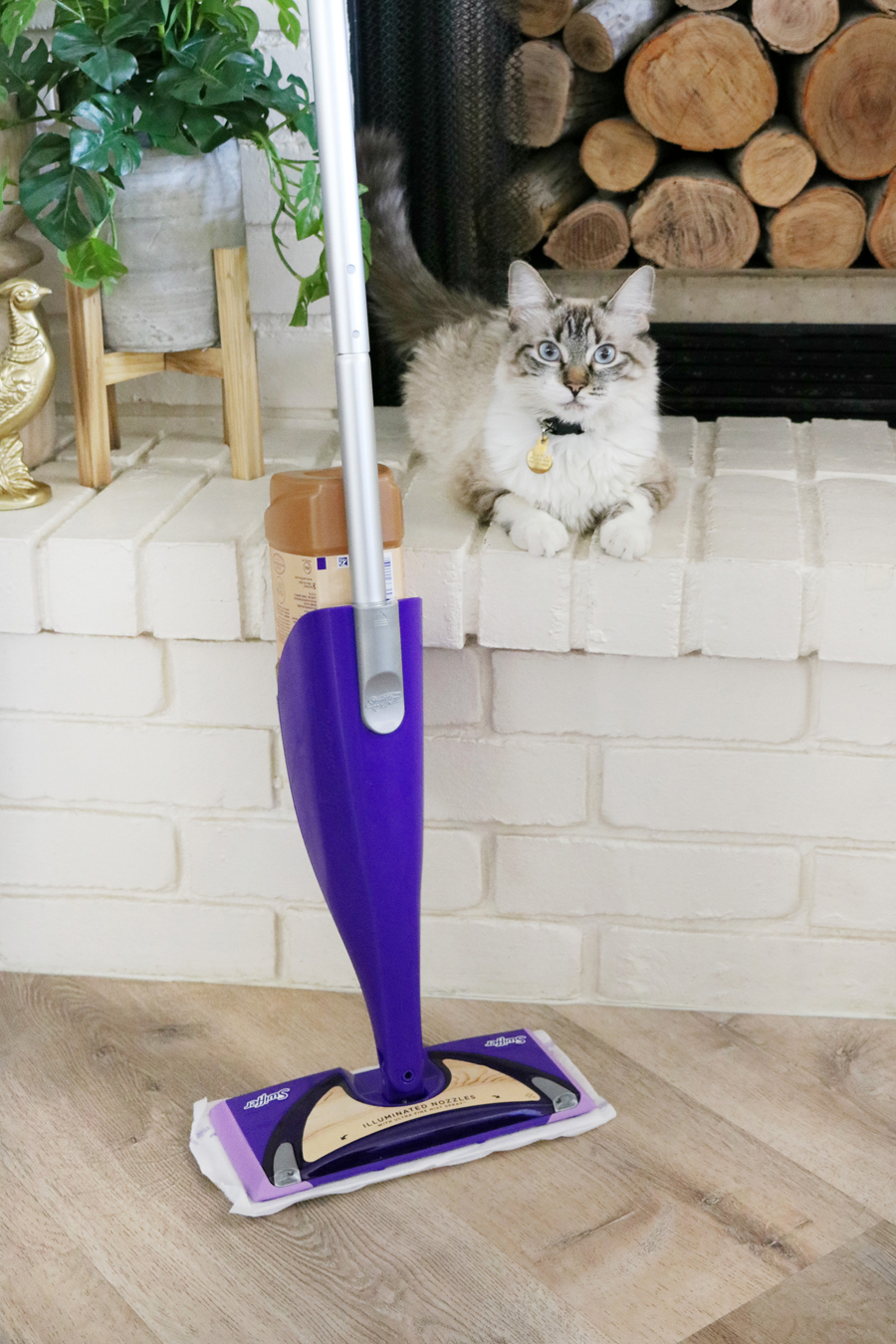 In a 1400 square foot house, I'm able to mop the entire house in under 12 minutes and get in every nook and corner with the Swiffer WetJet Wood. Let's not forget about the awesome illuminated nozzles and that you won't miss a single thing on your dirty floors with those! It seriously makes caring for and cleaning my wood floors so easy.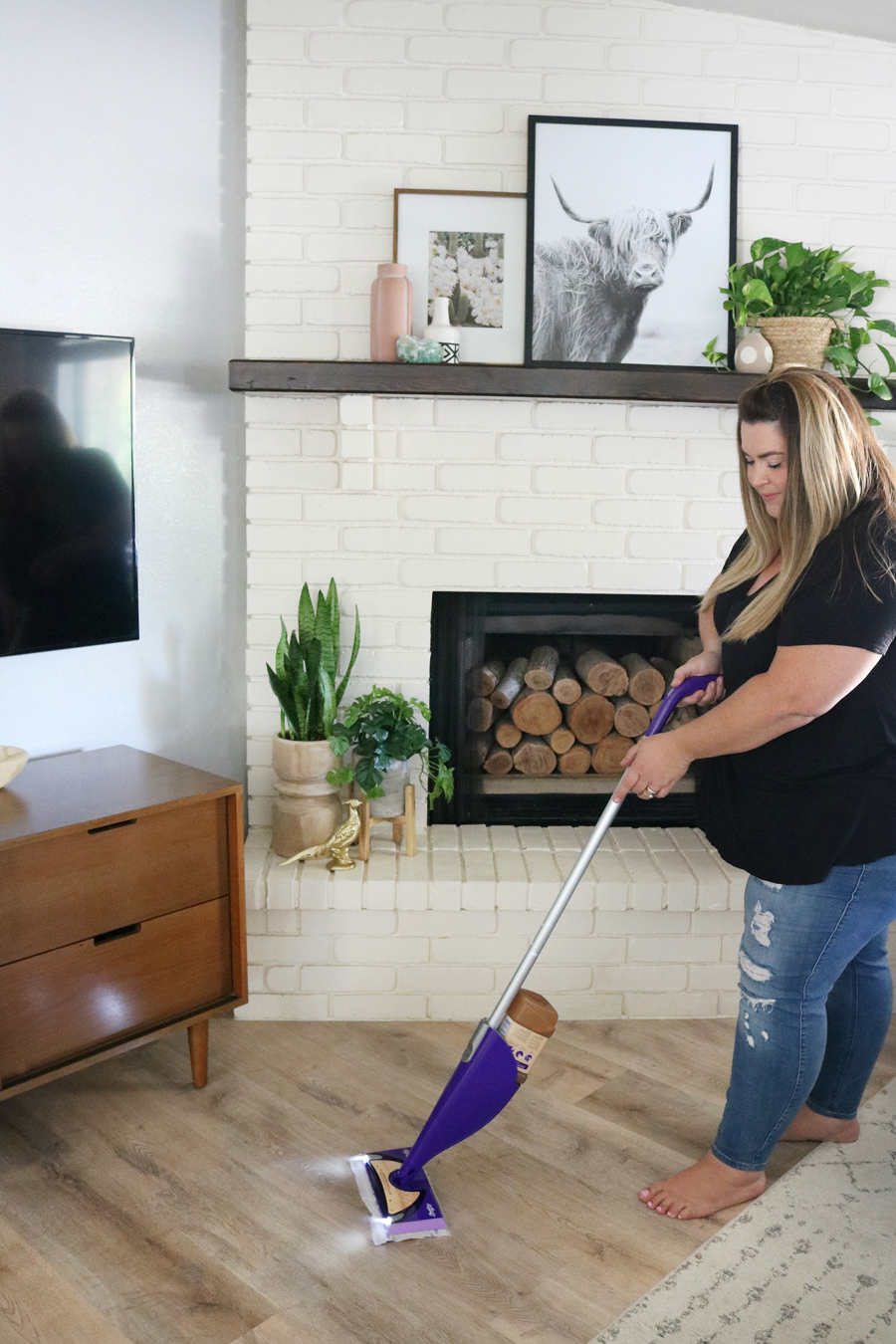 Once your floors are all fresh and clean you can sit back and enjoy the shine! Look at all that grime and dirt, it's all locked away in that amazing little microfiber-like pad. Having clean floors makes this boy mom super happy, even though I know it's only a matter of time before they're dirty again.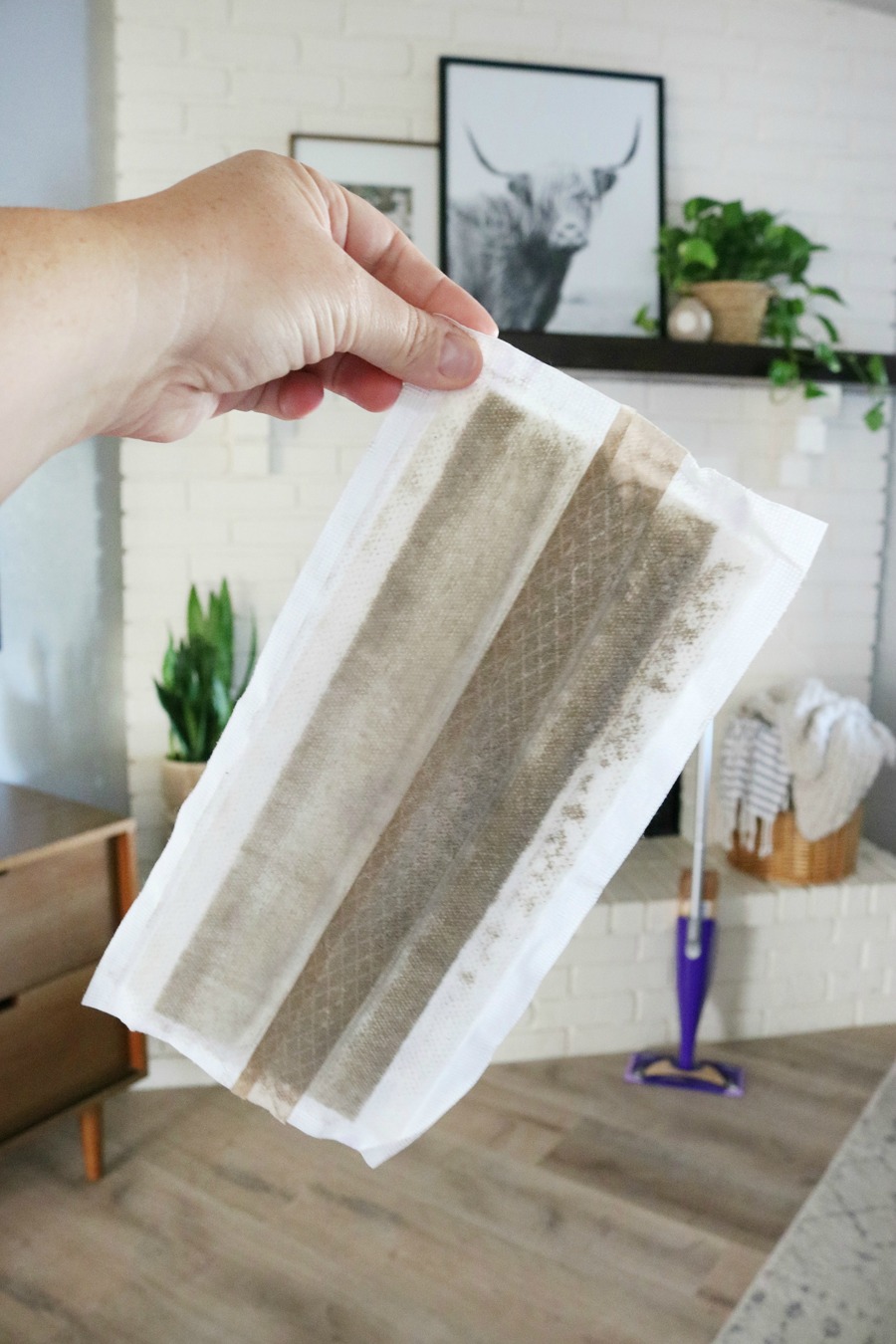 DISCLOSURE | This post is sponsored on behalf of Swiffer WetJet Wood. All opinions and ideas are my own. Swiffer products are amazing!