When we installed all new floors last year and went from having gross dingy tile and worn out carpet to luxury vinyl plank flooring I knew it was time to find a new vacuum to help keep my new floors spotless. I was looking for a vacuum that would be great for quick clean-ups, easy to handle and would make cleaning easier. The Shark® IONFlex™ 2X DuoClean™ Cordless Ultra-Light Vacuum was the winner and I'm going to tell you why!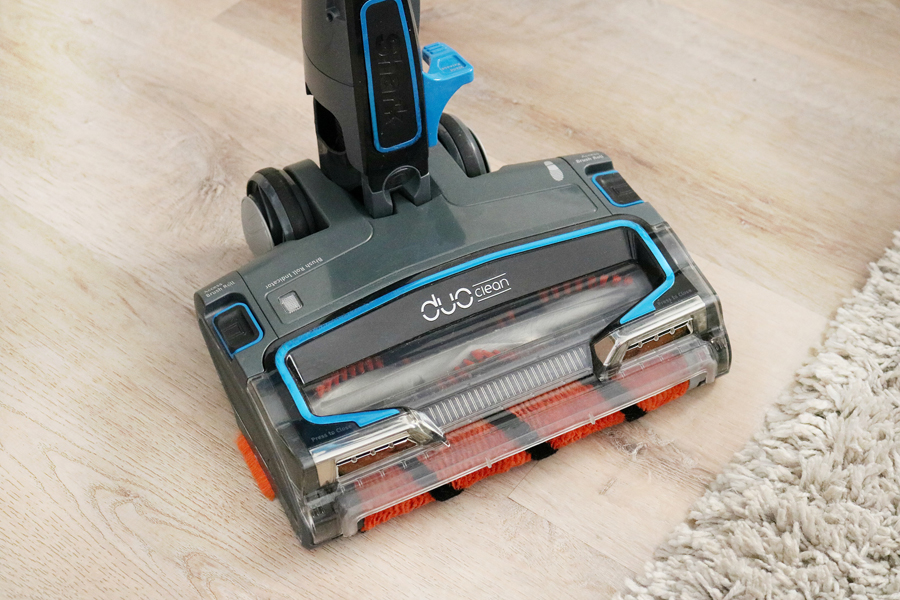 When we went from old chunky tile and matted gross carpeting to a solid surface flooring it was a dream. Especially when it came to cleaning the floors, it became such a breeze. Before we put in new flooring cleaning our old tile and grout was such a chore, it seemed like no matter how many times I vacuumed or swept the floors there was always still dirty. Since the majority of our house was tile we used a vacuum to clean the floors for years, sweeping with a broom was just too hard on our backs and took forever. Want to see a before of our floors, go HERE!
Several years ago I had every friend telling me to buy a Dyson vacuum, they said it would change my life and be the best thing for my floors. Ugh, you guys they were so wrong. For the past six years, I have had a Dyson Animal vacuum and hated it every single day. It was big and clunky, it couldn't get under cabinetry unless I used the long hose and attachments, it would say it was clogged all the time when vacuuming area rugs, it was just a pain to use. Now, it's not that I don't love the Dyson brand or their products, I just simply didn't love the particular vacuum I had. For a few years I've been researching Shark products, I had used their products before and loved them and I was eager to try them again. I've heard nothing but great things, especially in comparison to Dyson products.
I thought it was time to put their vacuum to the test, I reached out to SharkNinja and they graciously sent me the new

Shark

® IONFlex™ 2X DuoClean™ Cordless Ultra-Light Vacuum to try. I have had it for six months now and I'm ready to tell you all about it.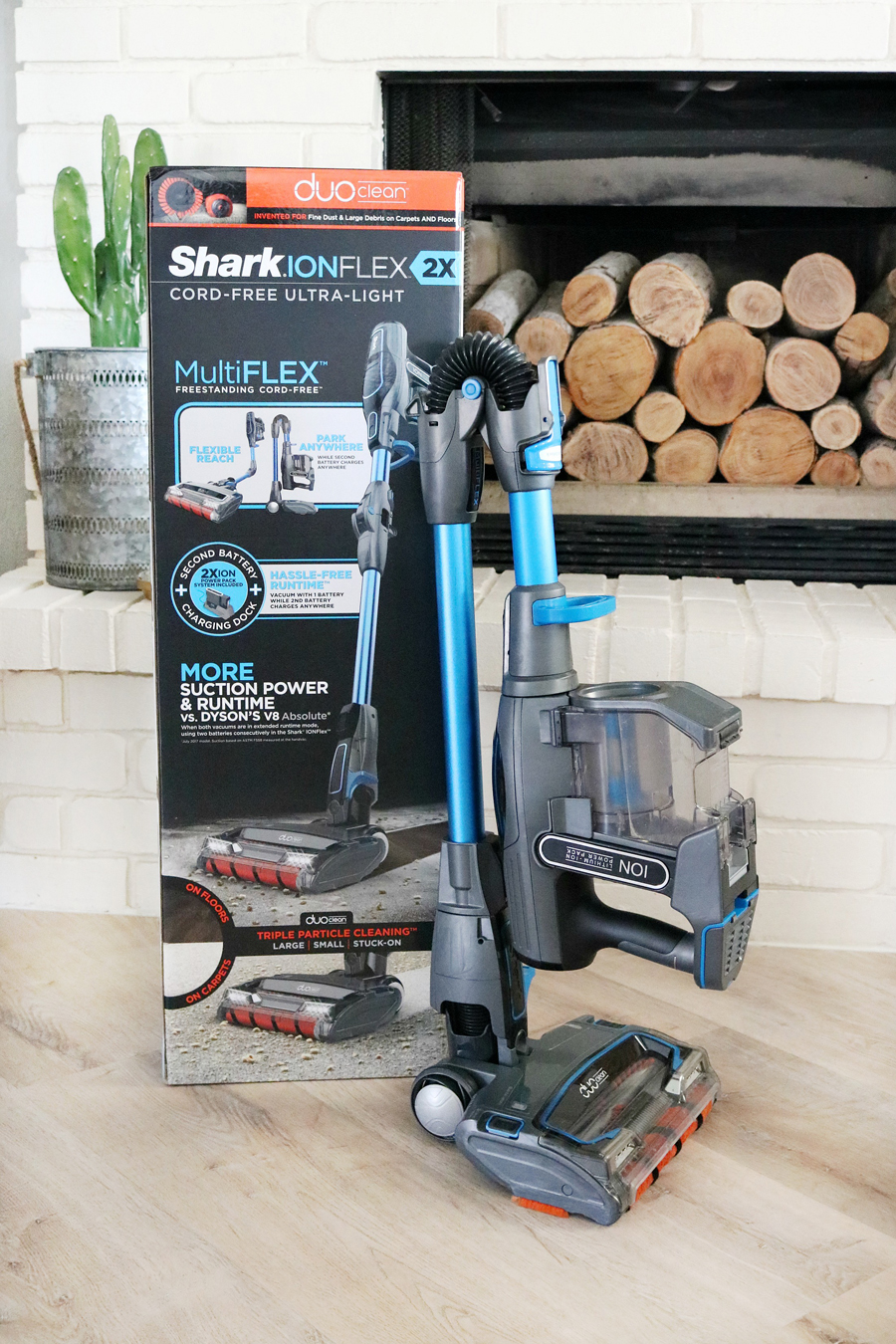 The Shark® IONFlex™ 2X DuoClean™ Cordless Ultra-Light Vacuum looked like it would be the perfect solution to our new solid surface flooring. I loved that it was cordless and would allow me to just keep going with little effort or a cord getting in my way. When you have vinyl plank flooring there are no grout lines or seams to get in your way and you just glide across the surface.

Something I really loved is that the Shark® IONFlex™ 2X DuoClean™ Cordless Ultra-Light Vacuum is super easy to store, did you see how it folds up? It fits perfects in a small space in our coat closet where it's quick to grab when I need to clean a mess up. Most vacuums similar to this either have a cord or need to be charging.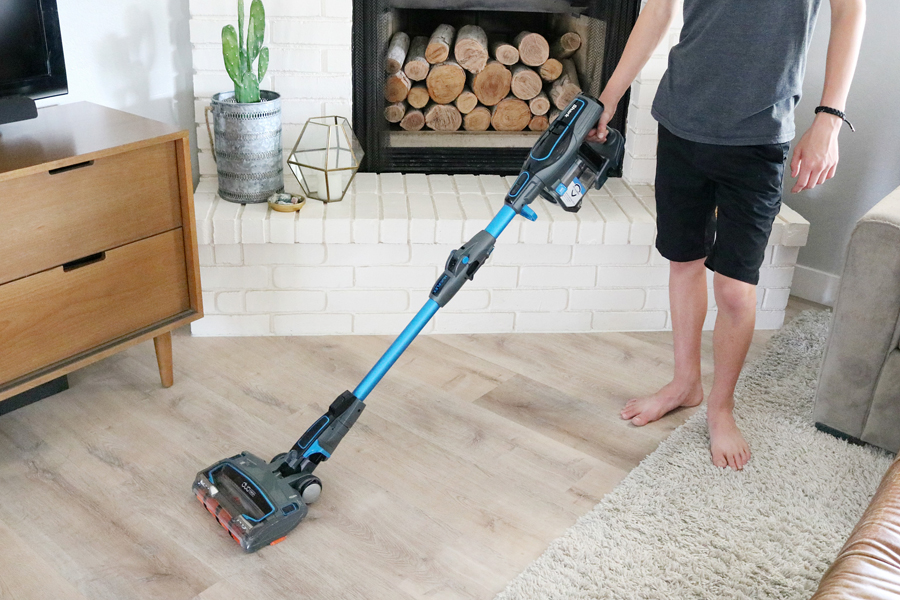 Let's talk about the brush rolls on this vacuum, they are amazing! Not only is there the main brush roll, there is a second one at the front of the vacuum head. Can you see it? It's the fluffy orange one. This brush roll is money! The first time I used it I could not believe how well it was picking up dirt and debris in places like under my kitchen cabinets or anything that was by the baseboards. This feature alone is a huge win and should be on every vacuum.
Another great feature is the detachable handheld portion of this vacuum that you can use to clean corners, crevices, and little messes all over the house. My kids love this and jump at the chance to use it to help. The IonFlex comes with multiple attachments like the nozzle shown below, an upholstery brush, a dusting nozzle, and a fantastic under appliance nozzle.
If you're looking for more vacuuming and cleaning tips be sure to check out these great posts.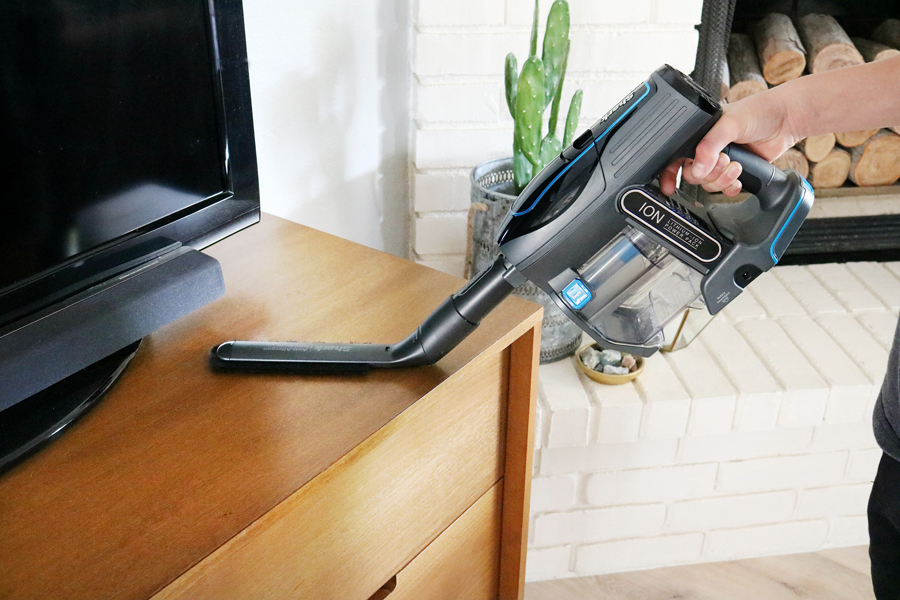 Shark made getting in hard to reach spots easier with the flexible reach action. With just a push of a button, the vacuum bends to allow for easy hassle free cleaning. This part is awesome, when we switched to the vinyl flooring our "dust bunnies" seemed to get larger…which totally makes sense since the carpeting we had before was probably a buffer for that. With two cats and me (I have crazy long hair), there's plenty of dust bunnies.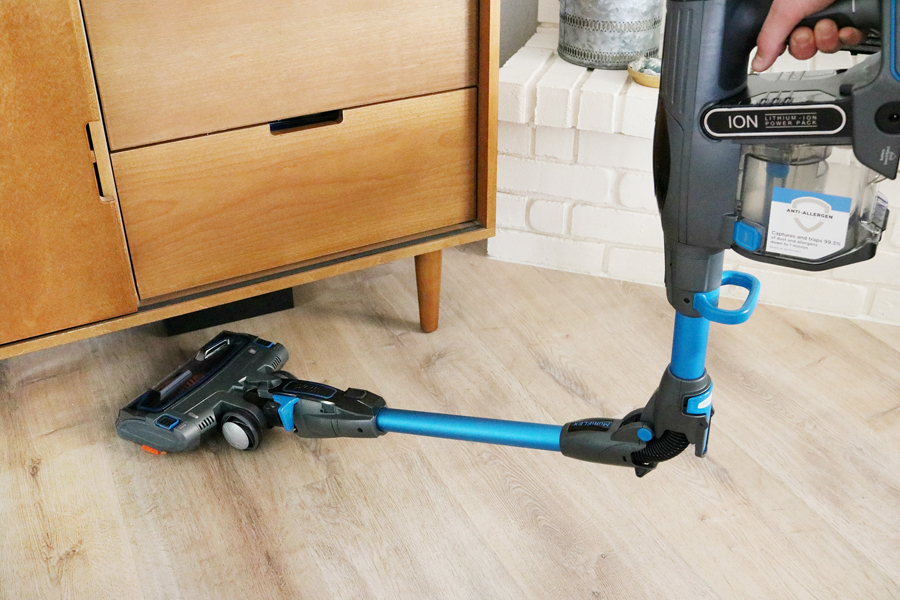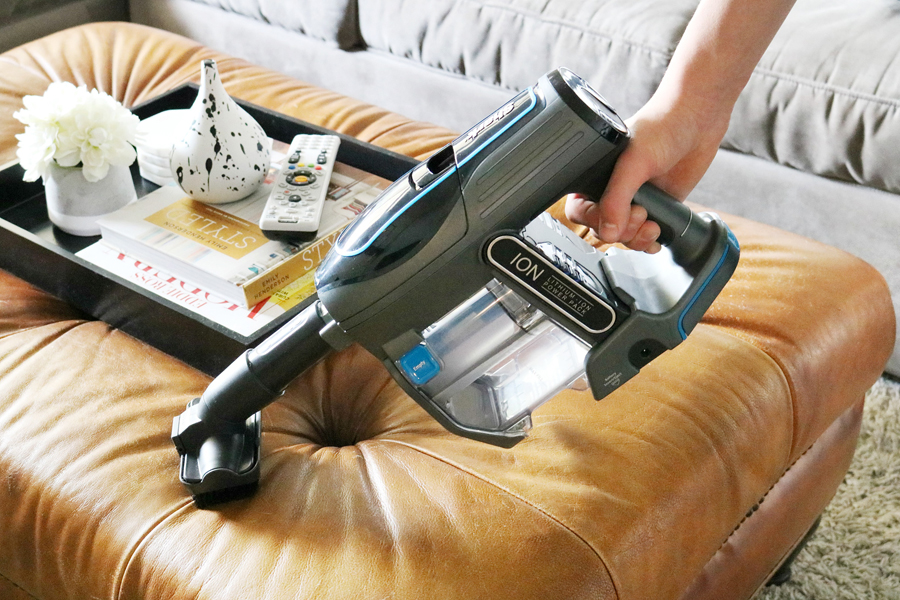 While the majority of our house is solid surface flooring we do have a couple area rugs. While the Shark® IONFlex™ 2X DuoClean™ Cordless Ultra-Light Vacuum says that it can work on carpet I have noticed that it doesn't do a great job on my shag rug or low pile area rug. That's not saying that it doesn't work on normal carpet, it does pick up some of the debris but not as well as a full-size vacuum in my opinion.
Sure it would be nice if this vacuum did the job for both surfaces but honestly since I really have only two small spots with carpeting it doesn't bother me at all. I much prefer how it works on my vinyl flooring. I do use it on my area rugs but it basically just fluffs them, which is fine for a quick clean look.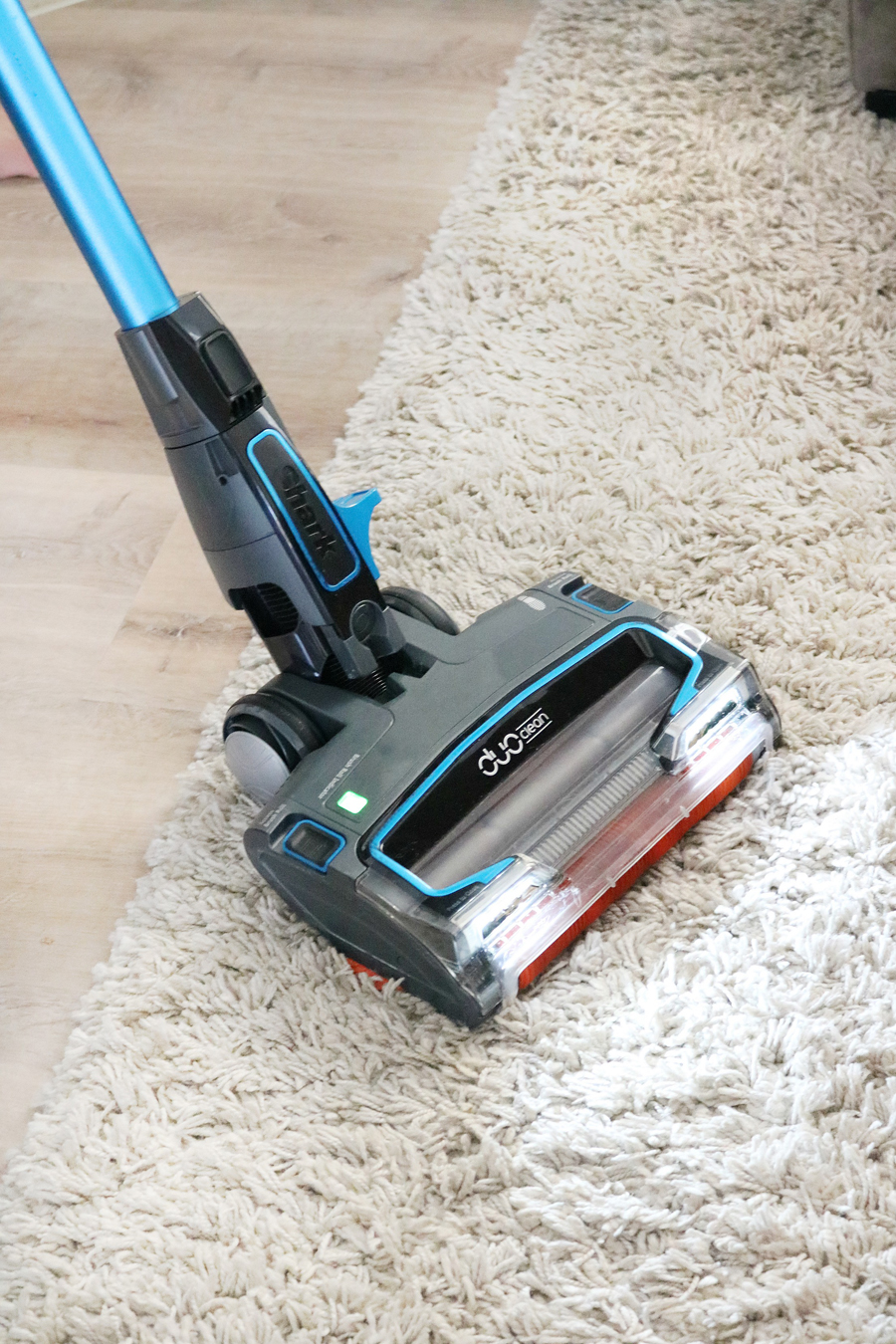 The canister is easy to open, but it is small. I typically just have to empty it after each use. The filters need to be cleaned monthly for proper use, and they are super easy to clean and get out. I also have to clean my brush rolls every couple of weeks, this is solely due to pet hair.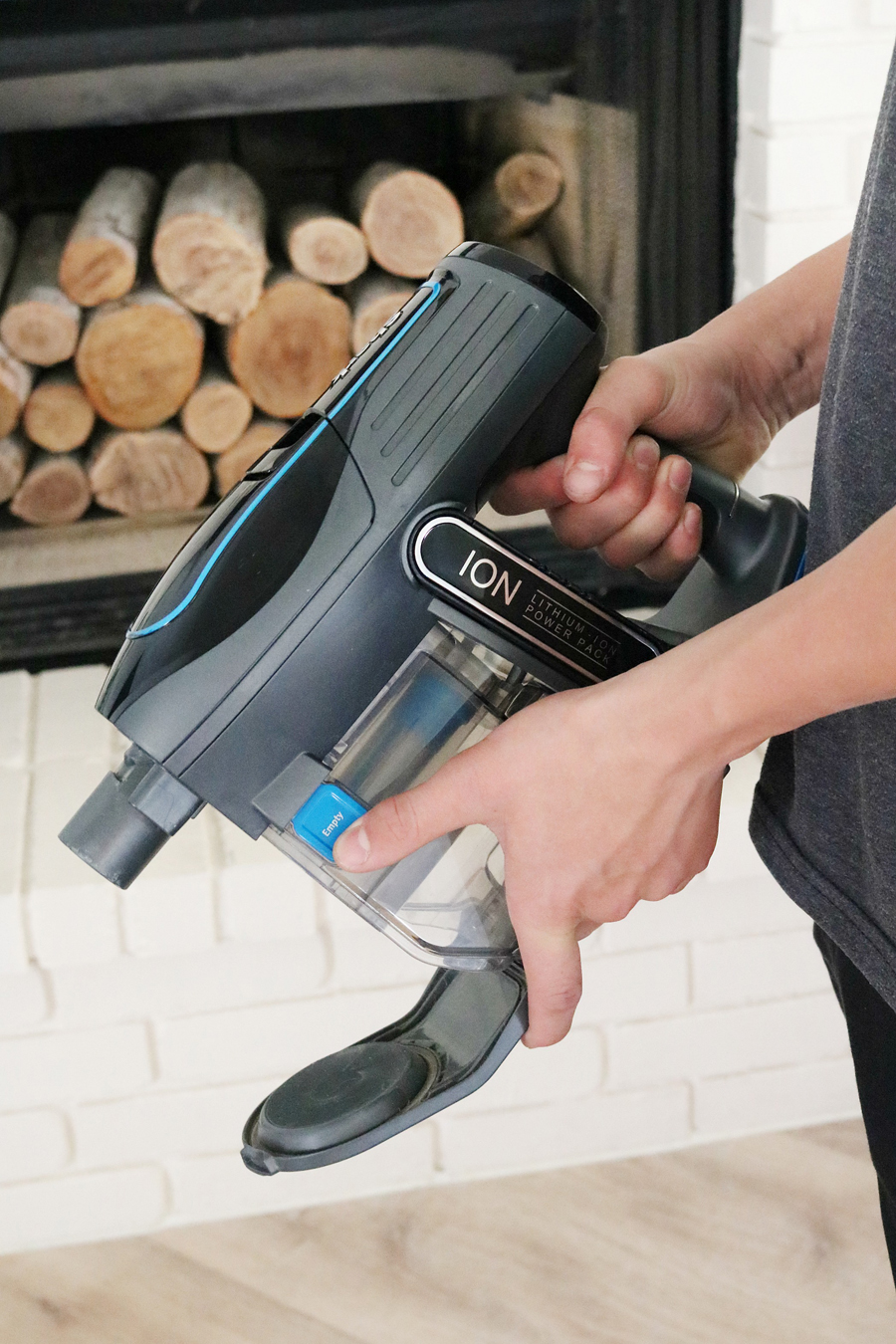 The Shark® IONFlex™ 2X DuoClean™ Cordless Ultra-Light Vacuum has two settings for floors and carpet. You can choose the extended run time or max power. The max power setting will reduce battery life though as you run on that setting. The vacuum comes with rechargeable batteries and the charging station. I live in a house that is 1400 square feet, I use both batteries vacuuming my floors from start to finish and using the handheld portion of this vacuum to get in corners and such. The only thing that I don't love is that the batteries tend to get warm during run times, so they must completely cool down before you can charge them. It typically takes about three hours to fully charge each battery, so if you needed it for some reason for more vacuuming you'd have to wait. Unless you purchase extra batteries.
Here's a quick rundown of the Pros & Cons of the
Shark

® IONFlex™ 2X DuoClean™ Cordless Ultra-Light Vacuum and my honest review…

PROS
Freestanding and cordless
Comes with 2 batteries
Comes with multiple attachments, including one for under appliances
Easy to use, glides on floors
Duo rotating brush rolls
Easy to open canister
Easy to clean filters
Compact and lightweight
Detachable handheld portion
Perfect for solid surface floors or hard surfaces
CONS
Battery life
Doesn't perform as well on carpets
Handle portion is a tad heavy, but that's due to the battery pack
Brush rolls need to be cleaned often if you have pets or long hair
So bottom line, I love this vacuum for my hard surfaces. Would I buy it if I had carpet in the majority of my house? Probably not. So if you're looking for a great vacuum to help keep your hard surfaces clean this is it! I've been really impressed so far and I'm actually looking to purchase a full-size Shark vacuum in the near future so I can completely ditch our Dyson vacuum for the carpets.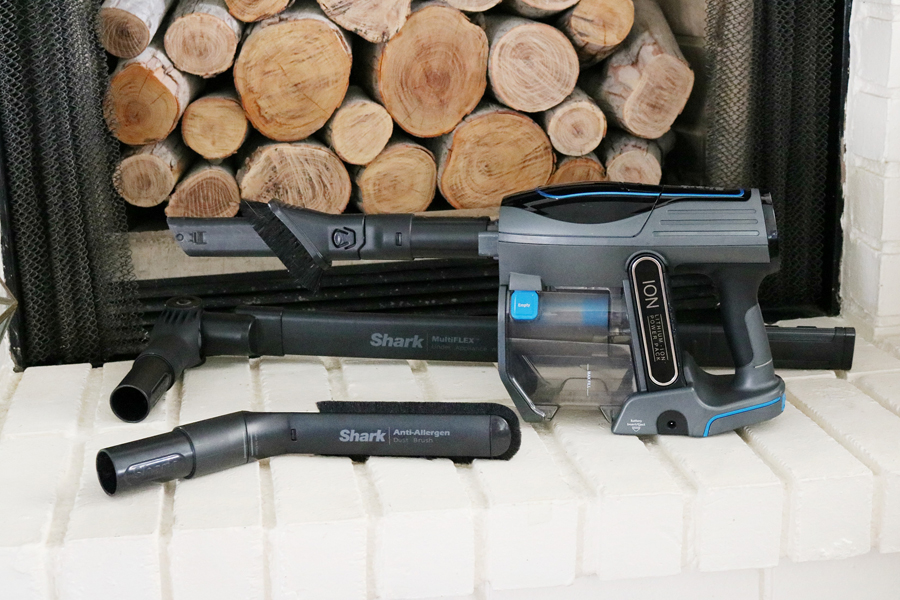 DISCLOSURE | This post is sponsored on behalf of SharkNinja. All ideas and opinions are my own.