I love coming up with easy gift ideas, especially when it comes to holidays like Valentine's Day. Sometimes it's something as simple as pairing a sweet treat with a fun printable tag that really makes the gift a little more thoughtful. This Donut Valentine's Day Gift Idea and Printable Tags is the perfect gift for anyone this year! Who doesn't love donuts?!
I'm pretty sure my husband could live on donuts, I kid you not…it's literally his favorite food group! So any gift idea that speaks to his sweet tooth is a major win in his books. I don't think it's just him, I feel like donuts are everyone's favorite. So when I was thinking of a fun gift idea this year for Valentine's Day I knew I had to create something to go with some of our favorite Dunkin Donuts.
LET ME SHOW YOU HOW EASY IT IS TO PUT TOGETHER THIS DONUT VALENTIN'S DAY GIFT IDEA WITH THESE FUN DONUT THEMED PRINTABLE TAGS.
HERE'S WHAT YOU WILL NEED FOR THIS VALENTINE'S DAY GIFT IDEA…
SUPPLIES:
You're favorite donuts, a box – a bag full – or any amount of delicious donuts you want.
Scissors or Paper Trimmer
Ribbon or Twine
Hole punch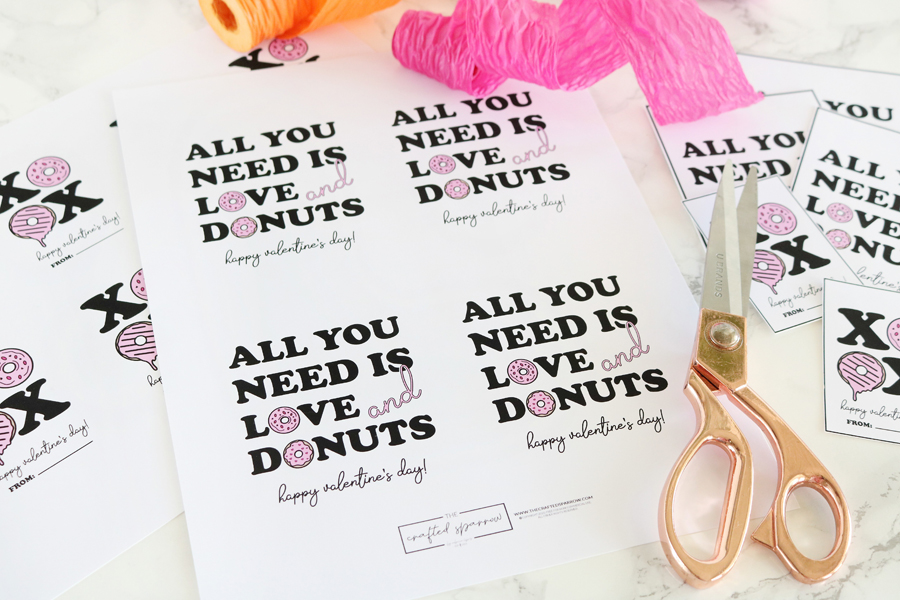 Start by downloading the printable donut themed tags by clicking the link below. I've created two different sets of tags, both with or without the black border. You can decide which one you want to download.
Once you've downloaded the tags you will open them in a program like Word, Publisher, or Photoshop. For the best print quality, you will need to print them on white matte photo paper or a good white cardstock. The printable color may vary from printer to printer.

Use scissors or a paper trimmer to cut out the tags. I use a small hole punch to create a hole for the ribbon or twin, this can be skipped if you're taping the tag onto your box or bag.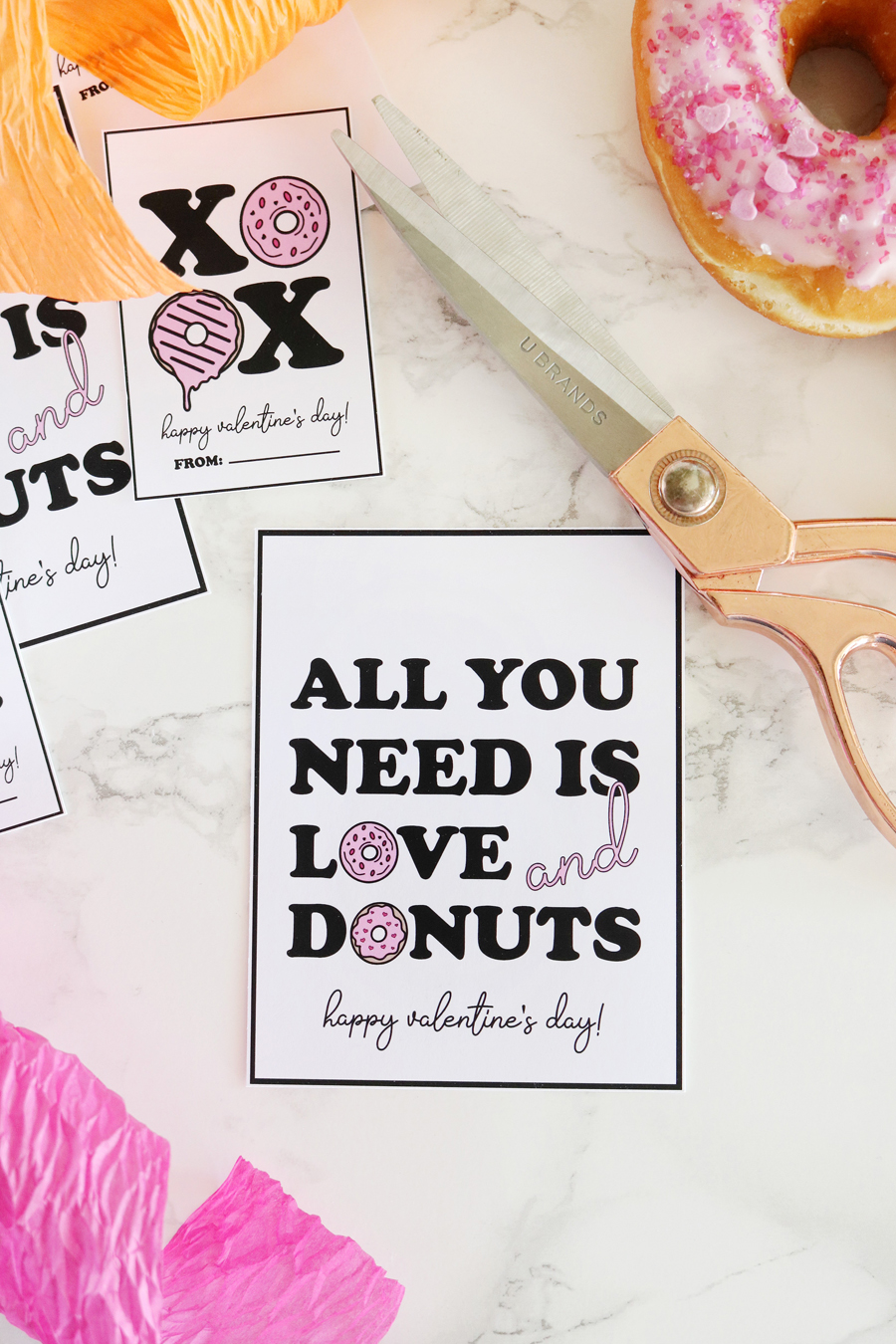 This year I'll not only be giving these delicious donut Valentine's to my hubby, but we will also be giving them to our teachers and close friends. Just add the fun tags to their favorite donut shop drinks or donuts and you're all set.
If you're looking for a class gift for each student in your child's class you could get some small paper bags from your local craft store with a donut for each student, attach the XOXO donut tag and viola! The kids will love it.
IF YOU LOVED THIS DONUT VALENTINE'S DAY GIFT IDEA AND PRINTABLE TAGS THEN BE SURE TO CHECK OUT THESE OTHER FUN VALENTINE'S DAY IDEAS!