This is a sponsored post written by me on behalf of Arrow Fastener. All opinions are 100% mine.
It's that time of the year when i love creating one of a kind holiday decor pieces. I really Wanted a pretty wall hanging for my entryway this year that would make a statement but not be over the top. This DIY Modern & Simple Christmas Wreath Wall Hanging is the perfect addition to my holiday decor. I'm going to show you just how easy it is to create!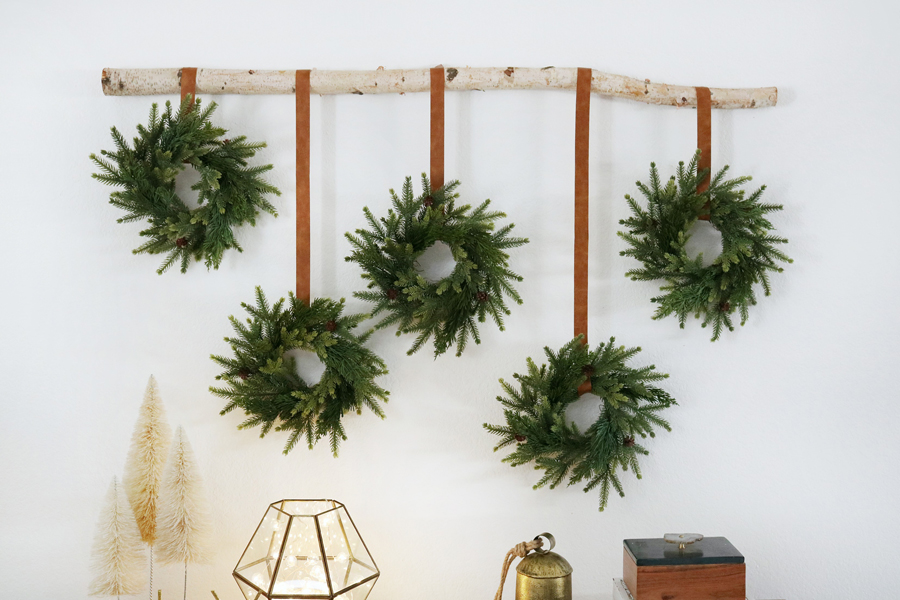 Every year when the time comes to decorate for the holidays, I find myself wanting to DIY holiday decor that I either wouldn't find in the stores or decor that fits my home's esthetic better than the traditional red and greens you often see. For me, neutral holiday decor makes me super happy. I almost find that it makes my home feel more peaceful. DIY'ing your own decor can not only save money, but it allows you to create a unique custom look. This easy DIY holiday project will take you literally 15-20 minutes max, it's the perfect late-night or weekend DIY project.

SUPPLIES:
Medium to Large Size Birch Branch or Other Tree Branch
Green Holiday Wreaths, Any Sizes
Additional Greenery or Floral Picks if Desired
Faux Leather or Real Leather Strips
When it comes to DIY projects, tools can be just as important as the actual design of the project itself. I love when my DIY's are easy and not overly complicated. Arrow Fasteners are a must-have product for every Pro, Maker, DIY'er, and Crafter! In fact, Arrow Fastener offers a full line of manual, electric and cordless versions of staple guns, rivet tools, glue guns, nail guns, grommets, hammer tackers, and their flagship product, the heavy-duty T50® Staple Gun!
Modern & Simple Christmas Wreath DIY Wall Hanging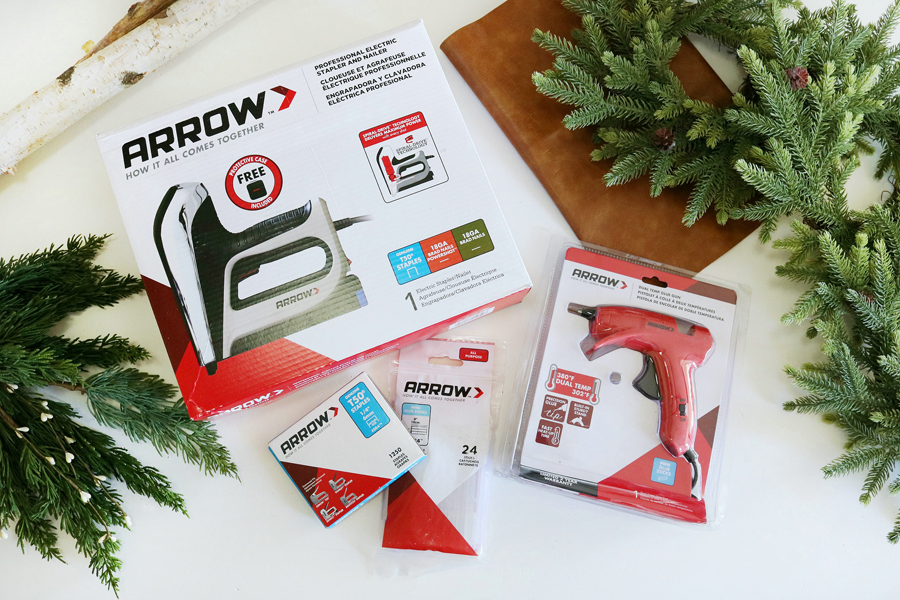 Time to DIY! These sweet faux holiday wreaths were found at a local craft store, I contemplated using live wreaths but with Arizona's weather temps still being in the 70's most days, using live greens would get extra crispy real quick. So faux greens it is for me. I knew they'd be absolutely gorgeous hanging from a birch branch and accented with my favorite camel colored faux leather. If a neutral color palette isn't your thing, don't worry…you can customize this DIY Christmas Wreath Wall Hanging to fit your decor. You can use holiday ribbon, add floral picks, you can even add string lights to make your wall hanging even more amazing.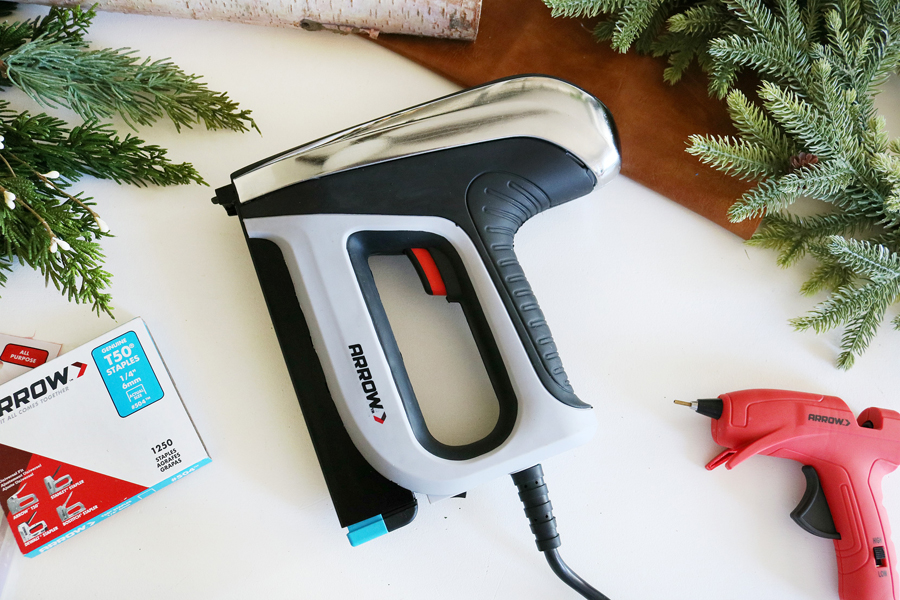 Start by adding any additional greenery picks or accents you want to your wreaths. I decided I wanted to add a few extra sprigs of evergreen to my small wreaths to fill them in a bit more and add some extra texture. At my local craft store, I found a large holiday floral bunch and simply used wire cutters to cut it apart into small sprigs that would easily fit into my wreaths.
Using the Arrow Dual Temp Glue Gun I glued my sprigs to the wreath. Tucking your stems behind the top layer of greens is best. This glue gun is the perfect handheld glue gun for so many projects. I especially love when my glue gun has a fine point precision tip…it makes getting into smaller details when working on projects so much easier and I love that it's drip-resistant.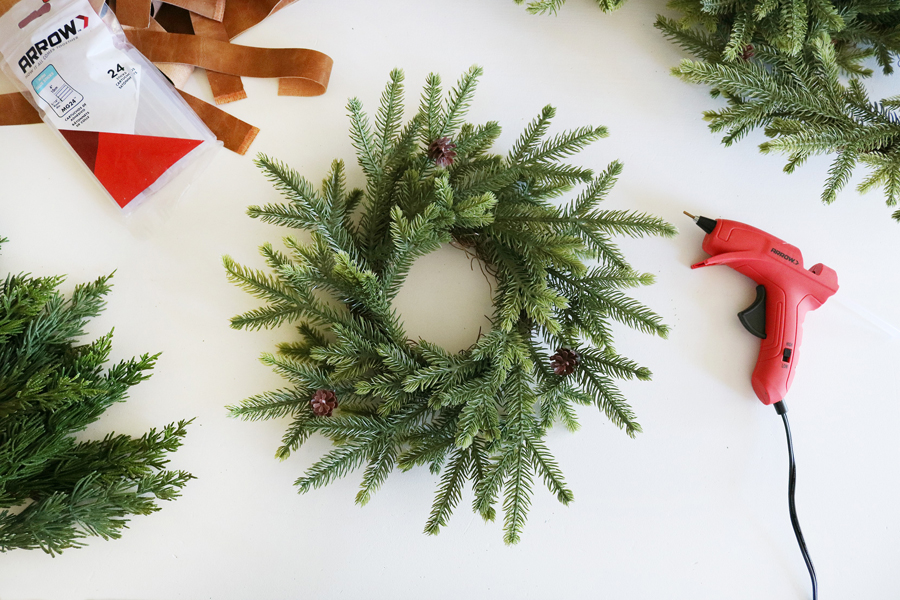 Whether you're using faux leather or real leather to hang your wreaths, you'll want to cut it into 1″ wide strips. The length of your strips will depend on your wreath placement on the birch branch. It might be best to lay out your wreaths with your branch first to get your measurements.
Use your glue gun to attach the leather strips around the wreath at one end and set aside until all your wreaths are done.
Let's Assemble This DIY Christmas Wreath Wall Hanging
I chose to use the Arrow T50AC™ Professional Electric Staple Gun and Nailer for this project, it's so versatile. Whether I'm reupholstering chairs or furniture, creating DIY signs, or just general repairs around the house, I love this staple gun. It's seriously so easy to grab and use when DIY'ing, just load a strip of staples into the gun by sliding the quick release magazine open and dropping them in. Then simply close the magazine and once you turn on the staple gun you're ready to go.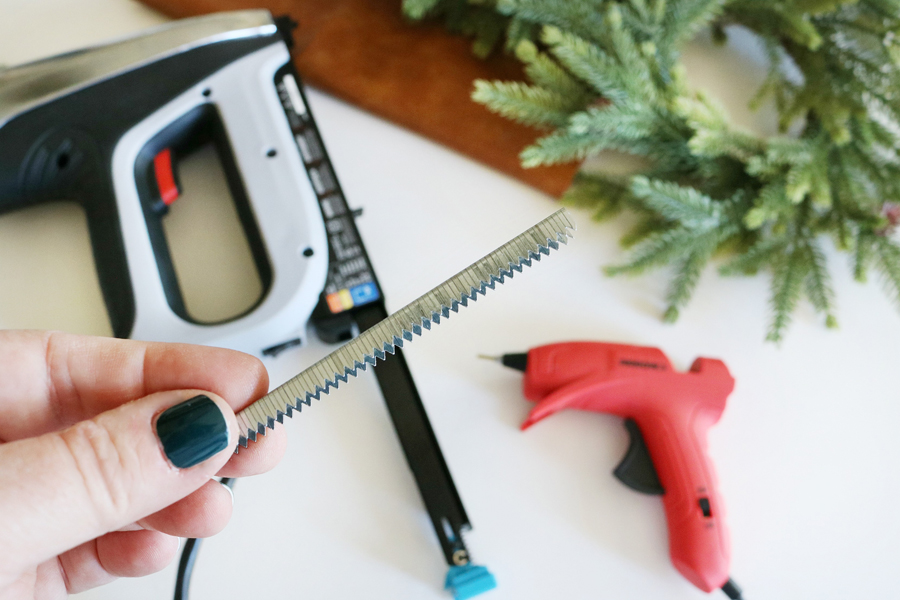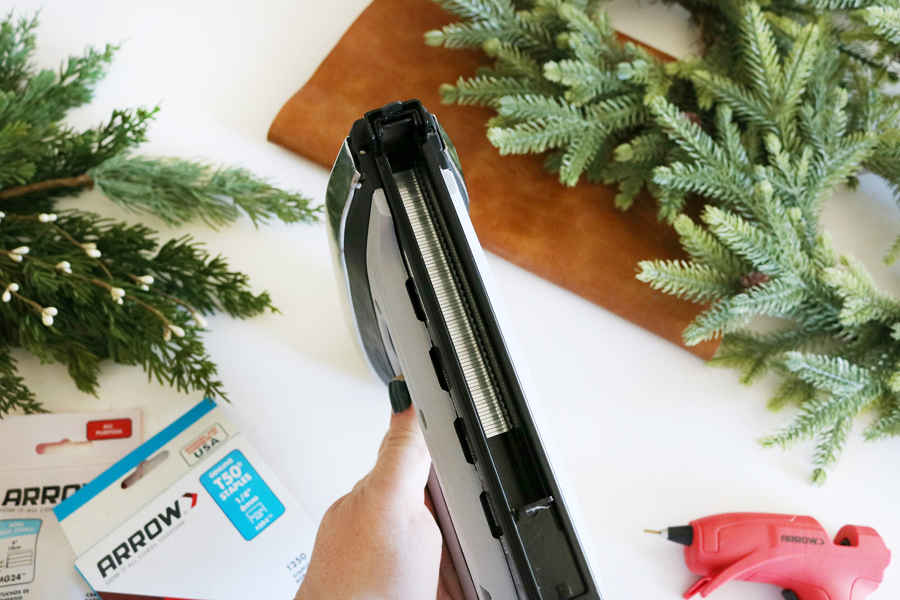 Lay your birch branch on the floor or any firm surface. Position all your holiday wreaths at varying heights to your liking. For this project, I used a 1/4″ staple when stapling each faux leather strap into my birch branch.
Simply plug in and turn on your Arrow T50AC™ staple gun, once you've turned it on, it's as simple as pulling the trigger. So use caution and keep out of reach of small children.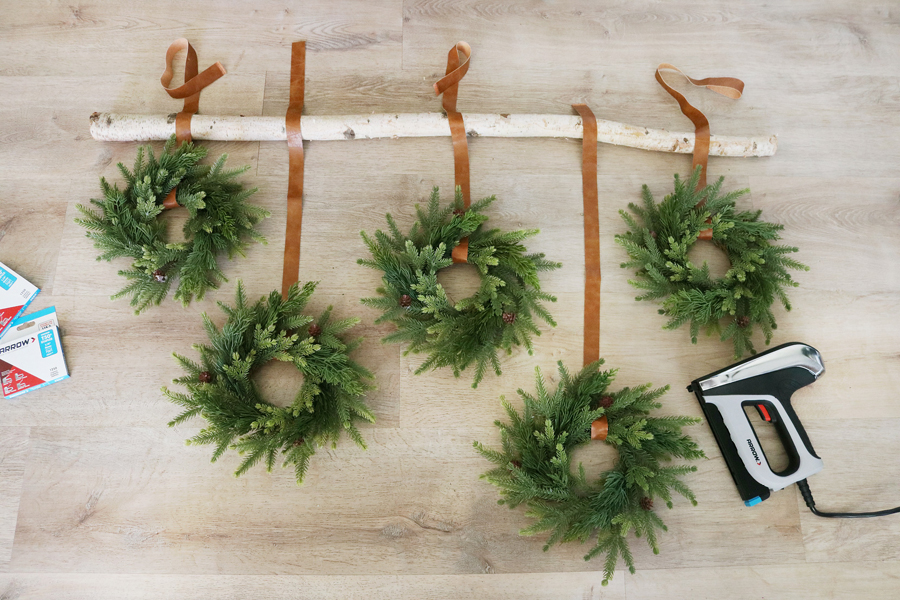 Roll your birch branch over to what will be the backside of your wall hanging. Then using your staple gun to attach the faux leather straps to the back by pressing the gun against your branch and pulling the trigger. You should only need about two staples per strap. Cutaway any excess leather once you've attached the straps to your branch.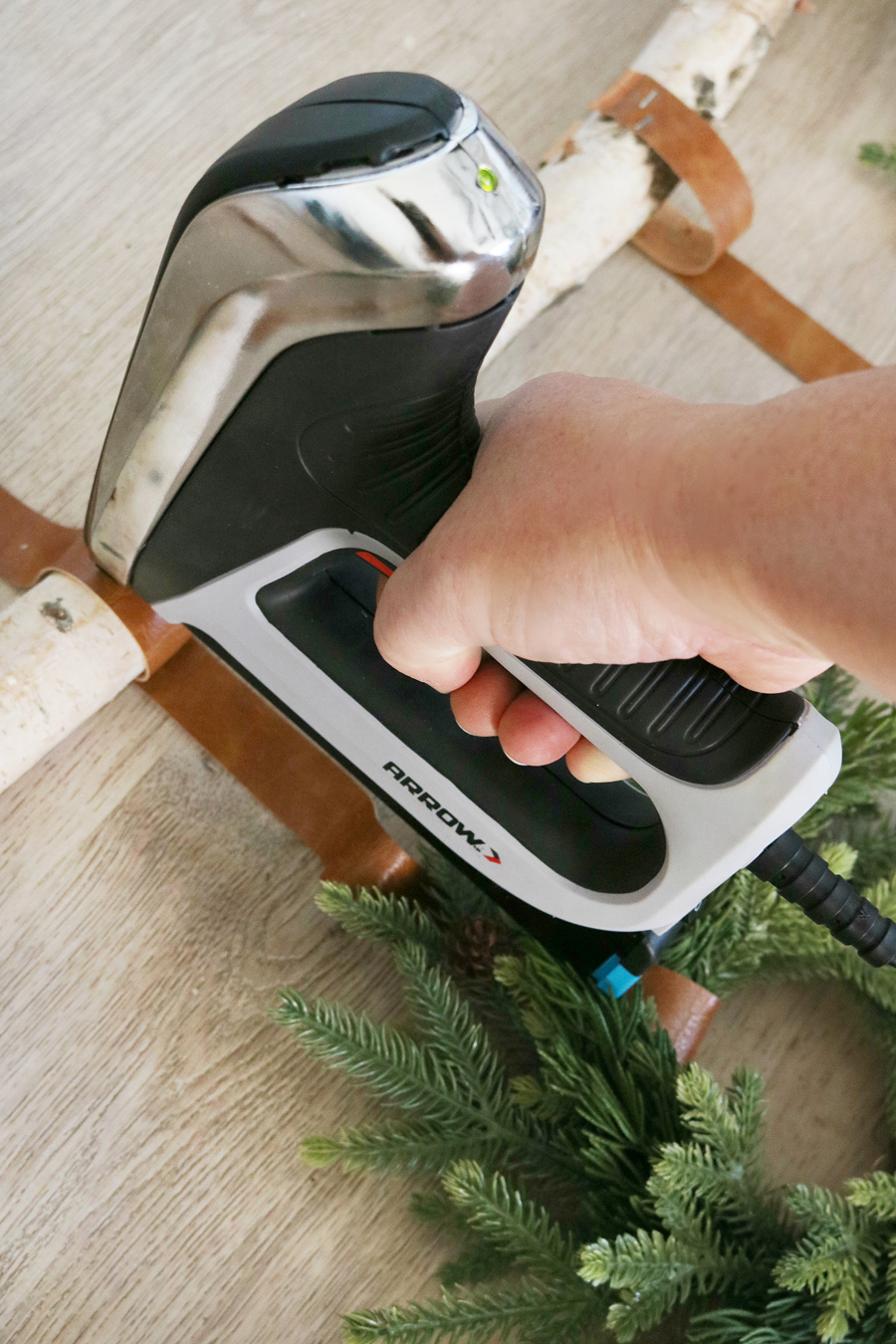 That's it, can you believe how easy this custom piece of holiday wall decor was to DIY?! Now it's time to hang our gorgeous wreaths. You have several options when it comes to hanging this. You can hammer nails into your wall and set your branch on top of them. You may need to use a little floral wire and wrap it around the branch and then around the nails to secure it. If your branch wants to roll forward, try to keep the wire under the leather straps and you'll never know it's there. You can use sawtooth hangers or even hot glue soda pop tabs to the back of your branch to create small picture hangers to use with a couple of nails. If holes in the wall are an issue, feel free to use a 3m command hook, then tie a ribbon or another thin strip of leather around your branch to create a hanger.
Looking For Even More DIY Holiday Decor Ideas? Be Sure To Check Out These Great Ideas: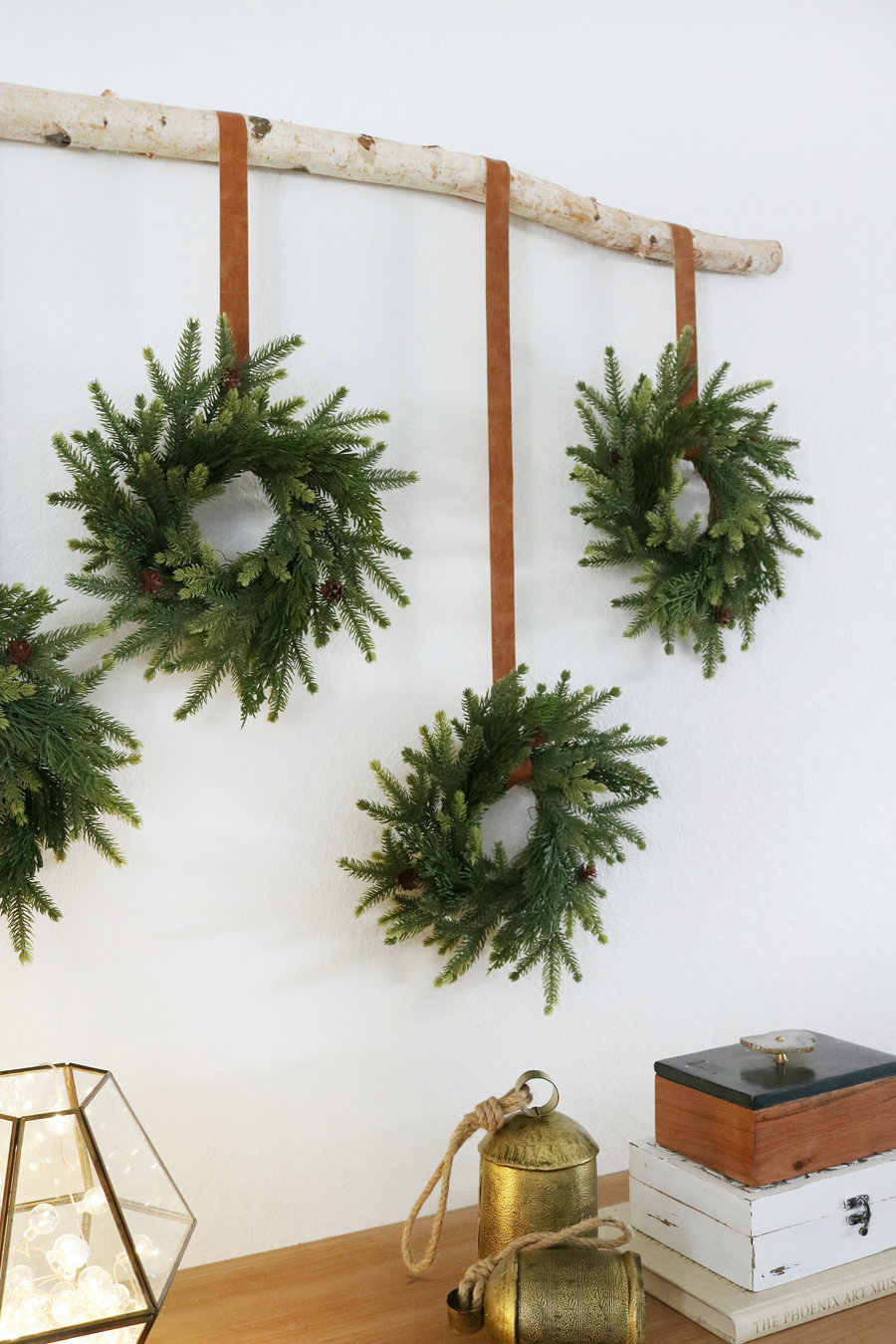 My entryway is all set for the holidays and I love that this Modern Christmas Wreath Wall Hanging can transition to simple winter decor when the holidays are over.
How Can I Store this Modern & Simple Christmas Wreath DIY Wall Hanging?
When the holiday and winter season is over, you can store this wall hanging easily by removing it from the wall and either removing the staples from the strips of leather and wreaths and storing those separately in a firm storage box until next year, or, if you choose to keep everything assembled, you can try and find a flat plastic storage box that fits your branch and wreaths and store flat. You could also store this hanging in your garage or storage space.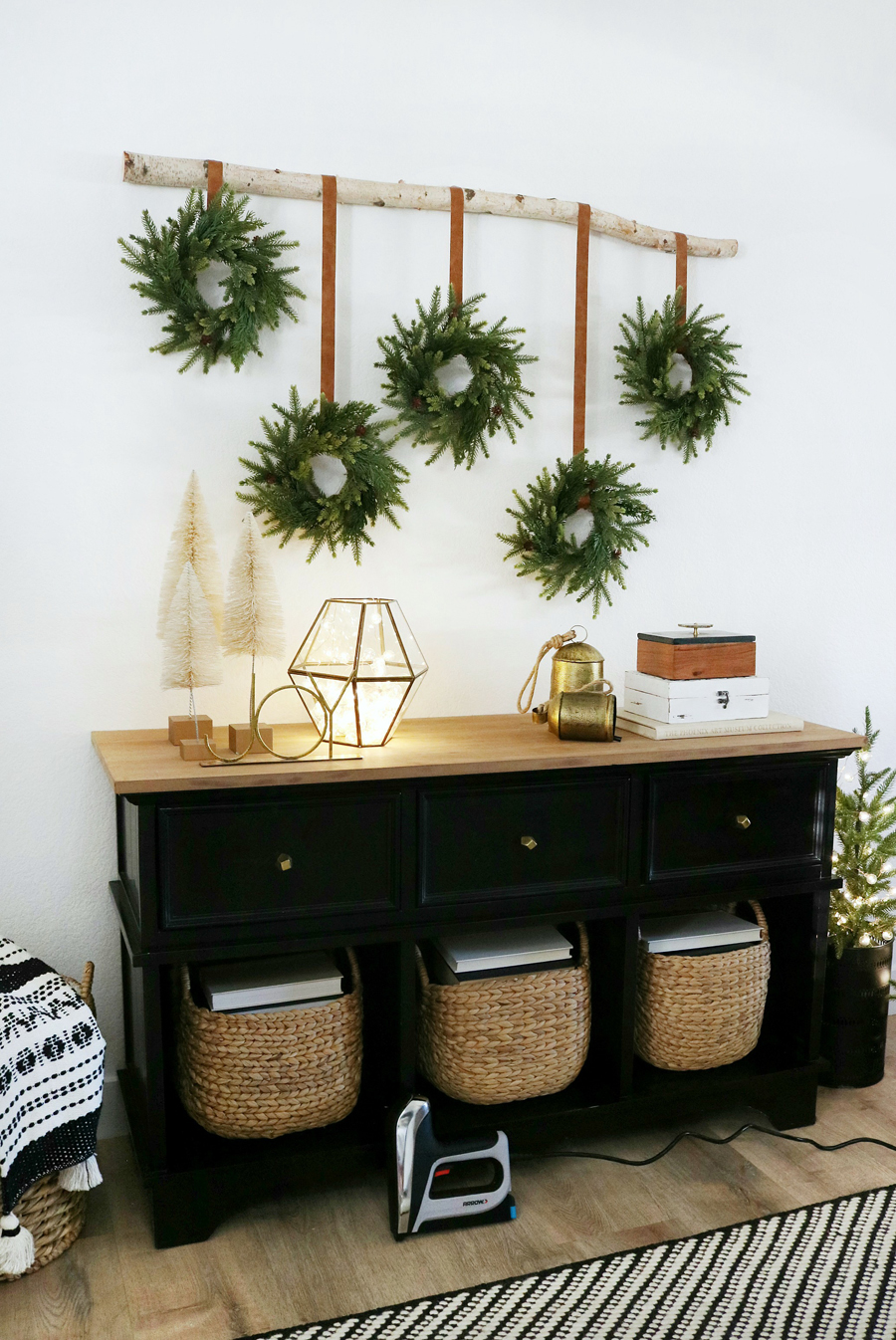 To learn more about Arrow Fastener and where you can find Arrow Fastener products, you can go Arrow Fastener.com. Don't forget to check out other #MadewithArrow projects for tons of ideas and DIY projects!