Several years ago I would have been all about decorating for every holiday, it was part of owning a DIY creative website…EVERYONE decorated for EVERY holiday! I have come to realized how much I really only love decorating for a couple of holidays, Valentine's Day is one of them. I wanted to share a little love with all of you so I designed a couple of Valentine's Day Conversation Heart Printable Banners, it's the perfect way to add a cute pop of holiday decor to your space.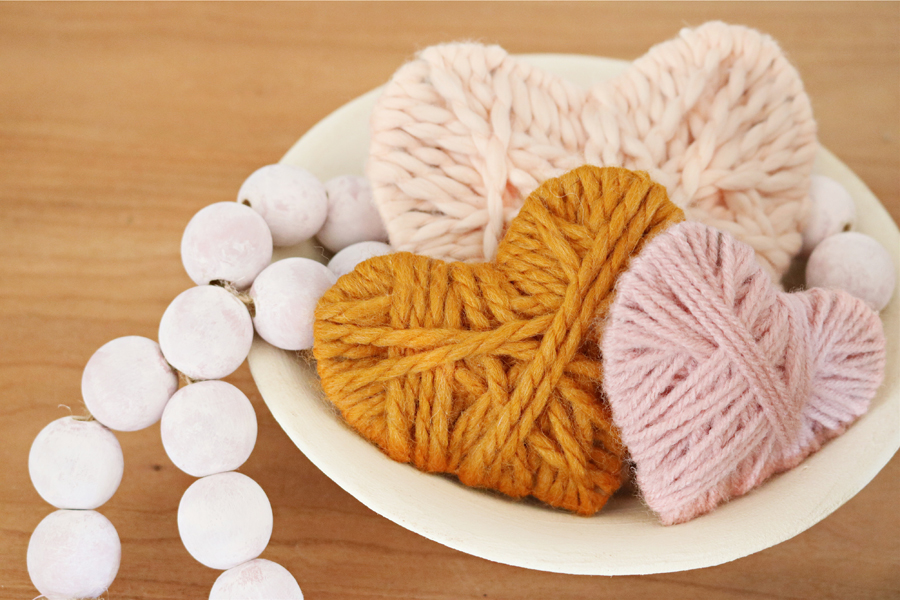 One thing I've realized about holiday decor – besides the fact that the only holidays I love to decorate for are Christmas, Valentine's Day, and the occasional Halloween…is that when I decorate I want it to be easy to incorporate into my everyday decor and to fit my personal decor style. I'm not super into kitschy or traditional holiday decor, you've probably noticed that if you've been a long time reader. Oftentimes I make at least 50% of my own holiday decor and I try to design it around my everyday decor style at that given time.
As you all know I'm a lover of all things neutral, I love color with my whole heart but when it comes to decor in my home neutral tones tend to make me feel more at ease. Before Christmas, I actually started to add very small amounts of soft pinks, muted greens, and tobacco-colored accents. These Valentine's Day Conversation Heart Printable Banners are a similar subtle color palette and look so pretty against my neutral decor.
LET'S MAKE A VALENTINE'S DAY CONVERSATION HEART BANNER
SUPPLIES: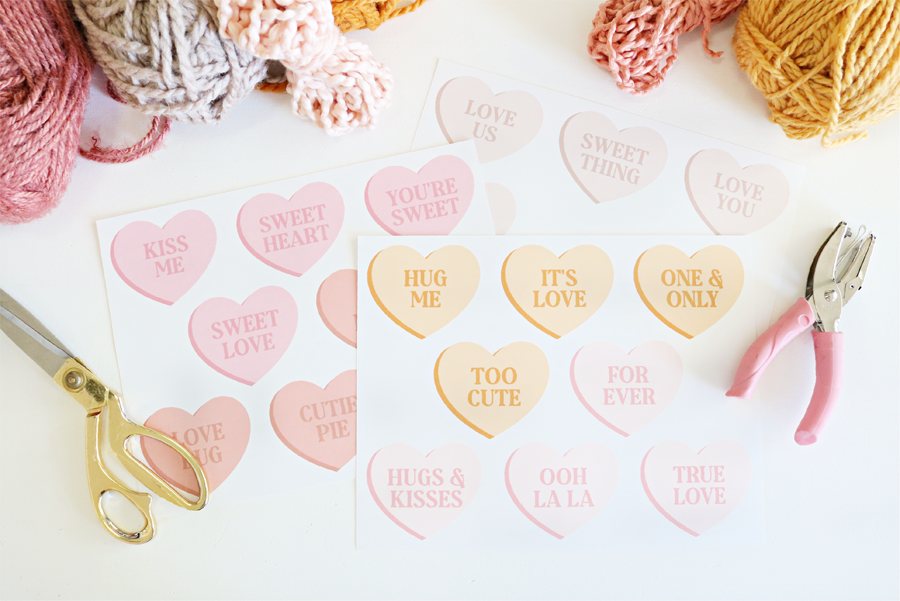 First things first, you'll need to decide which Valentine's Day Conversation Heart Banner you will want to download and print. I have designed two different banners for you to chose from, a traditional version with the typical conversation heart sayings you're all used to seeing. The second version is empowerment focused, which I thought would be such a fun way to celebrate Galentine's Day if Valentine's Day isn't your thing. It's uplifting and meant to just be a reminder of how amazing you are! Download whichever version you want to print below.
TRADITIONAL CONVERSATION HEART BANNER

EMPOWERMENT CONVERSATION HEART BANNER

Please Note: These printables and downloads designed by The Crafted Sparrow are for personal use only. Please do not alter the file or image and claim it as your own. This file is not intended for resale, nor are the printed versions of this file!
Once you've downloaded your Conversation Heart Printable Banner you're all set to print. For best print quality you will want to use matte white photo paper, a good white cardstock will also work. Be sure to check your printer setting before printing, you'll need to select the correct paper type for your print job.
HOW CAN I PRINT THIS VALENTINE'S DAY BANNER IF I DON'T OWN A PRINTER?
If you're unable to print this Conversation Heart Banner on your home printer you can always print at a local print shop like Office Max, Staples, etc. Just beware that the colors will vary slightly based on different printers, if you're printing at home vs a print shop just note that it will most likely convert the print colors based on their specific printers. You can see an example below of printing at home (on the LEFT) and printing at my local Office Max (on the RIGHT). It's just a difference of printing in RGB vs a CMYK color profile, but that's super boring to explain so let's just put this banner together.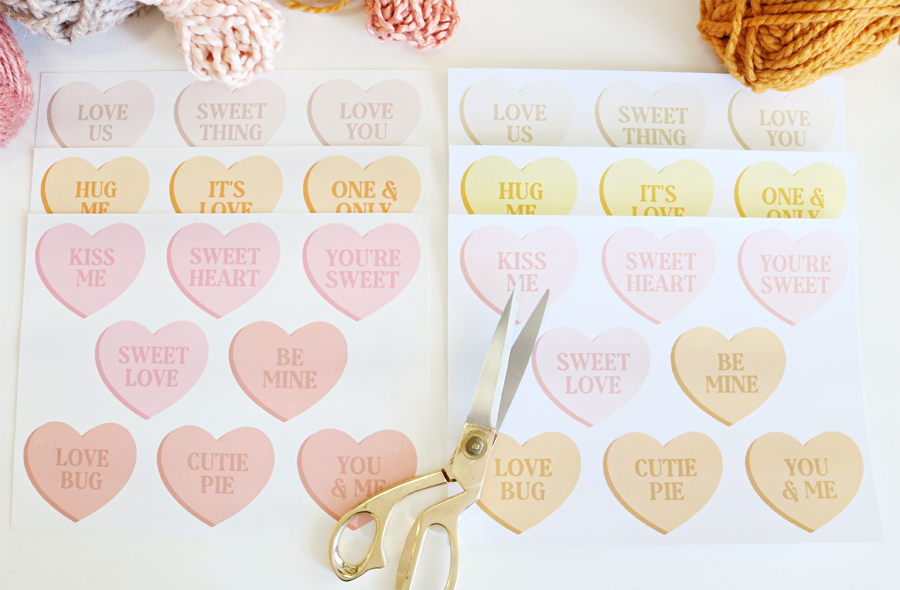 Time to grab those trusty scissors and get to cutting. Simply cut out each conversation heart for your banner. There are twenty hearts for each banner style, each heart has a completely different saying. Feel free to print more than one copy if you want to string and hang multiple banners. If you want to get wild and crazy you can print both styles and mix and match the sayings.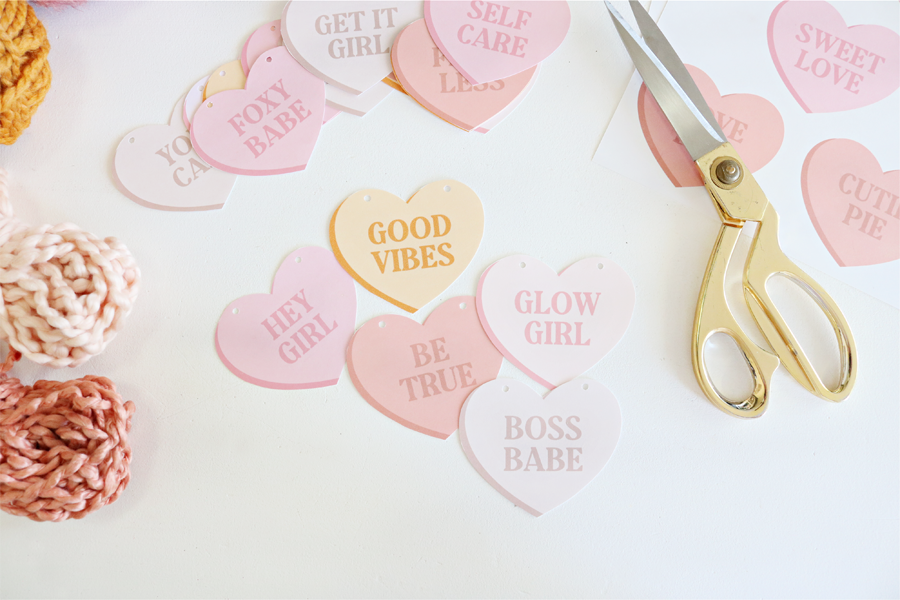 Using a small hole punch you can punch two holes in each heart for your banner like I did below. Grab some twine, string, or yarn and add each heart, make your banner any length you want or need for your space.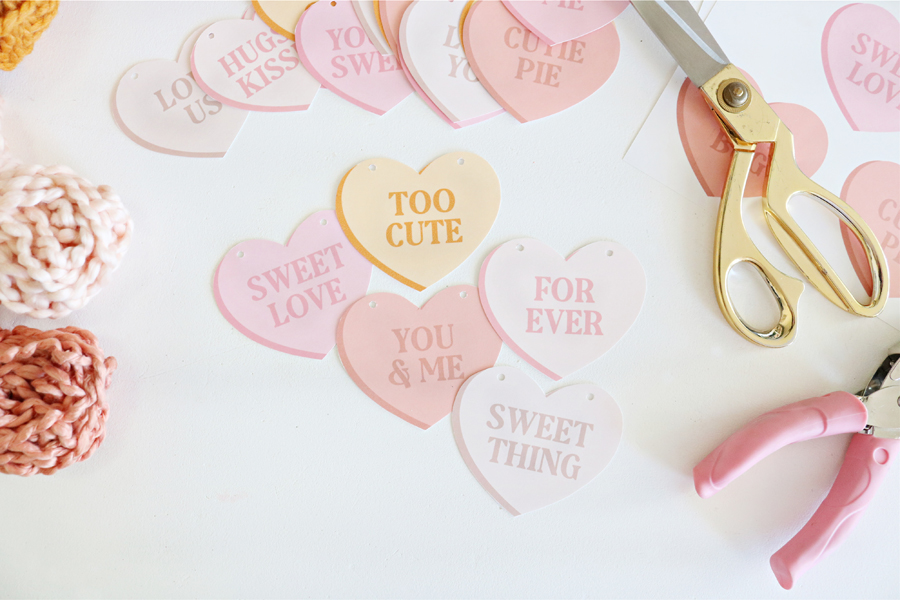 That's it, super easy right?! Now it's ready to hang. If you're like me you might want to add a little something extra with it, I decided I needed a pom-pom garland to match. Have you ever made one? They are super easy to make – you can find so many different pom-pom making tools online. These are my favorite ones found HERE. Pom-Pom garlands are such a fun way to add texture to holiday decor.
I added my Valentine's Day Conversation Heart Banner and pom-pom garland to my gallery wall above my entry table. My frames are filled with photos of all my loves! Don't you love the way those colors pop against the black and the white of the photos?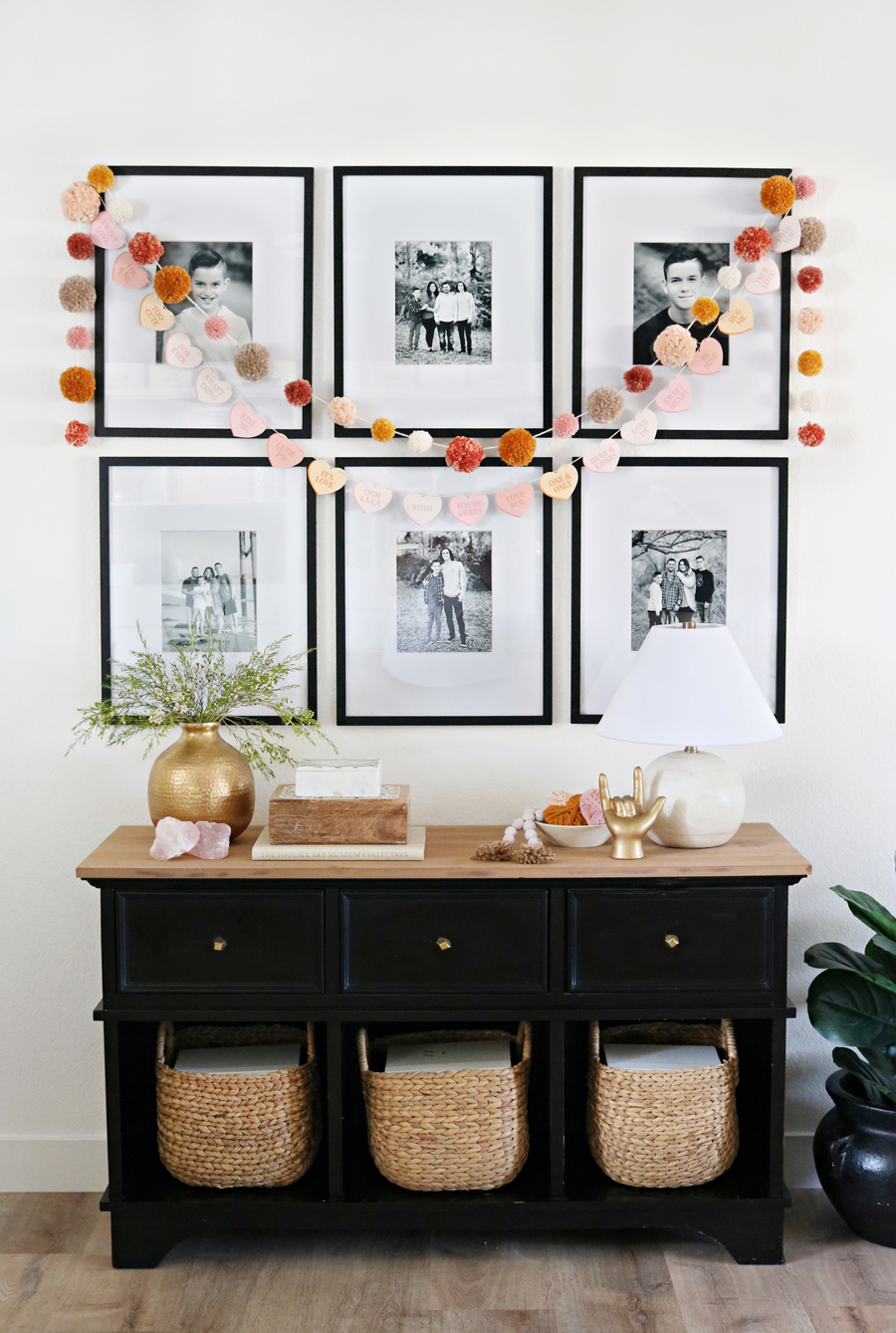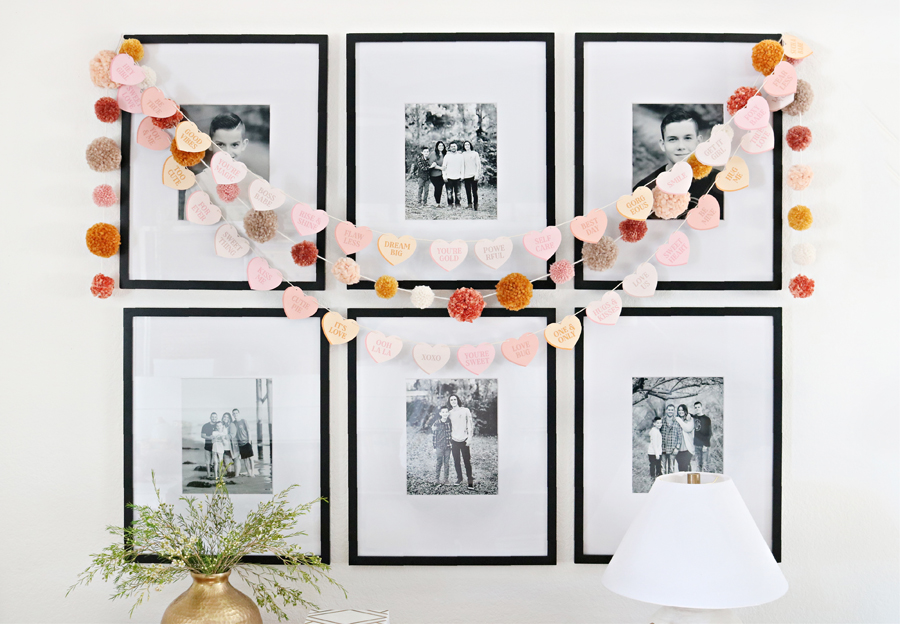 While I only put up one banner in my entryway I printed and hung them both so you can see both designs. See how cute two would be hanging though?!
If you love this Valentine's Day Conversation Heart Banner I know you'll love these other holiday ideas: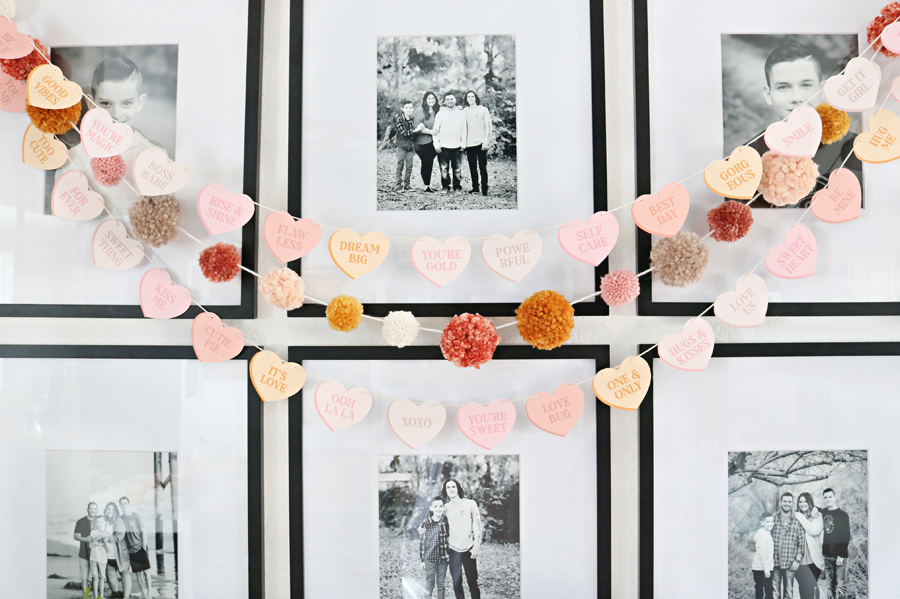 To keep with just simple hints of decor and nothing kitschy I added some very small details that hint at Valentine's Day. Most of the items on my entry table were shopped from my home and existing decor I already hand.
The Studio McGee lamp and the cute little sign language "I love you" hand decor piece were the only new items. The little hand was so perfect to add to my decor, my youngest and husband use this sign language all the time…it's a sweet little reminder of them. When I found it at home goods it was actually cream-colored with a crackle finish, and I couldn't understand why it had small holes on the backside of it until I realized it was stuff with potpourri when I got home and it smelled funny. I threw that junk in the trash and filled in the holes with some clay and gave it a quick coat of gold spray paint, then followed that up with a light layer of antique gold rub n' buff. You can see how it looked before I painted it below.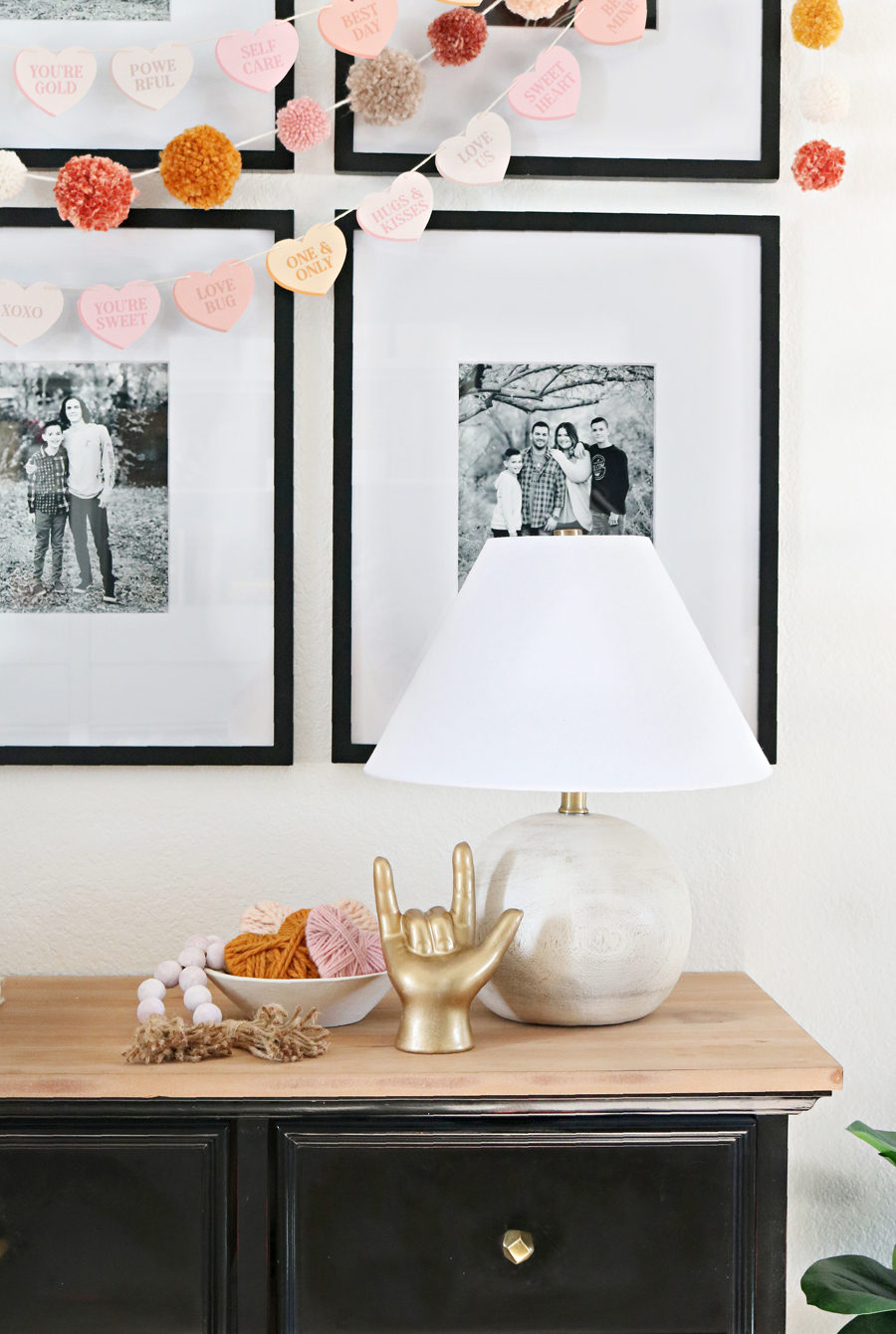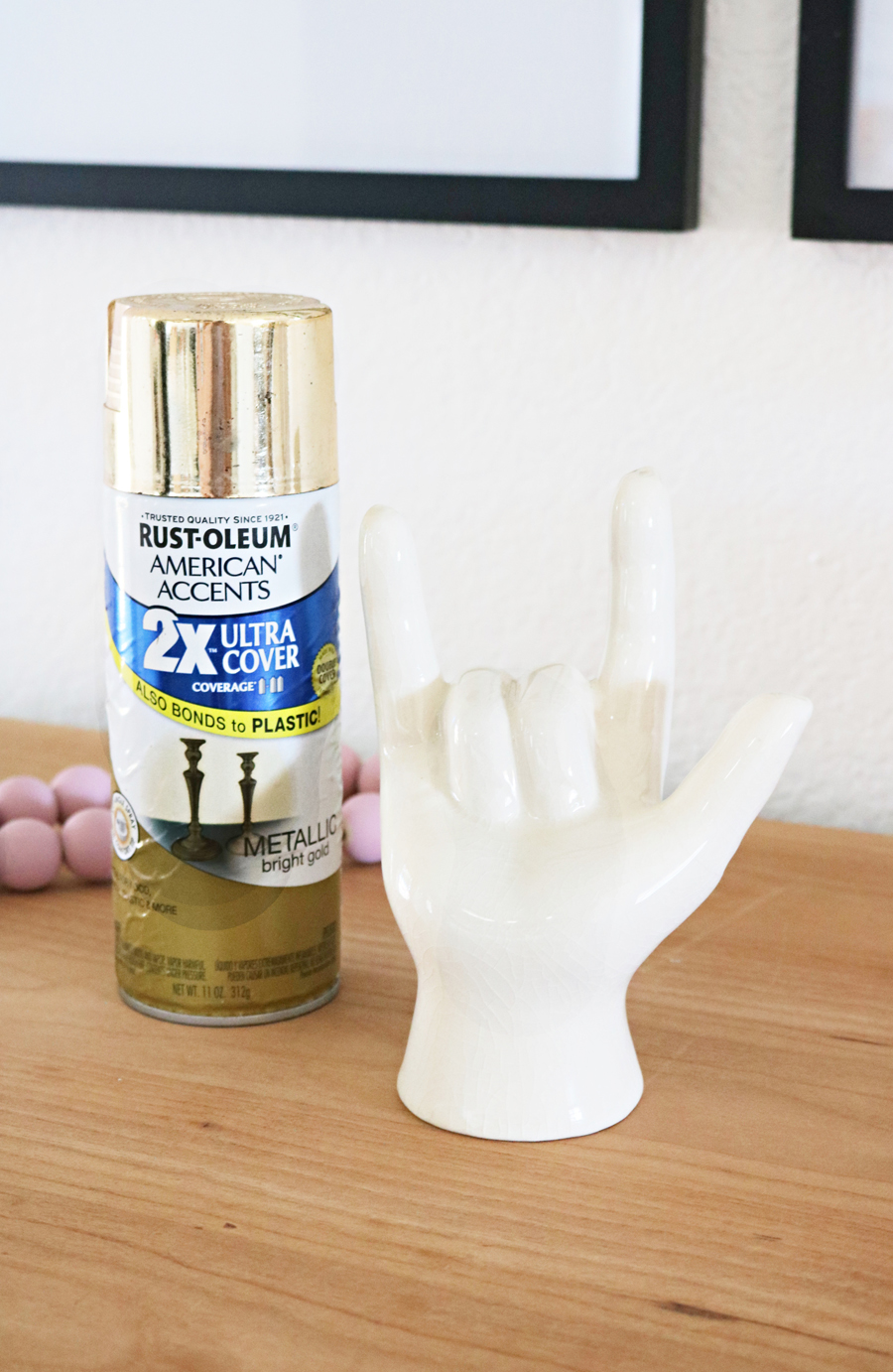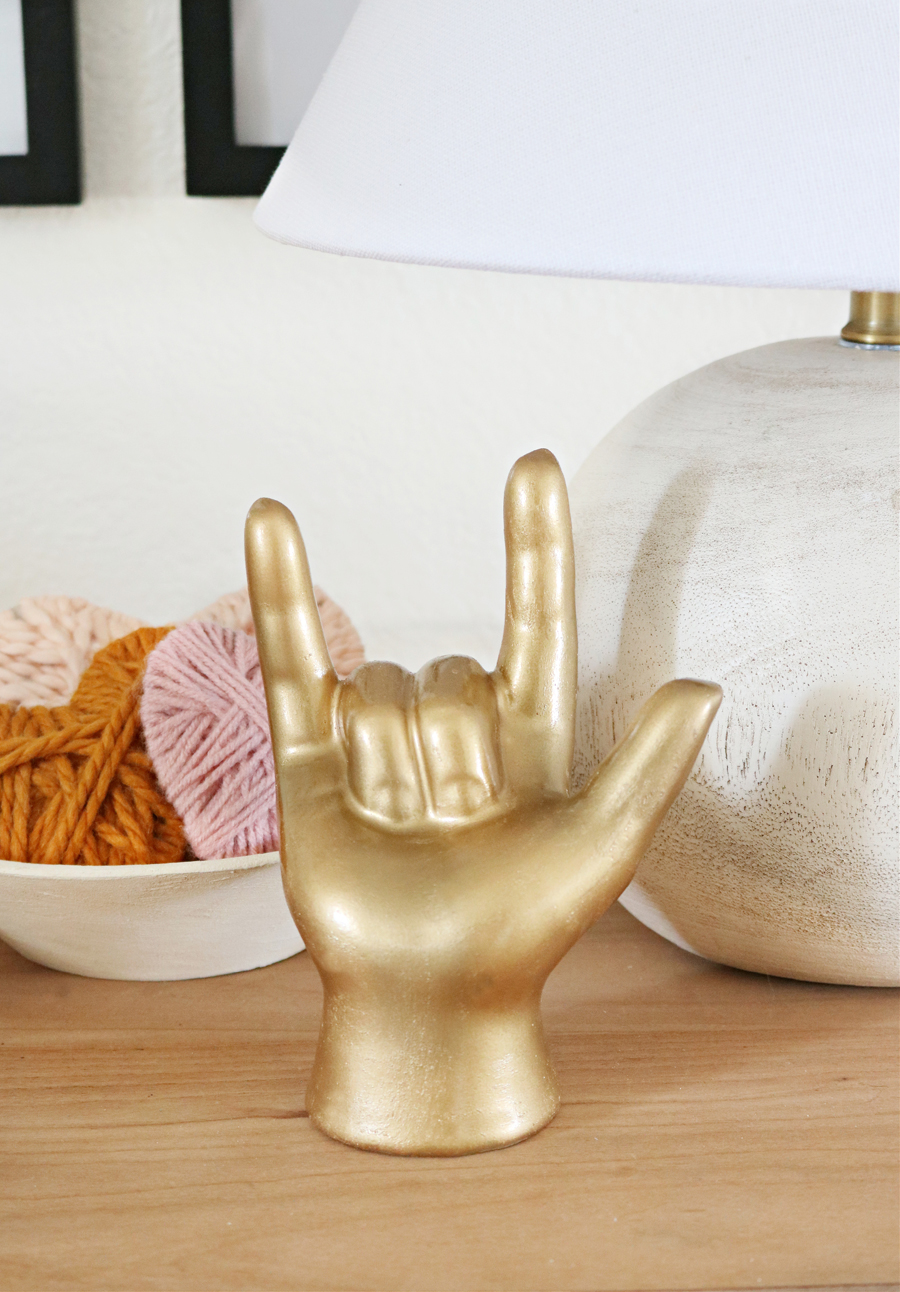 To add some extra texture to my tabletop I grabbed a couple of the same yarns I used for the pom-pom garland and some scrap cardboard from an old cereal box. Just cut a few hearts out of your cardboard and use your yarn to wrap them completely. The chunkier yarn works great for these sweet little hearts. I placed the yarn-wrapped hearts in an old wood bowl and added some light pink wood casa beads I had made previously. Aren't the colors so pretty? Perfect for Valentine's Day.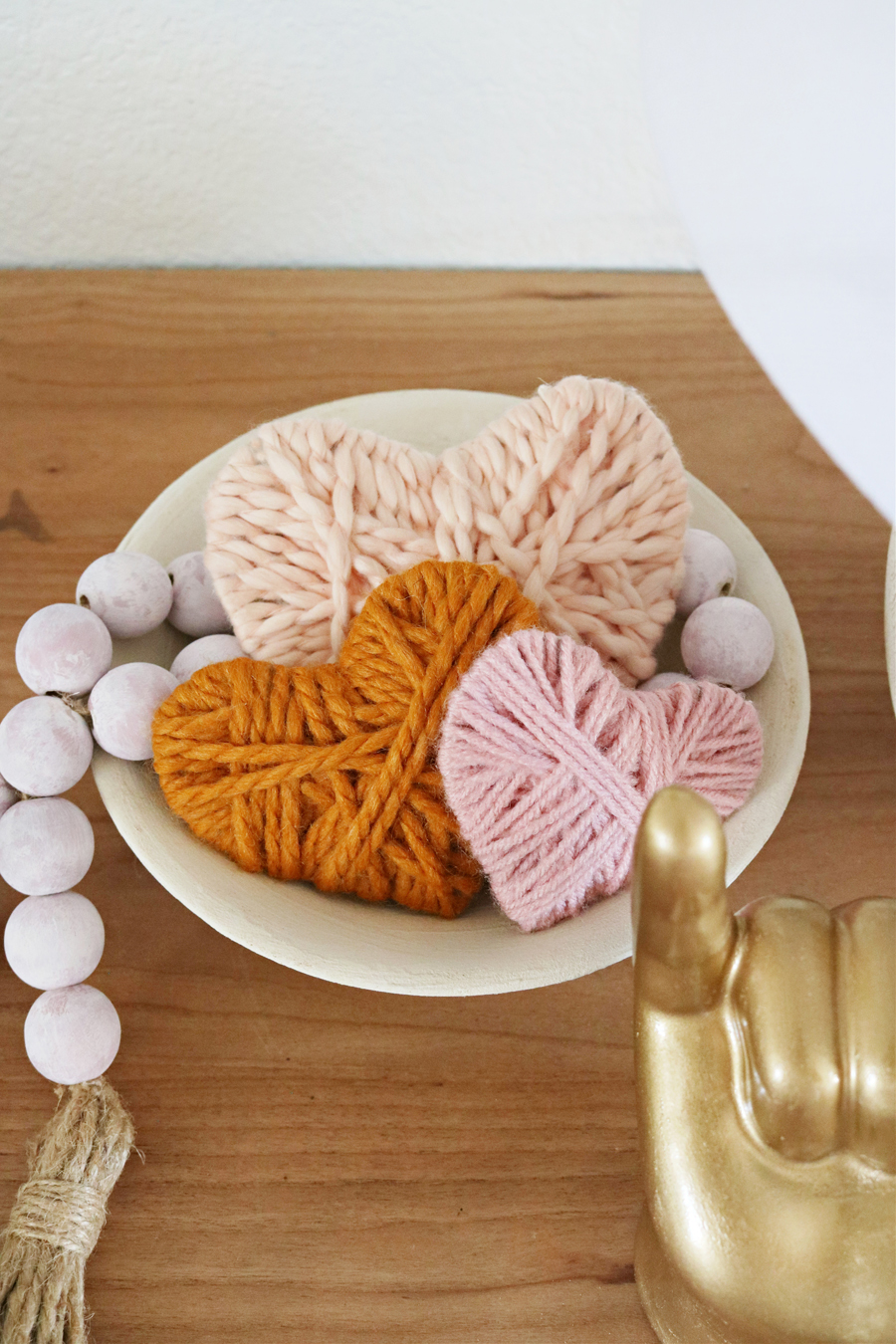 The other side of my entry table has my normal everyday decor of stacked wood and marble boxes, a book, and a metallic gold vase with simple greenery. To add another small subtle pop of pink I added two pieces of rose quartz from my growing collection of crystals and gemstones. Simple and so pretty.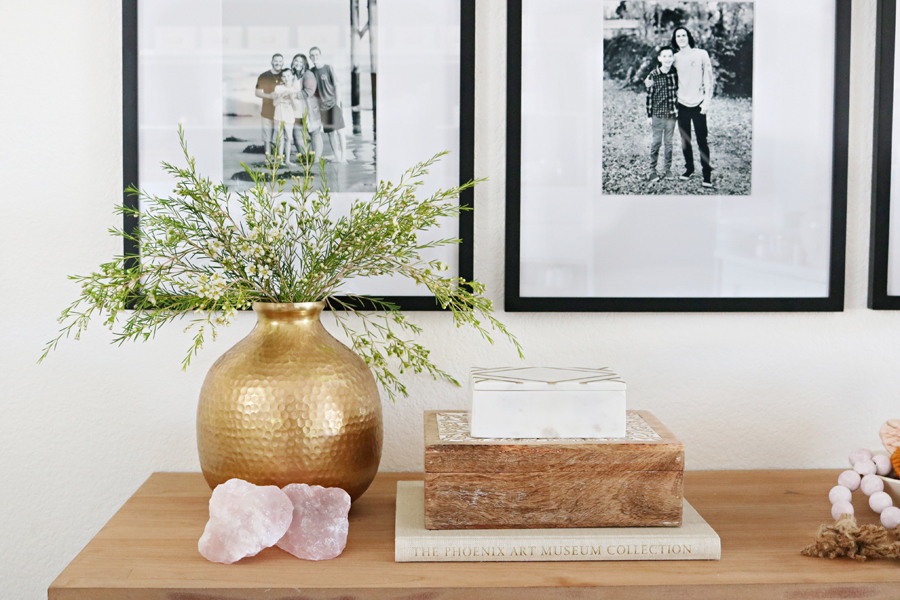 All together I think everything looks just so pretty. It's not over the top in your face Valentine's Day decor, it's modern and simple. When the holiday is over it's easy to convert back to my everyday non-holiday decor by just removing the banner, yarn wrapped hearts, sign language hand decor, and wood casa beads. I can replace those small things with other small items I have on hand easily.