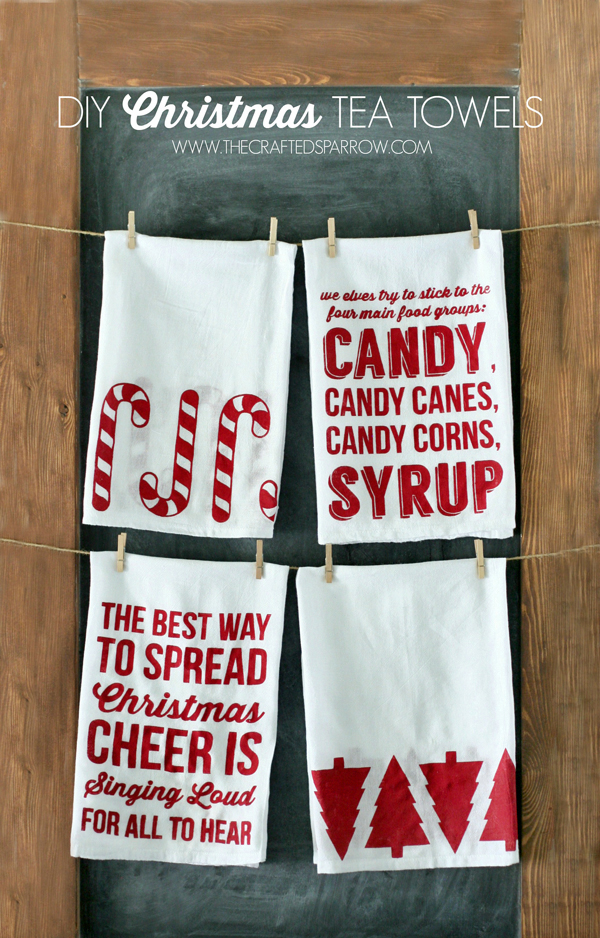 I know it's a little early for Christmas projects for most people, and don't worry I am not skipping Fall…I just had to share these DIY Christmas Tea Towels I created for round 4 of Cricut Design Space Star. Aren't they so fun!
Our family loves the movie Elf, it's become a yearly tradition for us to watch it as a family at the beginning of the holiday season. I thought it would be fun to create this DIY Christmas Tea Towels with some of our favorite sayings. Our team theme this month was holiday gifts under $10, this is the perfect project for an inexpensive and custom gift for someone.
Supplies:
– Cricut Explore cutting machine
– Cricut cutting mat
– Tea towels / flour sack towels, I found these at Target for about $4
– Red fabric paint, DecoArt SoSoft in Santa Red is what I used
– Round foam pouncer brush
– Freezer paper, or vinyl if you prefer
– Iron if using freezer paper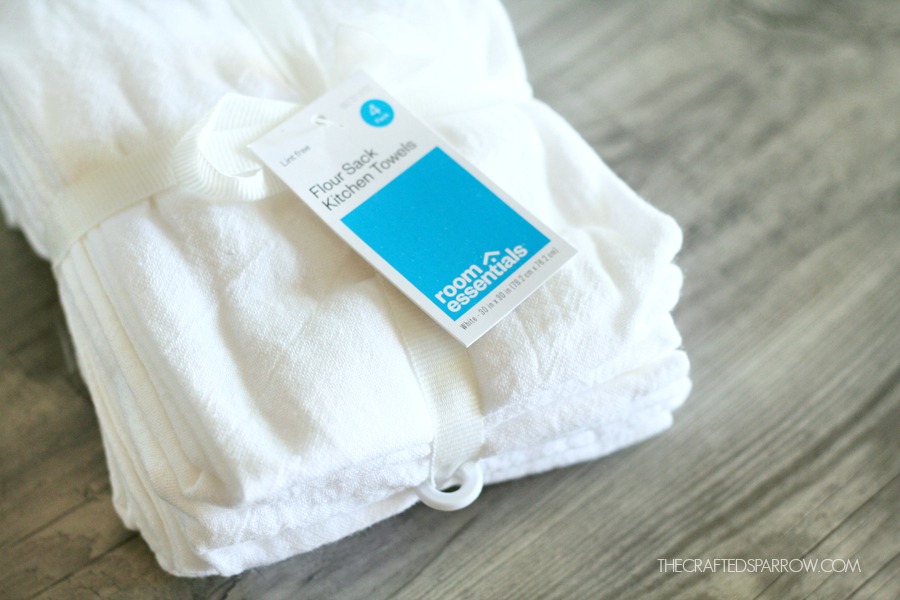 Most of you know by now how much I love freezer paper stencils, you can see some past projects using this method HERE, HERE, and HERE.
So first thing I did for these towels was to create my stencil images. For the font images I typically like to create my whole image in a program like picmonkey, or photoshop then I upload the image in to Cricut Design Space and turn it in to a cuttable image. If you don't want to do that you can just create your font image directly in Design Space.
For the Christmas tree, and candy cane towels I just found a clipart file I liked and uploaded them to Design Space and made them a cuttable file as well.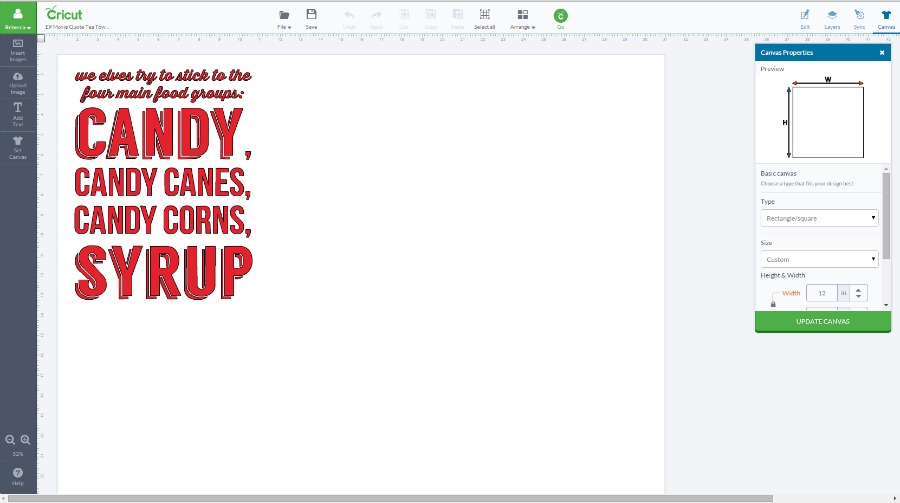 These particular tea / flour sack towels are 30 x 30″ in size. So I needed my images to be larger since I'd be folding them into thirds.
Once your designs are finished, cut your freezer paper stencils with your Cricut Explore. Cut shiny side down on the mat.
Be sure to save the middles of letters once it's cut…you will need in a small bowl, I find it helpful to label which letter they go to with a pencil.
Iron your towels flat to start, then place the freezer paper stencil where you would like it and using a dry heat iron them on.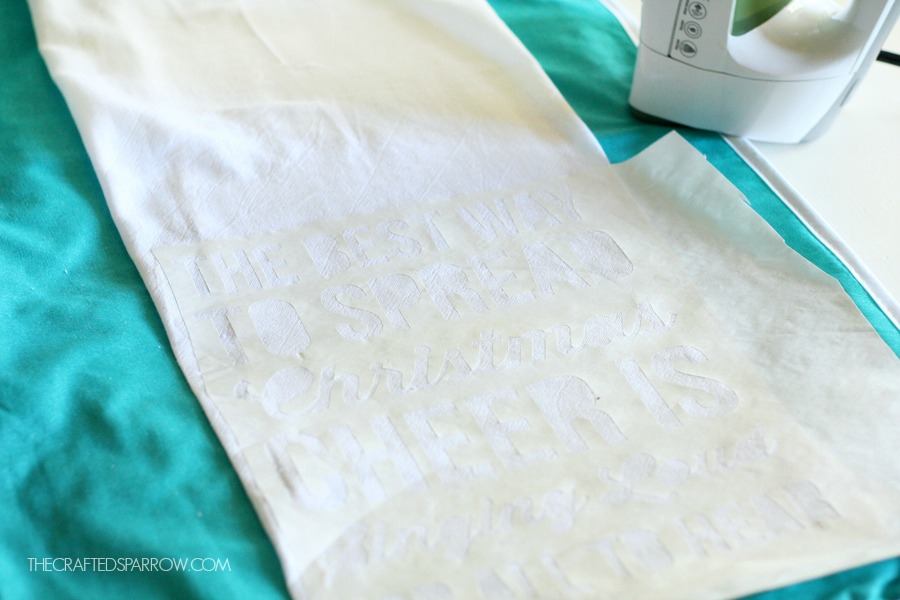 Place a piece of cardboard or old cutting board under your single layer of tea / flour sack towel to protect the rest of the towel and your work surface.
Then using a round foam pouncer brush carefully dab your fabric paint over the stencil. For this particular project I only needed to do one good layer of paint since these towels are a thinner. Set aside to dry.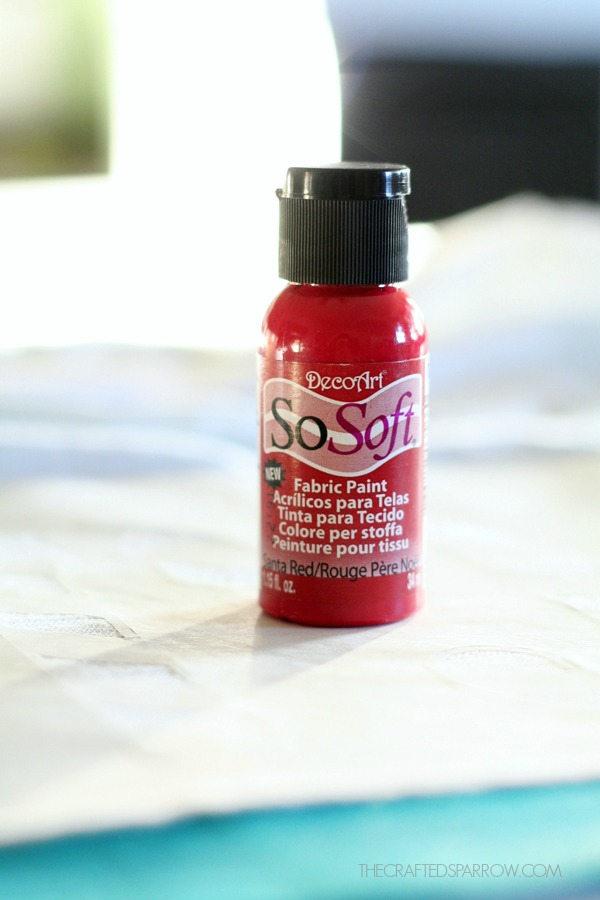 Once they are completely dry you can peel away the freezer paper. You may have to use a weeding hook or small needle to get the small areas around the smaller fonts off.
That's it, now you have these super fun and festive DIY Christmas Tea Towels. Not only will they look super cute in your kitchen for the holidays they would make a great gift idea for a friend or neighbor. Roll them up and tie them with a cute bow.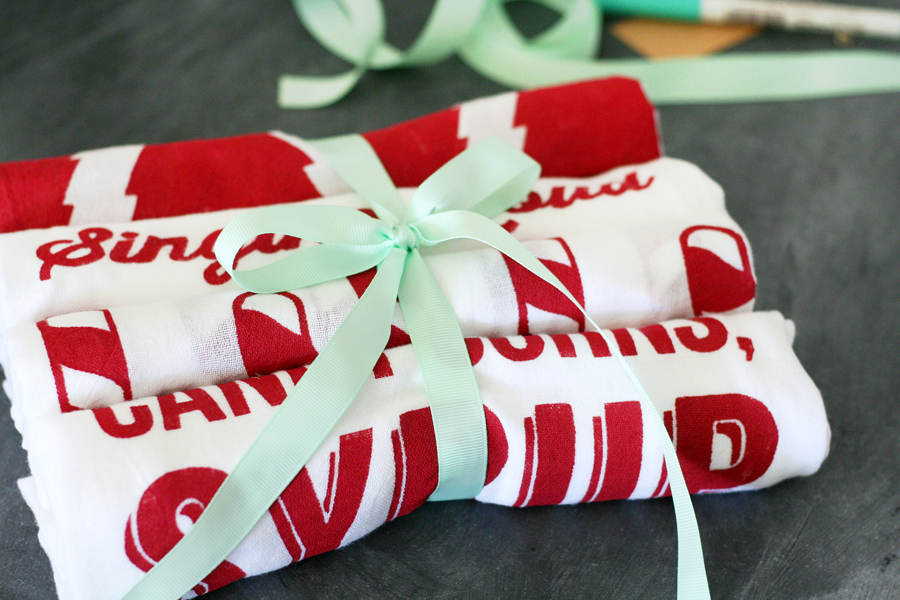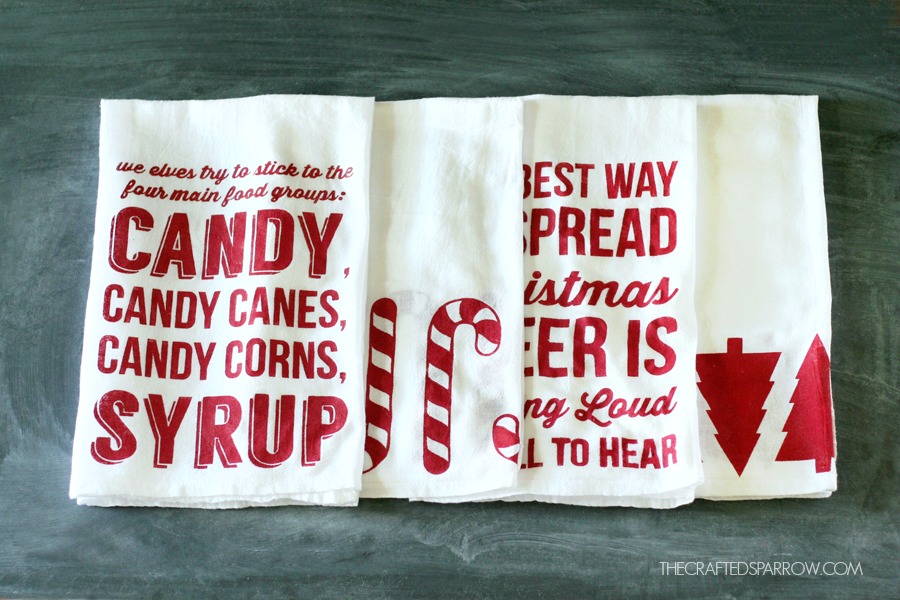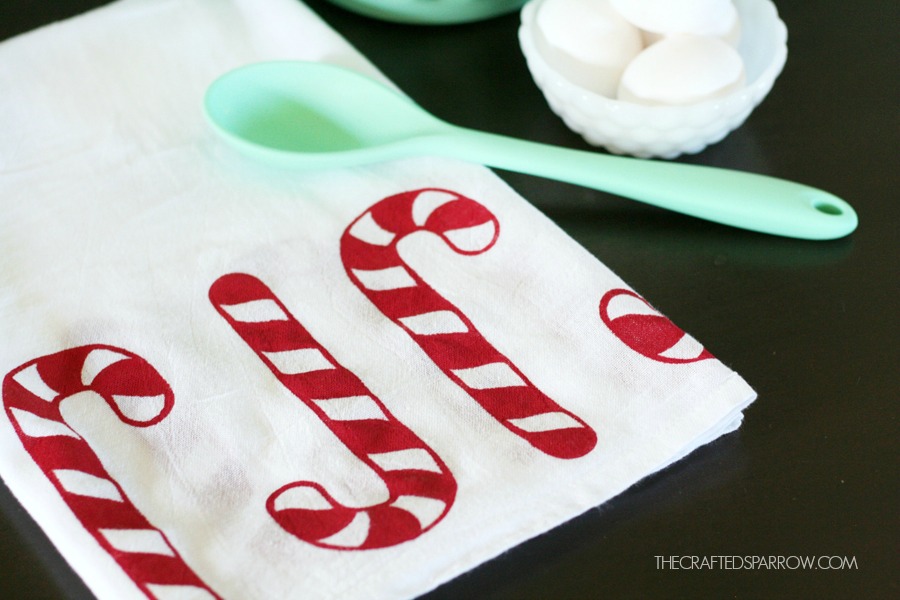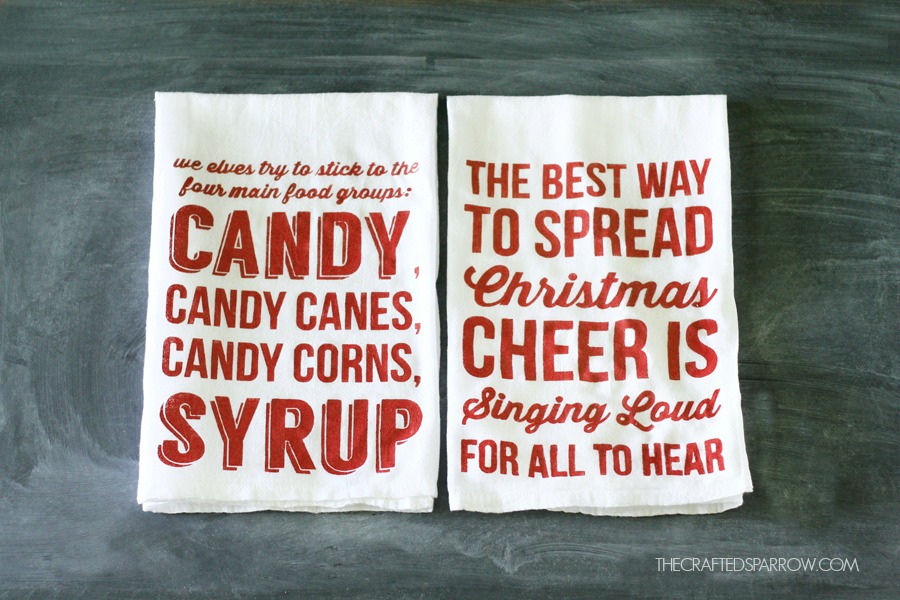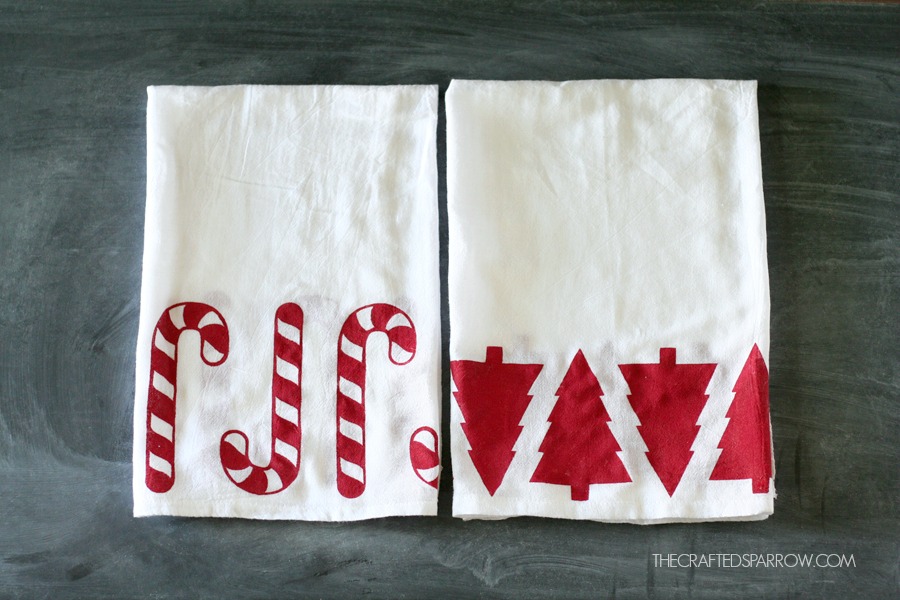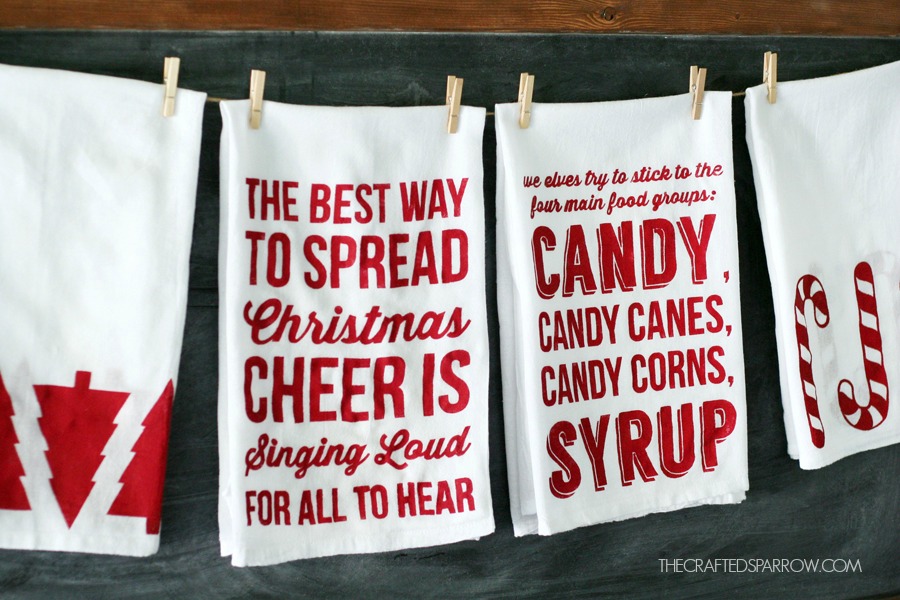 In case you haven't heard the awesome news the Cricut Explore now offers an amazing Print & Cut feature! Go HERE for more information about that new feature.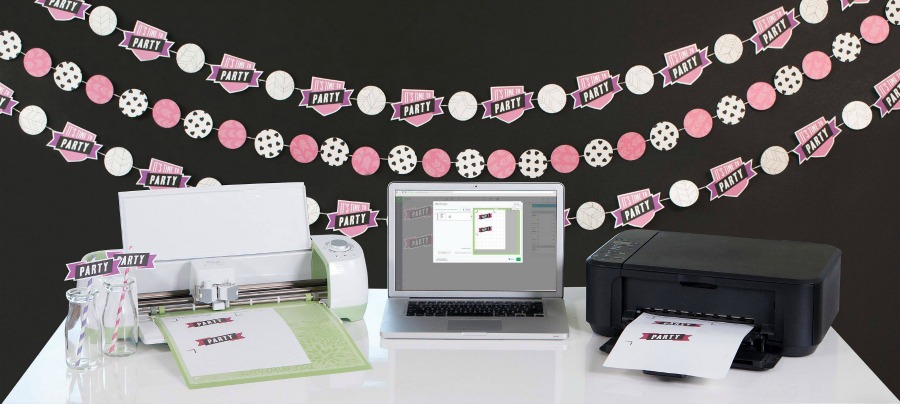 If you have a website and would like to join Cricut's Affiliate Network, sign up HERE.
Disclosure | I am a member of the Cricut Blogger Network. I may receive prizes in exchange for my winning projects. Even though I am not being directly compensated for these posts, I am under consideration for a prize with Cricut Design Space Star. All opinions are 100% my own.