My weeks have been super hectic lately, by the time Sunday rolls around I'm ready to sit down – relax – and get some last minute things done to plan for the next busy week ahead. I needed a space away from the rest of the house that would be quiet so I put together this Mid-Century Boho Inspired Workspace in our master bedroom.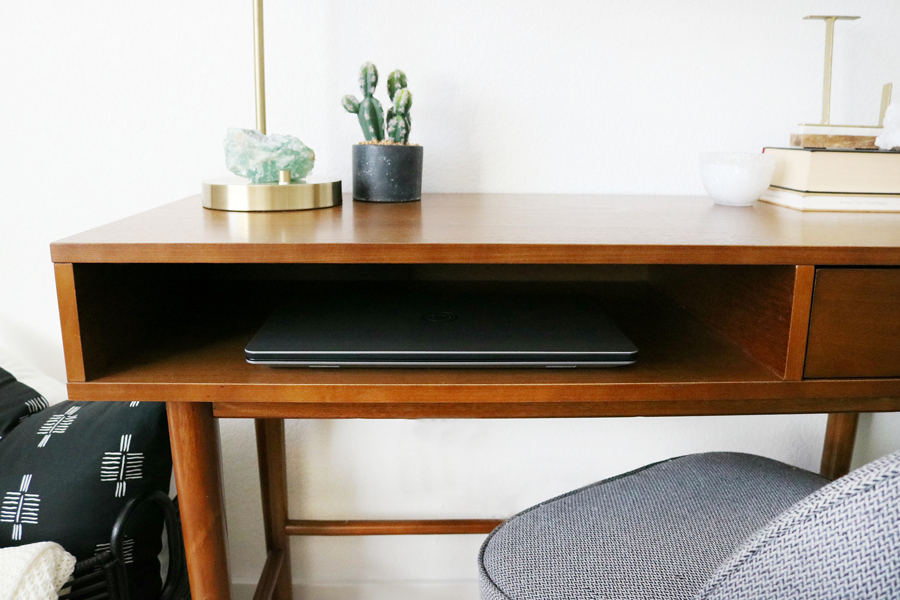 DISCLOSURE | This post is sponsored on behalf of Better Homes & Gardens at Walmart. As always, all opinions and ideas are 100% my own. This post may also contain affiliate links.
A couple months back I gave our master bedroom a much-needed makeover, you can see how it turned out HERE. I love the space so much and it's been so great to have a room in our home that I can retreat to when I need some alone time or to rest. I really wanted to add a small workspace where I could sit and work on the blog, make weekly meal plans, and plan out our week. Our master bedroom is small, it's about 13×13′ in size so I had to make sure I picked furniture that fit this space well. This Mid-Century Boho Inspired Workspace was super easy to put together, this room finally feels complete.

When it came to planning for this small workspace I knew I needed a desk that not only looked great in our room, it needed to be just the right size. I absolutely love this Better Homes & Gardens Flynn Mid-Century Modern Desk, the pecan finish on it was exactly what I wanted. This piece is so good, I actually have the matching Better Homes & Gardens Flynn Tv Stand in our family room and love it too.
This desk is small enough for our room but offered just the right amount of workspace that I wanted. Since I have my main office area in another room of our home I just needed a desk that I could sit at with my laptop and work away. It also offers the hubby a quick spot to sit and write his work notes each night.
When I was considering what I wanted in this Mid-Century Boho Workspace there were a few must-have items besides the desk. It had to have the following:
Comfortable chair
Cute lamp
Soft throw blanket for chilly nights
Some storage in the desk
Cute artwork
Greenery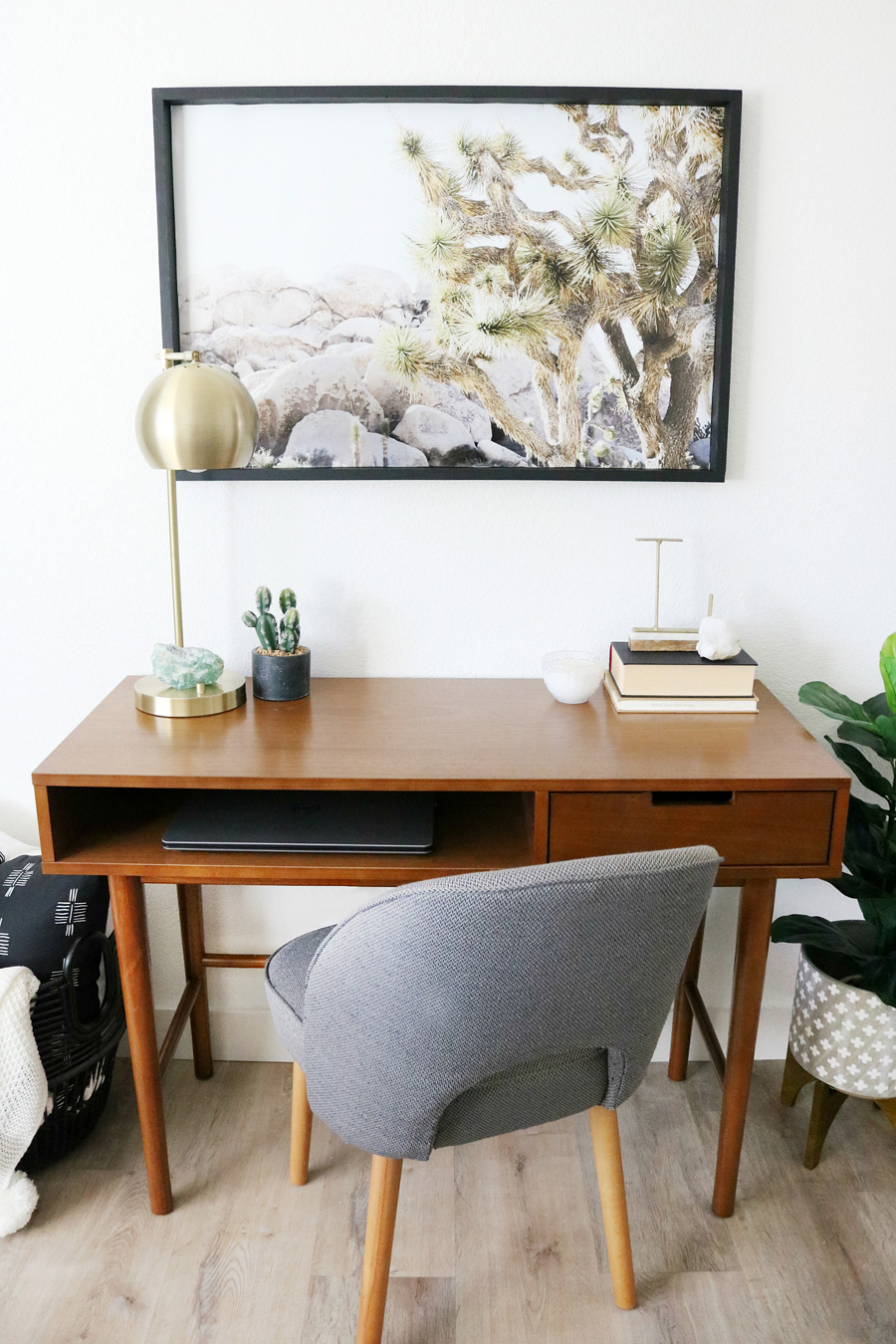 I centered the desk on the open wall in our bedroom, it was a blank canvas so it allowed me to really make the space whatever I wanted. What I really wanted were things to be simple and clean so I kept the decor light. I tend to get distracted easily when working on my computer so I wanted minimal distractions.
After adding the desk and a mid-century inspired chair that I already had I used some artwork I had printed a few months back and placed it inside a large wood frame. I love the simplicity of it. The Joshua Tree Print can be found on Etsy, I had it printed at my local Sams Club for a couple bucks. This is a great way to get extra large art for your walls on a budget.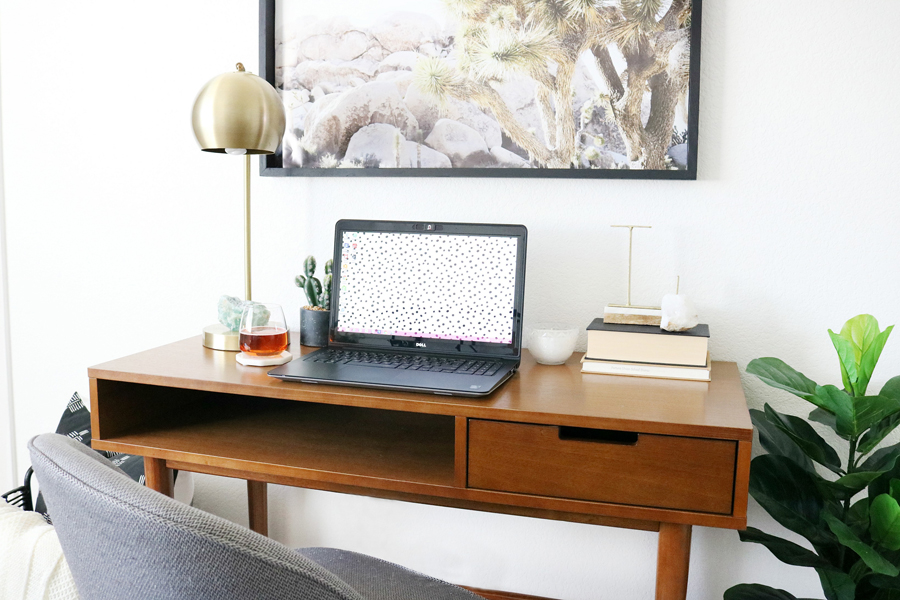 The desk offered just the right amount of storage, it has a long open shelf for my laptop to be stored when not in use and a small drawer for essentials. While this is what the essentials look like right now, before long I'm sure there will be chocolate in this drawer too.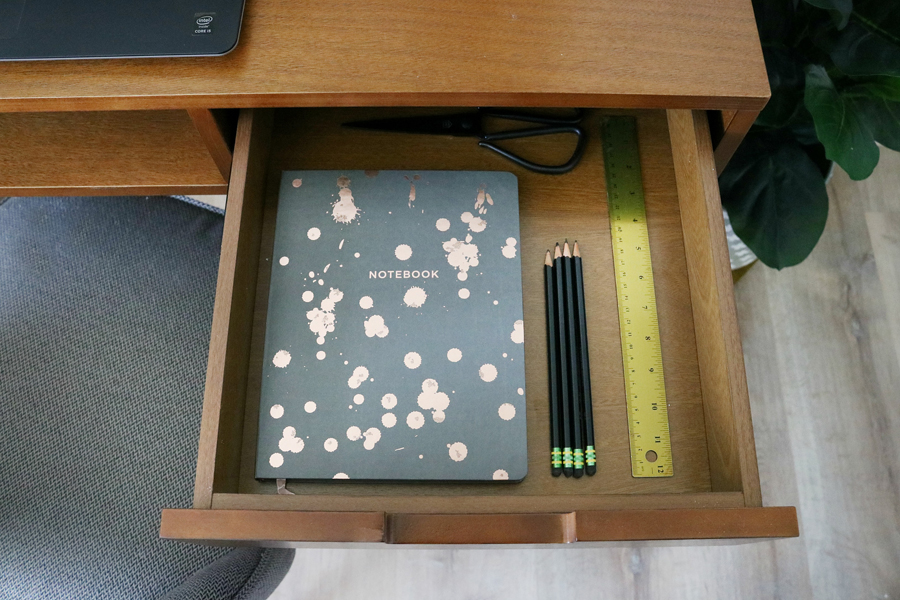 It's always nice to sit down and have a glass of wine while I'm relaxing and catching up on work, I couldn't resist these pretty Better Homes & Gardens Stemless Wine Glasses. They are so pretty when filled with my favorite sparkling rosé.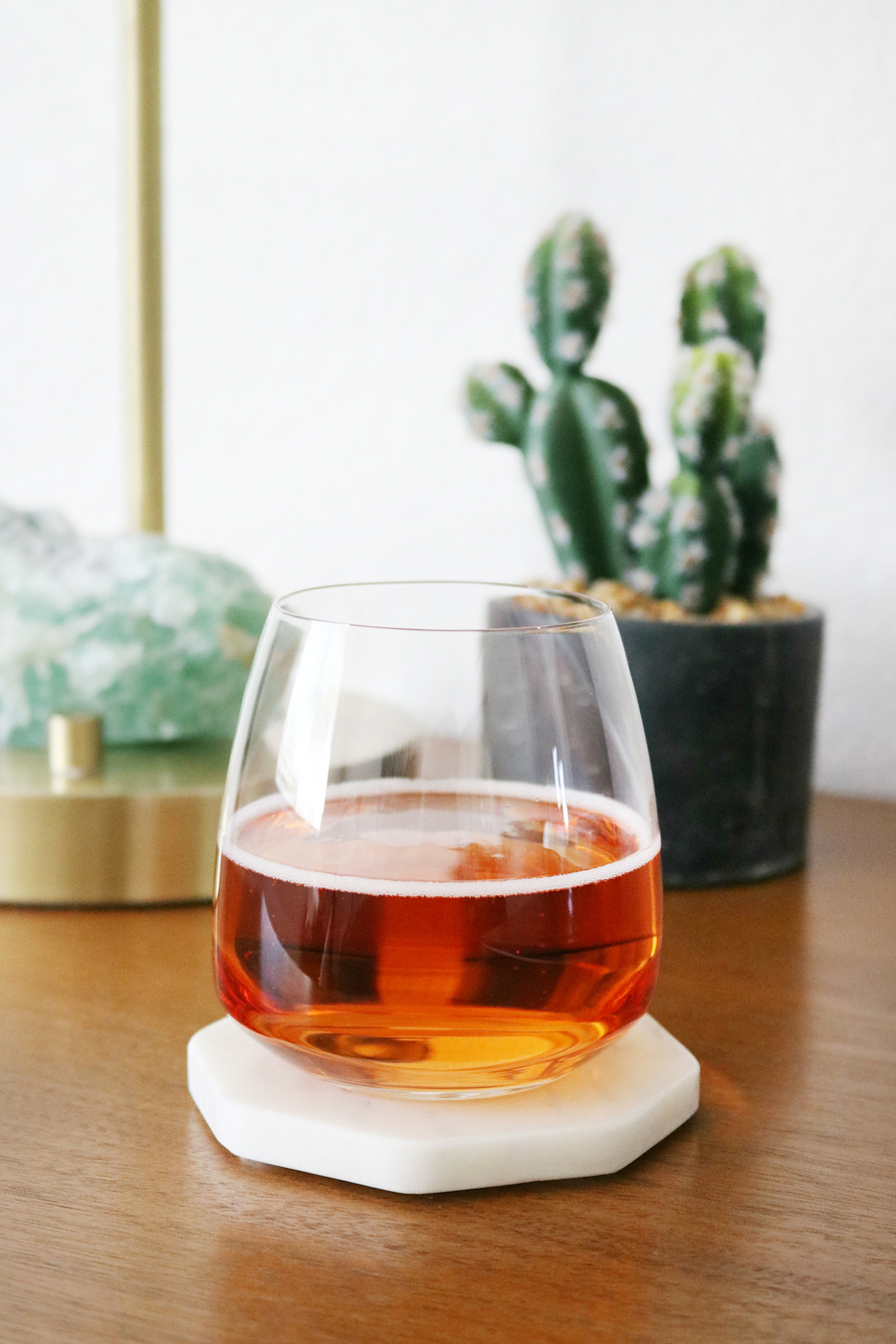 When it came to lighting I have matte black bedside lamps in this space so I wanted to get something with a brighter finish for the desk. The Better Homes & Gardens Gold Orb Lamp is really good you guys! The finish on it is amazing, and it's a great size. Tall enough to allow for great lighting while working, and it doesn't take up too much room on the desktop. I love how it looks.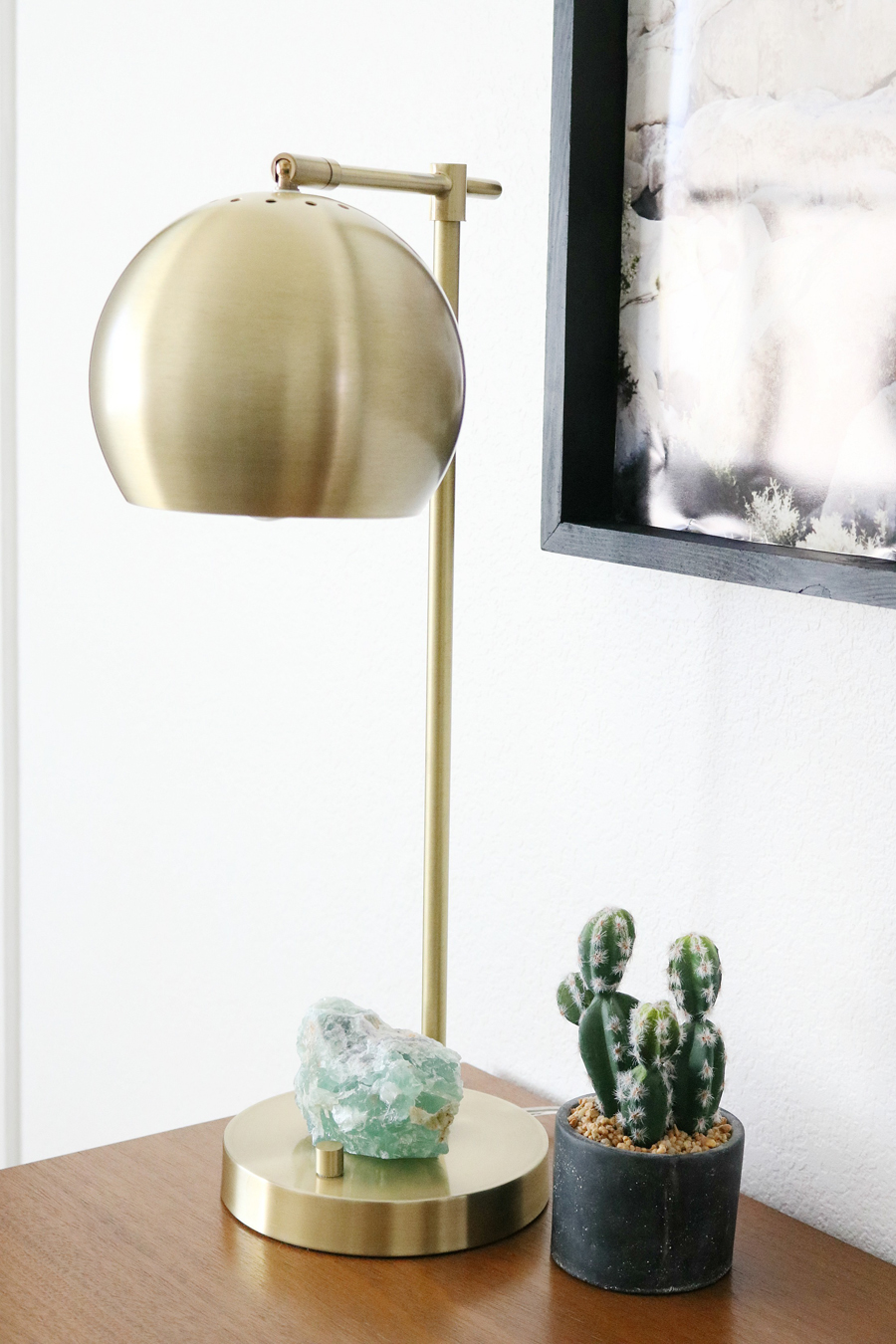 While our temperatures here in Arizona are still super hot, fall weather is hopefully coming soon. I love keeping a chilly house, I'd rather be cold than hot any day of the week. So keeping a stash of comfy and cute throw blankets on hand is a must. I always have a basket of them in our family room, so it's only natural to have a basket with a cute throw in my bedroom too. I found this super soft Better Homes & Gardens Knit Pom-Pom Throw online, it comes in four colors and it's heavenly. Sometimes knit throws can be rough in texture, this one is really soft and it's not super heavy…it's a great weight for chilly fall nights. The pom-poms just make it even better.
I absolutely love how this Mid-Century Boho Inspired Desk and Workspace turned out. If you're looking for even more great decor ideas be sure to check out these posts.
I think my new little work friend Blanca loves it too. She's been perched on top of the desk ever since I put it in our space.