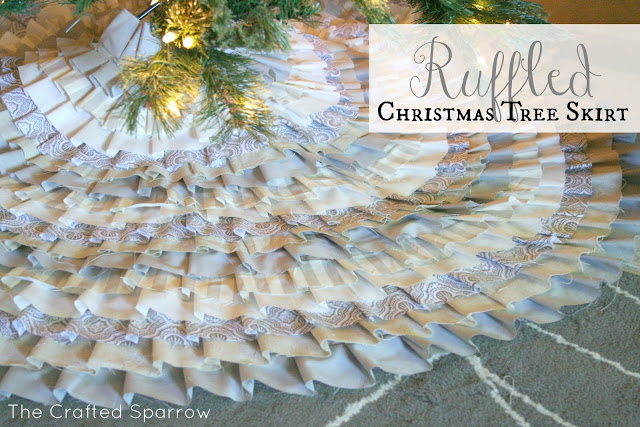 Last year I made a fabulous ruffled tree skirt seen
HERE
, that coordinated with my super fun color palette last year which was Aqua & Red. This year I decided I wanted to stick with neutrals and keep my decor simple and classic. Since I switch my Christmas colors yearly I obviously needed a new tree skirt this year. So I decided to make myself another
Ruffled Christmas Tree Skirt
since I loved the one from last year so much.
My tree skirt from last year was a no sew version, but this year I did decide to switch it up this year and sew it instead of hot gluing it. Not sure if it was the wisest choice, it took me a bit longer to complete than last years. None the less I love how it turned out and now I'm ready to decorate the whole tree.
Supplies:
– Tree skirt to use as your base, either make one out of felt or buy a cheap one.
– Approximately 3 yards of fabric
– Either hot glue or sewing machine
Start by cutting your fabric in to 2.5″ strips, your fabric is typically 45″ wide so your strips should be 2.5 x 45″ long. I used about 5 strips per layer around my skirt. I had some extra but it all depends on how tight you make your ruffles, etc…
You can either pin your ruffles on the skirt and sew them. Or you can take the easier way and hot glue them on creating your ruffles as you go, like my previous skirt seen HERE. If you want to be sure to not have glue marks you can also use a fabric glue stick found in most craft stores.
You basically just sew or glue on all your layers starting at the bottom of the skirt first and working your way up to the smallest part.
I leave my edges raw and unfinished because I like it, but you can choose to sew a hem to all your strips if you like. Otherwise you can choose fabrics that will fray less, for example the muslin I used will fray quite a bit…so if you don't want a lot of fray that's not the fabric for you. Flannels, and thicker cotton prints tend to fray less.
Now you'll have a super frilly beautiful tree skirt that will really add to your beautiful tree.