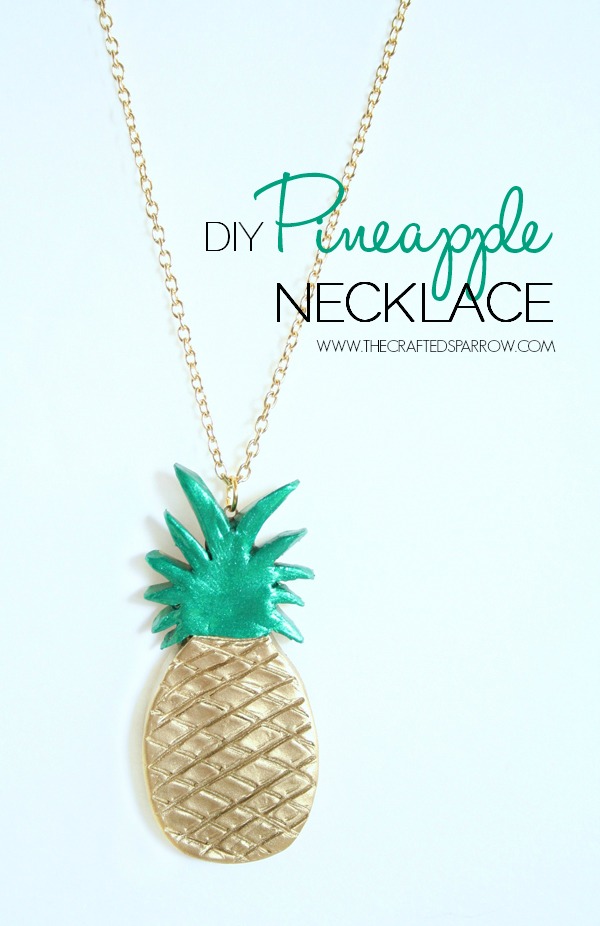 Have you noticed the pineapple trend that is popping up everywhere?  From clothing to home decor it seems to be the fruit choice of the year.  I've seen some of my friends sporting super cute tanks adorned in gold pineapples lately and that got me thinking.  Why not use one of my favorite jewelry craft tools to make a DIY Pineapple Necklace!?!  And so I did.
This necklace like most of my projects is pretty simple and easy to make with just a few supplies.
Supplies:
–  Sculpey clay (buried treasure gold)
–  Acrylic clay rolling pin
–  Xacto knife
–  Pencil (optional)
–  Toothpick
–  Gold spray paint (Rustoleum bright metallics gold)
–  DecoArt dazzling metallics paint (crystal green)
–  Clean never used baking tray (dollar store) or parchment paper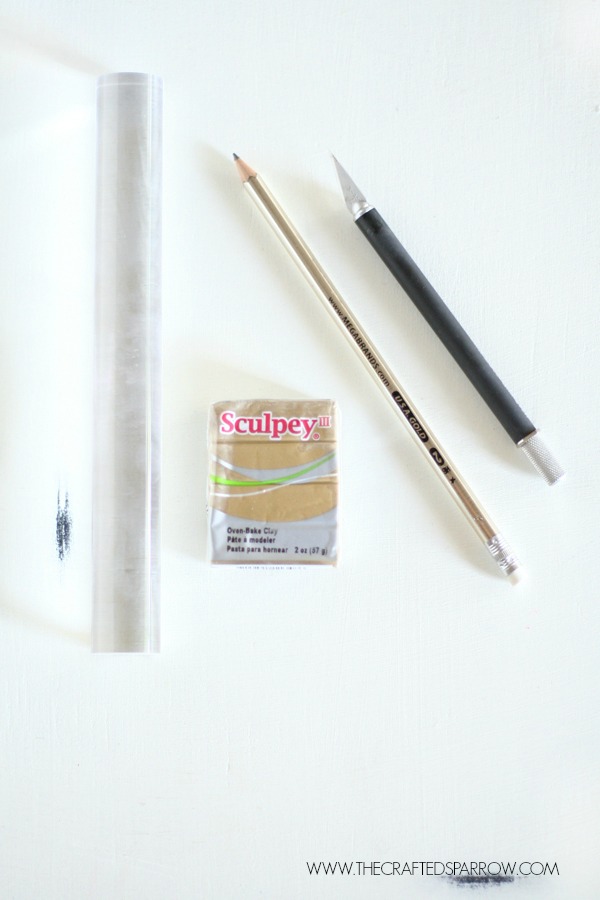 Start by kneading then rolling the Sculpey clay in to a ball that is about 2″ in diameter (probably a little more than half the package of clay).  I work on a clean work surface I find that thin plastic flexible cutting boards from the dollar store are best, plus they are small in size which makes storing them easy.
Using your acrylic clay rolling pin, roll out the clay to about 4mm thick.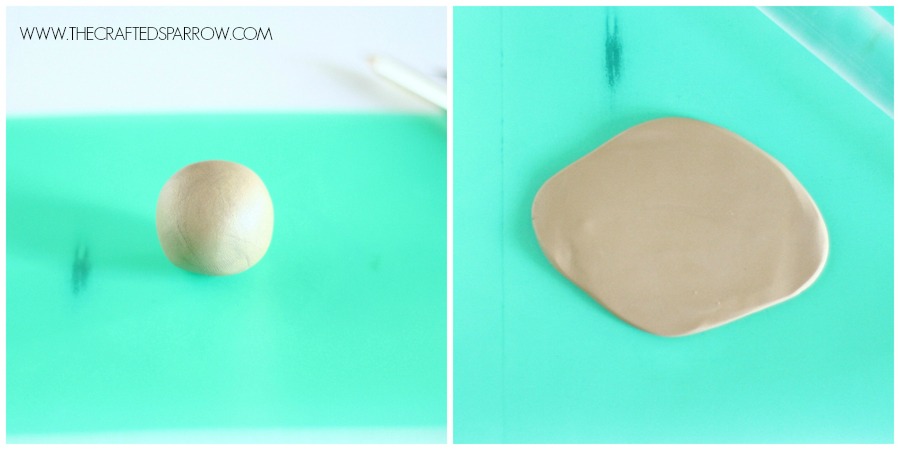 Using a pencil or toothpick draw – pressing gently – the outline of a pineapple.  If you don't feel confident enough to freehand it you can print out a clipart image and trim it, then trace with the toothpick on to the clay.
Use the xacto knife to carefully cut out your design.
If for some reason you make a mistake at any point before backing just simply roll all your clay back in to a ball and start over.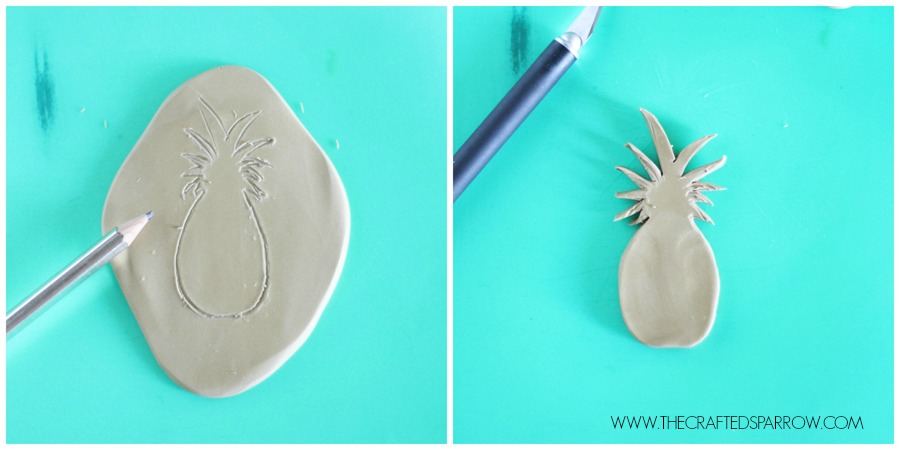 Once the design is cut use the toothpick to etch in the details gently.  You can also use the toothpick to smooth the edges around the leaves.
Gently lift the clay pineapple up either with your hands or a small clean cookie spatula.  Then use your fingers to smooth all the edges and make sure everything looks good.
Place on a clean never used small cookie tray or parchment paper in a pre-heated oven set to 275* (or read clay package and bake accordingly) for 15-20 minutes.  Let it cool completely.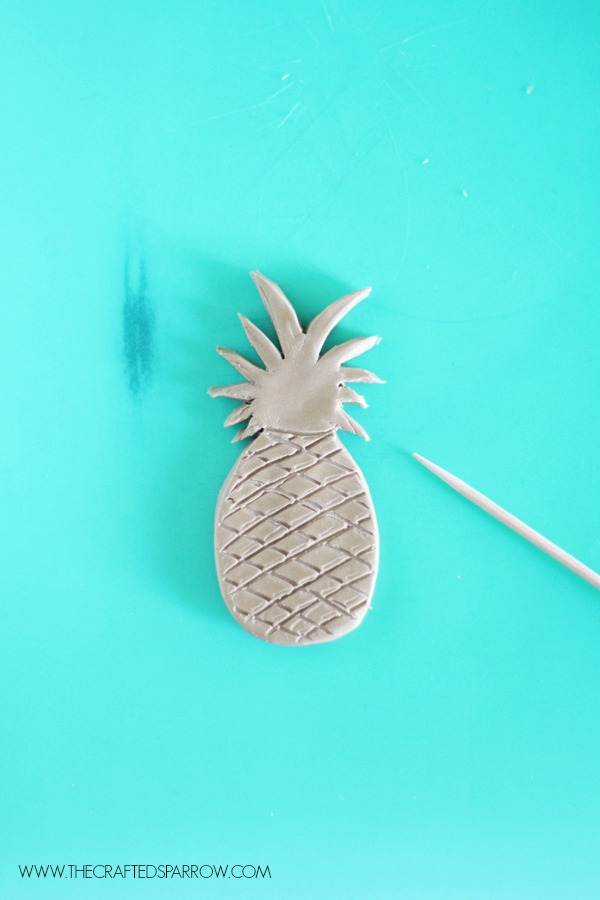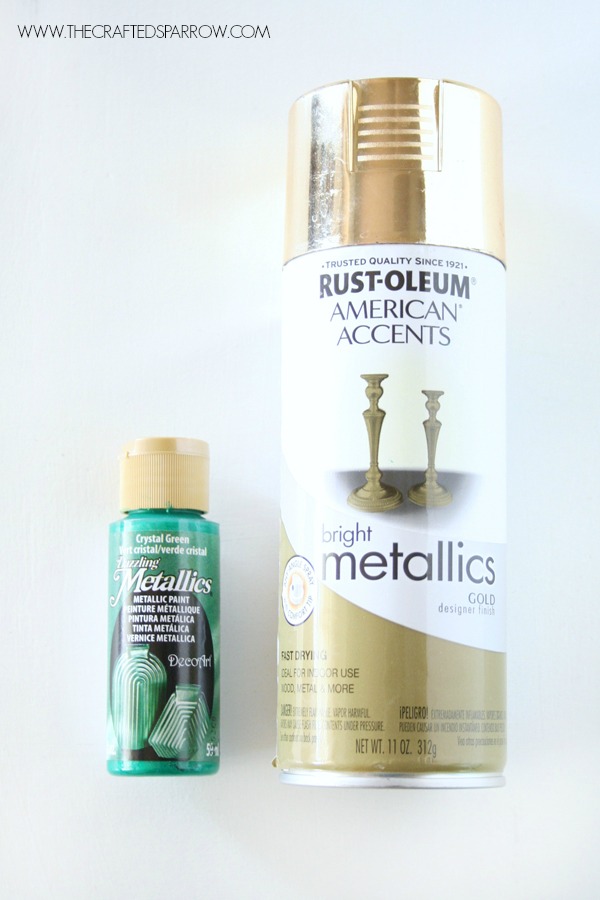 Give each side of the pineapple a couple of light coats of gold spray paint.
When dry use the dazzling metallics green paint to paint your leaves with a small paint brush.  I only painted the front of my design.
Once dry you can do a couple of things to seal it.  Either leave it alone and wear it as is, or use a clear spray sealer from the hardware store (found in the spray paint section, choose a gloss).  Or you can use a brush on version in a gloss, even a clear nail polish will work.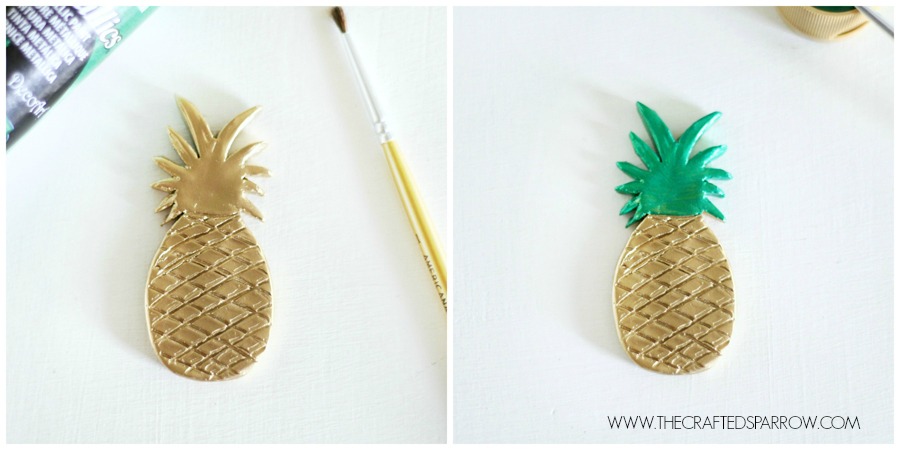 The last step is to glue a small flat jewelry bale, you can find these on Etsy or in craft stores.  If you can't find them simply use a paperclip or the toothpick to create a small hole for a larger jumpring before baking.
Adhere the small bale with E6000 and let dry for 24 hours.
Add your chain and a jumpring and you are done.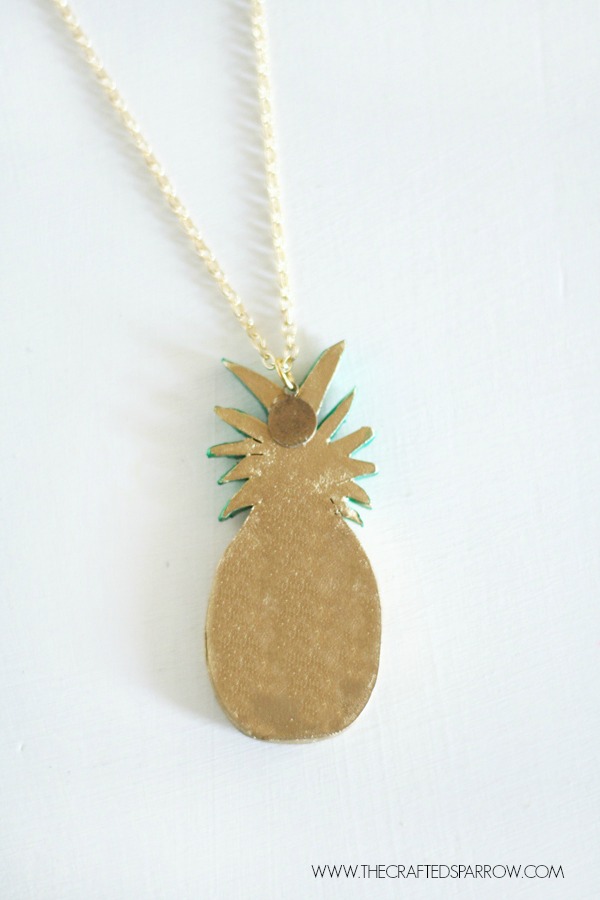 What do you think?  Would you wear it?  I kind of love it.  It's a little piece of fun for your wardrobe.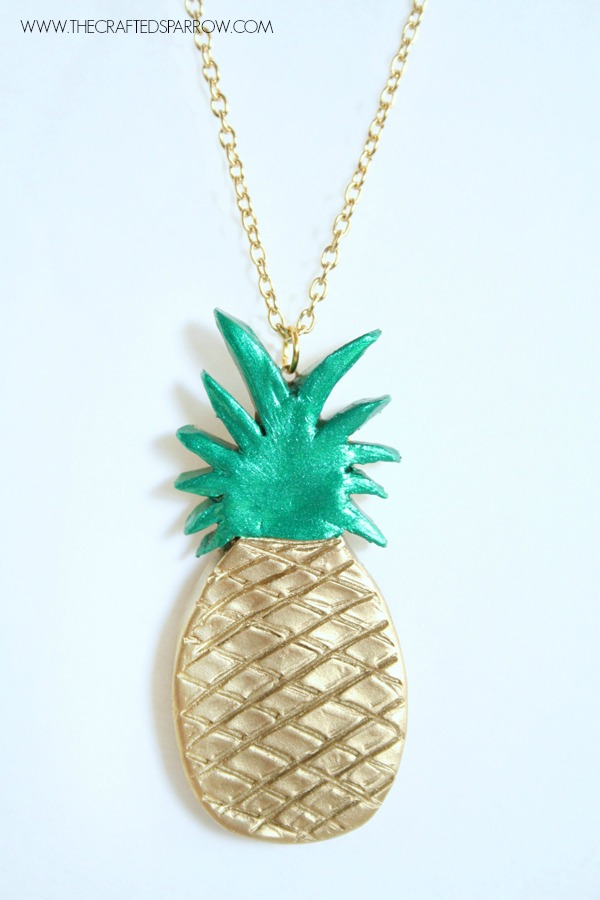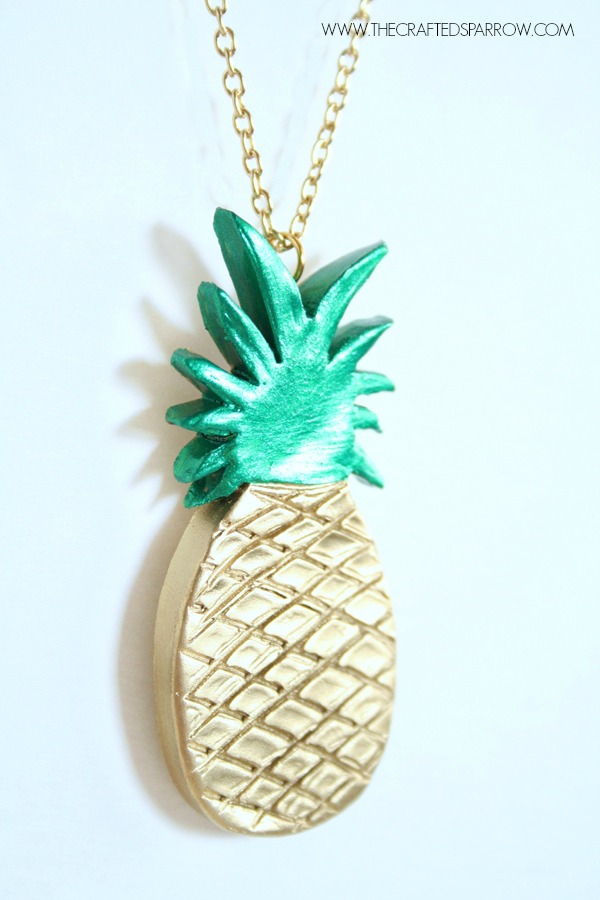 Here are a few other jewelry ideas for you to make…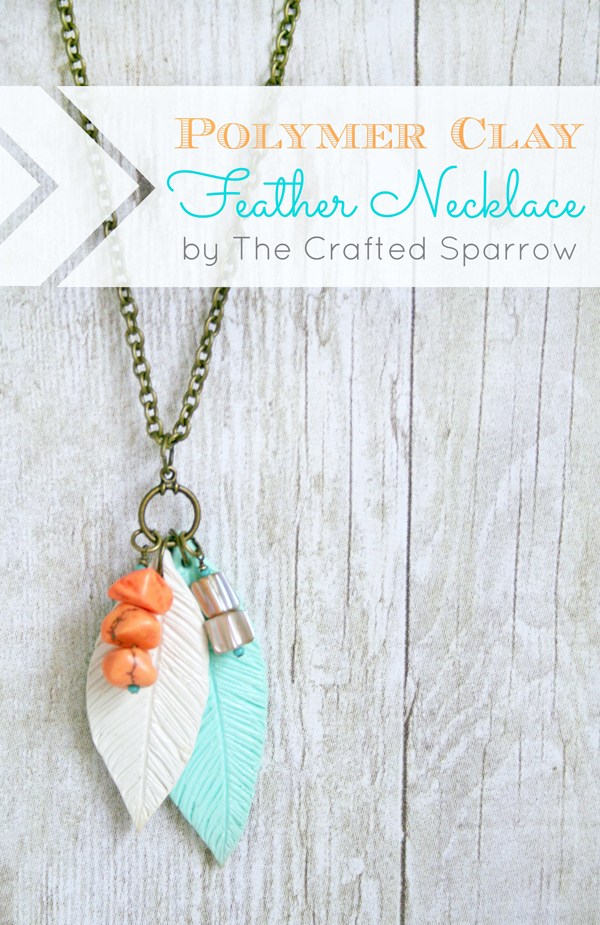 Polymer Clay Feather Necklace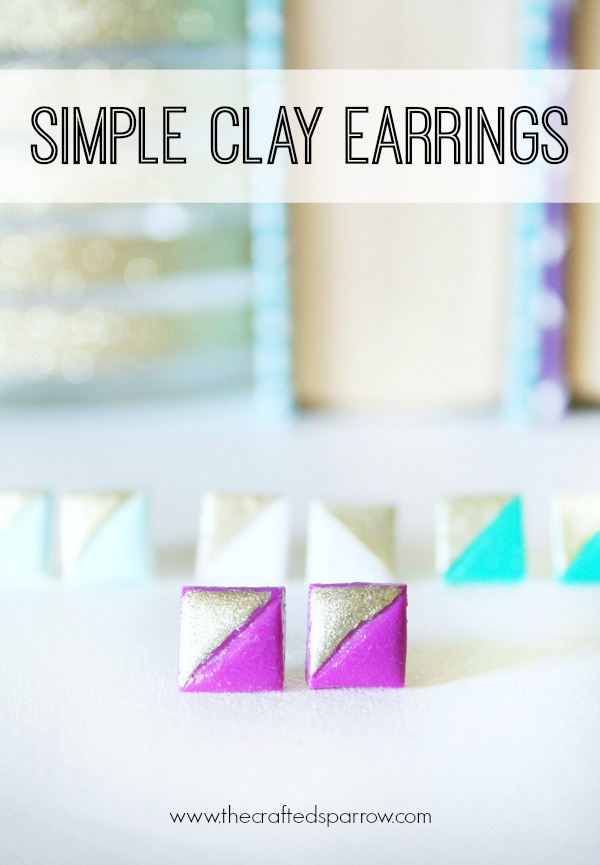 Simple Clay Earrings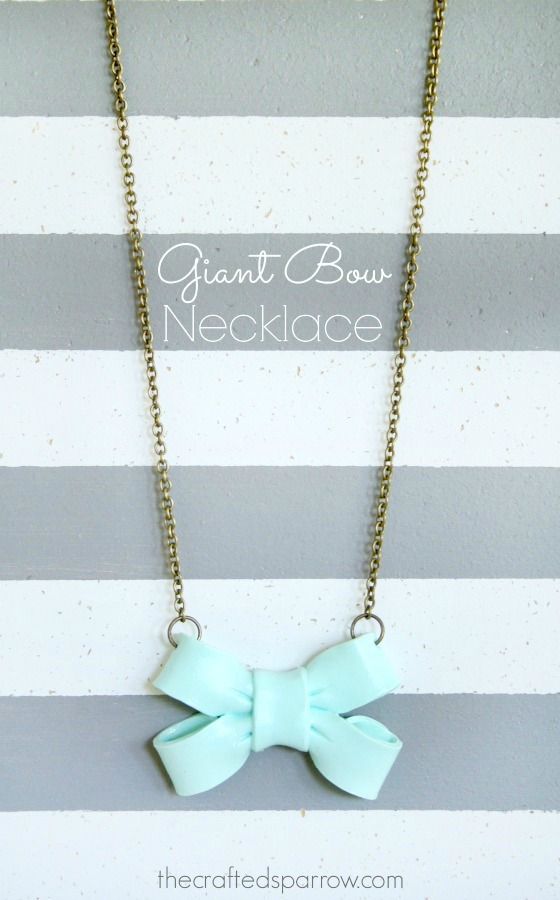 Giant Bow Necklace