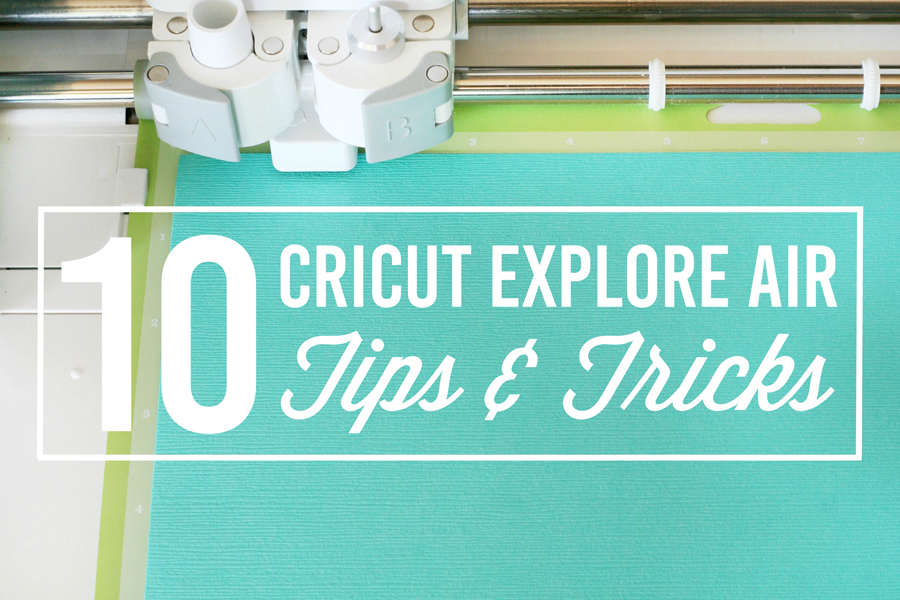 Over the past year or so I've really discovered my taste and design choices have changed from a few years ago. This has led to huge design challenges in my home decor. Since I don't have the budget to just toss it all and start over I've had to get creative. This means lots of DIY'd projects, and recycling current decor to make it new again. This year I've been able to create some pieces I really love, whether it's a fun pillow for my bedroom or some unique succulent planters they've all been either free using what I had on hand or they were extremely inexpensive to create. The Cricut Explore Air has really helped me to think outside the box this year, saving me money on decor…and allowing me to experiment with ideas that would have taken twice as long to create by hand previously. Today I thought I'd share these 10 Cricut Explore Air Tips & Tricks that I use all the time, I hope they will help save you time and money when creating amazing projects with your Cricut Explore Air.
TIP #1 – Uploading Your Own Images
One of my favorite things about the Cricut Explore Air is the ability to cut my own files. You can upload any SVG, PNG, JPG files easily and transform them into a cuttable image for FREE.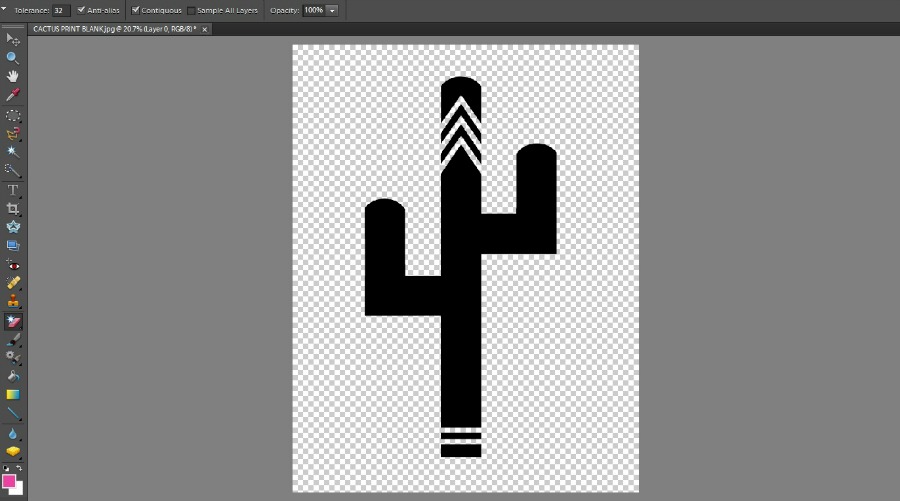 You can create custom images in programs like Photoshop, or PicMonkey.com – when creating the images you can choose either a white or transparent background. The transparent background will be less work in the long run since it means you won't have to weed anything when you upload your image into Design Space. Just be sure to save all your personal images as PNG, although JPG also work if you found an image online that you want to use.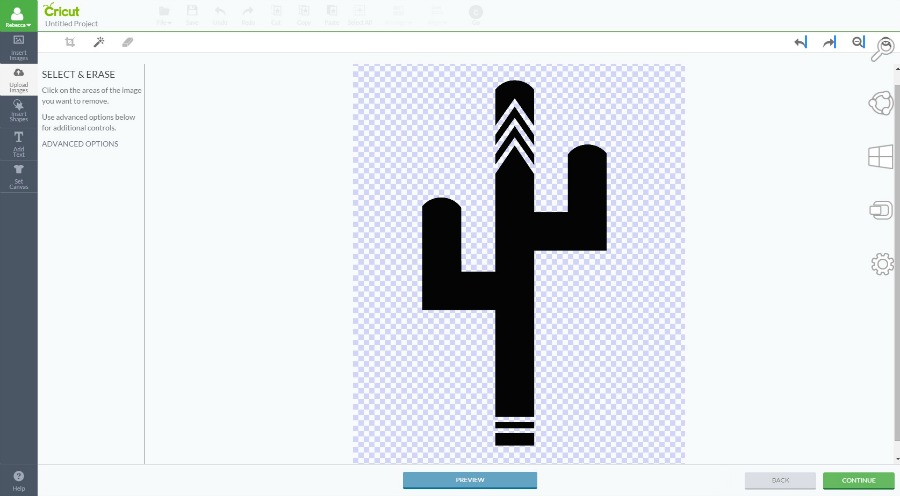 TIP #2 – Test Your Materials First
A couple of months ago I shared THIS fun post about all the fun things the Cricut Explore Air can cut. It's always a great idea to test out the material you want to work with first, that way you can execute the project without running into a problem. Especially when it comes to materials like felt, fabric, or wood.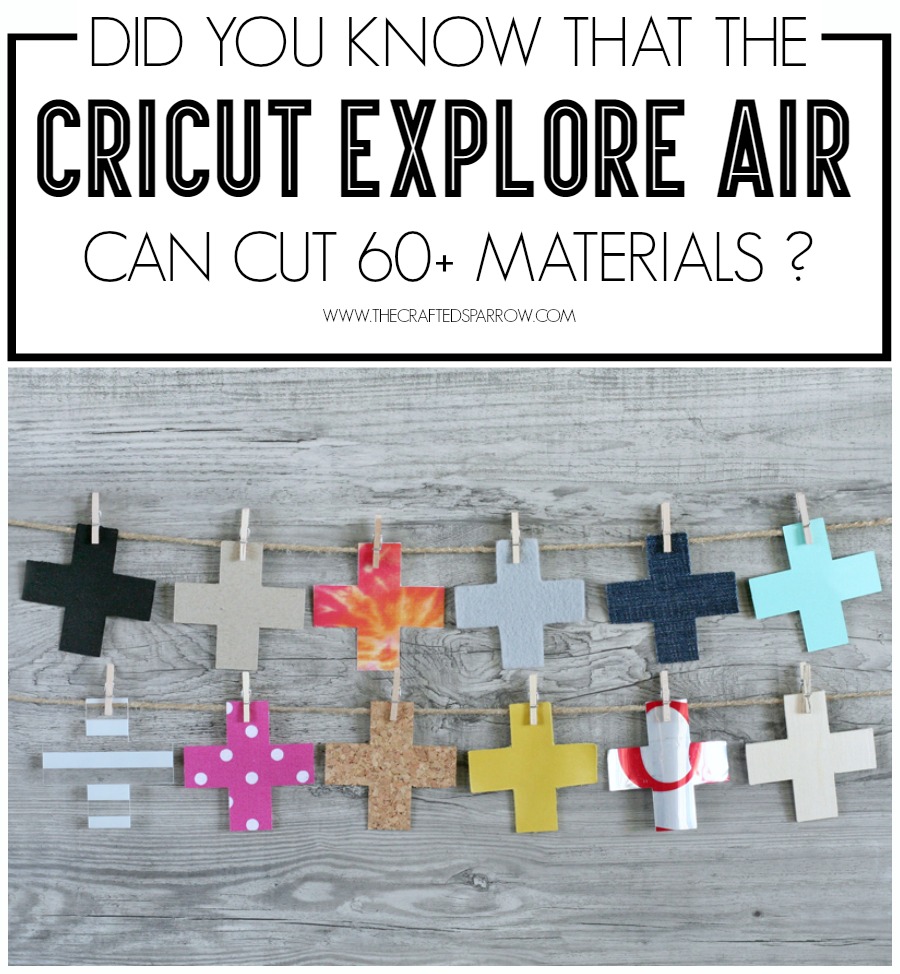 Cricut Explore Air: What Can It Cut?
TIP #3 – Writing With Your Cricut
Cricut now offers a variety of color choices for their pens that fit perfectly into the pen holders on the machines that you can purchase online or in stores where Cricut is sold.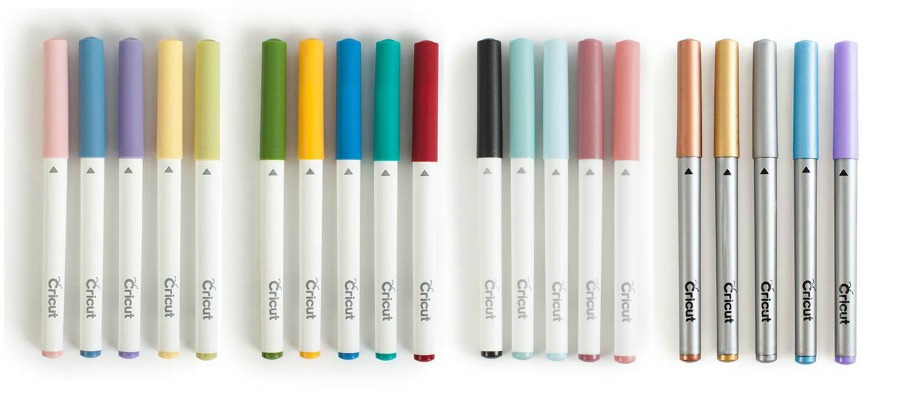 Although, sometimes you might just want a different color option or size of pen tip when you're creating a project. Here are few different options that fit in the Cricut Explore Air pen holders, the info is below listed from left to right – top to bottom.

– American Crafts Galaxy Markers
– American Crafts Slick Writers
– American Crafts Glitter Markers
– American Crafts Precision Pens
– Recollections Markers
– Pilot Precise V5 Pens
– Crayola or Cra-Z-Art Markers, thin tips
TIP #4 – No Curling
Mandy from Vintage Revivals reminded us all of a great tip last year. Instead of peeling your paper away from the cutting mat, peel the cutting mat away from the paper. Rolling the mat backwards away from the material your cutting (especially paper) will result in a flat and nicely cut project. If you don't follow this tip you will be left with a curled mess.
TIP #5 – Keeping Your Mats Clean
I go through cutting mats like crazy, so to make them last just a bit longer it helps to clean them a bit. One way is to use a lint roller to clean the mat after each use. First, be sure you've removed all the little paper pieces that can get left behind if you've cut something detailed. Then I like to use a lint roller to go over the mat, especially if glittered cardstock was previously cut on it. This helps to remove some, not all – but some of the dirt and lint that can build up on the mats. Between each use, I am sure to replace the plastic protective sheet that came with it. Especially since my house has pets. You can also wash your mats. With lukewarm water and mild dish soap gently massage the mat in a circular motion and then rinse. Let it air dry.
If you're in a bind and need to cut something like vinyl and your mat isn't sticky enough to hold it in place you can use masking tape or painters tape to hold it in place on your mat. Just tape small pieces along the outer edges of the mat and your vinyl.
TIP #6 – Cut Custom Stencils For Fabric
Did you know that Freezer Paper is amazing? Well it is, and I've been using it for years to create custom stencils for fabric. Here are just a couple of the shirts I've created using it: DIY Geek Inspired Shirt, DIY Halloween Shirt, DIY Boy's Valentine's Shirt.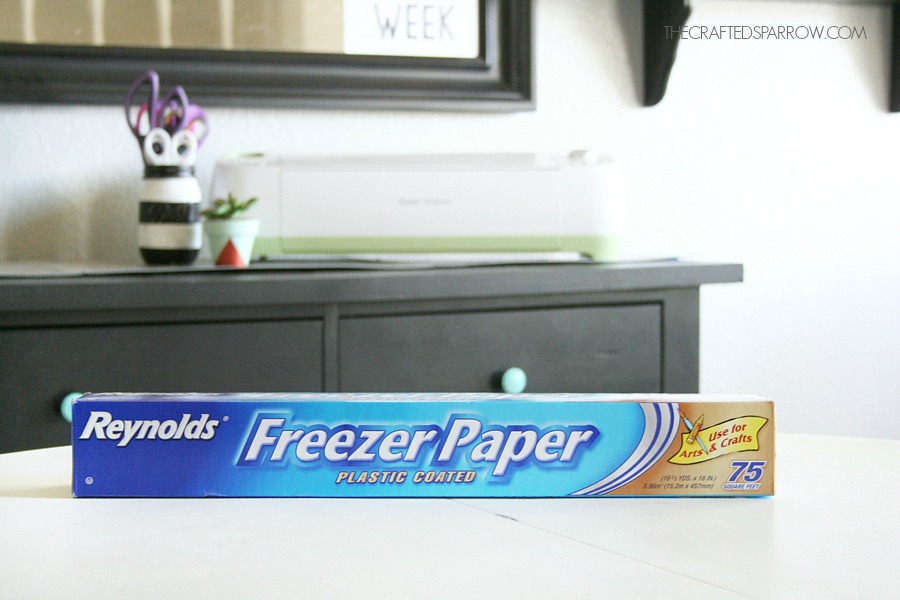 My favorite part of using this method is that I can use it with the Cricut Explore Air. I used to have to use an Xacto knife to cut my designs years ago, and now it's a piece of cake with the explore. I just upload or design whatever I want in Design Space and cut.
TIP #7 – Keep Your Blades Organized and Separate
Depending on what materials you're cutting for a project I always suggest using different blades. Yes there are deep cut and regular cut blades that is not what I'm talking about. I keep separate blades for cutting vinyl, fabric, and paper primarily. I keep them organized by painting the tips of each plastic blade cap that comes with each blade with a dot of nail polish. It's just like a pair of fabric shears, you wouldn't cut paper with them…would you? So keep them sharp and awesome by keeping them separate. You can make a small chart of what blades are for what material, just tape it to the inside of your blade storage compartment. Each time you use the blade just remember to replace the right plastic cap so they don't get mixed up.
TIP #8 – Complete Cutting Guide
Cricut.com has a complete Cutting Guide of materials which you can find HERE. To break it down even further for your convenience Scrap Me Quick Designs put together a great alphabetical list of all the cut materials and settings needed. This is perfect for quick reference. Go download a copy HERE.
TIP #9 – Custom Vinyl Colors
Did you know that you could spray paint your vinyl if you need a color on the fly? Let's say you have an abundance of pink vinyl and you would really love some awesome gold vinyl for a fun project. Grab some Rustoleum Metallics Gold spray paint and give your un-cut vinyl a quick spray. Once it's dry you can cut it like normal.
TIP #10 – Finding Awesome Fonts
Design Space recognizes and uses your system fonts as well as their own. So where are some great places to download free fonts? Here are my faves:
– dafont.com
– 1001freefonts.com
– fontsquirrel.com
Lastly, Facebook is full of Cricut groups. All willing to help you learn the in's and out's of your Cricut Explore Air. I suggest joining at least one group, anytime you have a problem or question they are super eager to help. Here are just a couple – of course, I recommend following the first one listed no matter what:
– Cricut – The Official Page
– Let's Learn Cricut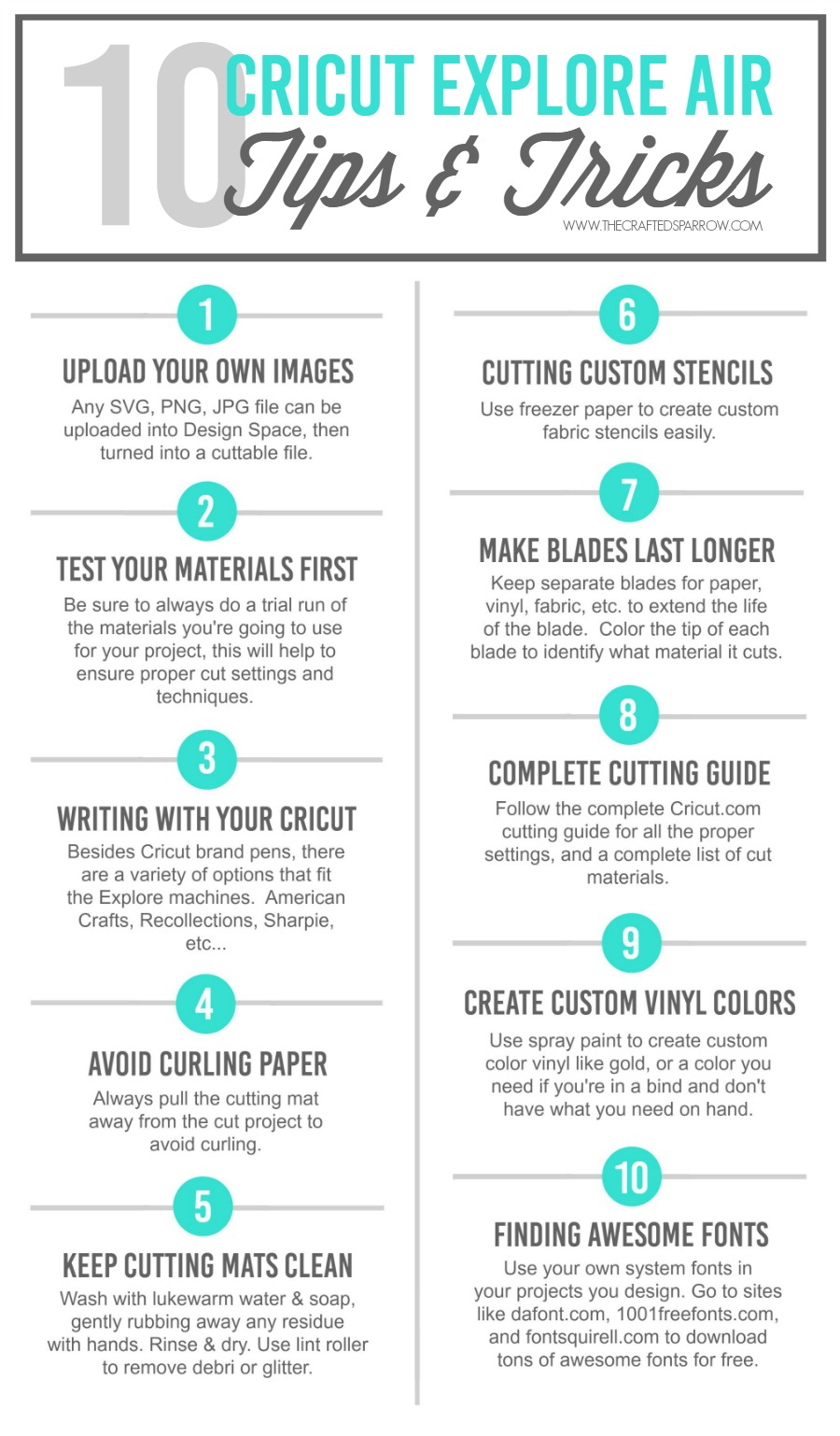 Want to learn more about the Cricut Explore Air? Check out these posts!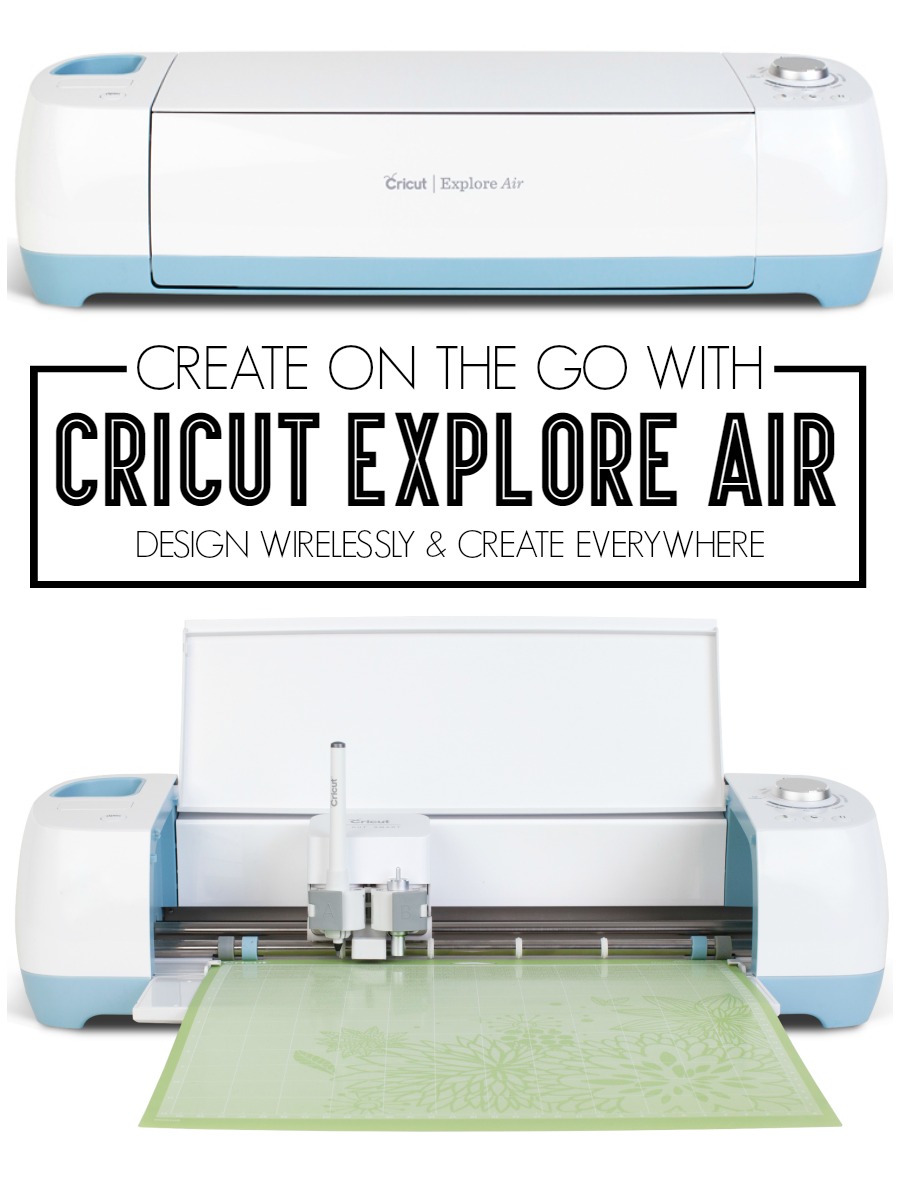 Create On The Go With Cricut Explore Air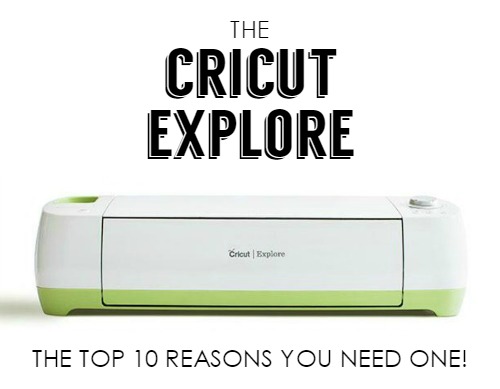 Top 10 Reasons You Need To Own The Cricut Explore
Disclosure | This post is sponsored by Cricut. All ideas and opinions are 100% my own!