DISCLOSURE | This post is sponsored on behalf of Floracraft® Make It: Fun Crafts®. All opinions and ideas are 100% my own. This post may also contain affiliate links.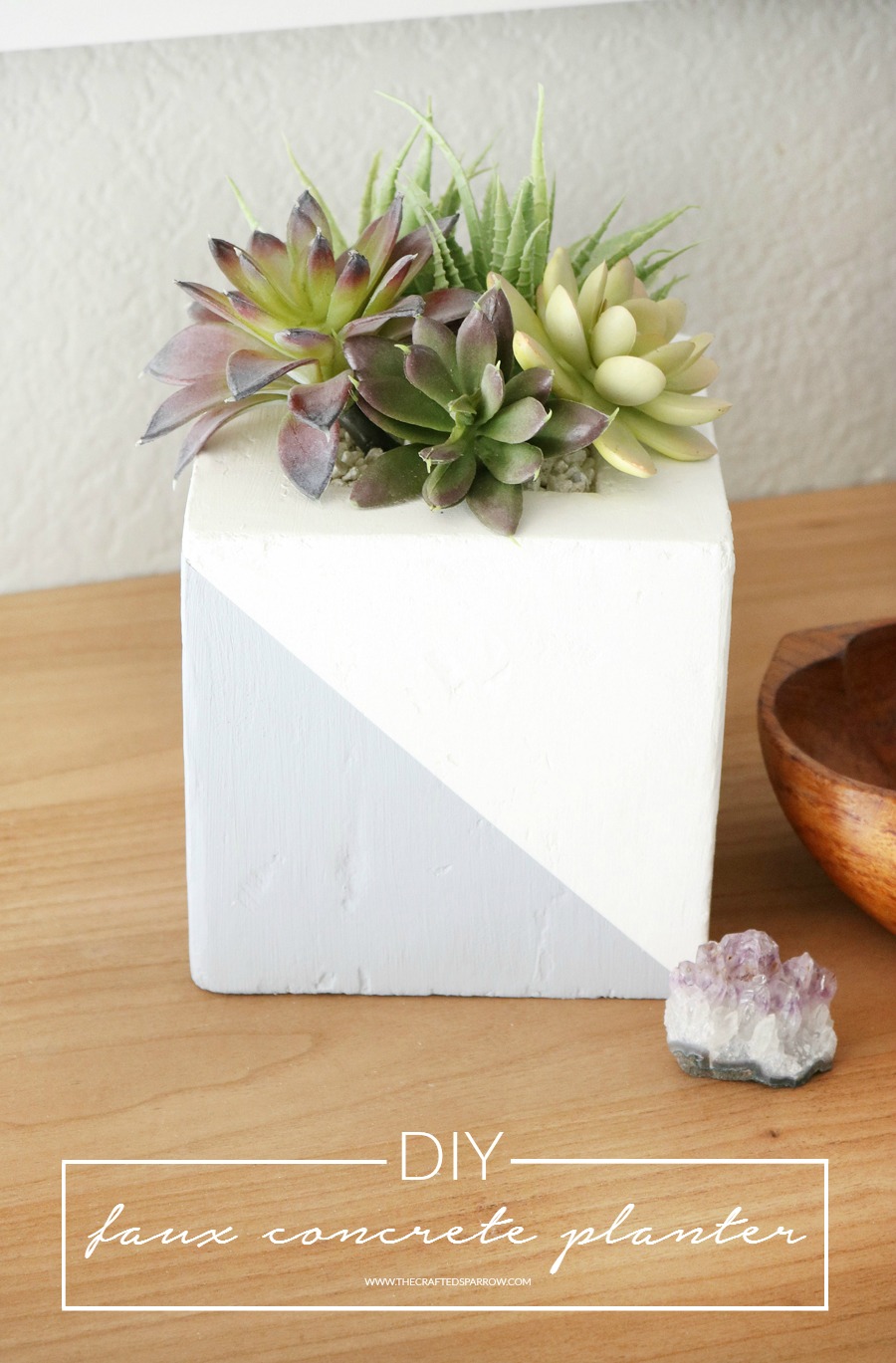 You guys are well aware of my love for succulents, as well as my love for creating inexpensive home decor right?! I seriously love creating decor out of items I can upcycle or out of unexpected things like styrofoam for example. Today I'm sharing this DIY Faux Concrete Planter, and yes it's totally made out of styrofoam! This month Make It: Fun Crafts® challenge was to create a project using their foam cubes, as soon as I heard the assignment I knew exactly what I wanted to do.
Supplies:
Make It: Fun Crafts® 5″ Foam Cube
Make It: Fun Crafts® Smooth Finish
Make It: Fun® Foam Saw
Floracraft® Faux Succulents
DecoArt Americana Acrylic Paint, Grey Sky
DecoArt Americana Acrylic Paint, Snow (Titanium) White
Small Putty Knife or Popsicle Stick
Sandpaper or Sanding Block
Foam Brushes
Painters Tape
Ruler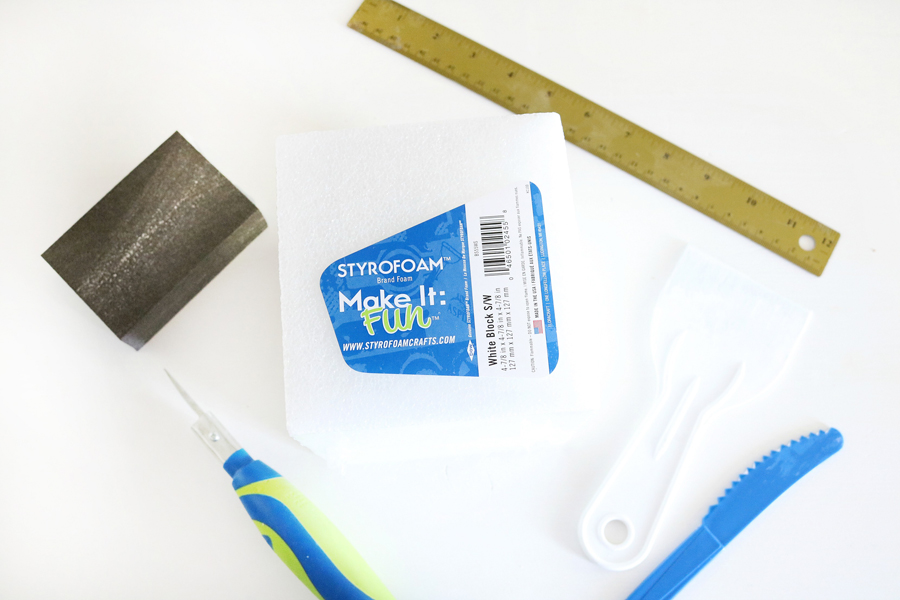 To create the planter you will need to cut out the center portion of your cube. Do this by using a ruler to measure equal portions on all four sides.
Then using your foam saw you can cut the center portion of the foam out. I only removed about 3″ worth of foam so the center of my cube was deep enough to place succulents inside with some gravel.
It was helpful to also use a spoon or something to help scoop the foam out of the center.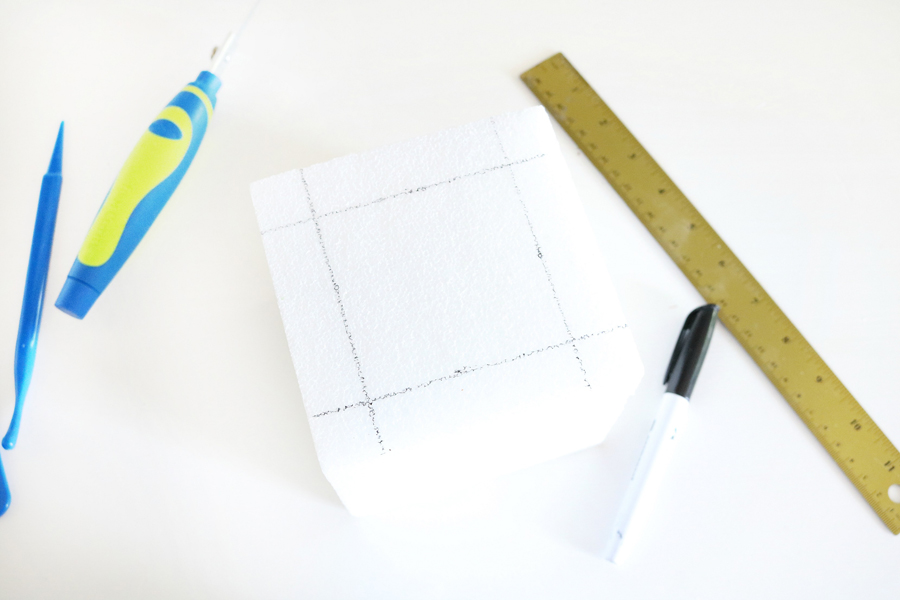 Next, cover your entire foam cube with smooth finish. This will create a smooth concrete look for the planter as well as create a paintable surface. Apply the smooth coat using a plastic putty knife or large popsicle stick.
Apply each coat and allow it to dry all the way before applying the next. I only needed two coats for this project. Follow package instructions.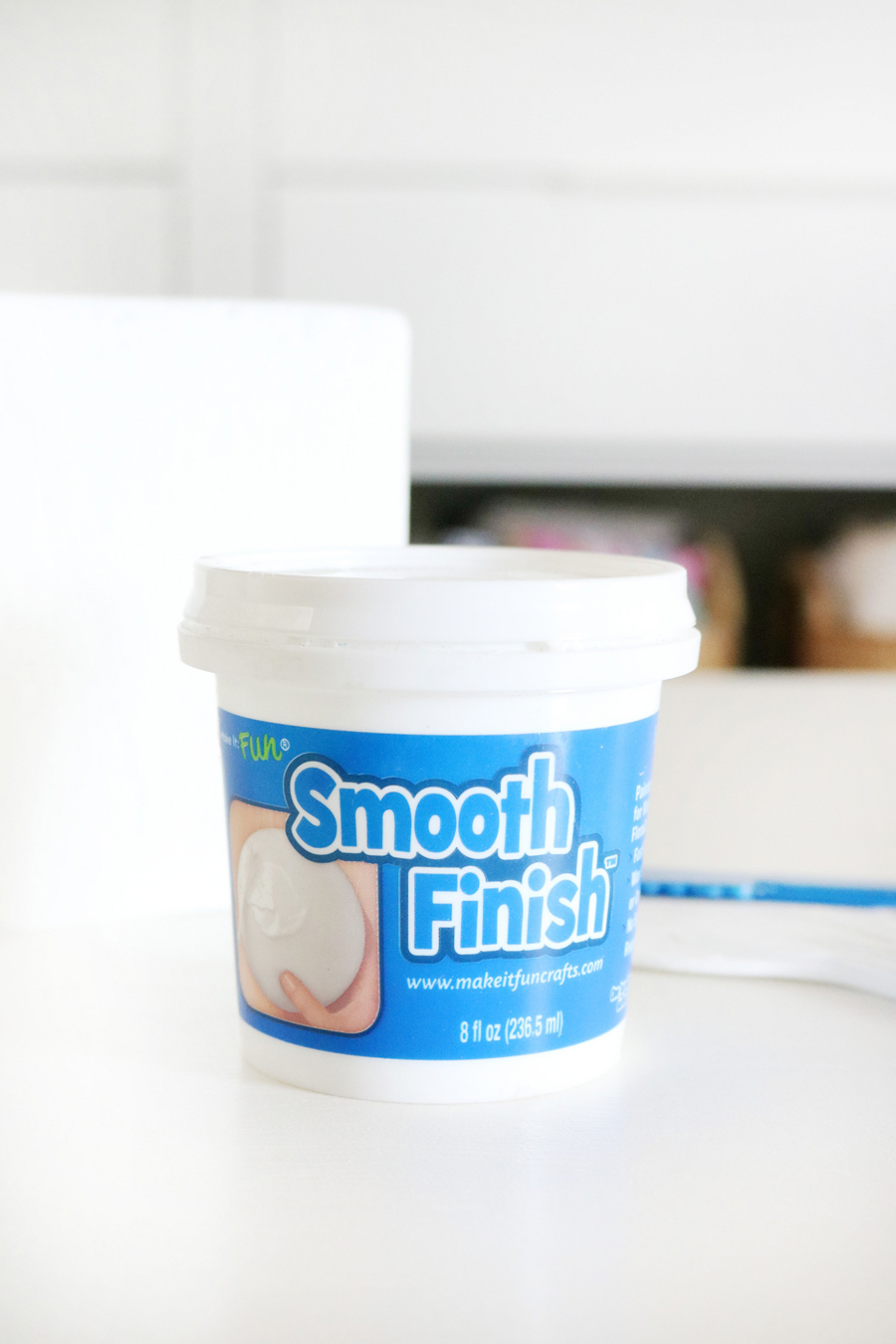 Once the smooth finish is dry completely you can sand it gently until you get the desired texture with sandpaper or a sanding block. It's okay to have a few blemishes or imperfections in the finish since concrete tends to have air bubbles and the occasion blemish on most planters.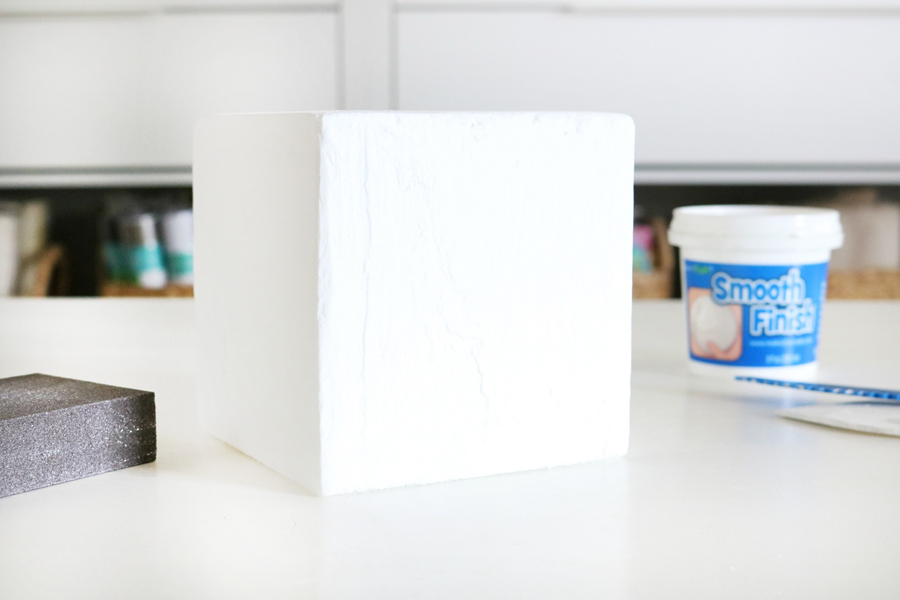 I then painted the entire cube with white acrylic paint.
Using painters tape I created a geometric diagonal design on the planter and painted it with the DecoArt grey sky paint. I did this on all four sides. Once dry remove painters tape very slowly so you don't remove any smooth coat.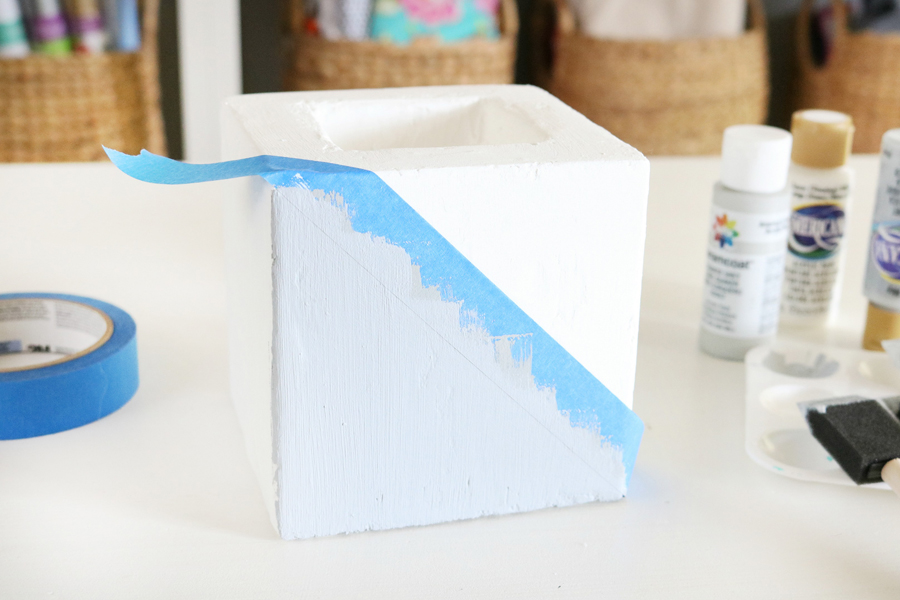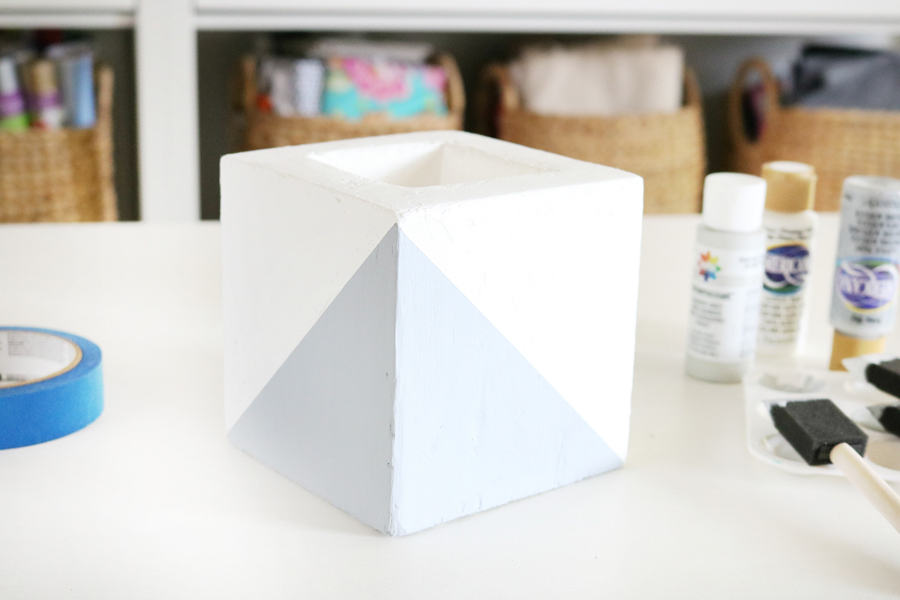 Fill the planter with small gravel and succulents and you're done! I love the Make It: Fun Crafts® succulents, they are amazing quality and so pretty. I have them all over my house since I can't seem to keep the real ones alive.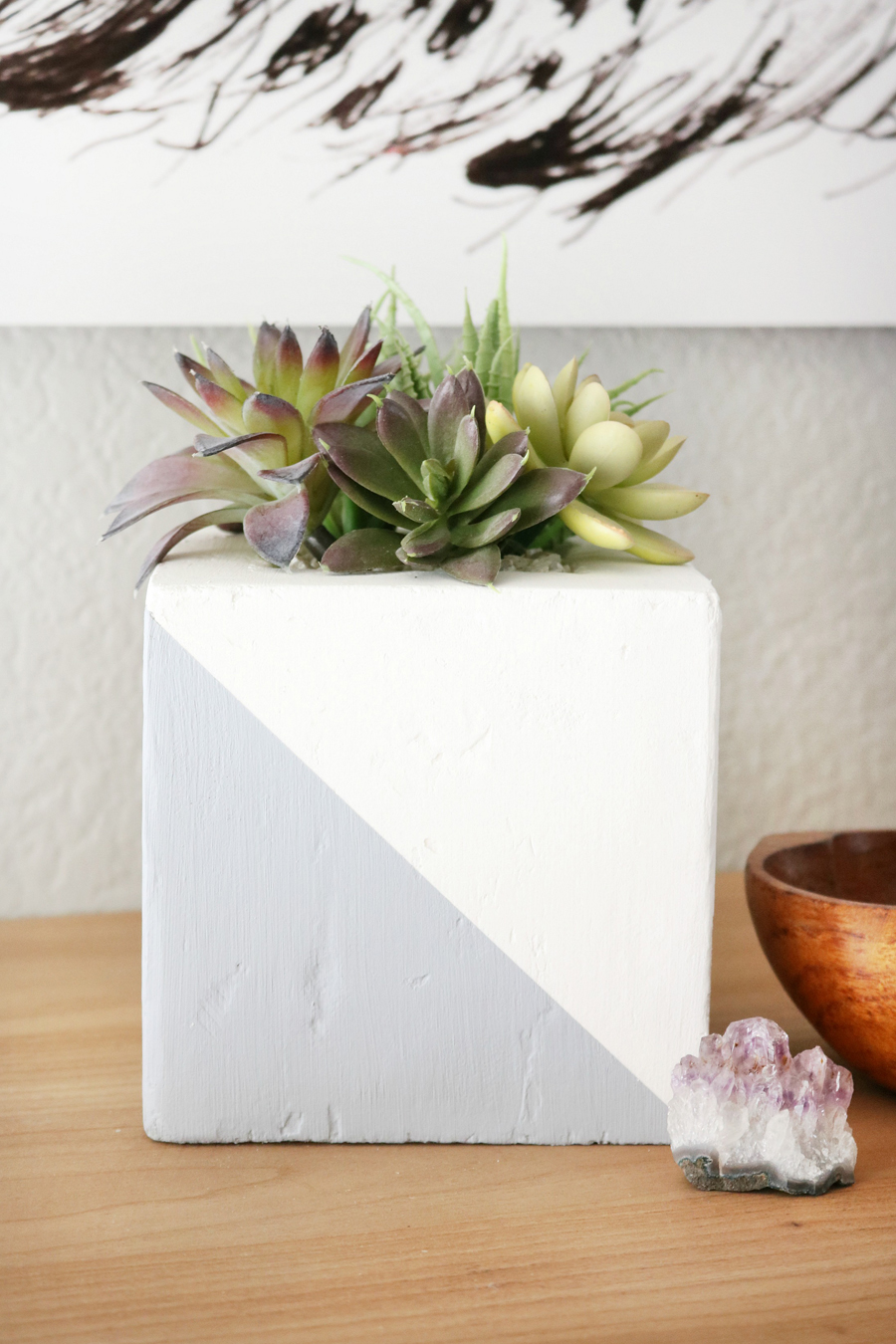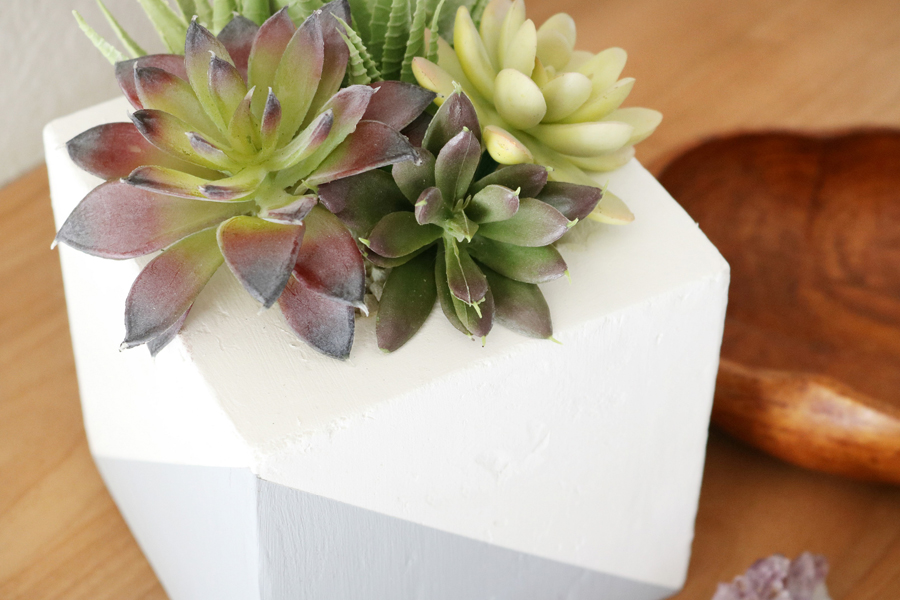 Cute right?! Best part is it weighs like nothing and it's so easy to move around whenever I want to switch up my decor. I actually have a few more versions planned in different shapes to add to this one.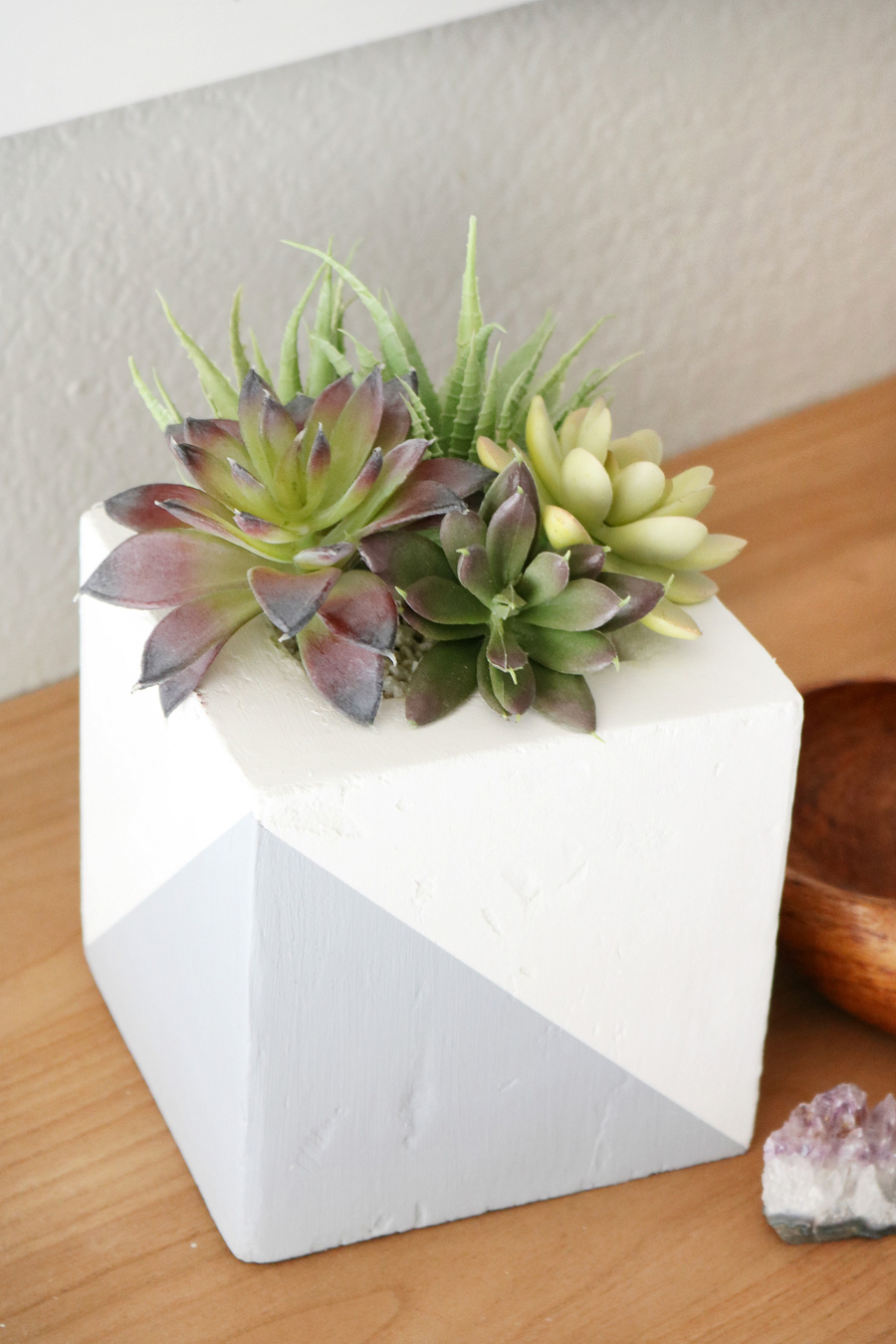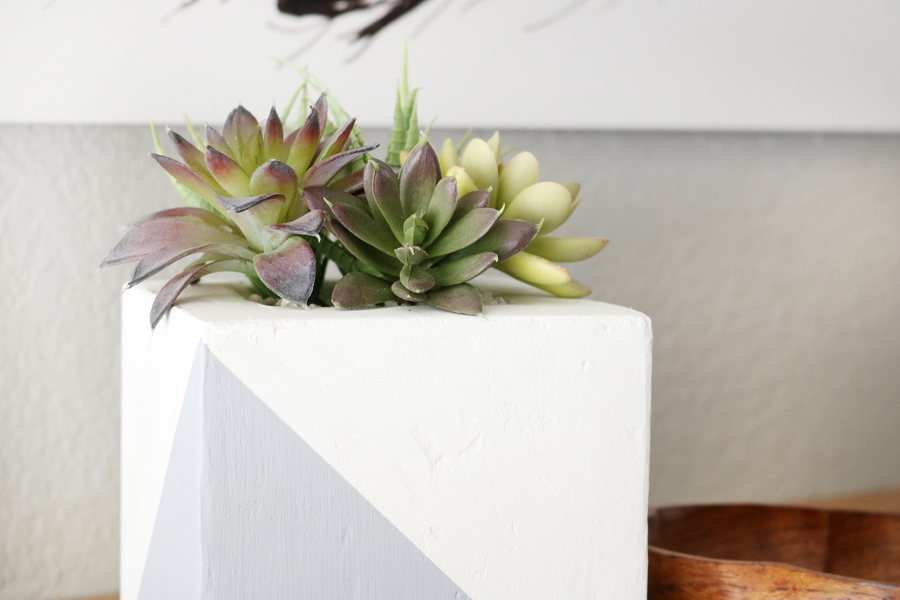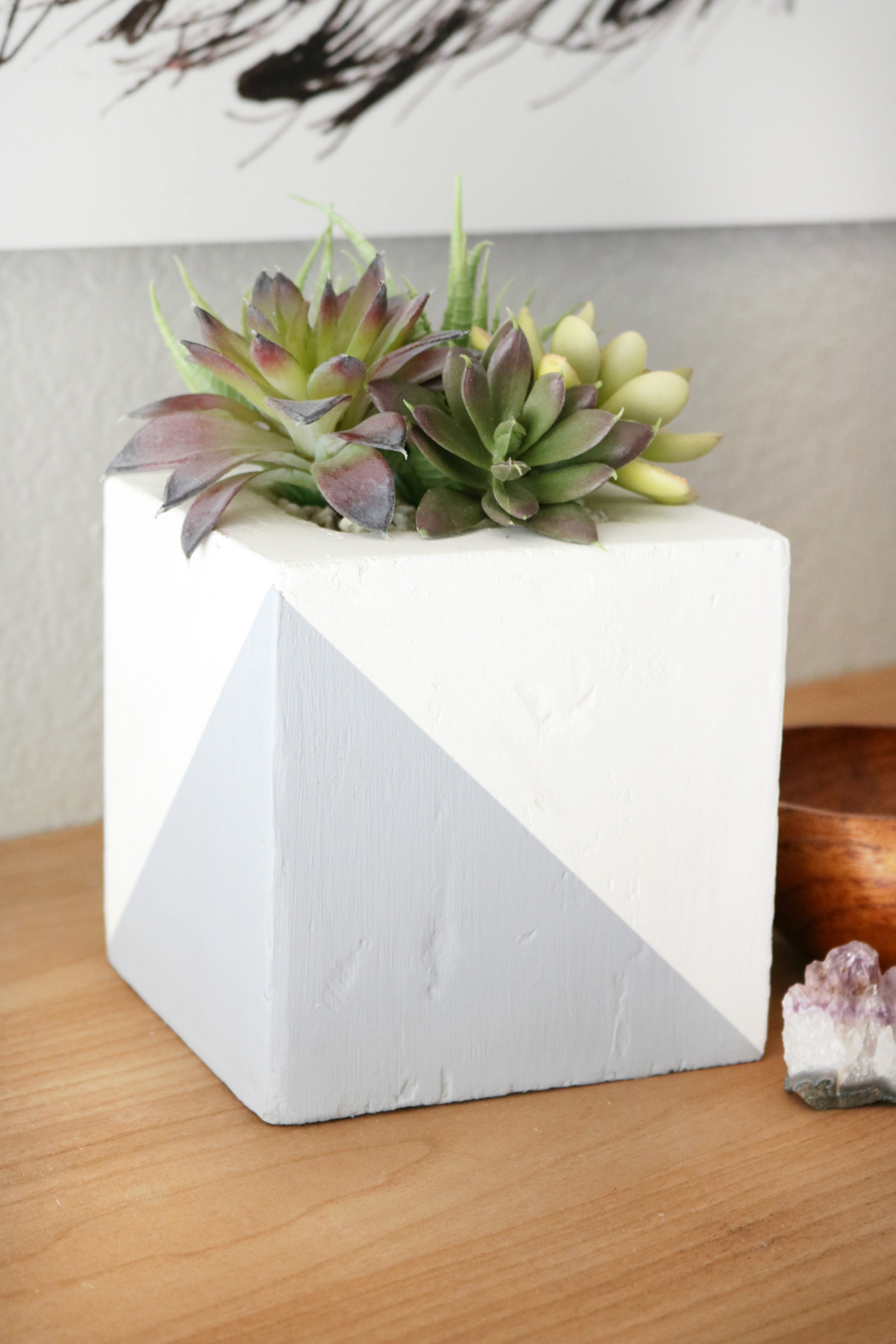 Be sure to check out these other ideas using foam if you loved this project!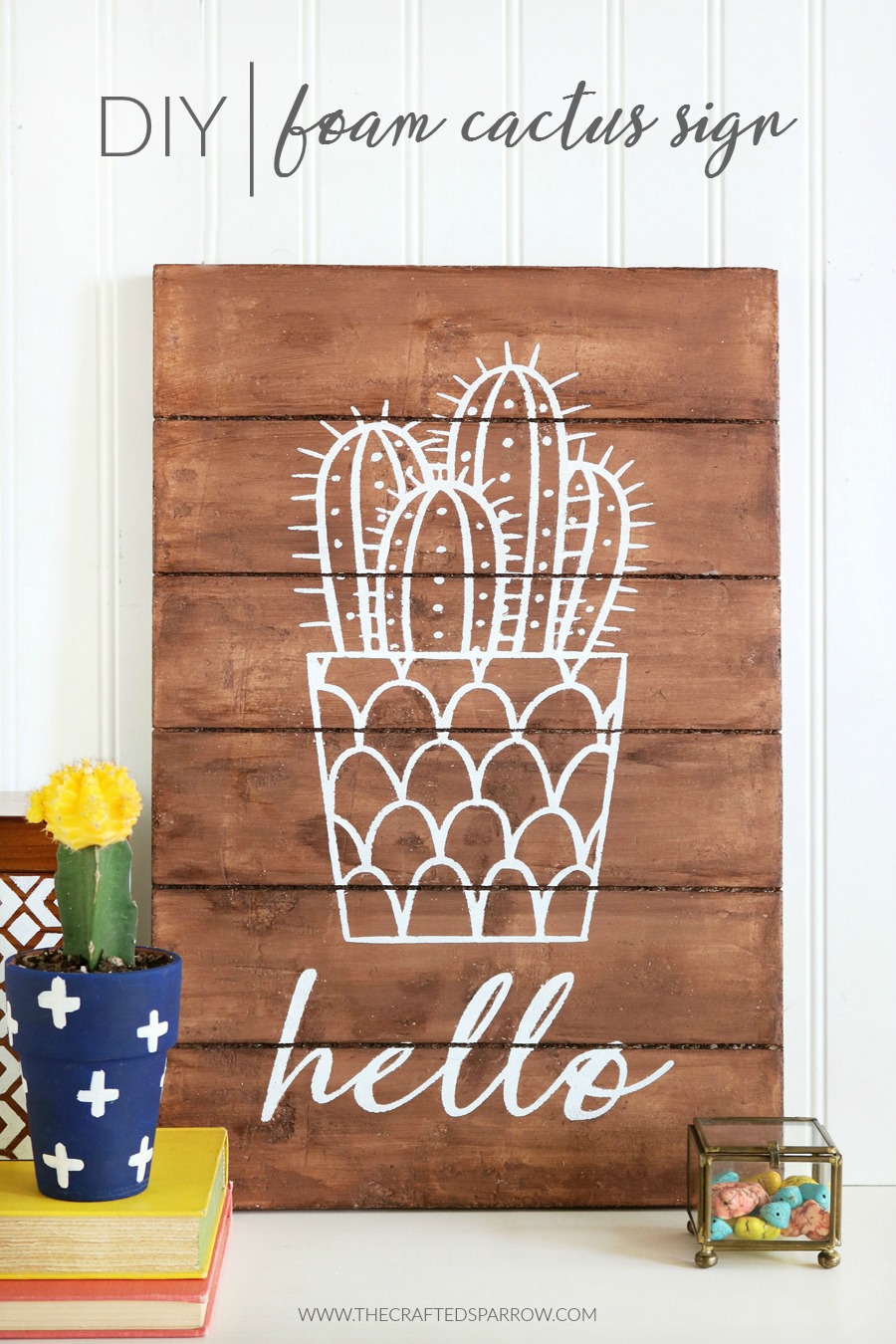 DIY Foam Cactus Sign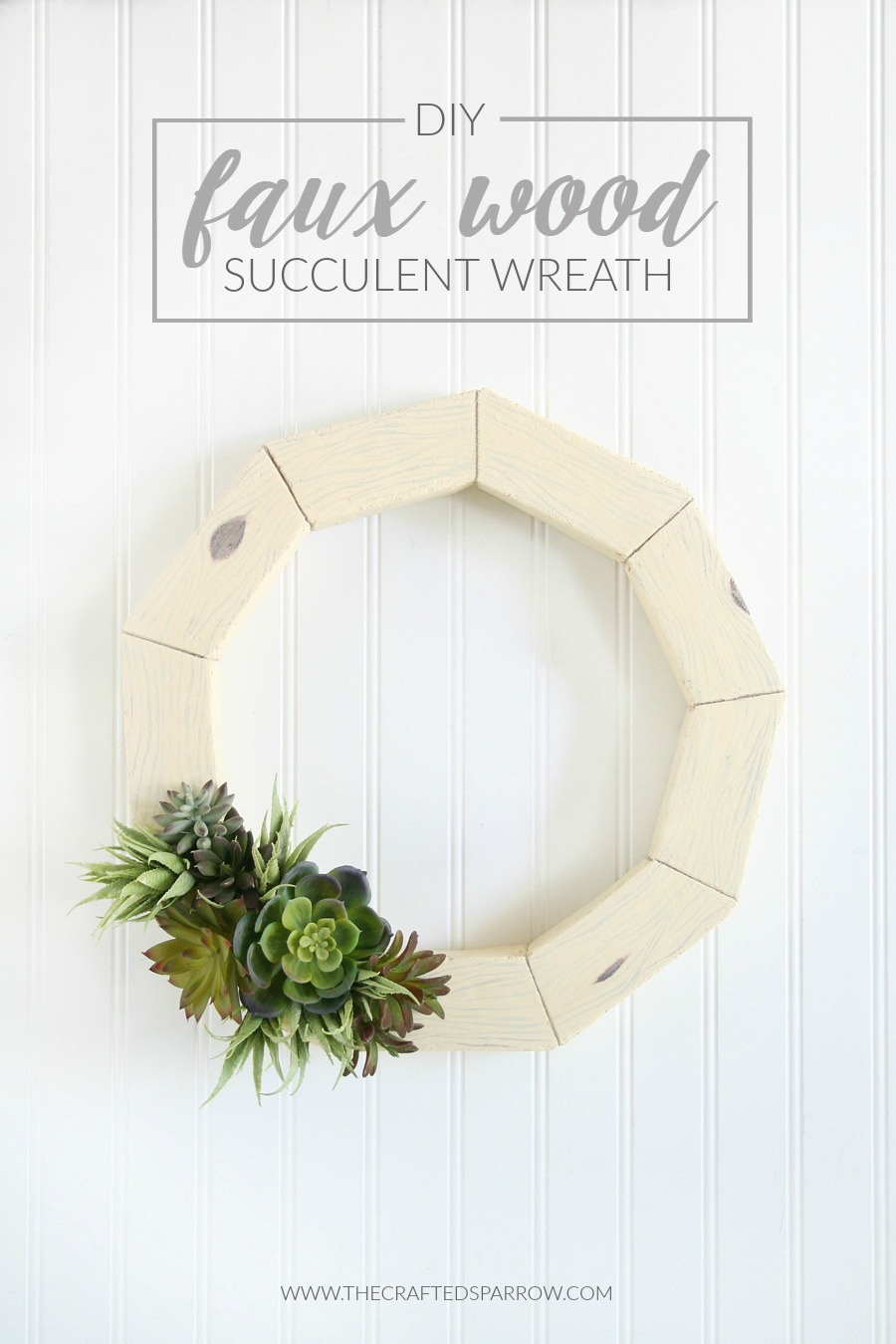 DIY Faux Wood Succulent Wreath