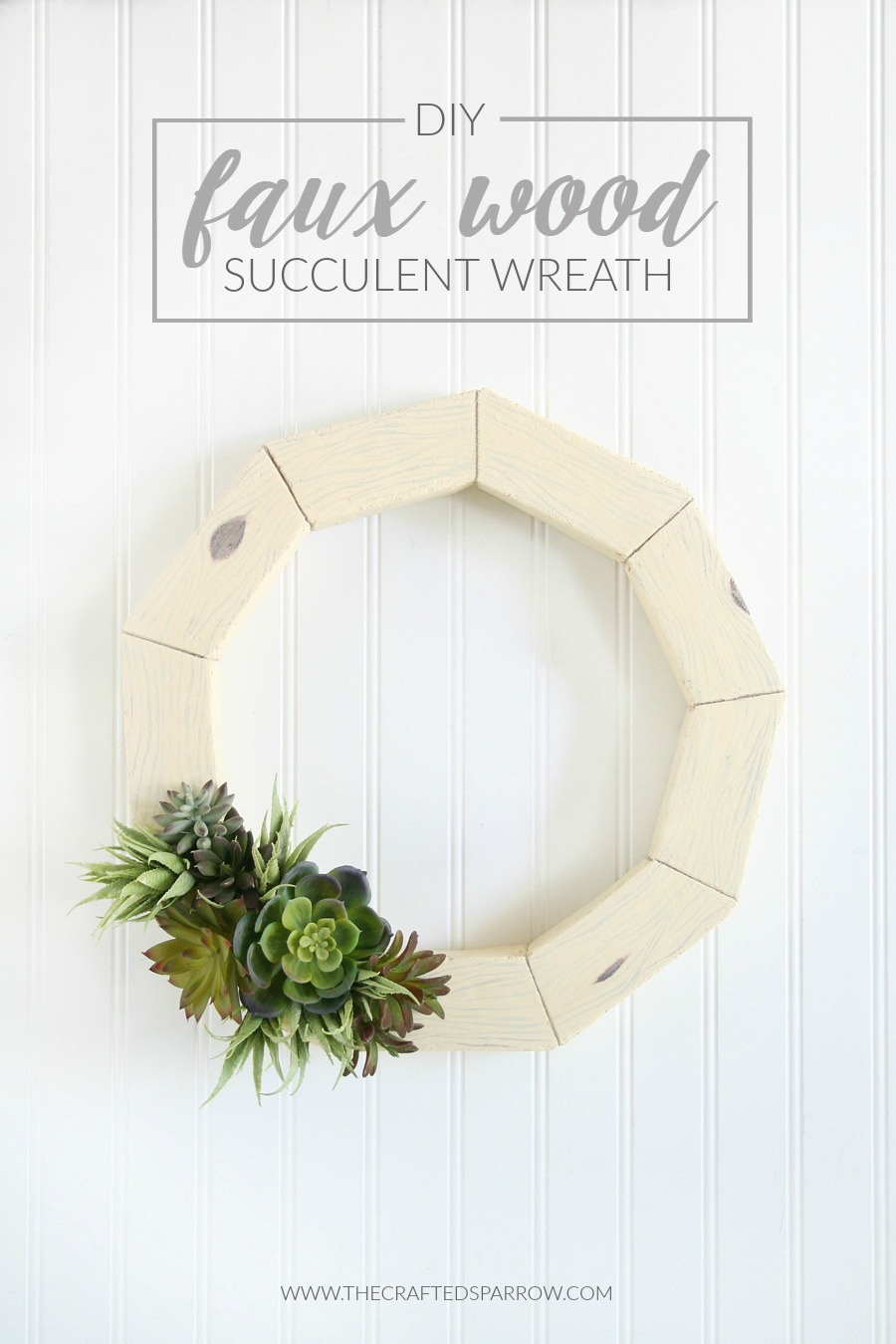 As the seasons change I love to create new decor for my front porch, wreaths are such a cute and easy way to spruce up my front door to welcome guests. So when Make It: Fun Crafts® sent me some of my favorite Floracraft® Make It: Fun Crafts® foam wreaths to get creative with I jumped at the chance to make a new wreath for summer. This DIY Faux Wood Succulent Wreath might be one of my new favorite wreaths to date!
I wanted to challenge myself with this wreath project, I wanted to do something sort of out of the box. I've made a ton of wreaths, I love wrapping them with ribbon and fabric but this time, I wanted to switch things up. Since I'm basically obsessed with the look of raw wood, anything geometric, and succulents I decided to combine all those elements with this wreath.
Supplies:
Make It: Fun Crafts® Foam Wreath
Make It: Fun Crafts® Smooth Finish Paintable Coating
Make It: Fun® Foam Saw or Make It: Fun® Electric Cutter
Floracraft® Faux Succulents
Acrylic Paint
Foam Brushes
1 Small Detail Paintbrush, 1 Large Dry Bristle Paintbrush
Hot Glue
Plastic Putty Knife
Fine Grit Sandpaper
Most times I like to keep my projects on the "anyone can make this" level. I'm not going to lie to you, this project will require a small amount of patience and some painting skills. I still think "anyone" can make this, so be sure to give it a try!
I started by cutting my foam wreath into a geometric shape, there was no rhyme or reason here to my measurements. That's why it's uneven, but if you're super particular you can get a ruler and measure it out so that you have all even sides. Otherwise, just use a marker and ruler to draw straight edges on both the outside and inside of the wreath for cutting.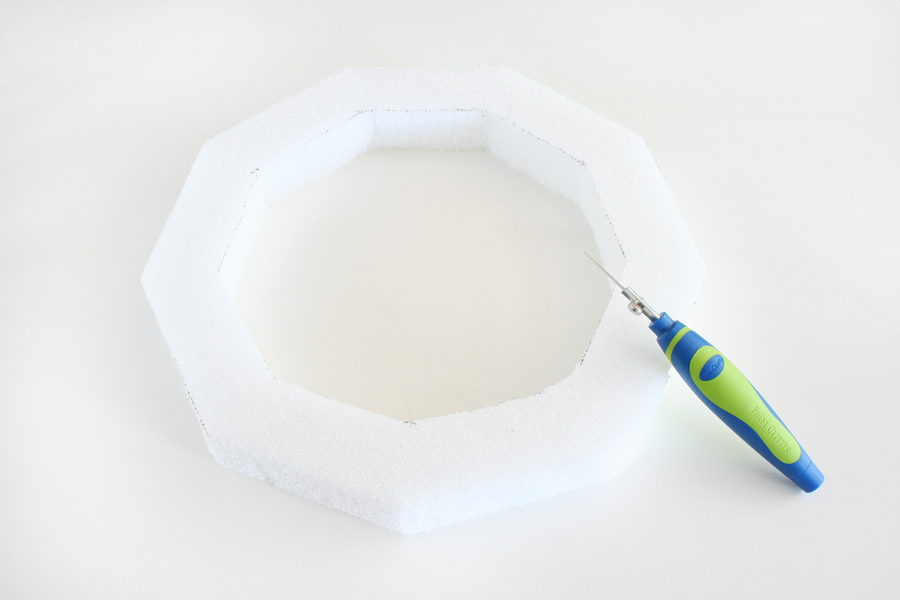 Either using your foam saw or foam electric cutter (my fave) cut along the lines. Try to just keep the foam as neat and straight on the edges as possible. If you don't have either of these tools you can always use a large kitchen knife to cut your foam.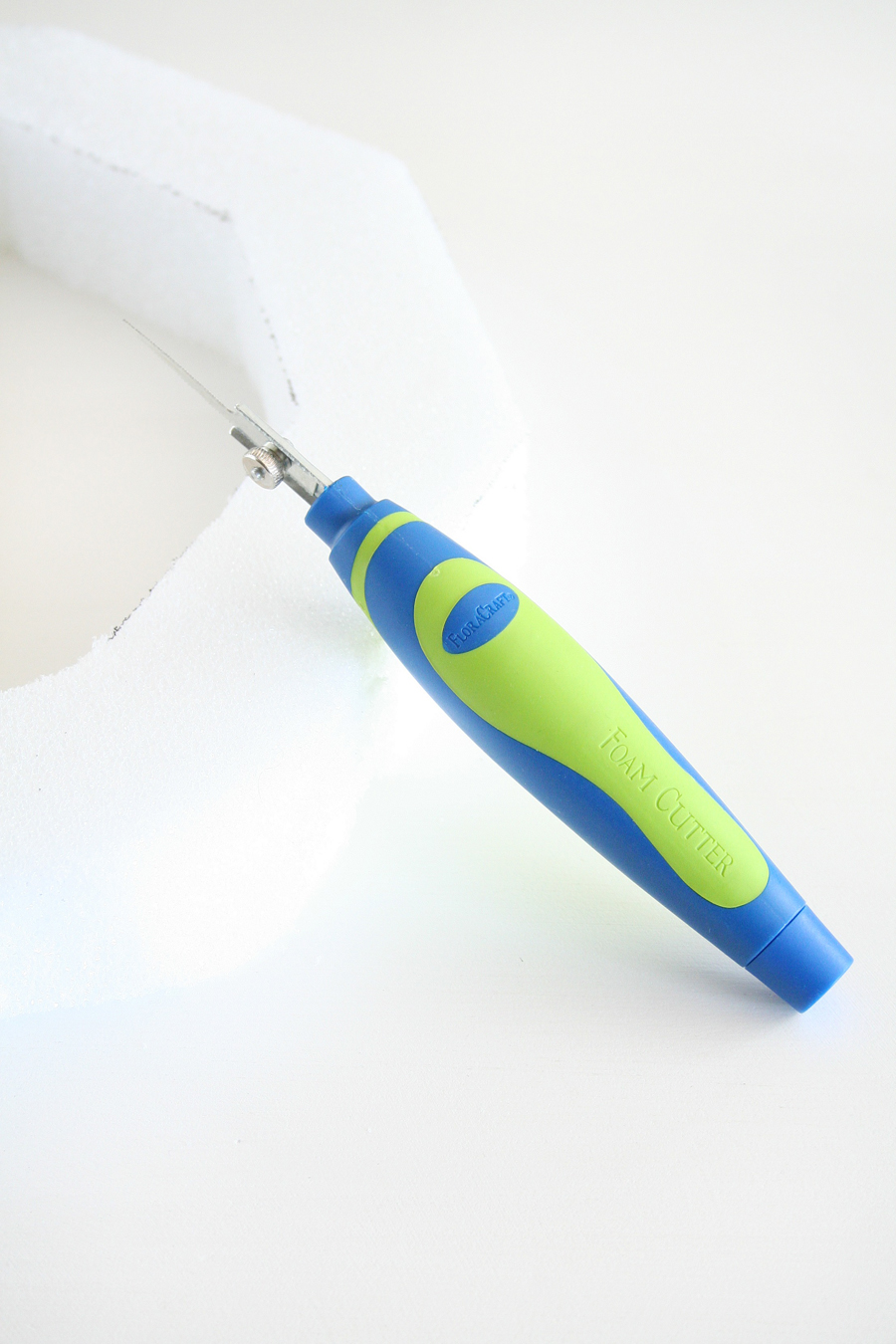 Once you've cut the wreath into the shape you want you will apply the smooth coat finish. This stuff is amazing! It totally transforms any piece of textured foam into a smooth paintable surface.
Just follow the package instructions. I apply 3 coats with a plastic putty knife, letting each layer dry before applying the next layer.
Once all the layers are dry you can use a fine grit sandpaper to lightly sand down your smooth coat for a smooth finish.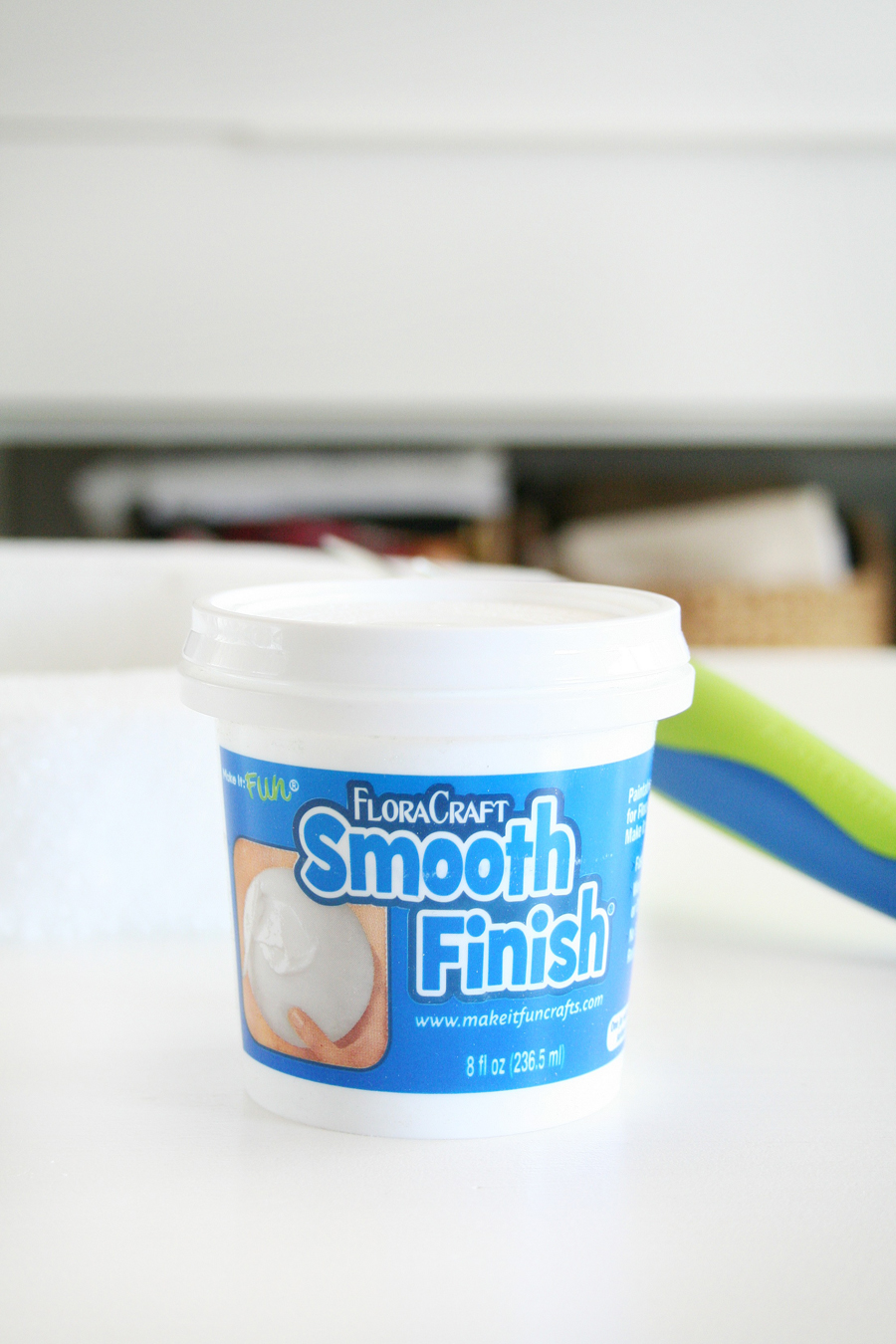 Now comes the painting. This step is by far the hardest part, and a little time consuming.
I used a few different shades of acrylic paint to achieve the raw wood look. I started by giving the whole wreath a coat of a creamy vanilla color paint with a foam brush. Once that was dry I used the plastic putty knife to indent gently the joints of where my "faux wood" would meet.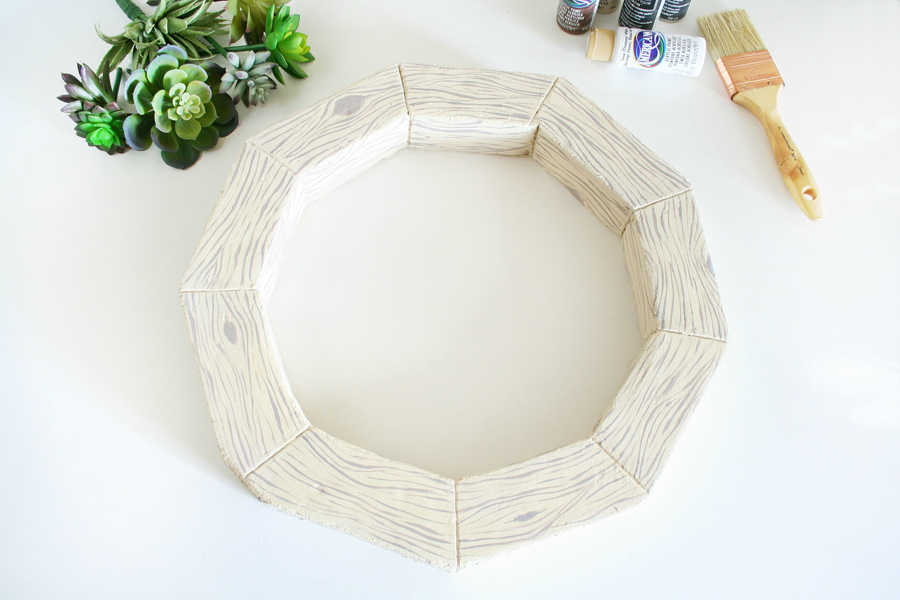 Next using a smaller detail brush I painted the wood grain lines. I used a brownish-gray color for this. I also paint a tiny bit in the joint lines I created with the putty knife. Don't forget to create small knots in the faux wood grain to help sell the look.
Once that's dry I used a large dry bristle paint brush and some more of the creamy vanilla color to dry brush a light coat over the whole thing. Be sure to blot your brush on a sheet of paper before you paint the wreath so you don't have to thick of a layer of paint. You want to see the wood grain lines slightly.
Use a darker brown to accent the faux wood knots and you're all set.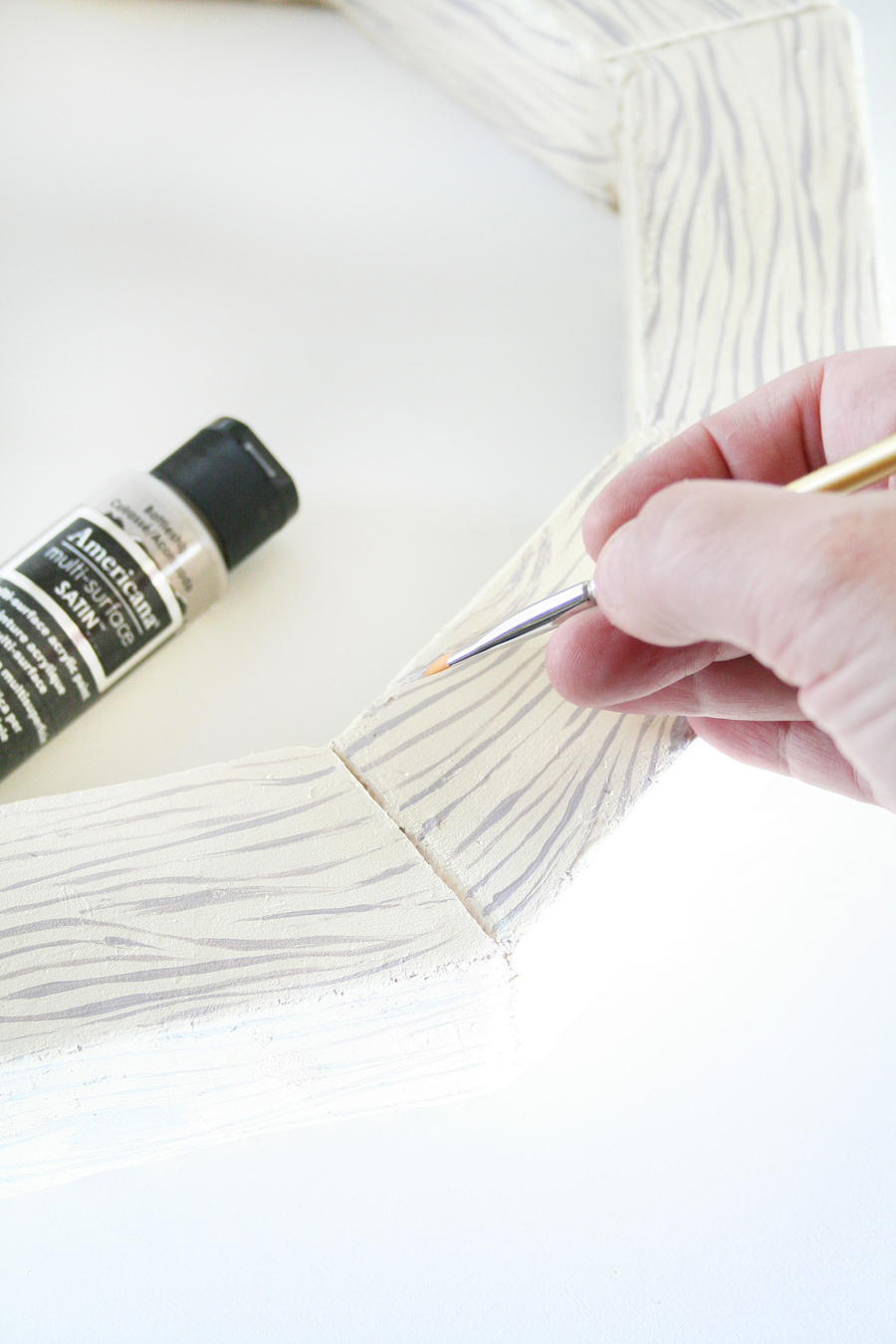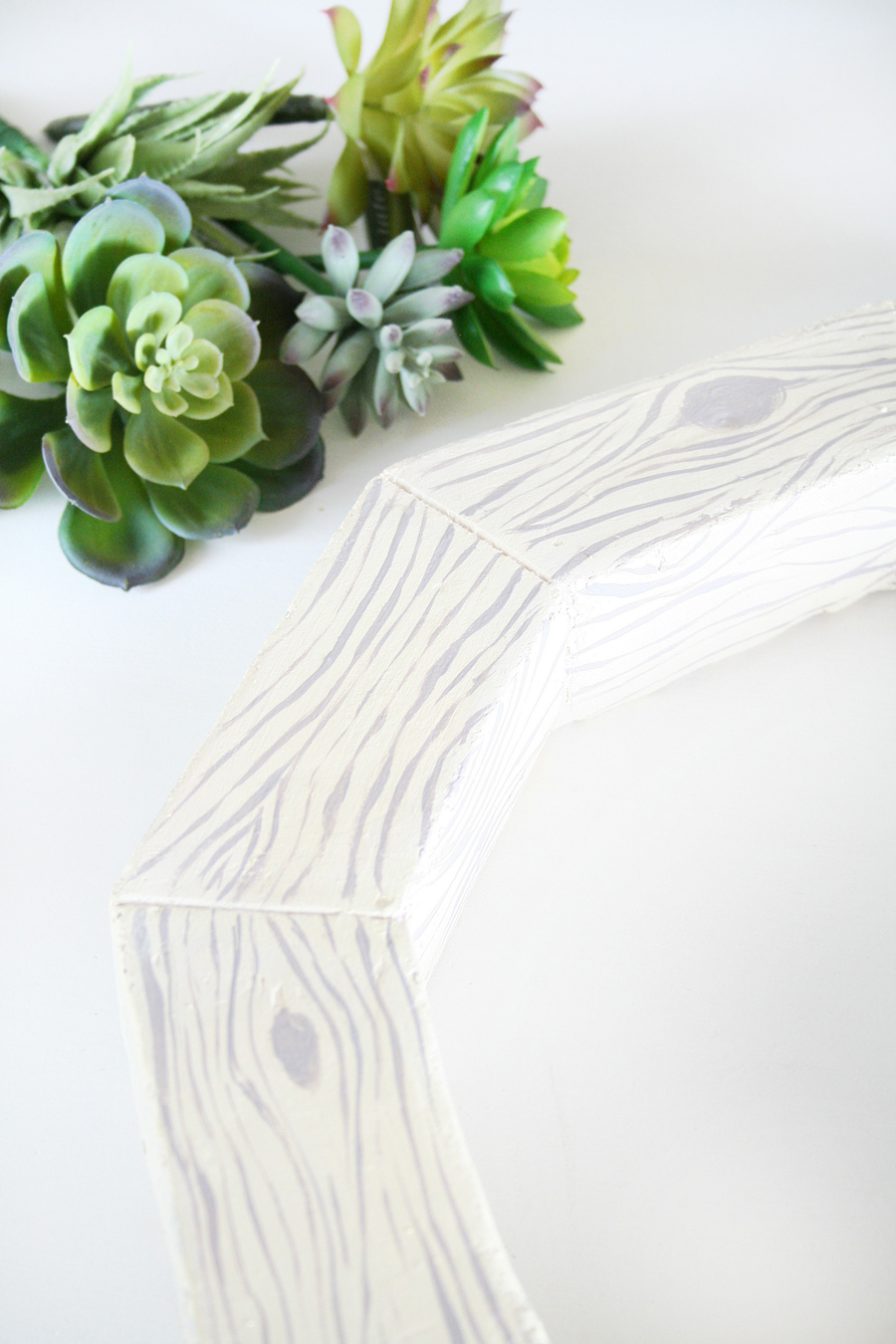 Time to add the amazing faux succulents. I am so in love with the Make It: Fun Crafts® Faux Succulents. These are the best quality I've seen, and I used them all over the house in arrangements.
I just added some to the corner of my wreath by trimming some of the stems a bit shorter with some wire cutters, then I inserted them into the wreath with some hot glue to be sure they held in place.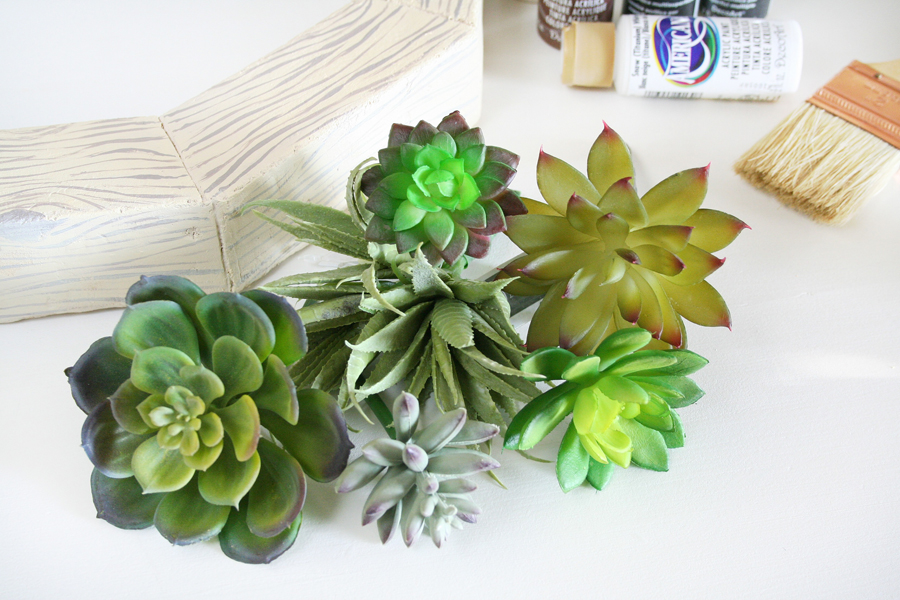 To hang the wreath you can either add some jute twine to create a hanger, or glue a pop tab to the back for a hanger.
I know this wreath isn't the norm, but it totally fits my style and I'm obsessed with how it turned out. I think the faux wood turned out pretty great, don't you think?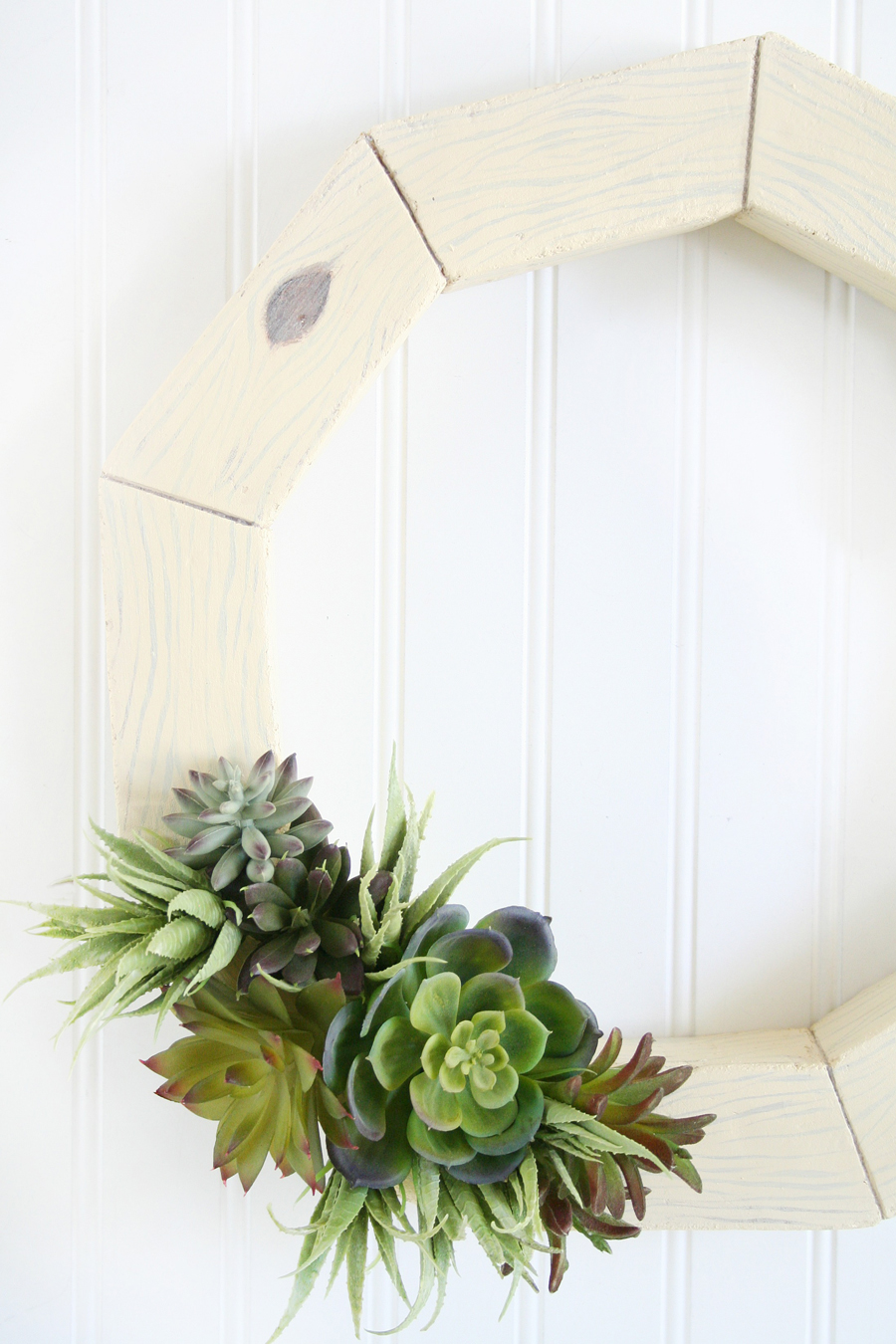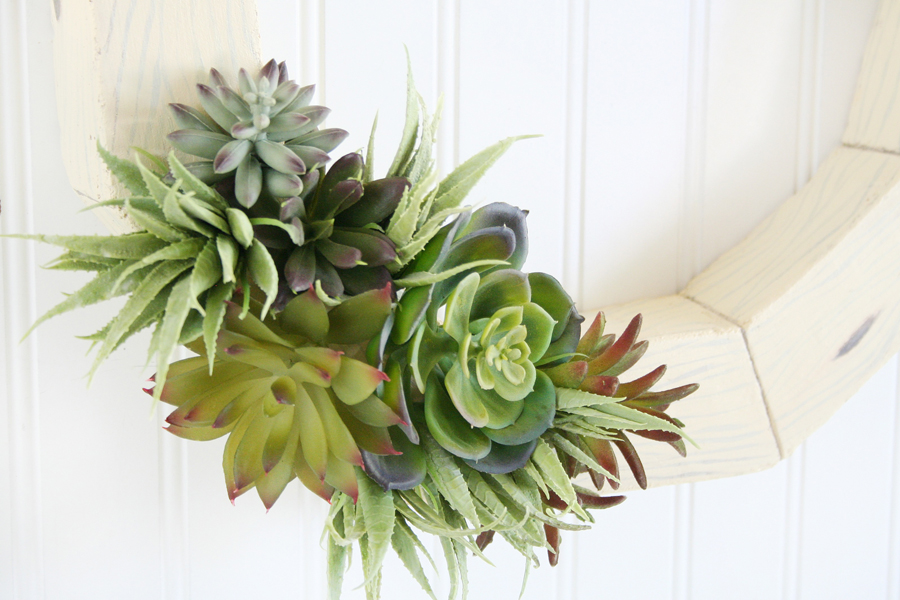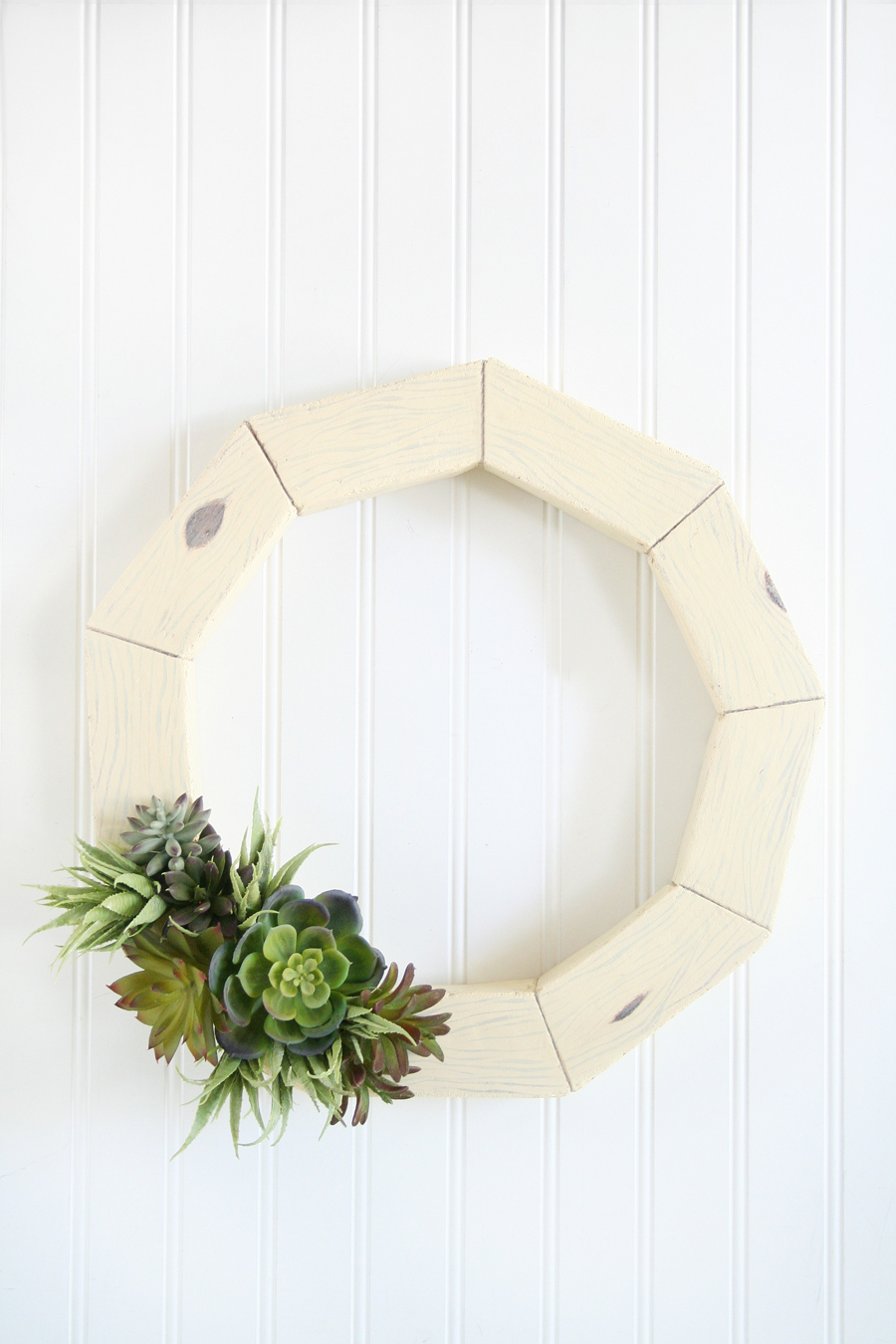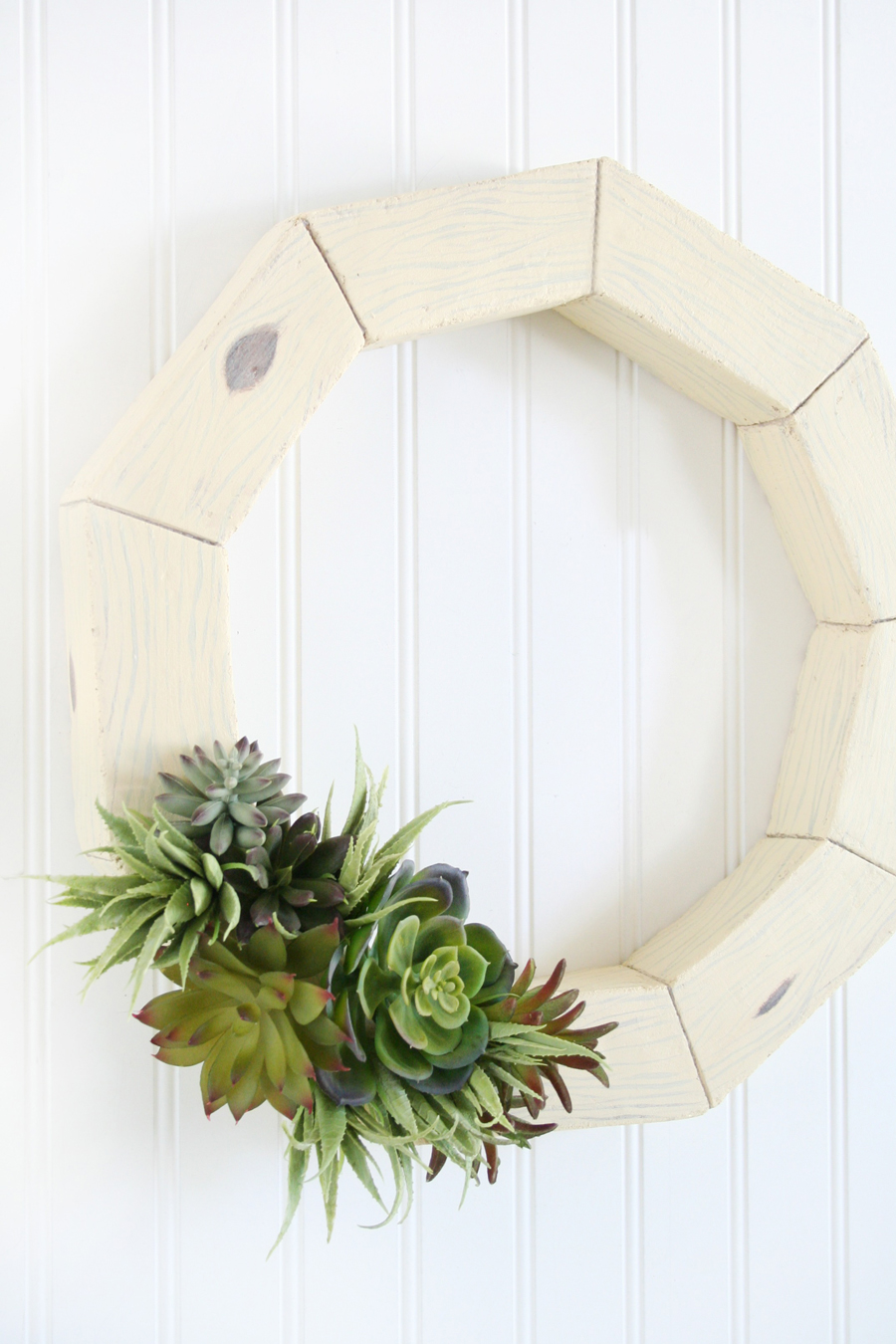 Be sure to check out some of these other wreath and succulent ideas if you loved this one!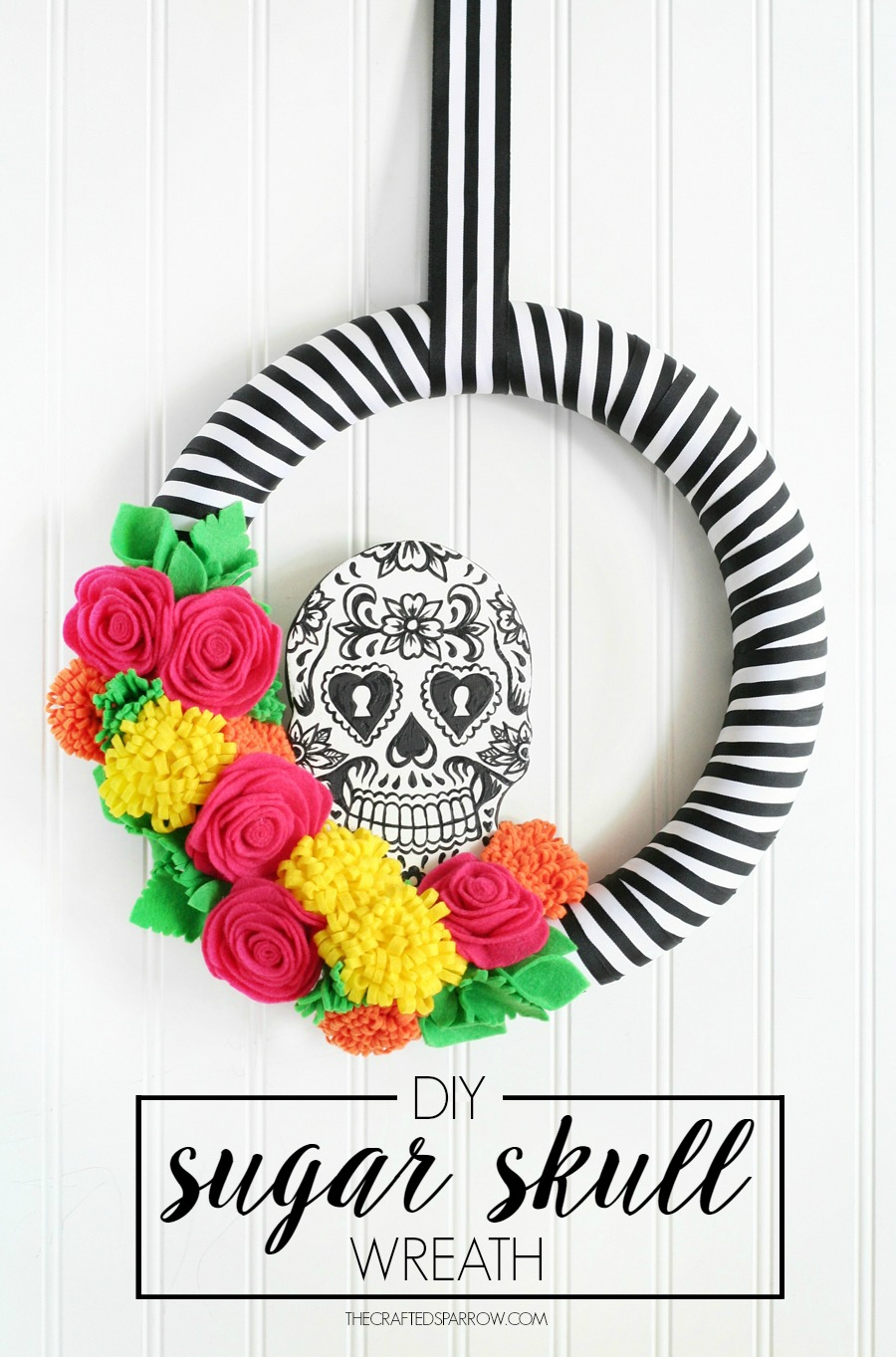 Sugar Skull Wreath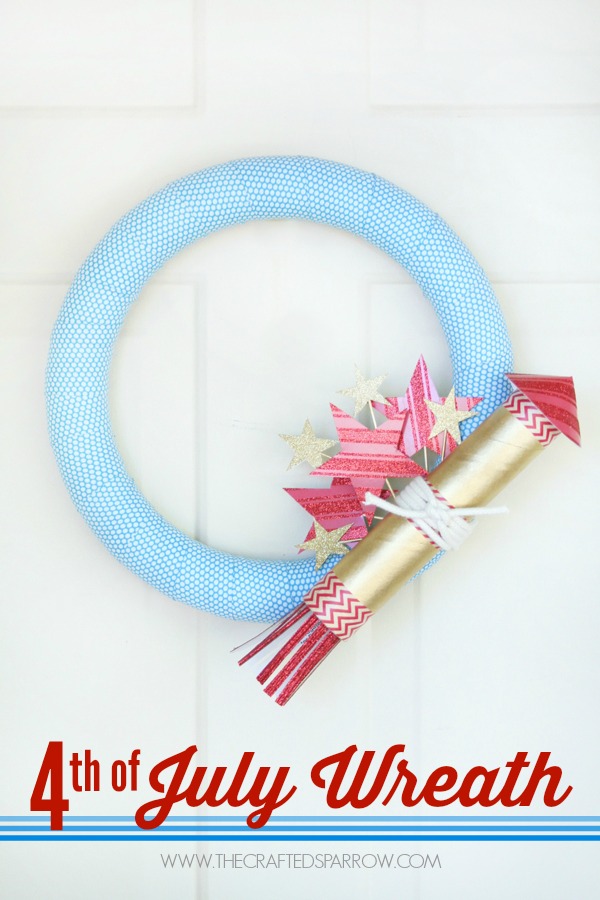 4th of July Wreath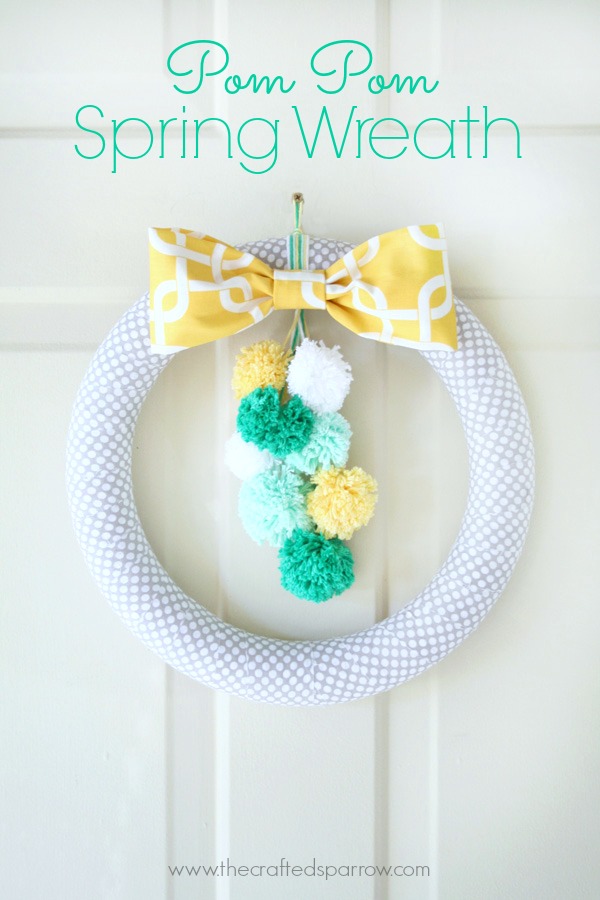 Pom Pom Spring Wreath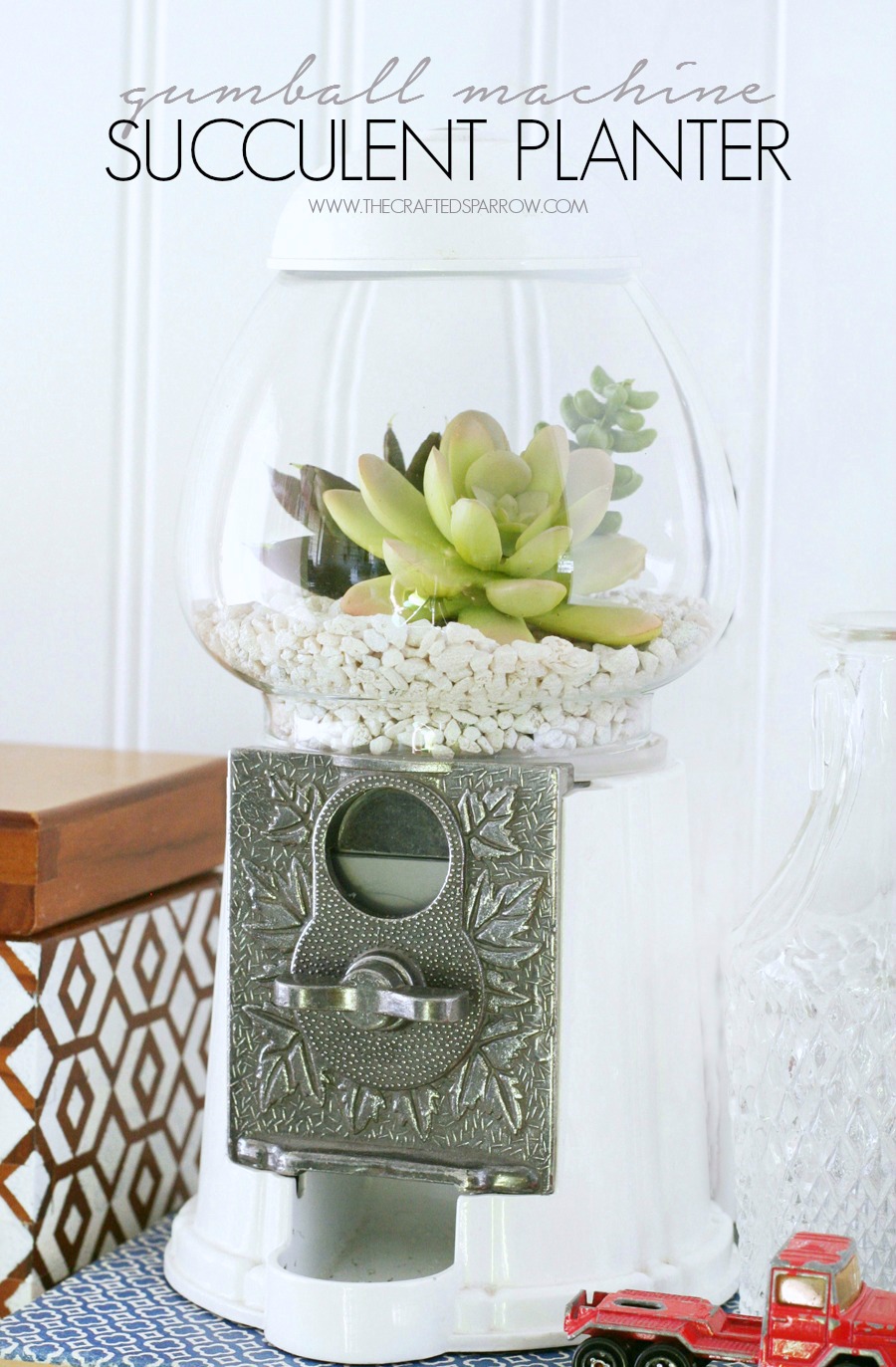 Gumball Machine Succulent Planter
DISCLOSURE | This post is sponsored on behalf of Floracraft® Make It: Fun Crafts®. All opinions and ideas are 100% my own.